Earth Day In The Age Of Social Distancing: How To Join In From Home

mbg Sustainability + Health Director
By Emma Loewe
mbg Sustainability + Health Director
Emma Loewe is the Senior Sustainability Editor at mindbodygreen and the author of "Return to Nature: The New Science of How Natural Landscapes Restore Us."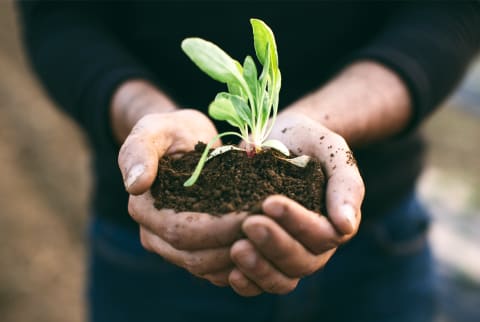 Image by BONNINSTUDIO / Stocksy
April 22, 2020
We carefully vet all products and services featured on mindbodygreen using our
commerce guidelines.
Our selections are never influenced by the commissions earned from our links.
Since 1970, Earth Day has been a moment to celebrate and protect the planet through tree plantings, cleanups, and other in-person community gatherings. But its 50th anniversary is historic in more ways than one: For the first time ever, Earth Day is going digital, so those of us who are stuck inside can still engage with the holiday in a meaningful way. Here are eight activities you can do to ring in Earth Day from your own home, backyard, or, yes, Zoom screen:
1. Go on a (virtual) scavenger hunt, or start one in your community.
For anyone at home with young kids, let them tap into their wild side with National Geographic's Neighborhood Safari program. Print out an animal coloring page, or let them draw their own animals or nature scenes, and hang the finished creation on your window or balcony. Invite other families in your neighborhood to do the same so daily walks become opportunities to spot new creatures.
On April 23, at 6 p.m. EDT, you and your family can also take on Cotopaxi's annual Questival challenge. Each year for Earth Day, the outdoor gear company puts on a scavenger hunt that can be done from anywhere in the world to encourage everyday adventure. This year, they're adjusting their challenges to follow social distancing guidelines and all proceeds (it's $10 to opt in) will go to IRC Crisis Response Fund.
2. Watch nature play out on your screen.
3. Stream a new eco-documentary.
At 2 p.m. EDT on Earth Day, the Discovery Channel will premiere The Story of Plastic, a new documentary about the toll of plastic pollution worldwide. Throughout the rest of the week, EarthxFilm will be streaming new short and feature-length films that bring dozens of environmental issues to life. Check out the full movie lineup here.
4. Learn about how you can live more sustainably.
There's always been an educational component to Earth Day, and this year many panels and events are being streamed online for free or at a low cost. You can tune in to hear:
5. Tune into a climate conference.
If you have a little more time on your hands, you can also listen to one of the many digital climate conferences convening throughout the week:
The Earth Day Network Conference (April 20–25) will feature professors, politicians, and activists covering a new topic each day. The circular economy and consumption, food and agriculture, and city development are all on this year's agenda.
At Earth Day Live (April 22–24), you'll hear from Alexandria Ocasio-Cortez, Al Gore, and Bill McKibbon, and various musical guests.
The Earth Institute's Earth Day 50/50 Event (April 22) will be about looking back on what we've accomplished over the last 50 years of Earth Day and discussing what the next 50 could bring.
6. Immerse yourself in a book or video about the world you see.
Whether it's the tree in your backyard, flower you spot from your kitchen, or bird that always hangs out on your windowsill that catches your attention these days, there's a book out there that will tell you all about it.
If you're a parent looking for resources for your child, TED-Ed and the UN Environment Programme just launched Earth School—an online learning platform where one video kid-friendly lesson will be posted every day from Earth Day until World Environment Day on June 5.
7. Join a digital campaign.
Take to social media to share a sustainable pledge you're making this year with #EarthMonth and @onetreeplanted, and One Tree Planted will plant a tree in your honor. Or download an app and take part in a conservation effort from your neighborhood: The EC2020 asks users to take photos of their horizon lines to compile information about air quality around the world; Earth Challenge 2020 instructs users on how to collect data about their local air and water quality and insect populations; and Litterati is all about using citizen recordings to help construct a map of litter around the world.
8. Support a mission-driven company.
If you're in a position to spend money right now, consider supporting companies whose products have a lower environmental impact or are making special sustainable pledges in honor of Earth Day, such as:
If you do buy something today, consider its entire lifecycle: What will happen to it once you're done with it? Look into companies that are working with secondhand platform ThredUp—Reformation is on the list, and as of today Abercrombie & Fitch and Reebok are too—to ensure that the item can eventually be re-sold or re-purposed.
9. If you do have access to nature right now, celebrate it!
During these trying times, nature can be a source of strength and a reminder of the resilience of all living things. If you're lucky enough to come in contact with it on your walk or run this Earth Day, slow down and appreciate it with a mindfulness ritual. If you are spending the day indoors, be transported to a beautiful place with a nature-inspired meditation or visualization, or show your houseplants some extra love by bringing them to a "dance with plants" Zoom party. If you feel inspired to make art out of what you see, the World Wildlife Fund is hosting an Art For Earth campaign this year, where they'll be sharing tips about how to let your creativity run wild during quarantine.