Doctors Share Their All-Time Favorite Places To Unwind In Nature

mbg Sustainability + Health Director
By Emma Loewe
mbg Sustainability + Health Director
Emma Loewe is the Senior Sustainability Editor at mindbodygreen and the author of "Return to Nature: The New Science of How Natural Landscapes Restore Us."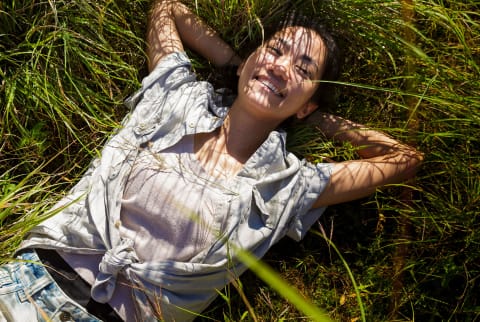 Image by Eyes on Asia / Stocksy
June 11, 2021
Good things come when we step outside. Research continues to back up what we've long known intuitively: Spending time in nature is one of the best ways to support physical, mental, and spiritual well-being. Walking through the forest can strengthen immunity1, sticking your feet in the grass can ease stress, and heading to the coast can wash away worry.
To ring in National Get Outdoors Day, which is June 12, and the newly minted Great Outdoors Month, we asked some of the doctors in our network about their favorite ways to get outside for the sake of their health and happiness. From backyard herb gardens to freezing-cold alpine lakes, here's where they head to be one with the world.
Advertisement
This ad is displayed using third party content and we do not control its accessibility features.
The veggie garden:
"Right now my favorite place to visit is my garden. Everything is starting to come up, and there is already a bounty of greens, herbs, and onions. I'm a really dirty, messy gardener. I like planting and weeding... Being in my garden or in nature, especially early in the morning and in the evening, gives me a feeling of being very in sync with the natural rhythm of the human brain. I feel a tremendous release and almost a jolt of focus. This basil plant: It is everything. My inbox and neurotic worries...not so much."
A freezing cold lake:
"My favorite place to go for a day trip is the Mohonk Preserve, a nature preserve in the Shawangunk Ridge, 90 miles north of New York City in Ulster County, New York. Taking a plunge in the cold, mountain lake is very therapeutic. It reenergizes my mood, decreases my pain and inflammation, and is very meditative. I have to really ground myself in order to keep my body submerged in the freezing cold water! Taking a cold plunge in the mountain lake is the best, especially after a long hike in the preserve."
Advertisement
This ad is displayed using third party content and we do not control its accessibility features.
Torrey Pines Park in California:
"Living in Southern California, I easily can be in two of my very favorite landscapes within a short period of time. If I'm not on the beach hanging out with my wife and kids, you might find me hiking at Torrey Pines park. I love just relaxing on the beach and watching the waves while the kids play in the sand. I also love hiking in nature and teaching the kids about different kinds of plants as we explore together. Spending time in these places makes me feel at peace and connected with everything and everyone around me... It's really an incredible feeling to truly be grounded.... And after I am done enjoying the outdoors, I feel like my mind is sharper and my attention on everything else is more focused for the rest of the day."
The saltwater:
"My favorite place to visit to restore mental health is a saltwater beach. Spending an afternoon at the beach rejuvenates me because of its inherent natural beauty and the ability to swim but also because the breezes from offshore almost always guarantee a clean and healthy breath2. The kids love it too, as there is so much for them to do there to stay occupied; it's a huge ecosystem right at your feet...
I love the saltwater on my skin, the feel of warmth from a tan, the tickle of sand between my toes. It all makes me feel as if the world makes sense again. On a deeper level, I feel as if I've spent time in a very important place, one we share with birds and fish and mollusks and worms and crabs. It just feels like a place we're meant to be and spend time in."
Advertisement
This ad is displayed using third party content and we do not control its accessibility features.
The woods:
"One of my favorite ways to enjoy the outdoors is hiking through the forest with my family. Not only does it get us away from our tech for quality time together, but we get to experience the art of forest bathing. I've always been interested in the research on forest bathing that reveals how being in nature can lower levels of inflammation and stress hormones like cortisol, and I love getting to experience the effect it has on my stress in real life. When time doesn't allow for me to go on a hike, you'll catch me on my deck getting a good dose of natural vitamin D."
The beach:
"My absolute favorite place to spend outdoors is at the beach. I used to live in Antigua, and the water and energy are different [on the coast]. Things are slower, more peaceful, calmer, and less chaotic. My body, mind, and soul crave that a few times a year. I enjoy just reading a good book in the warm sun while also getting my vitamin D. I enjoy the sand between my toes, and the cool breeze makes me feel alive. The cotton candy sunsets are the best because they allow me to realize how wonderful life is, appreciate the small things we have, and give gratitude more. I always feel rejuvenated, renewed, refreshed, and revived from a weekend beach trip. It positively impacts my mood and mindset, and when I come back home I'm ready to work and can feel my creative juices flowing!"
Advertisement
This ad is displayed using third party content and we do not control its accessibility features.