Deliciously Ella On The Best & Worst Career Advice, Growing A Brand & More

mbg Co-Founder & Co-CEO
By Colleen Wachob
mbg Co-Founder & Co-CEO
Colleen Wachob is Co-Founder and Co-CEO at mindbodygreen.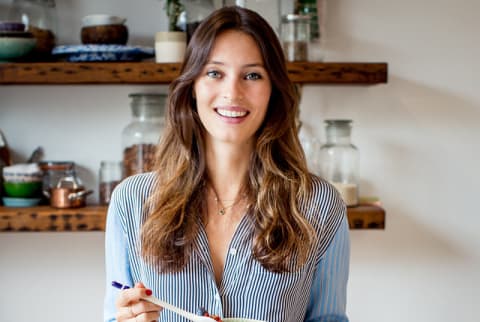 Photo by Deliciously Ella
January 21, 2016
Advertisement
This ad is displayed using third party content and we do not control its accessibility features.
At mindbodygreen, we get to meet female entrepreneurs who are passionate about making the world a healthier place. In this new series, we're profiling #WellnessWonderWomen who inspire us with vision and dedication — and hopefully inspire you, too.
One of the most beloved #WellnessWonderWomen is blogger and best-selling author Ella Woodward. She's also a Telegraph columnist, creator of the Deliciously Ella app, and co-founder of the mae deli in London's Marylebone neighborhood. Ella's known for making delicious food in a way that's healthy and accessible. She's ushering in a new movement of food bloggers like Chloe Coscarelli who are evolving their popular online brands to offline destinations.
What started as a blog in 2012 has evolved into a lifestyle brand, Deliciously Ella. She reaches close to 700,000 followers on Instagram and millions more via her website.
How has Ella become such a force within the world of healthy eating? She's got an inspiring story and a relatable perspective on life and food.
Five years ago, Ella was given a rare diagnosis of postural tachycardia syndrome (POTS), a disease that breaks down the autonomic nervous system and left her in bed for most of the day. She also had chronic pain, headaches, stomach issues, and heart palpitations.
Conventional medicine failed to heal her, so Ella decided to change her diet, with the goal of trying three new recipes a week. She went from a self-proclaimed "sugar addict" to easing into fruits and veggies in the kitchen. You can read more about her initial small steps here, like moving to porridge with berries for breakfast and buckwheat avocado toast for lunch.
She's not a chef, but her food photos are pretty swoon-worthy, and she gets that her busy readers want their food to be delicious, clean, and doable.
In January, for example, Ella shared this on Instagram with her adorable pup Austin:
Despite her brand's phenomenal growth this past year, which includes the publication of a second book, Deliciously Ella Every Day (featured on mbg's list of best 2016 wellness books, launching today in the UK and on April 5th in the US), and the opening of the mae deli, Deliciously Ella's voice and vibe is still authentic and inspiring.
In this #WellnessWonderWomen Q&A, Ella shares her #ProTips for building your brand online while trying to keep your wellness alive. She also shares one of her favorite cold-weather stews to keep you nourished this winter.
A Q&A With Ella Woodward
What advice would you give to anyone trying to build their brand online?
Find a passion and area that you truly love and write about that. Don't do something because it's popular, as it won't seem so genuine, and it's better to have a dedicated audience that loves what you do than a huge audience that is only semi-engaged.
Using social media is also amazing for exploring the topics you're interested in, and always engage with your readers — it's so important. I've really shaped what I do through reader feedback.
Any tips for readers building brands on Instagram?
Responding to questions and comments and reading people's responses every day to see what they're enjoying is so crucial, as then you can share more of what they're looking for.
Having a continuous visual style really helps too, so people always know that it's your photo and make sure you're consistent with when you post so that you don't do five photos on one day and none the next!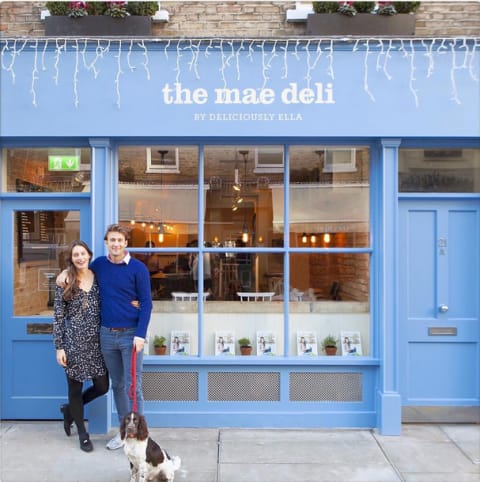 The Mae Deli
Photo by The Mae Deli by Deliciously Ella
Advertisement
This ad is displayed using third party content and we do not control its accessibility features.
What advice would you give to anyone looking to turn a passion into a career?
Go for it! It's scary to jump into something but you have to just give it your all and believe in your vision. It's hard work, and you have to be willing to totally commit and know that running your own business is a 24/7 game, especially at the beginning, but it's so worth it. There's nothing more rewarding than seeing success in something you love and have worked for.
What's the best advice you've ever received?
"You get back what you put in." My mum used to say it all the time to me and my siblings when we were growing up. It used to drive me mad but now it makes complete sense and I really try to live by it. The more love, energy, and time you put into anything in your life, the more you get back and the happier and more satisfied you are!
What do you love about being an entrepreneur?
Everything, really. I love being my own boss, and I feel so grateful to do something that I love every day. It's exciting to see your dreams unfold and come to life. It's so exciting being able to give other people jobs too; I feel so lucky to be in the position of being able to support great people in their ambitions.
Anything that you'd change?
It's hard running your own thing, as it never stops. There's always more you can do and you never stop worrying! It's hard to switch off as a result, and that's something I'm really working on this year.
I love work but also feel it's so important to have balance and to take proper time out to relax, breathe, and enjoy other aspects of life. One of my New Year's resolutions is to spend more time with friends and family.
You and your fiancé have recently opened the mae deli together. Any tips for working with a loved one?
It's amazing; I love having someone to share what I do with — it makes it so much more special. We look after very different aspects of the business, though; I focus on the creative — the food, the social media, the branding, the feel, etc., and he focuses on the business side — the leases, the finances, the operations, the team that works with us.
We both know where our strengths and weaknesses lie and try to respect the other's opinion when we know they have a more detailed knowledge of that area. Doing this means we don't clash too often!
Favorite item on the mae deli menu?
So hard to pick just one! I love the pecan brownies; they've been so popular.
Any intentions for 2016?
I'm working on gratitude and mindfulness in my life. I've started writing a gratitude diary and am really trying to stop myself from getting stressed and anxious when things are a bit mad with work. Instead I want to focus on what I'm doing at that minute and enjoy it rather than panicking over all the things to come in the next few days/weeks/months! I'm also trying to spend more time with friends rather than being a workaholic!
Ella shared this nourishing recipe with mindbodygreen readers.
Sweet Potato and Chickpea Stew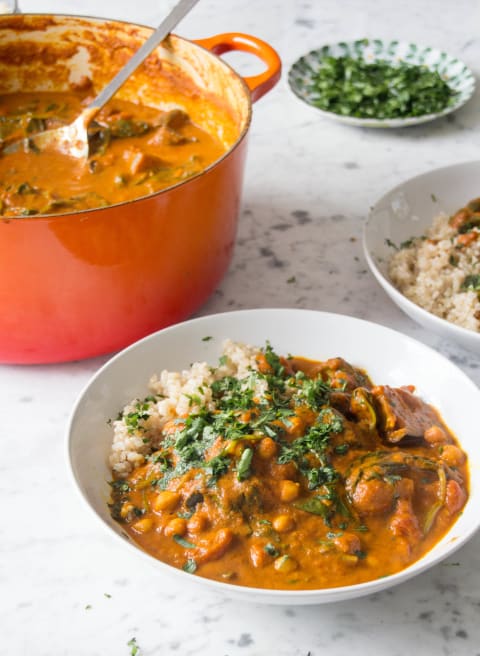 Photo by Deliciously Ella
Advertisement
This ad is displayed using third party content and we do not control its accessibility features.
2 x 14-oz. cans tomatoes
1 can coconut milk
2 large sweet potatoes
2 eggplants
1 bag spinach
1 x 14-oz. can chickpeas, drained
4 tablespoons tomato puree
4 tablespoons apple cider vinegar
4 teaspoons turmeric
4 teaspoons cumin
1 teaspoon cayenne pepper
4 cloves garlic
Fresh cilantro
Brown rice or quinoa to serve
Preparation
Cut the sweet potatoes into small chunks; steam for 15 minutes. Then chop the eggplant into bite-size pieces.
Once the sweet potatoes have cooked, put the tomato puree, vinegar, garlic, spices, and salt in a pot with some olive oil; heat for a minute or two until bubbling.
Add the coconut milk, tomatoes, eggplant, sweet potato, salt, and pepper to the pot and allow it to heat until boiling.
Allow to cook for about 45 minutes, then add the drained chickpeas and spinach. Let these cook for 15 minutes.
Finely chop the cilantro. Then serve the stew with brown rice or quinoa, and sprinkle the cilantro on top.
Store any extras in an airtight container in the fridge (they last about 5 days) or freeze.
Advertisement
This ad is displayed using third party content and we do not control its accessibility features.

Colleen Wachob
mbg Co-Founder & Co-CEO
Colleen Wachob is Co-Founder and Co-CEO at mindbodygreen. She graduated from Stanford University with degrees in international relations and Spanish, and spent 10 years working at Fortune 500 companies including Gap, Walmart, and Amazon. Wachob lives in Miami, Florida with her husband, mbg Founder and Co-CEO Jason Wachob and their two daughters, Ellie and Grace.