Meet The Designer Behind The (Super-Sustainable) Boho Dresses You're Seeing Everywhere

mbg Sustainability + Health Director
By Emma Loewe
mbg Sustainability + Health Director
Emma Loewe is the Senior Sustainability Editor at mindbodygreen and the author of "Return to Nature: The New Science of How Natural Landscapes Restore Us."
May 3, 2018
Chances are, you've seen Christy Dawn's dresses around before. Celebrities the likes of Mandy Moore and Emily Ratajkowski have donned her floral, breezy, bohemian looks that continue to sell out in the blink of an eye (seven times in a row, in some cases).
Dawn's emphasis on sustainability makes her success that much more exciting. She sources all of her fabrics from deadstock materials that other designers have cast away. Nearly every week, she scopes out secondhand wholesalers in downtown LA to find textiles to revamp in an effort to stop playing into the notoriously resource-intensive fashion industry.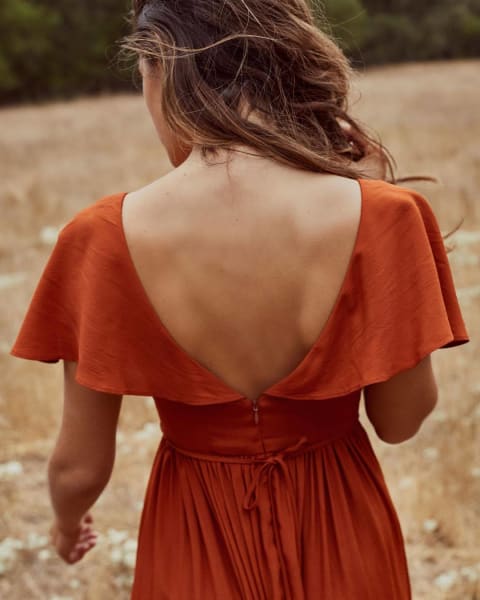 "Fashion is one of the most polluting industries, and we didn't want to contribute to that at all," Dawn tells mbg of the brand's genesis. After spending years as a model, not knowing where her clothes came from ("I was just unconsciously getting dresses every day," she says), Dawn was inspired to start a company that told a story. When her eponymous line came to life four years ago, trips to thrift stores as a kid served as a jumping-off point. "I'd always buy these women's floral dresses, and we'd come home, and my mom would sew them to make them fit me. I loved that because I always felt unique in my own dress."
Today, some of Dawn's limited edition designs are made into only 20 or so dresses—the fabric available dictates its exclusivity. "It's definitely a hustle. It takes a lot of time and patience to fabric shop every week," she says, but she'd never imagine doing it any other way.
"We try to design in a way that is beautiful—the people sewing the dresses are treated beautifully, the fabric is treated beautifully, our planet is treated beautifully. We look at it as a full circle of sustainability. That's our intention." For her, that means paying everyone in her downtown LA factory fair wages and showcasing interviews with sewers on her site. As more consumers continue to demand transparent manufacturing practices like these, Dawn is hopeful that the future of fashion will look a little different.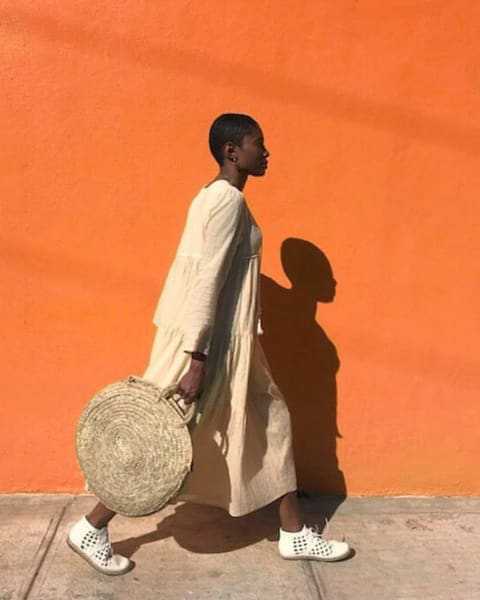 "It comes down to our consciousness. If designers come from a place of abundance and not greed, so much more can happen in the fashion industry—and I see it happening already. People are becoming more aware of how things are made and how they could be done differently," she says, naming outdoor adventurer David De Rothschild's clothing line, The Lost Explorer, as another company she admires in the sustainability space.
While wearing a De Rothschild or Dawn creation is by no means cheap (most of Dawn's dresses start at around $200), Dawn says that everyone—even those on a budget—needs to reframe how they approach price tags.
"Invest in buying one special sustainable piece and really honoring that piece instead of buying things you can throw away after a few months," she advises. "I understand that not everyone can buy our dresses, but instead of buying 10 pieces a year, buy four or five. Just be a little more conscious of where you put your money."
Mara Hoffman is another designer pushing the needle on sustainability. We sat down with her to find out why the fashion industry could use a spiritual revolution.