The Group That Helped Defeat Plastic Straws Is Going After Water Bottles Now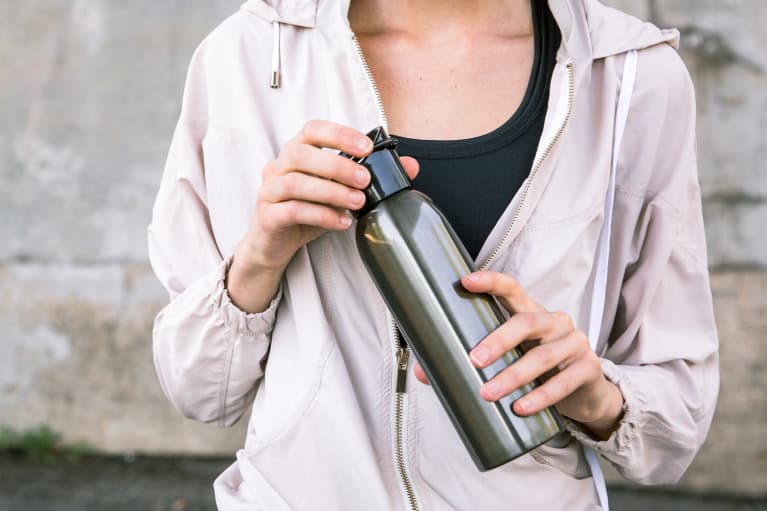 Who could forget the mass plastic straw exodus of 2018?
It all started before Starbucks, Alaska Airlines, and the entirety of the U.K. vowed to ditch the single-use straws, with the precedent-setting Seattle ban. The city opted to require businesses to use compostable straws and utensils starting July 1, 2018, and ever since, similar pledges have swept the nation and the world. Seattle was the straw that broke the camel's back, so to speak.
Advocacy group Lonely Whale had a lot to do with helping that isolated environmental win go global. Their Strawless In Seattle campaign was a lighthearted portrayal of why drinking from plastic straws sucks. Backed by big-time celebrity endorsements, punchy graphics, and an entertaining video campaign, it took the serious issue of plastic pollution and turned it into a viral moment. When mbg spoke to Emma Riley, director of strategic partnerships for Lonely Whale, about the success of that first campaign, she said that, more than anything, it was proof that positivity and fun can trigger meaningful change.
Now, Lonely Whale is using its signature lighthearted style to tackle another massive environmental headache: the plastic water bottle.
Why plastic water bottles could be the next thing to go.
Today, Lonely Whale announced that it's teamed up with ocean conservation nonprofit Point Break Foundation and creative agency Young Hero on the Question How You Hydrate campaign—a movement that urges people and corporations to find and share alternatives to single-use plastic bottles.
"Up to 12 million tonnes of plastic enter our oceans every year, harming plants, animals, coastal communities, and our food chain. Eliminating single-use plastic straws won't make a dent in that figure, which we have always known, but what we did do is create awareness and amplify a global movement," Riley says of the inspiration for this new campaign.
Plastic water bottles were the logical choice after straws since they're super common (about 1 million are sold every minute) and often not recycled properly (bottles are one of the top five most common items found in beach cleanups around the world).
"The plastic water bottle market is set to grow exponentially over the foreseeable future during a time when only about 9% of plastic is recycled globally," says Riley. "This bleak future demands a complete rethinking of the way we produce, use, and manage plastic."
How to #HydrateLike you care about the planet.
To make a moment out of ditching plastic bottles, Lonely Whale has recruited celebrities the likes of Zooey Deschanel and Game of Thrones' Jason Momoa, who recently went so far as to shave his epic beard to draw attention to the cause. They're supporting the #HydrateLike social tag, which people are invited to use to share how they drink sustainably in their day-to-day.
As part of the campaign, Lonely Whale is also encouraging beverage manufacturers to rethink how they deliver their products. "Ultimately, our plastic problem is one of design. Our manufacturing, distribution, consumption, and trade systems for plastic—indeed our global economy—need to change. Manufacturers must be held accountable for the entire life cycle of their consumer products," says Riley.
The Lonely Whale is standing with reusable bottle maker S'well and new infinitely recyclable canned water brands Manu Nalu and Ever & Ever as companies making it easier to #HydrateLike someone who cares about the planet.
As for the best way someone can take action? "Still, our favorite alternative is," Riley says, "Well, your face and a glass of clean drinkable water."
Want to turn your passion for wellbeing into a fulfilling career? Become a Certified Health Coach! Learn more here.