Close Banner
Advertisement
This ad is displayed using third party content and we do not control its accessibility features.
These 7 Healthy Afternoon Snacks Also Reduce Food Waste

mbg Sustainability + Health Director
By Emma Loewe
mbg Sustainability + Health Director
Emma Loewe is the Senior Sustainability Editor at mindbodygreen and the author of "Return to Nature: The New Science of How Natural Landscapes Restore Us."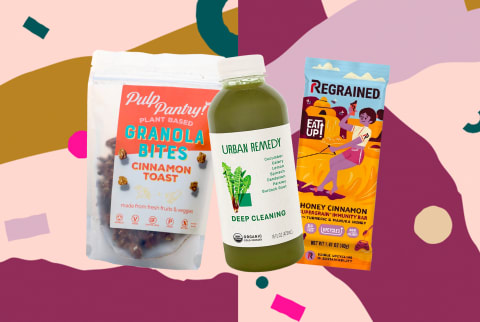 How can we solve the food waste crisis? That's the $2.5 trillion question. Creating networks to bring unsold produce into people's kitchens is one way, spearheaded by distribution companies like Misfit Market and Imperfect Foods. Incentivizing people to buy imperfect food is another approach that grocers are taking with "happy hours" where prices on expiring food are slashed and markets that stock exclusively battered, bruised, and misshapen goods are taking over.
"Both curiosity and action to reduce food waste have taken hold," Katherine Miller, the VP of Impact at the James Beard Foundation, says of recent progress in the space. In addition to high-end chefs partnering with organizations to redistribute their leftover ingredients, Miller has seen more home cooks trying to reduce waste in their own kitchens. "And we've seen significant policy change with the first food waste prevention measures in the federal farm bill. That's all in the last two years! So it's great progress."
Turning food "waste" into something edible and appetizing is another delicious solution to a trashy problem. Here are seven healthy snacks and beverages that owe their star power to ingredients that would have otherwise been tossed. Keep them in your lunch stash and power through the afternoon slump fueled by food waste:
1. Ground Rules Beet Chips
Ground Rules uses a special drying process to make fruit and veggie chips taste way fresher and more delicious than you'd think possible. The brand is owned and operated by Treasure8, a San Francisco–based technology company that's out to reduce food waste through supply chain innovations. For example, they'll partner with farmers, manufacturers, or grocery stores to turn their waste into snacks like these or other high-value material like biochar, which can then be used to improve soil quality around the world. Their drying tech sucks out 95% of an ingredient's moisture but keeps all its valuable nutrients—and is relatively energy-efficient to boot.
No oils or added ingredients make this snack great at getting you over an afternoon slump, and they're surprisingly filling. Other flavors include sweet potato and my personal favorite, apple.
Ground Rules Naked Beet Chips ($33/6 bags)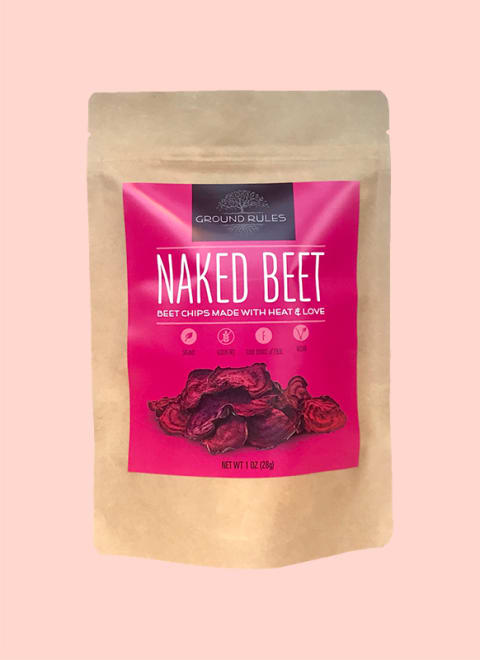 Ground Rules
2. Pulp Pantry Granola Bites
Pulp Pantry teams up with LA's never-ending network of juice shops to take the unused (but probiotic-rich) pulp off their hands and turn it into vegetable-based granola bites. Fun seeds and seasonings make the resulting grain-free products taste more like cinnamon toast or Cocoa Krispies than leftovers from your morning green juice.
Pulp Pantry Cinnamon Toast Plant-Based Granola Bites ($8.99/ bag)
Pulp Pantry
3. Urban Remedy Green Juice
Urban Remedy's plant-rich salads, grain bowls, and juices have long been popular on the West Coast, and now they're popping up in Whole Foods Markets here in NYC too. The celeb-endorsed organic food company just announced they've managed to save almost 2 million pounds of produce from landfill so far through a partnership with Full Harvest. Even if green juice isn't your thing, just think of all the celery you're saving from the trash when you knock one of theirs back.
Urban Remedy Deep Cleaning Juice ($10.95)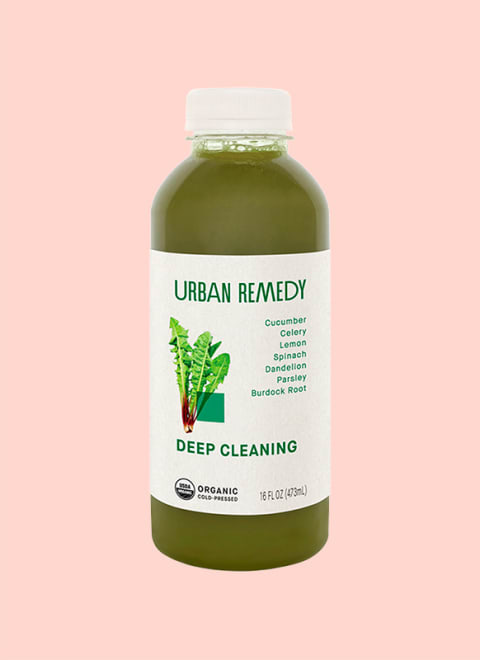 Urban Remedy
4. Rind Superfood Snacks
You'll notice the difference between Rind and other dried fruits snacks right away: They still have their peels! The company chose to keep the rinds on their dried citrus, apples, kiwis, peaches, and pears to make them more nutrient-dense, cut down on food waste, and show consumers that they don't need to peel everything. The resulting chip has a really unique and delicious texture.
Rind Superfood Snack Variety Pack ($20.99/pack of 6)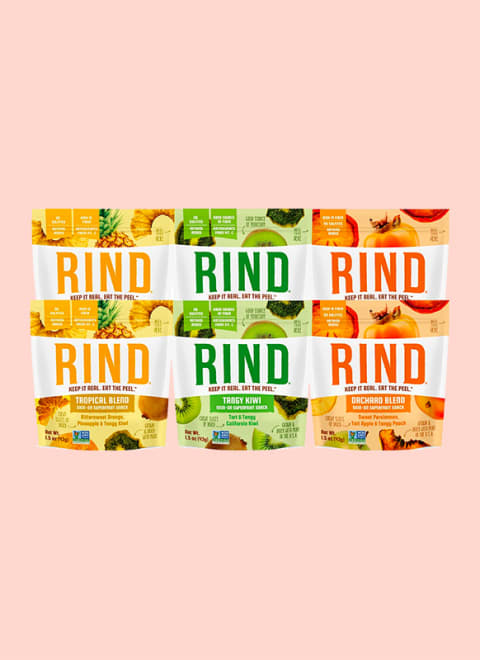 Rind
5. WTRMLN WTR
I was admittedly obsessed with this vowel-free juice company before I ever learned of their commitment to food waste. So imagine my delight to find out that the watermelon they use in their cold-pressed juices is diverted from the landfill because of blemishes or other cosmetic imperfections. Check them out if you're in the mood for something cold, refreshing, and just the right amount of sweet (swt?).
WTRMLN WTR + Ginger ($49.99/12-pack)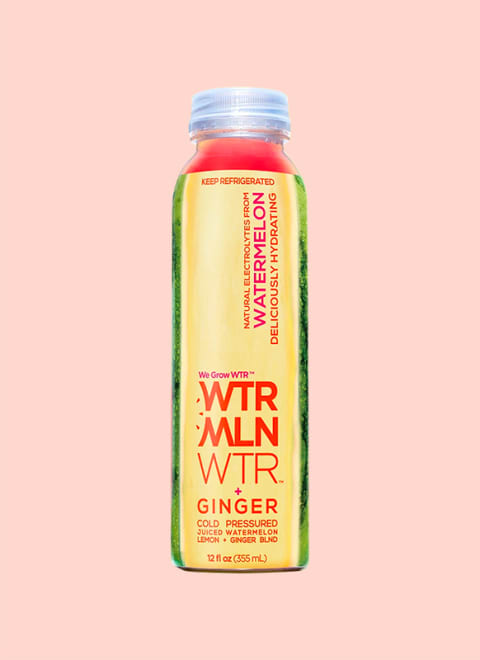 WTRMLN WTR
6. Regrained bars
Brewing beer leaves a surprising amount of unused grain behind, which Regrained turns into protein-rich (and alcohol-free) snacks. Their upcycled grains are paired with ingredient combos like ginseng and coffee fruit and turmeric and Manuka honey for a flavorful bar that won't lead to an immediate crash. Keep an eye on this B Corp: They have a line of flavored puffs and a plan to switch over to compostable packaging in the pipeline.
Regrained Honey Cinnamon IPA Bars ($24.99/12-pack)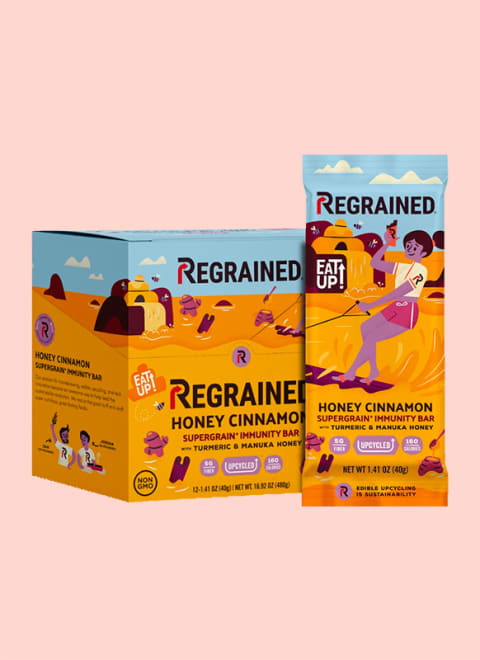 Regrained
7. Olyxir Tea Strips
In what is maybe the coolest invention ever, Olyxir has turned waste from the olive oil industry into a concentrated tea "strip" that dissolves in hot or cold water. Each olive leaf strip also contains fresh fruit and adaptogens and packs even more antioxidants than powerhouse fruits like blueberries. Olyxir also scores high marks for packaging: Its strips come in a sleek reusable carrier that can be refilled when you're done.
Olyxir Olive Leaf Tea Strips ($11.99/10-pack)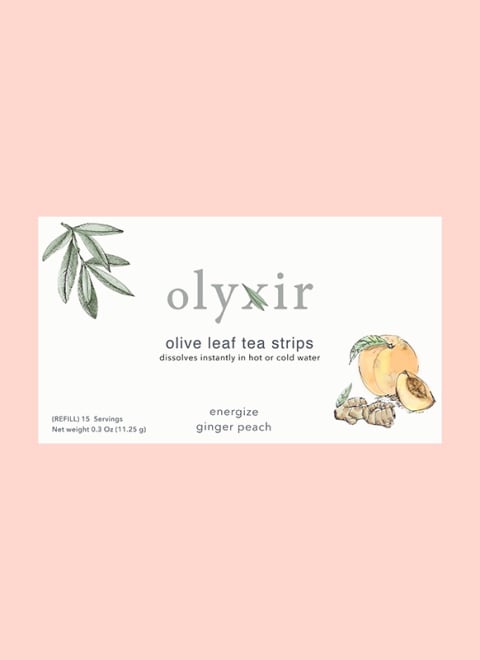 Olyxir