5 Fun & Impactful Eco-Friendly Activities To Do With Friends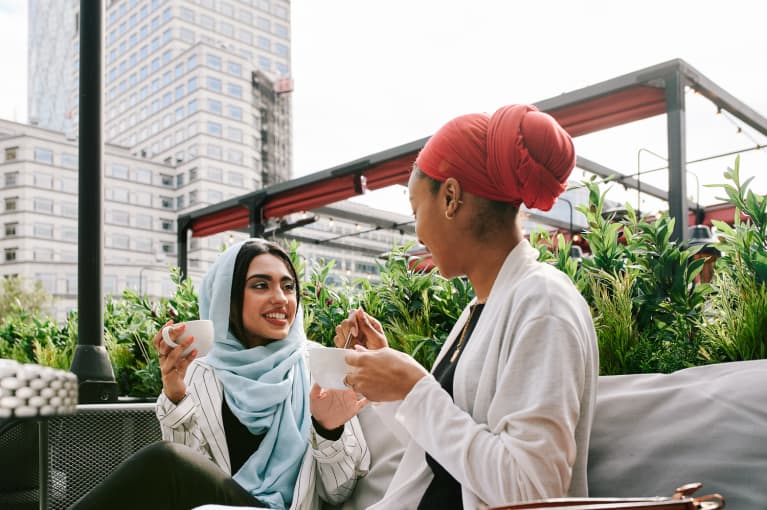 Whenever we make commitments to change our lives for the better—whether it's cutting carbs or cutting plastic—it's important to consider the roles our friends and family will play in the transition.
When it comes to eco-friendly lifestyle shifts in particular, there are plenty of downright enjoyable ways to get your friends involved and reduce your footprints together. Here are five ways I've had fun with friends since starting my eco-living journey:
1. Shop (secondhand) together.
The U.S. is the biggest exporter of used clothing in the world, and many of these donated clothes end up in landfills. When we shop at consignment shops like Goodwill, it gives new life to old clothes, home goods, books, and more. Supporting the secondhand market instead of buying new keeps materials in use for longer, plus there is always some treasure to be found at thrift shops. And finding it is half the fun! Some of my favorite finds from shopping with friends this summer include everything from a poppy-orange skirt, classic gold hoop earrings I wear constantly, a bold floral-patterned summer dress, beautifully illustrated children's books (great for baby shower gifts!), and a Himalayan salt lamp for my bedroom.
2. Cook healthy, climate-friendly meals together.
At the moment I am living with the meat-lover to end all meat-lovers, my dad (yes, parents count as friends!). I am so grateful to my mom and dad for giving me a place to stay while I work on the next phase of my life and career. That said, the fact that they buy the bulk of our groceries doesn't exactly put me in a position to demand more meat-free meals. Instead, I lean into my dad's love of cooking, and we get creative. Together we've enjoyed dishes like meat-free pesto zoodles, veggie udon noodle stir-fry, and creamy mushroom risotto. We have fun doing what we love, and I get to introduce him to the idea that not all meals need to be centered around animal protein and can still taste just as delicious.
3. Sip sustainably made wines.
Wine nights with friends make for some of my favorite memories. They are also a perfect opportunity to introduce your favorite people to some sustainable sips. Environmentally responsible wineries are committed to encouraging natural processes that promote soil health—such as using birds as natural pest control throughout the vineyard or native cover crops to prevent soil erosion and return essential nutrients to the earth.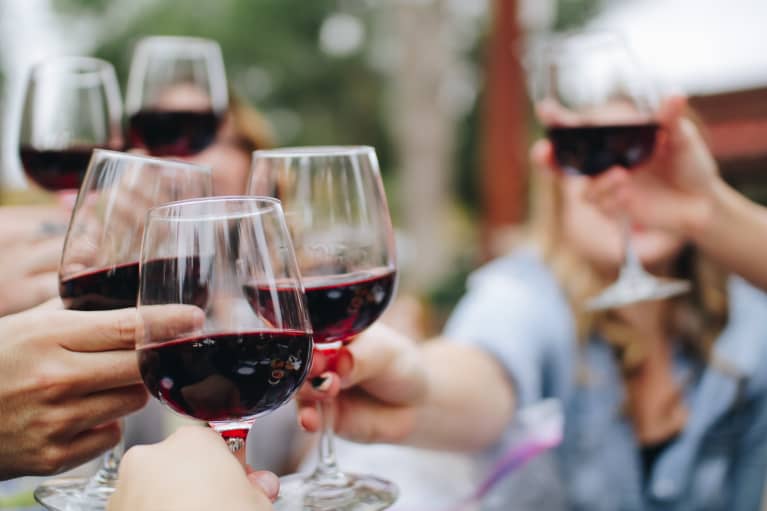 I grew up with three sisters, so the idea of raiding someone else's closet when mine feels very "meh" is pretty much standard at this point. When we were teenagers, the act of "borrowing" clothes was all very shady and secretive. Luckily, we're past that. Today my sisters and I love getting together to swap old clothes. I highly recommend spending an evening sipping those sustainable wines, sharing memories certain clothes bring up, and finding new pieces for your wardrobe from some of your favorite style icons.
5. Give a thoughtful gift with a story behind it.
I recently learned that most of the plastic trash swirling around our oceans isn't bottles or straws, but abandoned fishing gear. That little tidbit spurred me to gift my friends friendships bracelets made from salvaged ocean plastic. I like to think that they remind them of our friendship and the impact we can each make as individuals to protect our planet.
So even if your inner circle isn't willing to spend an hour cleaning trash off the beach with you, there are plenty of other ways to get involved in the sustainable movement together. Most people do want to do more for our planet but may not yet know where to begin. By finding activities that are fun and impactful to do together, you could very well be the inspiration that starts your friends on their own eco-friendly paths.