The Easy-On-The-Earth Essentials To Throw In Your Bag ASAP
There are some people who make green living look effortless, enjoyable, and, let's face it, chic AF (looking at you, Bea Johnson). So what's their secret? It's all in the bag.
It's relatively easy to live a low-impact life at home by doing things like recycling, using nontoxic cleaners, and monitoring water and electricity use. It's when you're out and about that your conscious morals get tested and thoughts like one plastic water bottle isn't so bad and how many paper napkins is too many paper napkins? rise to the surface.
We reached out to conscious bloggers to find out how they live green in a not-always-so-green society. These are the eco-friendly essentials they would never leave home without. Store them all in a cute organic cotton tote and you're ready to take on the world, one reusable straw at a time.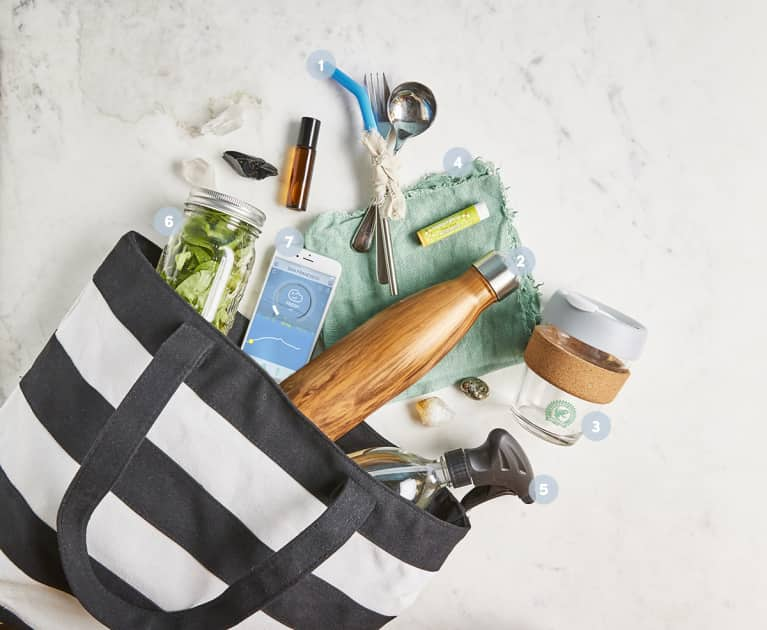 Keep a reusable fork, spoon, and straw on hand so you always have utensils for on-the-go eats. "I live in Southeast Asia right now and I'm constantly sampling delicious morsels from the abundant street carts and food parks here," explains Hannah Theisen, the conscious living and social justice expert behind Life+Style+Justice. "Carrying reusable utensils ensures that I'm not responsible for tons of single-use cutlery ending up in a landfill or the ocean."
OK, so this is a bit Green Girl 101, but carrying a reusable water bottle really does save you from a ton of unnecessary waste. And Holly Rose, a conscious lifestyle blogger out of Paris, notes that restaurants happily fill hers up when it gets low, even if she's not buying anything there.
Cardboard take-away coffee cups can take 30 years to break down in a landfill, thanks to their plastic lining. Those Styrofoam ones that cities around the world are starting to ban? Those take hundred of years to decompose. There's no reason not to carry your own travel mug around with you, especially considering that major brands like Starbucks offer discounts if you BYO cup.
Caroline Vermeersch, founder of Belgium-based online conscious lifestyle guide The Lemon Spoon, never leaves home without a handkerchief to handle messes. Rose seconds that one, wringing hers out in the shower every night so it's ready to go the next morning.
5. Spray bottle (filled with vodka, of course)
"I've started carrying a little spray bottle of vodka on the advice of one of my eco-friends here in the Philippines," says Theisen. "It's a zero-waste alternative to buying tons of little bottles of chemical-filled hand sanitizer and can be used to spray on public toilets, hotel room furniture when traveling, etc. It also doubles as a facial toner, or a disinfectant if I get a scrape or cut. Bonus: I always have emergency vodka." She's got our vote of approval.
A small Mason jar can house your lunch if you're bringing from home or store leftovers if you're eating out.
7. Phone equipped with eco apps
Most of us would never leave home without a phone, so why not make yours a little portal to all the eco-information you could ever need? Some favorite green apps include Plume, an air pollution tracker that Rose always checks before she heads out on a bike ride through Paris; Bulk, an app that helps you shop smarter by directing you to bulk bins in your area; and GoodGuide, a database that ranks everyday products based on human and environmental safety.