I Used To Be A Shopaholic. Here's How My Life Changed When I Went Minimalist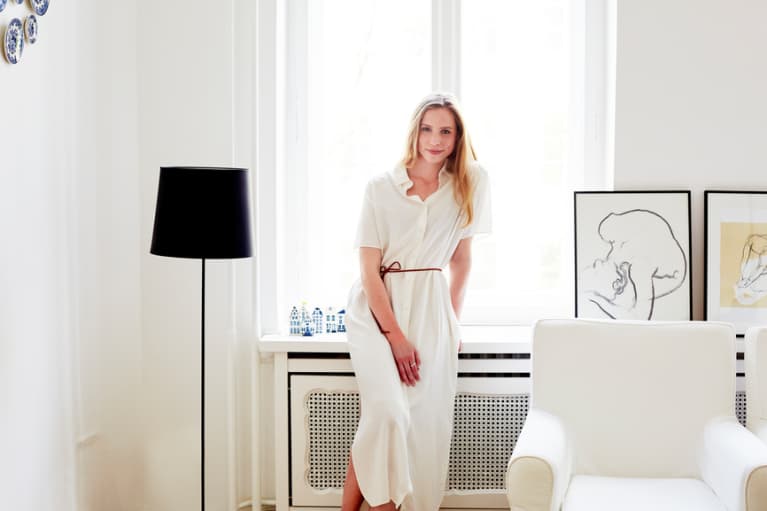 Confession time: I am a former shopaholic turned aspiring minimalist.
Minimalism does not come easy to me. My natural inclination is to grab whatever free goodies are thrown my way and acquire as many shoes as humanly possible. But since launching my own business last fall, my life has started to feel physically and emotionally cluttered.
With less time than ever and energy to waste on not-so-important decisions like getting dressed, crafting a capsule wardrobe became a new form of mindfulness for me. (Full disclosure, my business, IMBY, is a capsule-inspired fashion brand, so I felt the extra need to try it out to get a full perspective on what I was preaching.)
It's liberating to give myself permission to wear only what feels good.
How I started my capsule wardrobe
Last spring, I boldly clawed my way through the jungle that was my closet and donated any item that I hadn't worn in the past year, didn't serve a need, or I didn't feel 100 percent fantastic in.
The resulting spring capsule contained 37 pieces, including six pairs of shoes. It was mostly made up of versatile pieces I could wear in a variety of situations, mix-and-match items, and the pieces that I simply adored wearing. I made sure to carry at least a quarter of this capsule into the next season, and I have learned a lot along the way about how to make the process work for me.
And boy, has my new, pared-down wardrobe changed my life.
Today, I am a proud outfit repeater. I love what I wear; I love the ease of getting dressed; I love having my most comfortable pieces available on repeat. The Sara of five years ago who was afraid to wear the same outfit twice in a month would certainly not recognize me—and I love that, too.
How having 40-ish pieces in my wardrobe has changed my life
1. I love every single piece I own.
Come the beginning of each season, my capsule items are my new besties—and I feel lucky to get to wear them for the next three months. I usually try to bring in two to three pieces that will push me to try new styles, but the rest are items I always feel super comfortable and confident in. It's liberating to give myself permission to wear only what feels good.
2. My wardrobe works for my lifestyle.
I have always been obsessed with shoes. I used to own a ton of them—most of which were purchased before I stopped investing in "fast fashion." With my first two capsules, I strictly adhered to the "shoes count toward the 40 pieces" rule, meaning I didn't get to wear a lot of my favorite ones. But I eventually realized that picking out shoes doesn't cause me stress or add to my decision fatigue (as long as I know where they are!), so now I create my own "shoe capsule" with the pairs I would like to wear that season. My capsule should serve me and my needs.
3. Packing is so much easier.
I went on a four-week vacation this summer, and packing took me all of 10 minutes. I literally took all but three items from my capsule wardrobe and put them in a suitcase. Voilà! Packing stress, I don't miss you.
4. I can still be a rule breaker.
I was devastated when 50-degree temperatures dominated the first few weeks of my initial spring capsule. I clung to the one sweater I had included in my capsule and wore it repeatedly. After chatting with some fellow capsule wardrobers, they encouraged me to pull in some extra pieces, telling me that I shouldn't have to suffer to fit my number. I've held onto this mentality, and though I rarely add news items, I am cool with it when I need to.
5. I don't need to shop anymore.
I have enough clothes for all my capsule wardrobe seasons in my pre-capsule closet, so I curate my capsule from everything I already own. In fact, I close my closet door and just have a hanging rack in my room with my capsule pieces so I don't get distracted. I buy new items to add to my capsule if I truly love them—two to three pieces per season max. I no longer feel the need to acquire new clothes all the time, and that's so relieving.
My capsule wardrobe has made my routine infinitely easier, and I'd recommend the lifestyle shift to anyone. Getting dressed without getting stressed is totally worth it.
Related reads: