The 9 Best Probiotics For Women For Bloating, Vaginal Health & More

mbg Sustainability + Health Director
By Emma Loewe
mbg Sustainability + Health Director
Emma Loewe is the Senior Sustainability Editor at mindbodygreen and the author of "Return to Nature: The New Science of How Natural Landscapes Restore Us."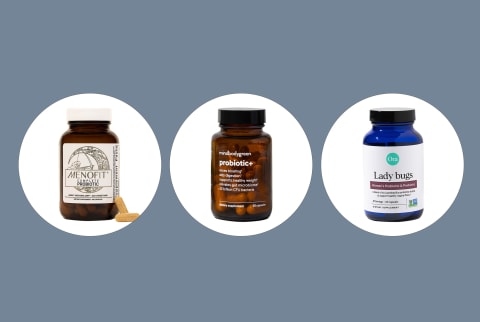 March 7, 2023
Our editors have independently chosen the products listed on this page. If you purchase something mentioned in this article, we may
earn a small commission
.
Just like your DNA, your microbiome is totally unique to you. (There's a reason they call it the "second human genome.") Factors like your age, home environment, and lifestyle will all impact the microbial landscape that lies within you. Emerging research is also finding that there are microbial differences between the sexes—meaning that men and women will benefit from taking slightly different probiotic supplements in some cases.
Here's a primer on how probiotics can be leveraged to boost women's well-being and the best probiotics for women, per health experts.
The best probiotics for women of 2023:
The best probiotics for women of 2023:
Show More
Should women take probiotics?
Your entire body, from your mouth1 down to the skin on your toes, is teeming with bacteria, fungi, archaea, and eukaryotes2, but the lower digestive tract of the gut is where they're most concentrated. (Your gut microbiome alone weighs about 5 pounds3!)
Think of the microbes in your body as a cascade of specialized helpers, working diligently to keep a certain aspect of your health in check. The more robust and diverse4 your workforce, the more vibrant your health will be.
Not getting enough sleep, stressing too much, passing through over-sanitized environments, eating a poor diet, and using antibiotics are just a few ways to deplete your microbial diversity and lead to suboptimal health.
You can recolonize your system with "good bacteria" by making lifestyle changes, consuming foods or drinks that contain probiotics, and playing around in the dirt every now and then.
Taking a probiotic supplement is a more targeted way to infuse your microbiome with beneficial bacteria. Women, in particular, may benefit from taking a daily probiotic since they're more likely to deal with certain digestive issues than men. The latest surveys show that women are twice as likely to experience bloating and struggle with regularity—things that a high-quality probiotic can help with.*
RELATED READ: Probiotics For Men: Why Guys Should Take Them + The 5 Best Types To Try
Probiotic benefits for women.
A few signs that you might benefit from taking a probiotic include bloat, gas, and issues with regularity, immunity, and urogenital tract health.*
While it depends on the person and the product, many people see a noticeable improvement after three weeks of taking a probiotic daily (and it's important to supplement daily since the beneficial bacteria in probiotics don't stick around in the body for long).
We still have a lot to learn about how different strains of probiotics can bolster women's health. In the meantime, these are the top probiotics that mindbodygreen's vice president of scientific affairs Ashley Jordan Ferira, Ph.D., RDN, recommends for women this year.
RELATED READ: The 4 Best At-Home Microbiome Tests Of 2023
How we picked:
These formulas boast good bugs (probiotics!) targeted for women's needs and wants, from supporting the vaginal microbiome and urogenital tract health, to targeted strains for gut health, and more.*
Since each probiotic strain has unique characteristics and health benefits, we prefer to elevate products that share genus, species, and strain info per probiotic, as well as CFU dose info per strain.
We elevate reputable brands that prioritize quality testing to ensure the potency of the probiotic and prebiotic ingredients while also placing an emphasis on purity (limiting heavy metals, microbials, etc.).
From ingredient sourcing to packaging decisions, we prefer products created with sustainability in mind. As such, we highlight key certifications, as well as recyclable and eco-friendly containers.
Our picks for the best probiotics for women of 2023:
Advertisement
This ad is displayed using third party content and we do not control its accessibility features.
Advertisement
This ad is displayed using third party content and we do not control its accessibility features.
Advertisement
This ad is displayed using third party content and we do not control its accessibility features.
Advertisement
This ad is displayed using third party content and we do not control its accessibility features.
How to choose.
With so many probiotics on the market, it pays to take the extra time to do a little research before deciding which one's best for you. Here are some factors to keep in mind:
Just like you wouldn't take your car to a mechanic and tell them to "fix it" without more information about the actual problem, you shouldn't take a probiotic without a specific goal in mind—be it more regular digestion, improved vaginal health, or less bloating.*
2.
Look for strain-level specificity.
Once you've identified your "why" for taking a probiotic, you can look for strains that have been researched for that purpose. Here's where it gets a little tricky: Not every company will share the exact strains that they use in their products. They'll just share the genus and species, which, as Ferira previously put it, is like saying you're from planet Earth but not saying which country or state you live in.
It's important to know what strains you're working with (hence why we listed out each strain, when available, in this article) because different strains, even from the same species, can have wildly different impacts on the body.
3.
Go with research-backed strains.
A high-quality probiotic will contain strains that have been researched for the specific purpose listed on the bottle (i.e., a probiotic for weight management should have a strain that's been studied for that, like Bifidobacterium lactis B420.)* There are thousands of probiotic strains in the world, with more being discovered with each passing year. To learn which ones have actual science behind them, head here.
4.
Pay attention to dose: More isn't always better.
Probiotic doses are often listed in colony-forming units (CFU), which list the number of live microbes in a product. When it comes to CFUs, more isn't always better. The important thing is to look for clinically relevant doses, or ones that have been shown to be effective in research studies for the benefit you're seeking.
5.
Buy from a transparent company.
Side effects and safety.
Probiotics are considered very safe for most people, though you should always check in with your doctor before starting a new regimen. Initial side effects may include gas, bloating, and irregularity, but they should fade once your body adjusts to the new bacteria.
Frequently Asked Questions
What happens when you take probiotics every day?

It depends on the product and the strains it uses. Depending on the type you're taking, you can expect to experience less gas and bloating, clearer skin, or a more positive mood after taking probiotics daily for a few weeks.*
What food is highest in probiotics?

Foods that are high in probiotics include fermented foods like yogurt, kefir, and sauerkraut. Be sure to consume foods with prebiotic fiber to feed and nourish these good bacteria too.
What are the best probiotics for gut health?

Strains that have been studied for gut health include B. lactis Bi-07, B. lactis B420, and L. acidophilus NCFM. Metagenics UltraFlora Control and mindbodygreen probiotic+ are two products that use these strains in clinically relevant doses, making them solid picks for gut health and comfort.*
The takeaway.
Probiotics leverage the fascinating world of microbial science to deliver products that can help with many aspects of women's health—from digestion to vaginal balance.* Be sure to check in with your doctor before taking a new probiotic, do your research to find one that's right for you, and pair the product with other microbe-friendly habits like eating a nutrient-dense diet, managing stress, and spending plenty of time outside.
If you are pregnant, breastfeeding, or taking medications, consult with your doctor before starting a supplement routine. It is always optimal to consult with a health care provider when considering what supplements are right for you.

Want to turn your passion for wellbeing into a fulfilling career? Become a Certified Health Coach! Learn more here.
Meet The Experts
Emma Loewe
is the Senior Sustainability Editor at mindbodygreen and the author of "Return to Nature: The New Science of How Natural Landscapes Restore Us."