The Best At-Home Microbiome Tests Of 2023

Registered Nurse (RN)
By Amanda Lundberg, RN
Registered Nurse (RN)
Amanda is a registered nurse with over a decade of experience in clinical nursing and a member of the Association of Healthcare Journalists.

Medical review by
Bindiya Gandhi, M.D.
Physician
Dr. Bindiya Gandhi is an American Board Family Medicine–certified physician who completed her family medicine training at Georgia Regents University/Medical College of Georgia.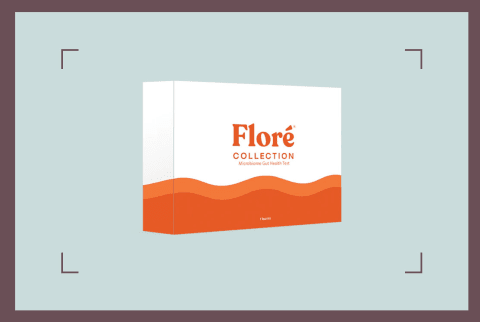 September 7, 2023
We carefully vet all products and services featured on mindbodygreen using our
commerce guidelines.
Our selections are never influenced by the commissions earned from our links.
A quick look at the best at-home microbiome tests
It's no secret that your digestive system is intimately intertwined with the rest of your body systems, but how do you know if your gut health is in optimal shape?
Newer technology for at-home microbiome testing gives a glance into your gut microbiome, to better understand how it's impacting the rest of your health.
Learning about your gut microbiome gives you insight into your overall health and well-being. To help you take your health to the next level, we spoke with experts and analyzed today's at-home testing options, to find the best microbiome tests available right now.
What is a gut microbiome test?
To put it simply, a gut microbiome test is a tool designed to help people better understand the composition of their gut microbiome. The process typically involves collecting a small sample of stool and sending it to a specialized lab for analysis.
There are several methods available for assessing one's gut microbiome, ranging from DNA sequencing to RNA analysis and metabolic profiling.
By examining the genetic material, microbial diversity, and metabolic activity within the gut, these tests can reveal crucial information about an individual's digestive health, potential imbalances, and even suggest dietary or lifestyle adjustments to optimize gut health.
The best microbiome tests of 2023:
Most comprehensive: Viome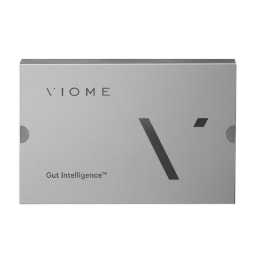 Pros:
Most comprehensive tests for multiple biomarkers
Quick turnaround
Clear & concise results with recommendations
Cons:
No follow-up with a medical professional offered
Collection Method:
Stool sample
Result Time:
2 to 3 weeks
Coverage: Not covered by health insurance, you may use HSA or FSA account to purchase
Biomarkers checked: Bacteria, fungi, bacteriophages, viruses, parasites, archaea
Viome offers three options of at-home tests for gut health, including one that evaluates cellular and oral health. The most basic option, Gut Intelligence is the foundational gut health test.
Although it requires a stool sample like other at-home options, it uses mRNA, rather than DNA, to test your gut microbiome.
This testing format allows for a more detailed report, providing insights on your gut lining health, gas production, digestive processes, and immune response.
Once you've sent in your stool sample, it'll take about 2 to 3 weeks to receive results in a secure app. These results will outline your digestive deficiencies, as well as post-test recommendations for helping your gut.
However, there's no medical follow-up, so we recommend touching base with your primary care physician before making any changes to your routine—including subscribing to the brand's recommended probiotics.
Want to know more? Check out our full review of Viome's Gut Intelligence Test, from a registered nurse.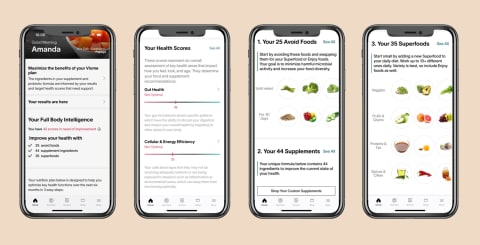 Best follow-up care: Biohm
Pros:
Tests two biomarkers
Offers a live consultation to review results
Cons:
Uses DNA to test
Longest estimated wait time for results (but still less than a month)
Collection Method:
Stool sample
Result Time:
3 to 4 weeks
Coverage: Not covered by health insurance, you may use HSA or FSA account to purchase
Biomarkers checked: Bacteria, fungi
Biohm is a great option for those who want a more comprehensive understanding of their test results.
When you send in your stool sample you'll have two options to view your results: a $130 test with written results and recommendations (similar to other brands) and a $180 option with a live consultation for results.
The latter allows you to ask clarifying questions and gain further insight into what your biomarker readings actually mean.
With your results, you'll be given a gut health score of 1 to 10. Although uncomplicated and simple, it may not provide enough detail for some—which makes the live consultation even more valuable.
Like most brands, Biohm uses DNA to test for biomarkers. Just know that dead microorganisms can leave behind traces of DNA, which can be picked up by the testing method and can skew the results.
Best budget: Ombre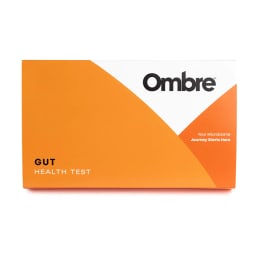 Pros:
Accessible helpline
Subscribe & save option
Cons:
Only tests for bacteria
Charges extra $$$ for a comprehensive result
Collection Method:
Stool sample
Result Time:
2 to 3 weeks
Coverage: Not covered by health insurance, you may use HSA or FSA account to purchase
Biomarkers checked: Bacteria
Ombre is the least expensive option on our list, but the smaller price tag comes with less robust testing capabilities. The at-home test only evaluates your stool sample for bacteria, and the final report shared with users will only include the statistically significant results.
For an additional $10, you can purchase additional reports for further insights rather than receiving an update on outliers.
During normal business hours, you can also access the brand's helpline with any questions or concerns about your test or results. However, this does not include access to medical support.
Advertisement
This ad is displayed using third party content and we do not control its accessibility features.
Best subscription: Floré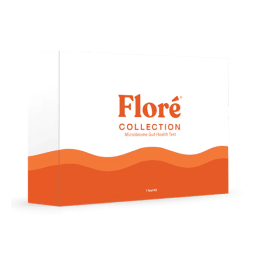 Pros:
A care scientist discusses your results with you
Monthly subscription includes a test every 4 months
An individually-formulated probiotic, packaged as one pill a day, can be included
Cons:
Some reviews mention a less-than-detailed results page
Collection Method:
Stool sample
Result Time:
1 to 3 weeks
Coverage: Not covered by health insurance, you may use HSA or FSA account to purchase
Biomarkers checked: Bacteria, fungi, viruses, parasites, yeast
Floré is a newcomer with great potential in the at-home testing market. It also tests DNA for multiple biomarkers and offers one of the shortest waiting periods for results.
Follow-up care is also a given, with an included "care scientist" available to review the results after your test. However, some reviews have mentioned being underwhelmed with the detail of the result report, mentioning that the results seem generic, rather than individually tailored.
However, this brand is still a standout for those who want regular gut testing. With the Floré subscription service, you'll pay a monthly $79 subscription fee and receive a microbiome test every four months.
Comparing the best microbiome tests
Product
Price
Collection method
Result time
Tests for bacteria
Tests for fungi
Tests for viruses
Tests for parasites
Tests for yeast
Tests for archaea
Viome
$249
Stool sample
2 to 3 weeks
Yes
Yes
Yes
Yes
Yes
Yes
Biohm
$130
Stool sample
3 to 4 weeks
Yes
Yes
No
No
No
No
Ombre
$100
Stool sample
2 to 3 weeks
Yes
No
No
No
No
No
Floré
$169
Stool sample
1 to 3 weeks
Yes
Yes
Yes
Yes
Yes
No
How we picked the best at-home microbiome tests
Accuracy: To get a clear picture of your gut health, you need an accurate test. We chose tests with high accuracy rates.
Biomarkers tested: There is a vast range of what at-home tests include, so we made sure to point out these differences.
Turnaround time: Stool samples inherently take longer than blood samples, but some brands are much quicker to return results than others. We've called this out below.
Value: You get what you pay for. We want to make sure you are spending wisely and getting the most out of your test.
What is the gut microbiome?
The gut microbiome is the collective term used to refer to all the microorganisms including bacteria, fungi, and viruses in the intestines—affectionately known as the "gut." In healthy digestive systems, all the microbes live in harmony, a pretty impressive feat considering there are over 100 trillion types of bacteria in the gut.
However, any disruption to this delicate balance of good and bad bacteria can cause several harmful conditions, such as inflammatory bowel disease, irritable bowel syndrome, asthma, atherosclerosis, obesity, and metabolic disorders.
Each person's gut microbiome will have different components to accommodate regional diversity. Further, your unique dynamic gut flora demands will be based on specific environmental forces. What is considered a healthy gut one year may change the next.
Njunge encourages consumers to think of the gut microbiome as a pivotal piece of your health, adding that, "If you take care of it, it will take care of you."
How to test your gut microbiome
Gut microbiomes are tested using fecal matter. Yes, you will need to collect a sample of your poop. However, this non-invasive method allows the best insight into your digestive health.
Certain at-home microbiome tests analyze only bacteria, while other, more comprehensive tests include bacteria, fungi, bacteriophages, viruses, parasites, and archaea.
As with all non-diagnostic testing, it's important to discuss results with a healthcare provider, since at-home tests don't take into account family history, lifestyle, diet, etc to determine the cause of any symptoms.
Equally important? Understanding that a single sample is unlikely to capture the full picture. Your gut microbiome is rapidly evolving based on a variety of factors, including diet, stress, and even age.
As a result, a single sample may not capture a full picture of your body's health.
Our gastrointestinal tract also includes trillions of microbes, many of which a single test may be unlikely to track all these microorganisms, let alone identify them. These tests are also not FDA-approved and not considered diagnostic.
Who should use an at-home microbiome test?
At-home microbiome tests are a convenient and relatively inexpensive way to monitor your gut health. If you have been experiencing any digestive discomfort, testing your gut microbiome from the comfort of your home can have an enlightening impact on your overall health and wellness.
Bloating
Diarrhea
Abdominal pain or discomfort
Gas
Constipation
Fatigue
Weight fluctuations
Skin issues
Mood disorders
Njunge advises discussing your symptoms with your healthcare provider, explaining that there may be helpful clues in your history and physical examination that could lead to the need for more specialized testing.
However, for a general overview of your gut health, or if you are simply looking to make better informed diet choices, an at-home gut microbiome test is a good starting point.
Keep in mind, if you have recently finished a medication known to impact the gut biome, such as antibiotics, Njunge says it is wise to ask your doctor about those potential effects.
Anyone experiencing severe digestive symptoms should consult with a medical professional. At-home tests are not a source of diagnostic testing and are not a replacement for traditional medical care.
If you do opt for an at-home test, it's also important to be able to analyze the results with your doctor, to better understand what's going on and how to treat any abnormalities.
Never start a new supplementation routine—especially one based off your gut microbiome tests—without connecting with a healthcare professional.
When is the best time to test for microbiomes?
Gut microbiome tests use a sample of stool. Due to these circumstances, it's unlikely consumers can schedule their collection time. Fortunately, there is no consensus on the best time of day to test your gut microbiome. However, to get the most accurate results possible, Njunge suggests being mindful of the following:
Take the test during a week that your diet is as near to normal as possible. You will not want to perform the test while you are outside your regular schedule as your diet may alter your biome and not be a true representation.
Avoid taking the test when you are also taking medications or supplements that affect your microbiome, such as antibiotics or probiotics, as these will shift your results.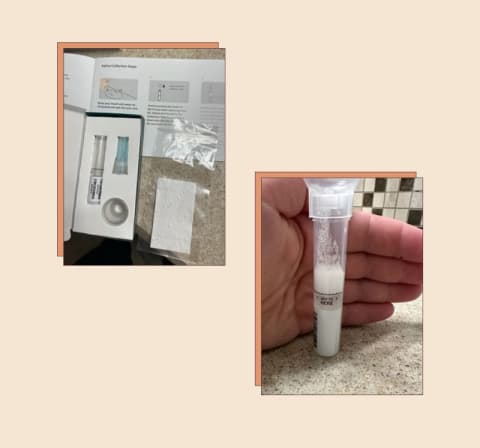 Frequently Asked Questions
Does insurance cover microbiome testing?

No, microbiome testing is not covered by insurance companies at this time. However, most at-home tests can be purchased with an HSA or FSA account. We recommend checking with your account carrier to confirm that at-home tests are considered a medical expense per their regulations.
Is there a test to check gut health?

Yes, there are convenient at-home tests requiring a small stool sample to give you insight into your gut health. The tests use DNA or mRNA from bacteria and other biomarkers, sharing results about the balance of intestinal flora.
Which microbiome test is best?

Best is subjective, but our recommendation for the best value as well as the most comprehensive at-home test is Viome. It is the only brand that tests bacteria and fungi in addition to other biomarkers. Its turnaround time is comparable to others, and they have technologically advanced testing methods. Viome provides the most thorough testing and result explanations, and that is why we would recommend it as the best.
The takeaway
An at-home gut microbiome test gives a snapshot of how the delicate balance of biomarkers is affecting the rest of your body. To get a full picture of your gut health, we recommend using a test that includes the most amount of biomarkers.
What we've updated since publishing:
3/1/23: We added original imagery from our testers.
Meet The Experts
Amanda is a registered nurse with over a decade of experience in clinical nursing and a member of the Association of Healthcare Journalists.
Dr. Bindiya Gandhi is an American Board Family Medicine–certified physician who completed her family medicine training at Georgia Regents University/Medical College of Georgia.