Probiotics For Healthy Weight Loss: 7 Science-Backed Options

mbg Sustainability + Health Director
By Emma Loewe
mbg Sustainability + Health Director
Emma Loewe is the Senior Sustainability Editor at mindbodygreen and the author of "Return to Nature: The New Science of How Natural Landscapes Restore Us."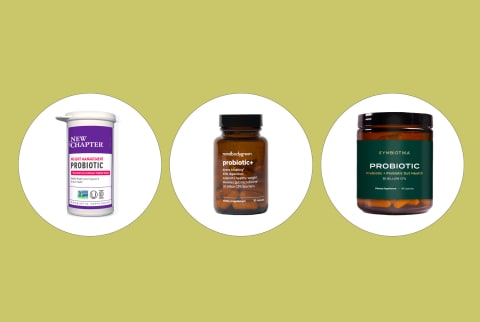 May 12, 2023
Our editors have independently chosen the products listed on this page. If you purchase something mentioned in this article, we may
earn a small commission
.
Tending to your gut microbiome is important for many reasons. Research has linked a diverse microbiome to improved immunity1, better digestive health2, and even an increase in positive emotions3. There's also some evidence that the better shape your gut is in, the easier it will be for you to maintain a healthy weight.
Here's a look at the research on how probiotics can assist with weight loss and the seven probiotics to try if weight loss is a goal of yours.*
The best probiotics for weight loss:
The best probiotics for weight loss:
Probiotics and weight loss 
Probiotics may assist with healthy weight loss by imparting the gut with an influx of beneficial bacteria.*
While we don't know exactly how these "good bugs" impact weight, researchers suspect it has to do with how they support gut barrier function and a healthy inflammatory response in the body. They may also support the production of short-chain fatty acids that regulate appetite and send signals of fullness4. Plus, probiotics can help ease digestive issues like bloat and go a long way in promoting regular bowel movements.*
"When the bacteria in the intestinal tract (i.e., your gut microbiota) lack in volume or diversity, or the wrong types of microorganisms start to flourish, it not only can affect your health, but it can also make healthy weight maintenance more difficult," Densie Webb, Ph.D., R.D., previously told mindbodygreen.
If your goal is weight loss, you'll want to look for a probiotic that contains bacterial strains that have been studied on humans for this purpose, such as:
Bifidobacterium lactis B420: In one double-blind clinical trial5, people who took the probiotic strain B. lactis B420 with and without dietary fiber had a significantly reduced waist circumference, fat mass (particularly in the stomach region), and energy intake after six months compared to those who did not take the probiotic.*
Lactobacillus gasseri BNR1799: In another randomized, placebo-controlled study6, adults who took Lactobacillus gasseri BNR17 lost more adipose tissue (body fat) and had a smaller waist circumference compared to a control group after 12 weeks.*
Lactobacillus rhamnosus CGMCC1.3724: In this study, supplementing with another strain of Lactobacillus bacteria, Lactobacillus rhamnosus CGMCC1.3724, helped participants lose weight and maintain their weight loss7 over a 24-week period. The participants were also following a reduced-calorie diet, and they lost more weight than those who were eating fewer calories but not taking a probiotic.*
Probiotic supplements that contain science-backed bacterial strains may support weight loss, but they don't work alone.* You'll need to pair them with a gut-friendly diet, exercise, and a healthy lifestyle for the best results.
Summary
While we need more research to be sure, probiotics are suspected to support healthy weight loss by strengthening the gut barrier, supporting healthy inflammatory levels, and promoting overall digestive health.* Bifidobacterium lactis B420, Lactobacillus gasseri BNR1799, and Lactobacillus rhamnosus CGMCC1.3724 are strains that have been studied specifically for weight management.
How to choose 
Any time you're shopping for a probiotic—be it for weight management or general gut health—you'll want to choose one that features bacterial strains that are backed by science and present in clinically relevant doses (i.e., there should be enough live microbes in there to actually have a positive effect).
Look for probiotics that list the bacteria they use down to the strain level (i.e., Bifidobacterium lactis B420 instead of just Bifidobacterium lactis). There are countless types of bacteria out there, and without this level of specificity, you won't know which one you're putting into your body.
Finally, opt for a trustworthy brand that does quality testing to ensure a pure product. Ideally, the company will also prioritize sustainability—be it by becoming B Corp certified or designing its packaging to be less wasteful.
It's a lot to consider, so mindbodygreen's vice president of scientific affairs Ashley Jordan Ferira, Ph.D., RDN, identified the best probiotics for weight loss to help get you started.
The best probiotics for weight loss:
Advertisement
This ad is displayed using third party content and we do not control its accessibility features.
Advertisement
This ad is displayed using third party content and we do not control its accessibility features.
Advertisement
This ad is displayed using third party content and we do not control its accessibility features.
How we picked
Weight management focus
These formulas boast good bugs (probiotics!) for weight management support, with diverse mechanisms and oftentimes other targeted strains or bioactives to support the overall efficacy.*
Probiotic specificity
Since each probiotic strain has unique characteristics and health benefits, we prefer and elevate products that share genus, species, and strain info per probiotic, as well as CFU dose info per strain.
Quality testing
We lean into reputable brands that prioritize quality testing, to ensure the potency of the probiotic and other active ingredients, while also placing an emphasis on purity (limiting heavy metals, microbials, etc.).
Sustainability
From ingredient sourcing to packaging decisions, we prefer products created with sustainability in mind. As such, we highlight key certifications, as well as recyclable and eco-friendly containers.
FAQ
How long does it take for probiotics to work for weight loss?

Probiotics typically start working pretty quickly: With the right probiotic, you can expect to see positive changes in your digestive health (i.e., healthier poops) within two weeks and reductions in bloat within three with certain strains. For weight management goals, give your supplement at least three to six months before deciding if it's working, as healthy weight loss doesn't happen overnight.*
What are the signs that probiotics are working

Signs your probiotic is working include more regular bowel movements, less bloating and more abdominal comfort, and potentially weight loss. Depending on the bacteria used, some probiotics can also help boost skin health and appearance, improve mood, and make a notable difference in immune health.*
Is it good to take probiotics every day?
The takeaway
While we still have more to learn about how probiotics impact weight loss, we do know that taking a high-quality one can go a long way toward fostering a healthy, happy gut. These seven options all have additional perks that may help you lose weight when following a healthy lifestyle—be sure to pair them with regular exercise; whole, healthy foods; and plenty of sleep. Curious to see how they're really working?* These at-home microbiome tests can give you a snapshot of how your gut health is holding up.
If you are pregnant, breastfeeding, or taking medications, consult with your doctor before starting a supplement routine. It is always optimal to consult with a health care provider when considering what supplements are right for you.
Meet The Experts
Emma Loewe
is the Senior Sustainability Editor at mindbodygreen and the author of "Return to Nature: The New Science of How Natural Landscapes Restore Us."