Probiotics For Men: Why Guys Should Take Them + The 5 Best Types To Try

Author:
Expert reviewer:
Updated on July 19, 2022

Certified holistic nutrition consultant
By Lindsay Boyers
Certified holistic nutrition consultant
Lindsay Boyers is a nutrition consultant specializing in elimination diets, gut health, and food sensitivities. Lindsay earned a degree in food & nutrition from Framingham State University, and she holds a Certificate in Holistic Nutrition Consulting from the American College of Healthcare Sciences.

Expert review by
Ashley Jordan Ferira, Ph.D., RDN
mbg Vice President of Scientific Affairs
Ashley Jordan Ferira, Ph.D., RDN is Vice President of Scientific Affairs at mindbodygreen. She received her bachelor's degree in Biological Basis of Behavior from the University of Pennsylvania and Ph.D. in Foods and Nutrition from the University of Georgia.
Last updated on July 19, 2022
Our editors have independently chosen the products listed on this page. If you purchase something mentioned in this article, we may
earn a small commission
.
Unless this is your first time on the internet, you've probably already heard of probiotics. You may already know that, on a basic level, they're good for your gut health, but do they have any targeted benefits for men?*
We dug into the research—and tapped into some health experts—to find out.
Should men take probiotics?
Most experts agree, with a resounding yes, that men should take probiotics. And so should almost everyone else.
While it's impossible to put an exact number on how many folks have suboptimal gut balance or GI needs, it's safe to say that a large number of people are affected. And thanks to a reliance on processed foods, low-fiber diets, and increasing stress levels, the number is only increasing.
Since taking a daily probiotic is completely safe for most people (although you may experience some initial side effects), according to integrative physician Bindiya Gandhi, M.D., there's no harm in trying one to see if it works for you. If you have health concerns or conditions, double-check with your doctor first, though.
Probiotic benefits for men.
While still an emerging area of scientific investigation, there's promising research that a high-quality probiotic supplement can help support various aspects of health.*
Sexual health (plus mood and sleep)
Healthy levels of serotonin are important for normal erectile function (in addition to a balanced mood and sleep).
While there haven't been any studies exploring the direct link between erectile function and probiotics, research shows that probiotic supplementation may boost levels of serotonin by increasing the amount of tryptophan (the precursor to serotonin) in the blood.*
Healthy testosterone levels
After the age of 30, men naturally experience a decline in testosterone, a hormone that plays a vital role in fertility and sperm production.
According to a study published in Andrology, supplementing with probiotics may help increase testosterone levels while also normalizing other important sex hormones—a combination that may improve sperm quality.* It's worth noting, though, that the researchers from the study used prebiotics, too.
This also ties into sexual health since suboptimal testosterone levels can directly affect your libido. On the other hand, when your testosterone goes up, so does your sex drive.
Testosterone also regulates muscle mass and strength and bone density and is involved in the production of red blood cells. Important all around!
Prostate health
The research surrounding probiotics and prostate health is a bit preliminary, but it's worth mentioning that there's been some promising evidence that suggests probiotics may play a role in supporting the health of the prostate gland.*
Aside from these specific benefits for men, there are general benefits of taking probiotics, too. Probiotics:
How to choose the best options
There are several probiotics that are specifically marketed to men, but a lot of what you see is just that: marketing. Narrowing down the best probiotics for men takes the same due diligence ,as with any other category, but don't feel like you're boxed into specific brands just because they say "for men."
While quality is always important when it comes to supplements, board-certified internist Vincent M. Pedre, M.D., says, "That goes triple for probiotics."
According to Pedre, what you're actually getting doesn't always match the claims on the bottle. Here are some easy-to-follow guidelines that can help you narrow down the choices:
Choose a probiotic that contains billions—not millions—of organisms (or colony-forming units, CFUs) per dose. Some of the bacteria in probiotic supplements don't make it past the acid in your stomach. To account for this loss, higher CFUs help. With that said, CFU dosing should ultimately be rooted in clinical research studies.
Look for bacterial diversity. Instead of opting for a probiotic that contains one or two types of bacteria, find one that contains multiple strains, including strains from well-studied genera like Lactobacillus, Bifidobacterium, Streptococcus, and Saccharomyces.
Avoid unnecessary ingredients. Many probiotics contain binders and fillers like lactose and/or cornstarch. These ingredients can contribute to digestive upset in some people, which is all-around counterproductive.
Check the manufacturing date. Most high-quality probiotics are good for two years after the manufacturing date, as long as they've been stored properly (more on that here). It doesn't matter whether the probiotic requires refrigeration or not—both types can be equally effective—just double-check that you're storing them according to the manufacturer's recommendations.
Go dairy-free. Many probiotic supplements are made with dairy, but Pedre recommends choosing one that isn't, especially if you're sensitive to it. (Check out our guide to vegan probiotics.)
The best probiotics for men
If you are new to probiotics, then you have come to the right place. mindbodygreen's vice president of scientific affairs Ashley Jordan Ferira, Ph.D., RDN, has compiled a list of the top probiotics she recommends for men:
mindbodygreen probiotic+
Total CFUs: 32 billion
mindbodygreen's probiotic+ with B. lactis Bi-07, B. lactis B420, B. lactis HN019, and L. acidophilus NCFM is the only blend in the world with this combination of four strains, specifically designed to ease bloating, aid digestion, and elevate your gut microbiome. These probiotic strains have been clinically shown to support gut health and maintain key, daily functions of the digestive system.*
Shop Now: mindbodygreen probiotic+, ($69/month)
mindbodygreen
RenewLife Ultimate Flora®️ Men's Care Probiotic
Total CFUs: 90 billion
Renew Life® Ultimate Flora™ Men's Care Probiotic offers 90 billion CFUs spread across two blends of 12 selected probiotic strains to support men's digestive, colon, immune and respiratory health.*
Shop Now: RenewLife Ultimate Flora®️ Men's Care Probiotic, ($33.95)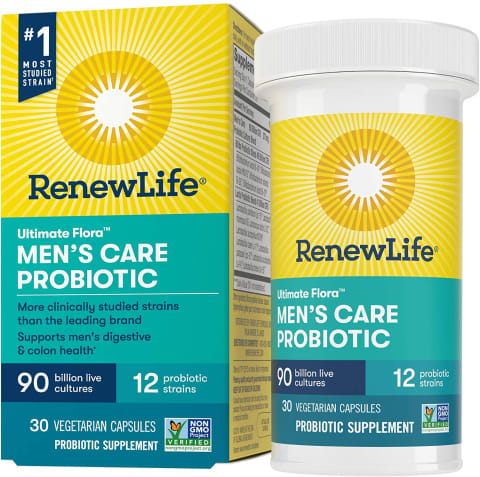 RenewLife
Metagenics UltraFlora Spectrum
Total CFUs: 30 billion
This probiotic supplement provides multidimensional daily probiotic support for both the upper and lower GI tract for digestive and immune health via a blend of 7 beneficial probiotic strains.*
Shop Now: Metagenics UltraFlora® Spectrum, ($74.95)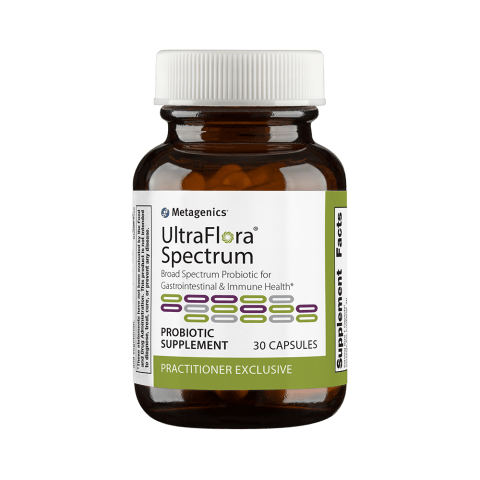 Metagenics
Nature Made Digestive Probiotics Ultra Strength
Total CFUs: 30 billion
Nature Made's Digestive Probiotics Ultra Strength offer 30 billion CFUs split across 12 probiotic strains (from the Lactobacillus and Bifidobacteria genera) that help support healthy gut flora.*
Shop Now: Nature Made Digestive Probiotics Ultra Strength, ($24.20/month)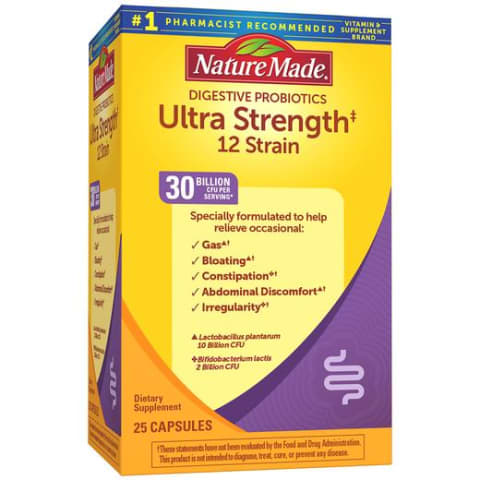 Nature Made
Pure Encapsulations ProbioMood
Total CFUs: 3 billion
Pure Encapsulations ProbioMood probiotic formula includes two probiotic strains designed to support emotional well-being and promote relaxation by essening occasional stress. It also helps support the integrity of the intestinal lining.*
Shop Now: Pure Encapsulations ProbioMood, ($36.30)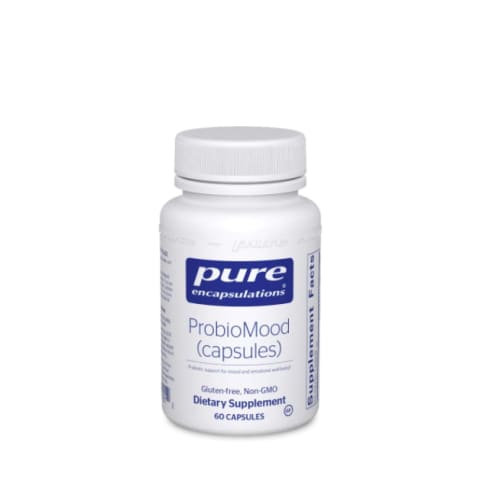 Pure Encapsulations
What our reviewers say
"Mindbodygreen's probiotic+ has been a game-changer for me. I no longer deal with bloating or irregularity. I no longer struggle with energy—I can power through my entire to-do list at mbg and still feel energized (even on days when my kids wake me up far too early). I enjoy goofing around in the pool with them, and I do so with boundless vitality—to that end, I'm also no longer self-conscious about taking my shirt off before diving into the water."*
—
Jason Wachob
The takeaway
There's highly promising research that probiotics can support overall health for everyone.*
Aside from some potential specific benefits for men, there are also general benefits to consider, like promoting proper digestion and nutrient absorption, easing bloat, and supporting a healthy weight.*
All of these benefits make it worth adding a high-quality probiotic supplement to your routine (after you get the OK from your doctor).
Want to turn your passion for wellbeing into a fulfilling career? Become a Certified Health Coach! Learn more here.

Lindsay Boyers
Certified holistic nutrition consultant
Lindsay Boyers is a holistic nutritionist specializing in gut health, mood disorders, and functional nutrition. Lindsay earned a degree in food & nutrition from Framingham State University, and she holds a Certificate in Holistic Nutrition Consulting from the American College of Healthcare Sciences.
She has written twelve books and has had more than 2,000 articles published across various websites. Lindsay currently works full time as a freelance health writer. She truly believes that you can transform your life through food, proper mindset and shared experiences. That's why it's her goal to educate others, while also being open and vulnerable to create real connections with her clients and readers.