The 17 Best Probiotic Drinks We're Sipping On In 2023
mbg Nutrition & Health Writer
By Eliza Sullivan
mbg Nutrition & Health Writer
Eliza Sullivan is a food writer and SEO editor at mindbodygreen. She writes about food, recipes, and nutrition—among other things. She studied journalism at Boston University.

Expert review by
Ashley Jordan Ferira, Ph.D., RDN
mbg Vice President of Scientific Affairs
Ashley Jordan Ferira, Ph.D., RDN is Vice President of Scientific Affairs at mindbodygreen. She received her bachelor's degree in Biological Basis of Behavior from the University of Pennsylvania and Ph.D. in Foods and Nutrition from the University of Georgia.
You probably know that kombucha is good for gut health and digestion, but when it comes to the why, the answer is pretty simple: probiotics. These bacteria help maintain a balanced gut microbiome, which supports gastrointestinal health and function.* Plus, a healthy gut can then enhance everything from skin health to mood and more.
But kombucha is only one of the many types of probiotic drinks you can enjoy. There are a number of beverages that, through some type of fermentation or another method, contain probiotics. We took a look at the best probiotic drinks available and rounded up our favorites. Read on to find your new favorite gut supporting tonic.
The best kombuchas
Kombucha is the original legend of probiotic drinks, in many ways. Made by combining tea (and sometimes other flavors) with certain strains of bacteria or yeast, then fermenting it, some producers also add bonus probiotic strains after fermentation. It's fizzy, slightly sweet, and definitely a bit funky—but once you get hooked, there's no going back. It's also not super difficult to make yourself—you'll want to consult experts and make sure you know what you're doing before getting started.
SYNERGY Trilogy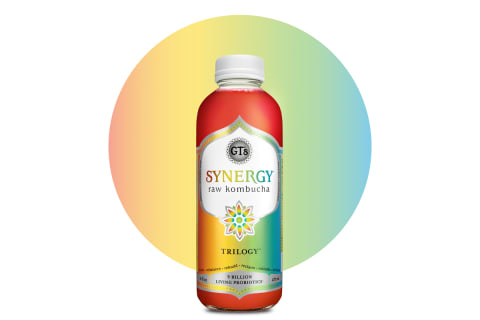 Image by GT's Living Foods
Type: Kombucha
Probiotic content: 9 billion living probiotics
Calories: 50
This brand is one you very well might find everywhere from the aisles of Whole Foods to your local corner shop—it's that popular. Their trilogy flavor has raspberry, lemon, and ginger combined into a fresh, tart, refreshing kombucha.
Rowdy Mermaid Rowdy Belly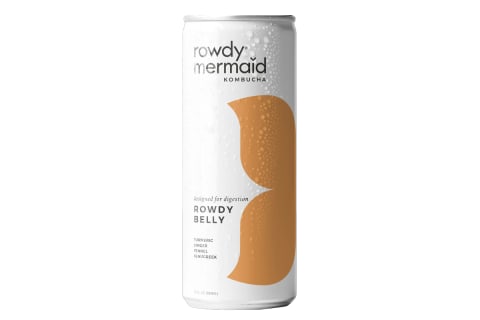 Type: Kombucha
Probiotic content: Contains live cultures
Calories: 45
I first tried Rowdy Mermaid kombucha because I was seduced by the sleek packaging in my local coffee shop, but I've since become totally obsessed. This flavor, in particular, is special because it features fenugreek, fennel, ginger, and turmeric—all Ayurvedic spices that can aid digestion.
Pilot Grapefruit Mint
Type: Kombucha
Probiotic content: Contains organic live cultures
Calories: 45
mbg's Brooklyn, New York, neighbor Pilot Kombucha is a female-run business with a former chef at the helm, who started brewing kombucha to aid her digestion after decadent meals. The fresh flavors of grapefruit and mint in this option are refreshing and delicious.
The best yogurt drinks
You probably know that yogurt can be a great source of probiotics, so it's no surprise that yogurt drinks would have probiotics, too. If you've gotten this far in this article and are thinking...hang on, I think I'd rather eat my probiotics: here's our list of our favorite plant-based yogurts to try.
Pilot Grapefruit Mint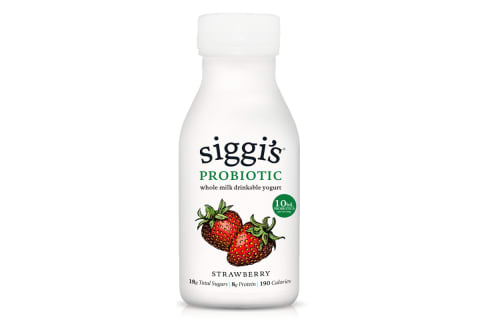 Type: Yogurt
Probiotic content: 10 billion probiotic cultures
Calories: 190
If plant-based is your priority, you may have rejoiced when Icelandic yogurt brand Siggi's hit shelves with plant-based options (I know I did). This specifically branded probiotic coconut drink has pea protein, too.
Chobani Daily Probiotics Drinkable Greek Yogurt Strawberry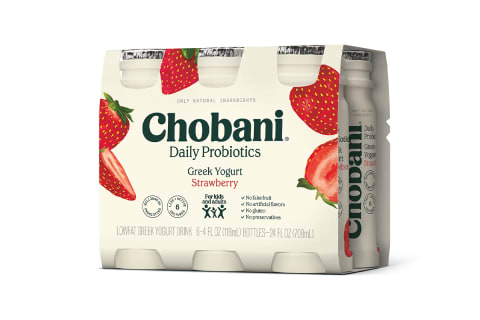 Type: Yogurt
Probiotic content: Contains billions of probiotics
Calories: 80
If plant-based isn't as much your priority, this Chobani drinkable yogurt is perfect. It specifically touts "multi-benefit probiotics" for immune, digestive, and gut health support.
The best kefirs
True kefir is made similarly to yogurt, and the final product is also comparable though it's more liquidy and meant for sipping. These days, you'll find many products labeled kefir, though, that aren't milky—like aqua kefirs or water-based kefirs—which are a good option for a dairy-free take.
Lifeway Organic Grassfed Kefir
Type: Kefir
Probiotic content: Contains 12 live & active probiotics
Calories: 150
This organic kefir is also labeled grass-fed, meaning the cows the dairy comes from are raised with strict standards for quality of life. It's made with whole-fat milk and has no added sugar.
Kevita Probiotic Sparkling Refresher Lemon Cayenne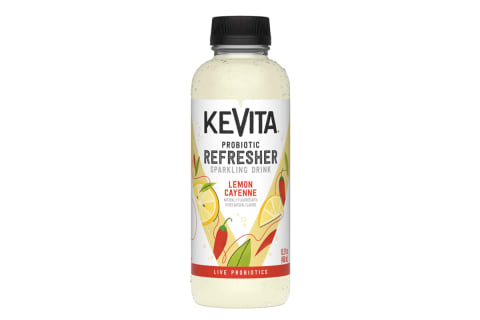 Type: Kefir
Probiotic content: Contains live probiotics
Calories: 10
This sparkling beverage is made with water kefir culture, giving it a light and refreshing consistency. With lemon and cayenne, the flavor is punchy and sweet at the same time.
Green Valley Organic Kefir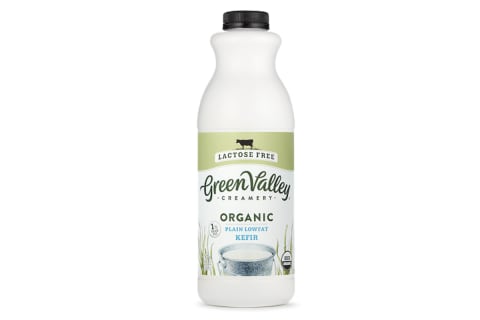 Type: Kefir
Probiotic content: Contains live and active cultures
Calories: 130
If it's just lactose that's the concern, rather than dairy in general, this organic kefir is the perfect option. The plain flavor has no added sugars and is even a great choice for baking projects.
The best probiotic shots
If you're looking for something a bit quicker to get your daily dose of probiotics (and for some reason a probiotic supplement doesn't fit the bill), turn to these probiotic shots. In just a few fluid ounces, get a dose of probiotics and some other ingredients with benefits, too.
Sunny Culture Turmeric Probiotic Shot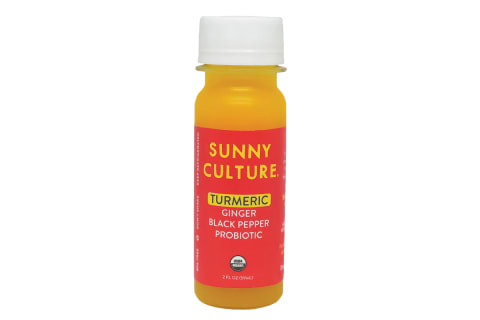 Type: Probiotic shot
Probiotic content: Contains over 15+ strains of diverse probiotics
Calories: 10
In addition to the probiotics, this shot has inflammation-fighting benefits thanks to turmeric, ginger, and black pepper (which is necessary for our body to absorb the benefits of turmeric).
SoGood SoYou Digestion Shot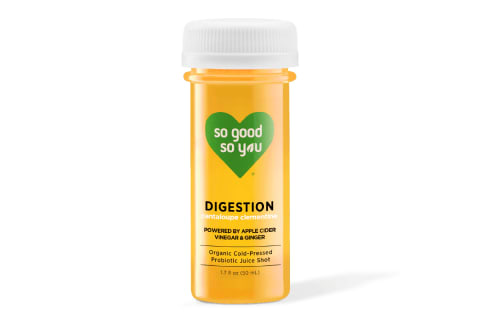 Type: Probiotic shot
Probiotic content: Contains 1 Billion CFUs of probiotics
Calories: 25
For a fruitier take on the probiotic shot, this targeted shot for digestion pairs cantaloupe juice with ginger juice, clementine juice, and apple cider vinegar along with the obligatory probiotics.
Pressed Probiotic Shot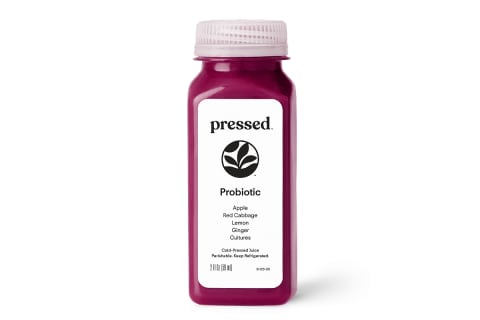 Type: Probiotic shot
Probiotic content: Contains 2 billion CFUs of live cultures
Calories: 20
If you've tried Pressed juices before, you may not be surprised to find the people slinging some of our favorite green juices have a killer probiotic shot, too. This one has apple, red cabbage, lemon, ginger, and of course: probiotic cultures.
The best probiotic sodas & juices
If you're wondering how probiotic sodas and juices are different from, well, everything else on this list, the key is in how it's made. Where kombucha and kefir involve fermentation, sometimes makers just add probiotic strains to sodas and juices—and we get to reap the benefits.
Culture Pop Pink Grapefruit Soda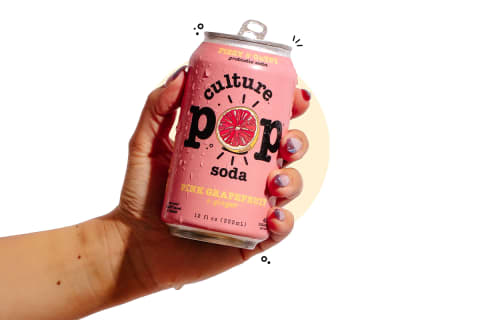 Type: Probiotic soda
Probiotic content: Contains live probiotic (Bacillus Subtilis)
Calories: 40
Another one I tried for the first time in a local coffee shop, the punchy grapefruit (plus a little ginger) flavor of this soda would be a delight even if I wasn't already excited about the fact that it contains probiotics.
Suja Wild Probiotic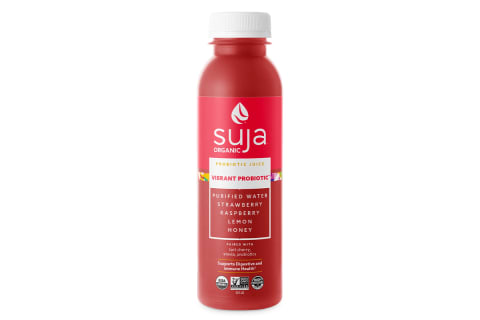 Type: Probiotic juice
Probiotic content: Contains Bacillus coagulans
Calories: 60
This option is borderline juice, but because of the slightly sparkling zing, it may also be considered a soda. However you choose to classify it, the lemon, cayenne, and maqui berry (similar to blackberry) flavoring is not one to be skipped.
Humm Probiotic Seltzer Raspberry Lime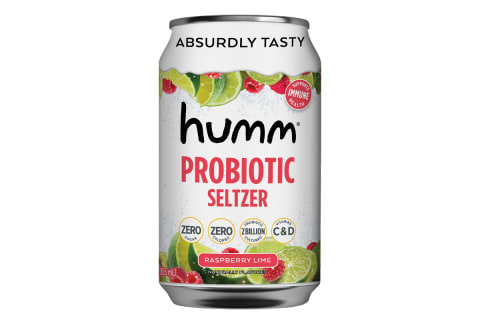 Type: Probiotic seltzer
Probiotic content: Contains 2 billion probiotic cultures
Calories: 0
If you, like much of our editorial team, are obsessed with sparkling water: Good news! The team at Humm, who also make kombucha, have launched a probiotic seltzer and even added some vitamin B12, C, and D for good measure.
The best prebiotic drinks
While this list focuses on probiotic drinks, the world of prebiotic sodas has blown up lately—so we'd be remiss to ignore it. Prebiotics are, essentially, a type of fiber that nourish the probiotics that our gut needs to stay healthy.
Health Ade Pop Strawberry Vanilla Prebiotic Soda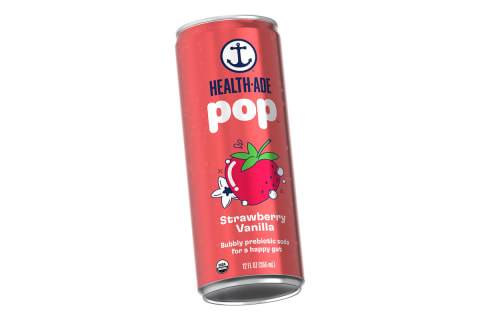 Type: Prebiotic soda
Calories: 35
Health-Ade's new pop comes in a few flavors, but this strawberry vanilla is a favorite of ours. The drinks have prebiotics, antioxidants, and acids like acetic, lactic, gluconic, and glucaronic acid, which support natural detoxification.
Olipop Ginger Lemon Sparkling Soda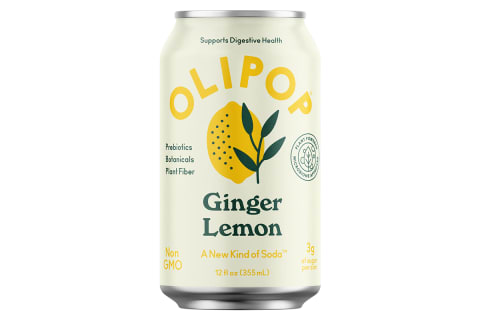 Type: Prebiotic soda
Calories: 40
Ginger and lemon are already digestion support sweethearts, but this sparkling tonic from Olipop has plenty of other ingredients to be excited about: nopal cactus, calendula flower, marshmallow root, and slippery elm bark—to name a few.
Poppi Strawberry Lemon Prebiotic Soda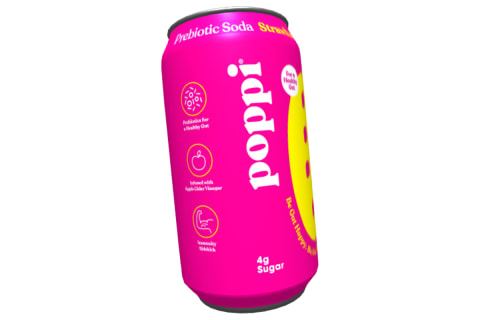 Type: Prebiotic soda
Calories: 25
This prebiotic soda tastes like a summery strawberry lemonade and has only seven ingredients including apple cider vinegar and strawberry and lemon juice.
The takeaway
If you're looking to add more probiotics to your daily routine, consider a probiotic drink. They're easy (and delicious) to sip on during the day and can be a seamless addition to your routine.
And if you're looking for a more targeted venture, consider taking a high-quality probiotic supplement with strain transparency and potency in mind. mindbodygreen's probiotic+ contains four probiotic strains, specifically designed to ease bloating, aid digestion, support a healthy weight, and elevate your gut microbiome.* And for more product recommendations, check out one of our probiotic roundups.
If you are pregnant, breastfeeding, or taking medications, consult with your doctor before starting a supplement routine. It is always optimal to consult with a health care provider when considering what supplements are right for you.
And do you want to turn your passion for wellbeing into a fulfilling career? Become a Certified Health Coach! Learn more here.
Eliza Sullivan
mbg Nutrition & Health Writer
Eliza Sullivan is an SEO Editor at mindbodygreen, where she writes about food, recipes, and nutrition—among other things. She received a B.S. in journalism and B.A. in english literature with honors from Boston University, and she has previously written for Boston Magazine, TheTaste.ie, and SUITCASE magazine.