Auras 101: A Beginner's Guide To Harnessing Good Vibes
mbg Contributor
By Emma Mildon
mbg Contributor
Emma Mildon is a millennial activist, co-host of 11:11 podcast, and best-selling author of Evolution of Goddess and The Soul Searcher's Handbook.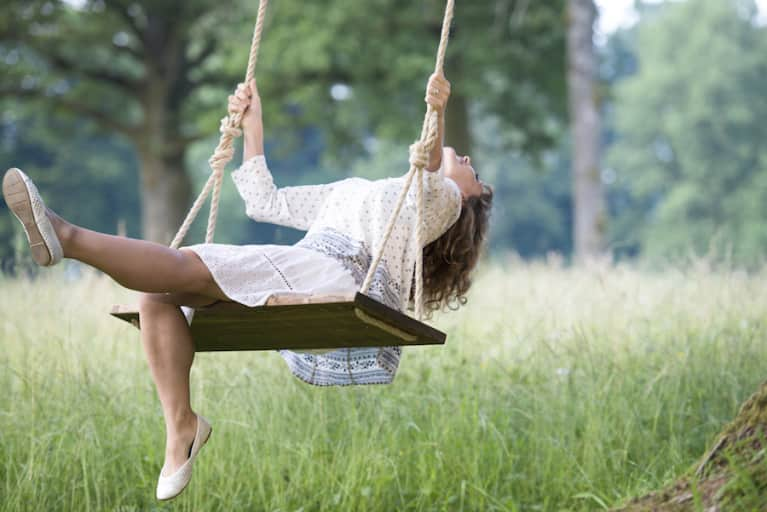 Auras have a bit of a mixed reputation. Some people dismiss them as woo-woo nonsense while others totally embrace them. No matter which side you're on, you've probably experienced that "bad vibe" feeling at one point or another. You know... that prickly awkwardness of walking into a room straight after something negative has just gone down.
The discomfort you picked up on is energy. And energy is connected to ... you guessed it, aura. So here's the lowdown on how to tap into and fine-tune your aura.
Because who doesn't love good vibes?
1. Know your auric bodies and spend time balancing them with self-care.
The aura is essentially an electromagnetic energy field that surrounds everyone — an egg-shaped ball of energy that wraps the physical body. It consists of seven different layers, or auric bodies. Each of these subtle bodies has its own unique vibe:
Physical is the closest aura to your skin. Think of it as the sudden-goosebumps, hairs-stand-on-end aura field, also known as the etheric plane.
Astral is your emotional aura, also known as your astral plane. Think of it as your good- or bad-vibe aura field — the one that allows you to sense someone else's mood.
Lower is the aura that holds all your mental energy. It's the field that stores your thoughts, ideas, inspirations, and creativity.
Higher is your conscious aura. It connects to your spiritual health and it reflects the state of your higher consciousness.
Etheric holds the energy of your body and environment, and it's connected to your physical health and well-being.
Spiritual is your celestial aura. It connects to your intuition and links your psychic or medium channel to the spiritual realm. Think of it as your spiritual communication hotline.
Intuitional, or ketheric aura, is the energy glue that holds all your other energies together and connects them with your soul's experiences and life lessons.
Who doesn't love good vibes?
Have you ever felt like a mopey gray cloud drifting through the day on flatline mode? One (or all) of your auric bodies is probably out of whack.
Energy doesn't lie: If you feel run down, devote some time to healing your auric energy with some good-vibe cures. Just like we balance and cleanse our chakras, we can also cleanse and realign our auras using a similar process. So bust out some essential oils, repeat some of your favorite affirmations, unroll that yoga mat, and make energetic self-care a priority. Remember that auras respond best to natural light and limited electric exposure (especially before bed).
2. Check in on your progress by finding your color (or having someone find it for you)
People who are good at reading people, adapting to different situations, or picking up on the emotional unrest of others are usually in tune with the different energy systems, too — the soul, chakras, and auras. Some are even tuned in enough to see the auric egg, in all its layers and colors. A quick Internet browse can help you find a space that does aura readings, aura photos, energy healing, Reiki, or energy release work in your community.
Or, if you'd rather tune into your aura yourself, try this DIY technique: Hold your index finger straight out in front of you, look past your finger, and focus your eyes until they relax and blur. Do you see any color? Different aura colors have different meanings.
Gray indicates mistrust, light blue points to serenity, and dark red illustrates self-sufficiency. Orange represents attraction, vitality, and excitement. Yellow is playful and creative, while green is all about growth and balance.
Related reads: