5 Tips For Turning A Simple Pizza Into A Healthy Dinner — Plus 10 Great Recipes For Inspo
mbg Nutrition & Health Writer
By Eliza Sullivan
mbg Nutrition & Health Writer
Eliza Sullivan is a food writer and SEO editor at mindbodygreen. She writes about food, recipes, and nutrition—among other things. She studied journalism at Boston University.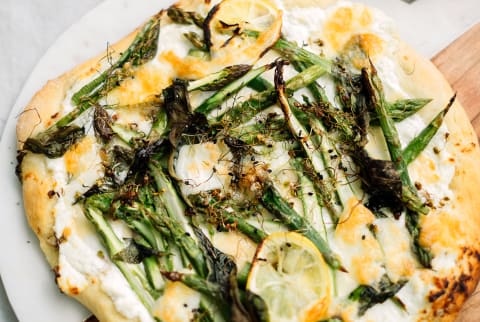 Image by Adrian Cotiga / Stocksy
February 10, 2021
A true crowd favorite, pizza seems almost universally loved. With so many iterations, and so many great local businesses you could buy from, it may seem like a waste of time to make your own—but it's actually a super fun way to spend a night in, whether it's with roommates, as a date night, or with the whole family.
Not only that, making it at home gives you more control over the ingredients that go into the pie. You can use it as an opportunity to sneak in extra nutrients and to add your favorite flavors, which is a win-win in our book. Here, find some of our favorite tips and recipes for a healthier take on pizza:
1.
Make your own crust, or opt for a healthier alternative.
When it comes to the wide world of baking, pizza crust is actually on the easier end of the spectrum for make-from-scratch simplicity. It's also manageable to make your own grain-free or even a veggie-based crust for an alternative to the bready classic—though you can recruit your sourdough starter for a chewy bread crust. The crust can also be a great place to sneak in some protein, by using a high protein flour or keto-substitute.
If you do opt for purchasing a premade crust, you're in luck: Recent years have seen a ton of innovation in the world of pre-prepped pizza crusts. With everything from cauliflower crust (of course) to almond flour mixes, the options also give you a choice for how much work you want to do. For the simplest option, go for a pre-rolled crust, or buy a mix that you just need to add a few ingredients to.
At the pizzeria, there may be a limit to how many veggies you can choose, or you may have to pay up for those extra leafy greens—but at home, you're free to add as much as you like, no charge necessary. When it comes to which veggies you add, you can let your preferences, and the contents of your fridge, guide you—or take your cues from whatever nutrients you're hoping to add to your pizza.
Kale and spinach are perfect pizza pairings—especially when lightly precooked with a bit of garlic to add a punch of flavor. Some other great options to add warm are mushrooms; cruciferous veggies like broccoli, eggplant, and zucchini; or your favorite varieties of onions or peppers. But some veggies are best added after the pizza comes out of the oven: A handful of fresh bitter arugula or watercress offers a lovely contrast to the hot pizza.
Though you wouldn't look at a pizza and think "added sugars," many canned tomato sauces might include a bit of sugar to offset the slight sourness of tomatoes. While you can find healthier store-bought sauces, making your own is a surefire way to bring some healthiness to your pizza pie.
For a pleasantly balanced sauce without the sugar, this goji-berry-powered marinara is a great place to start. But making your own sauce also gives you the chance to opt out of using tomatoes or other nightshades, if they bother you. Luckily, that doesn't mean sacrificing the tomato-y goodness: This nightshade-free sauce uses a blend of other veggies (like carrots, beets, and sweet potatoes) for a truly tasty alternative.
You also don't have to feel locked into the classic tomato base when cooking at home: Other sauces, like a pesto, can be great too. Pesto, especially, is a great way to sneak in an extra serving of veggies (like with this recipe).
4.
Be deliberate about your cheese.
Sure, you could skip the cheese altogether, but that doesn't sound very nice to us. If you're nixing it for health reasons, there are healthier cheese options that also add punchy flavor to your pie (like a creamy goat cheese or a salty aged Parmesan).
5.
Don't feel trapped into the crust + sauce + cheese formula.
Broadening your definition of "pizza" will only bring you joy; we promise. These creative recipes toss the classic pairings to the wind for some quirky (but super-tasty) pizzas that are simple to DIY.
Some recipe inspo we love:
So next time you're hankering after a pizza night, skip the takeout and instead dive into making your own perfect pie at home. If it's a different Italian classic you're after, try one of these healthier pasta sauces for a bowl of nutritious comfort.
Want to turn your passion for wellbeing into a fulfilling career? Become a Certified Health Coach! Learn more here.
Eliza Sullivan
mbg Nutrition & Health Writer
Eliza Sullivan is an SEO Editor at mindbodygreen, where she writes about food, recipes, and nutrition—among other things. She received a B.S. in journalism and B.A. in english literature with honors from Boston University, and she has previously written for Boston Magazine, TheTaste.ie, and SUITCASE magazine.