The Healthy Pizza Alternative The Food World Is Obsessing Over (It's Super Easy To Make!)

Contributing Food Editor
By Liz Moody
Contributing Food Editor
Liz Moody is a food editor, recipe developer and green smoothie enthusiast. She received her creative writing and psychology degree from The University of California, Berkeley. Moody is the author of two cookbooks: Healthier Together and Glow Pops and the host of the Healthier Together podcast.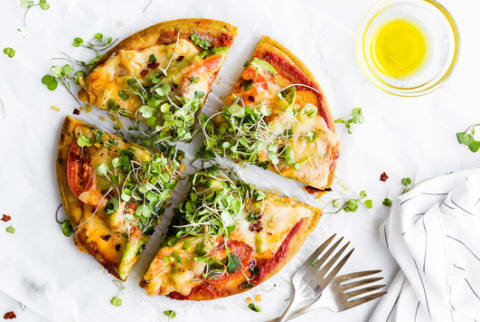 May 1, 2017
I love cauliflower-crust pizza as much as the next foodie, but sometimes, even if you do everything right, it lacks the certain bready quality that I crave. What's a health-conscious, mostly-gluten-avoiding girl like myself to do?
Meet socca (rhymes with "polka" if you left out the soft L). Socca pizza is officially the non-pizza pizza that's taking over the healthy food world. Made from chickpea flour, it's naturally gluten-free and vegan, but it keeps its nutty chew, making it a far better dupe for a boujis, restaurant-style pizza than the best vegetable-based version. Plus, chickpeas are essentially the world's cheapest superfood, having been shown to lower bad cholesterol levels, decrease risk of heart disease, and contribute to weight loss. The only other ingredients in the crust? Anti-inflammatory olive oil and water.
The traditional version (if you care to go that route) from France is a bit on the thinner side and stacked with crepe-type toppings: fromage, some vegetables, more fromage (it's French), etc., etc.
Recently, though, foodies have embraced a more Italian take, thickening the base and spreading it with decidedly pizza-like sauce, before adding tons of toppings. From there, well—the sky's the limit. "I love it because it's naturally gluten-free, grain-free, vegan friendly, and simple to make," said Lindsay Cotter of Cotter Crunch. "The crust bakes up soft yet crispy on the outside. It's the perfect vessel for piling it up with veggies."
"I just made a breakfast socca that was incredible with arugula pesto, scrambled eggs, radish sprouts, watermelon radish, and almond milk ricotta," said Alison Wu, one of the women leading the seriously photographic trend. And of course, both women noted that it's so, so easy.
If you can stir together a few ingredients and let 'em sit for an hour or so, you're good to go (the sitting isn't even technically necessary but will yield a better result). After that, you pour your batter into an ovenproof skillet (cast iron works best, both for the gasp-worthy presentation and final texture), pop it into the oven to cook for about 10 minutes, then add toppings of choice. Wanna give it a try? Here's a recipe to get you started.
Super-Easy Socca Pizza
Makes 1 10-inch pizza, 2 small/medium servings
1 cup chickpea or garbanzo flour (Bob's Red Mill makes a great one)
1 cup water
3 tablespoons of olive oil + 1 tablespoon of olive oil
½ teaspoon salt
2 cloves minced garlic (optional)
1 teaspoon dried oregano (optional)
Toppings of choice (tomato sauce, pesto sauce, pineapple, fresh greens, farmers market vegetables, you name it)
Whisk together all ingredients save for 1 tablespoon of olive oil and toppings and let sit for an hour to let everything soak in.
Turn your oven on broil and let a 10-inch cast-iron pan (or ovenproof pan of choice) sit in there to get warm and toasty. Remove carefully using oven mitts, then set on stove.
Swirl in 1 tablespoon of olive oil to coat bottom. Pour into socca batter. Tilt the pan around until it's evenly spread. Return to oven and let broil for 3 to 5 minutes or until the edges get brown and toasty.
Remove from oven and add toppings. You can serve it immediately, or if you'd like the cheese to melt, return to oven for 1 to 2 more minutes or until cheese is bubbly.
Slice and serve!