Close Banner
Advertisement
This ad is displayed using third party content and we do not control its accessibility features.
No Shame In Our Breakfast-For-Dinner Game: Here Are 8 Recipes To Try
mbg Nutrition & Health Writer
By Eliza Sullivan
mbg Nutrition & Health Writer
Eliza Sullivan is a food writer and SEO editor at mindbodygreen. She writes about food, recipes, and nutrition—among other things. She studied journalism at Boston University.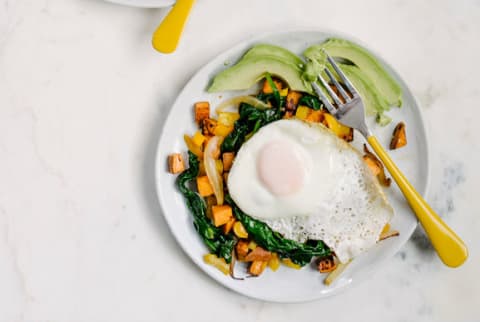 Image by Cameron Whitman / Stocksy
In times of stress, it can sometimes help to limit the mental strain of daily activities like making dinner. So while for some people that means ordering takeout or heating up a bowl of leftovers, we have an alternative suggestion: When we're feeling burnout setting in, it's time for breakfast for dinner (a sometimes polarizing suggestion, we know).
Breakfast is, at its core, a simple meal: It's made up of key components to give our bodies the nutrients to power us for the day. Which is why breakfast for dinner is a perfect simple, low-lift (both mentally and literally) alternative to a more involved recipe—although sometimes there's something appealing about those, too.
There's one particular breakfast ingredients that board-certified psychiatrist and professional chef Uma Naidoo, M.D., believes is the perfect candidate for these breakfast-for-dinner moments: the humble egg. Because eggs are a good natural source of melatonin, a hormone that promotes sleep, they're perfect for aiding in achieving a peaceful slumber: something we could all use right now.
Not only that, but breakfast recipes are eminently adaptable: You can adjust the recipes to fit your dietary preferences (even if that means cutting out eggs). Here, find some of our favorite inspirations for breakfast for dinner—though we'd never say no to a simple avocado toast, either:
1. Rustic Sweet Potato Patties
"There's just something comforting about breakfast, right?" writes Susan Peirce Thompson, Ph.D.—and we have to agree. Her recipe for these sweet potato patties packs in protein from lentils and gentle spice from cinnamon. While she recommends topping them with yogurt and blueberries, you can opt for whatever toppings you have at home.
2. Keto Breakfast Pizza
Pizza isn't just for dinner...except, in this case, when you're considering making this keto breakfast pizza for dinner. The simple recipe calls for pepperoni, tomatoes, and mozzarella cheese atop a crust of egg, but it is also adaptable for if you prefer to opt for a meat-free option (we recommend adding spinach or kale instead, in that case).
3. Super Spinach Pancakes
You've had a green juice, but what about a green pancake? These pancakes, from Jamie Oliver, are turned green with spinach and have a filling including avocado and cilantro for even more green power. The filling also adds cottage cheese and some hot sauce—certain to add a kick—but feel free to swap in your favorite ingredients.
4. Vegan Green Shakshuka
Traditional shakshuka has eggs, but this vegan take uses plant-based yogurt to replicate some of the creaminess that the slow cooked eggs usually adds, but that doesn't mean it's lacking in protein: the mix includes cannellini beans too. It also opts for a mix of greens—plus a ton of herbs, like mint, dill, and parsley—in place of the traditional tomato sauce.
5. Genius Sweet Potato Toasts
We call these toasts "genius" for two reasons: They're a super simple way to switch the gluten out of a classic eggs and toast, and they're packed with heathy nutrients thanks to the healthy fats in eggs, avocado, and salmon. A bit of cucumber adds a great fresh touch to the dish, and it's composed enough to really feel like a dinner.
6. Gluten-Free Veggie Waffles
The best of breakfast and healthy eating come together in this dish: waffles and veggies! You need only five ingredients to make them, and the hardest part might be shredding the veggies to add to the mix—but honestly, that sounds kind of like a great option for an active meditation tonight. Top them with an egg, a bit of hummus, or another protein source to make it a bit more filling.
7. Broccolini Frittata
Frittatas and quiches are the ultimate simple dinner: Mix some cooked vegetables to an egg mixture and bake. This recipe for a broccolini frittata is a good place to start if you're needing more specific inspiration for tonight. A small touch of garlic gives tons of flavor, and topping it with anchovies and a bit of salty cheese finishes it off.
8. Savory Mushroom Oatmeal
Two very exciting things to point out: Oatmeal can be savory, and it is seriously good for you. This mushroom oatmeal is made using vegetable broth and includes a mixture of mushrooms cooked with garlic powder and tamari, providing a lovely umami flavor. Topped with an avocado, it's the perfect breakfast-for-dinner option.
Want to turn your passion for wellbeing into a fulfilling career? Become a Certified Health Coach! Learn more here.
Eliza Sullivan
mbg Nutrition & Health Writer
Eliza Sullivan is an SEO Editor at mindbodygreen, where she writes about food, recipes, and nutrition—among other things. She received a B.S. in journalism and B.A. in english literature with honors from Boston University, and she has previously written for Boston Magazine, TheTaste.ie, and SUITCASE magazine.