Frittatas vs. Quiche: What Makes Them Different & 3 Recipes To Try
mbg Nutrition & Health Writer
By Eliza Sullivan
mbg Nutrition & Health Writer
Eliza Sullivan is a food writer and SEO editor at mindbodygreen. She writes about food, recipes, and nutrition—among other things. She studied journalism at Boston University.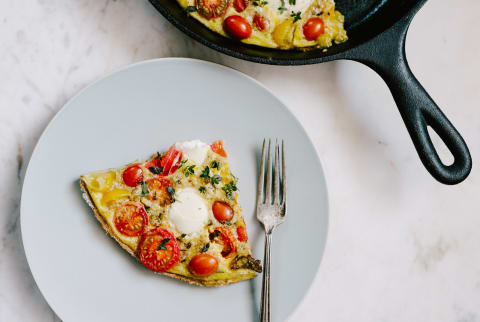 Image by Cameron Whitman / Stocksy
August 7, 2020
Finding healthy breakfast options to please a crowd can be difficult, but classic dishes are always a good option to fall back on.
When it comes to those classic breakfast and brunch options, quiche and frittatas are natural options—especially for serving a group. But what makes these two (classically egg-based) dishes different? And can you make a good plant-based version of these dishes?
What's the difference between a frittata and a quiche.
While both dishes are traditionally mainly baked eggs, there are a few key differences between the two, the first being the vessel they're cooked in.
Frittatas are the crustless option, that's made up mostly of egg but with a touch of dairy—which is meant to help keep the mixture soft and creamy. The fillings for a frittata are started cooking on the stove in an oven-safe skillet, before the egg and dairy mixture is added. After that, you traditionally continue cooking the mixture on the stove until it starts to set, and then transfer it to the oven.
Classically, you'd find a quiche cooked in a pie pan with a flaky pastry crust. The egg mixture in a quiche also usually has a higher ratio of cream (more like 1:2 egg to liquid). Because it has a crust—which has to be blind baked—the quiche can have a softer custard mix. The majority of the cooking for a quiche is done in the oven, unlike a frittata—while you can partially cook fillings on the stove, it's not a necessary step.
Can you make a vegan quiche or frittata?
While the classic quiche or frittata would be egg-and-cream-based, plant-based options are possible with the help of some handy substitutes—namely tofu or grains.
These recipes are perfect options for making a plant-based breakfast that'll be sure to please vegans and carnivores alike:
The first option is tofu, which when blended makes a perfect substitute for the scrambled eggs in the mixture. This easy, veggie-packed quiche can technically be made with tofu or eggs, but the millet crust also means it's gluten-free and can be paleo-friendly too.
2.
Quinoa Breakfast Frittata
This second option for making a vegan-friendly dish starts with a familiar ancient grain: quinoa. When mixed with a batter of quinoa flour, olive oil, and water, it creates a base that holds up well enough to be used without a crust. This brunch recipe suggests packing the dish with mushrooms, onions, peppers, garlic, and leafy greens.
This last option is neither vegan nor vegetarian, if you opt for the optional anchovy topper. While these tinned fish may seem like an odd choice for breakfast or brunch, they're packed with nutrients like high concentrations of omega-3s and are even better for the planet. If you'd prefer to skip them anyway, the recipe recommends adding a bit of a salty cheese.
Not serving a crowd, but craving a vegan take on an eggy breakfast? Good news: It is possible to make a good vegan omelet, if you know what you're doing. Another great place to look for breakfast inspiration? Toward the Mediterranean, for well-rounded healthy breakfasts.
Eliza Sullivan
mbg Nutrition & Health Writer
Eliza Sullivan is an SEO Editor at mindbodygreen, where she writes about food, recipes, and nutrition—among other things. She received a B.S. in journalism and B.A. in english literature with honors from Boston University, and she has previously written for Boston Magazine, TheTaste.ie, and SUITCASE magazine.