Yes, It's Possible To Make A Vegan Omelet. Here's How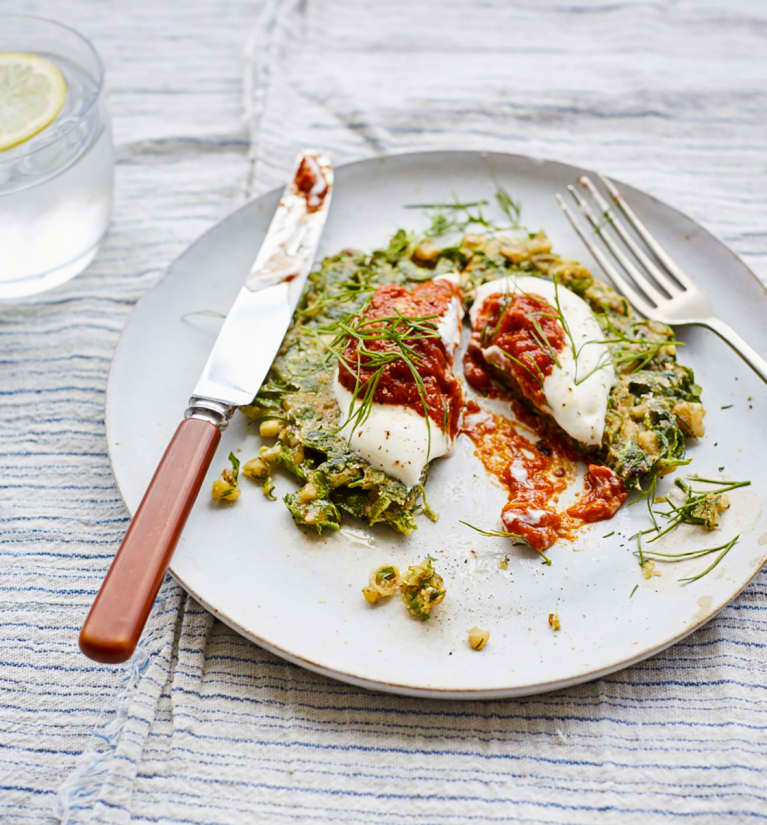 Our editors have independently chosen the products listed on this page. If you purchase something mentioned in this article, we may
earn a small commission
.
Vegan omelet seems like an oxymoron, but Rita Serano, author of the new Vegan in 7 cookbook, has figured out the secret ingredient: chickpea flour. In this genius recipe, she mixes the chickpea flour with water to create an omelet -like texture, then stuffs it with fresh herbs in the style of Persian staple Kuku Sabzi.
Kuku (pronounced koo-koo) is a savory Iranian omelet. The word sabzi refers to the large amount of herbs used, which makes this a beautifully green and very tasty way to start the day. Chickpea flour is a perfect egg substitute, and the amount makes four individual omelets.
Serves 4
Ingredients
¾ cup chickpea flour
Bunch of fresh parsley, chopped
Bunch of fresh cilantro, chopped
½ bunch of fresh dill, chopped
4 scallions, chopped
¾ cup chopped walnuts
Non-dairy yogurt (we love Kite Hill Greek-Style almond milk yogurt) or hot sauce, to serve
Mix the chickpea flour with ⅔ cup of water in a bowl and stir until smooth and free of lumps. Stir in the chopped herbs, scallions, walnuts, and ¼ teaspoon of salt.
Heat a nonstick skillet over high heat (adding a little olive oil or coconut oil if necessary). Spoon in ¼ of the batter, swirl around the skillet to spread evenly, and cook for about 2 minutes. When the top is dry, carefully flip it over and cook the other side for 2 minutes.
Transfer the "omelet" to a plate and cover with a piece of foil to keep it warm while you cook the other three "omelets." Serve with yogurt or hot sauce.
Based on excerpts from Vegan in 7 by Rita Serrano, with the permission of Kyle Books. Copyright © 2018.