Make This Gluten-Free Quiche For Brunch, Whether You're Vegan Or Not
Our editors have independently chosen the products listed on this page. If you purchase something mentioned in this article, we may
earn a small commission
.
More often than not, we make brunch at home. And every time we do, my husband says, "You couldn't get this in a restaurant." Or he likes to play the game of what this would cost in a restaurant.
The Vegalicious Quiche is one of our brunch staples, and it's always a crowd favorite.
What's so great about this is that it can be made vegan using tofu, veg with eggs, or paleo by omitting the crust. It's also awesome because it can be frozen, so you can have it for brunch this weekend, freeze the rest, and enjoy the other half next weekend — that is, if there's any left!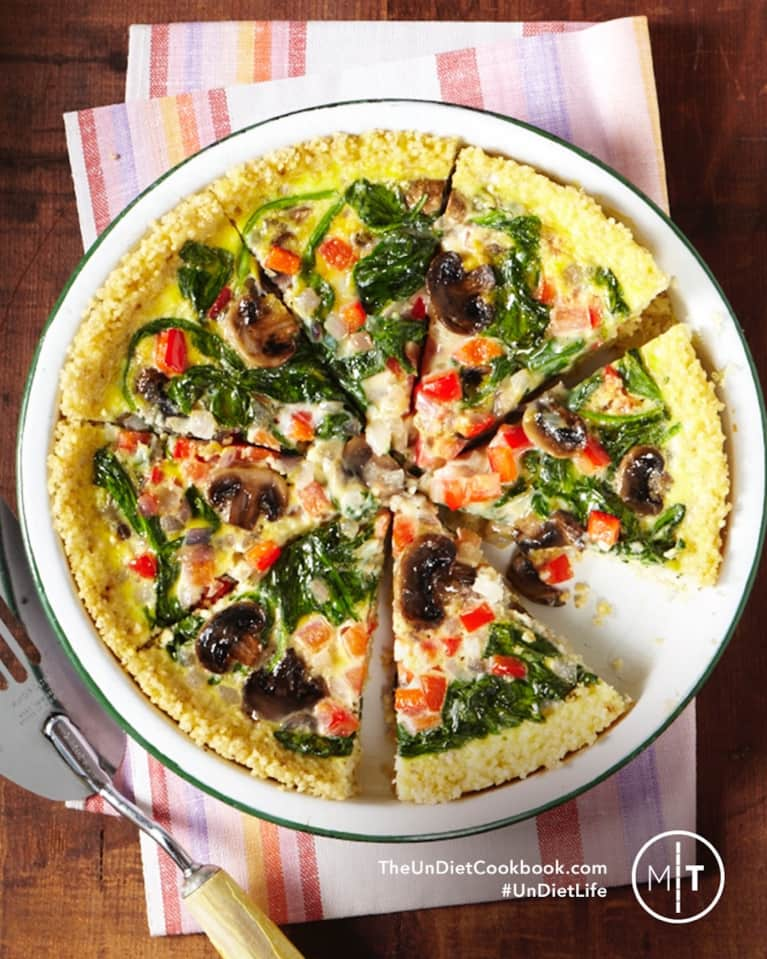 4 free-range, farm-fresh happy eggs* or one 14-oz. block firm organic sprouted tofu
2 tablespoons olive oil, coconut oil, or organic ghee
¾ cup chopped red onion
½ cup chopped red bell pepper
¼ cup seeded and chopped tomato
2 cups chopped spinach
1 cup organic mushrooms, cleaned and sliced (stems removed and discarded)
Pinch of cayenne or dash of hot sauce
Sea salt
¼ cup sheep's milk cheddar, cut into ½-inch cubes (optional)
1 cup millet, soaked 2–4 hours
2 cups water
1 tablespoon coconut oil or organic ghee
* Make It Soy-Free and Protein Powered! Choose the egg option and omit the crust all together. Sure, it becomes more like a tortilla or frittata, but labels are for aluminum cans. (And I know, millet isn't really a grain, but it functions like one.)
Preparation if using eggs: Beat the eggs in a bowl and set aside.
Preparation if using tofu: Rinse the tofu and wrap it in a clean towel and place on a plate. Lay some heavy books on top to press out the excess water. Cut tofu into quarters and run it through your food processor until it gets creamy. You may need to add a little water if it's too dry.
Preparation for the crust: In a pot, cook the soaked millet in the 2 cups of water for 15 to 20 minutes, until the grain is soft and the water has been absorbed. Once it's ready, allow it to sit for 5 minutes, uncovered, then fluff with a fork.
Preheat the oven to 350°F. Grease a 9-inch round pie plate with the 1 Tbsp oil and place the millet on top, pressing it down to about a ¼-inch thickness and pushing up the edges about ¾ inch.
While the millet is cooking, prepare the filling.
Heat the 2 Tbsp of oil in a skillet and add the onion. Cook until translucent, about 5 minutes.
Add the bell pepper, tomato, spinach, and mushrooms. Cook for 5 to 8 minutes, or until fork-tender.
If using tofu, add it to the pan and cook for 5 minutes. If using eggs, transfer the veggies to a bowl with the beaten eggs and mix together. Stir in the cheese if you're using it, along with hot sauce and sea salt.
Pour the veggie and egg/tofu mix into the millet shell and bake at 350°F for 15 to 20 minutes, until firm in the middle. Broil for 2 minutes to crisp the top slightly.
Allow to cool and then cut into perfect little slices of breakfast (or lunch or dinner) deliciousness.