Close Banner
Advertisement
This ad is displayed using third party content and we do not control its accessibility features.
Genius Gluten-Free Breakfast Idea: Sweet Potato "Toast"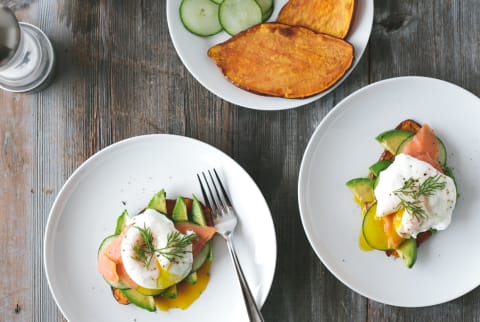 As I'm writing this, I'm thinking of all the healthy brain power that's in this dish. And it really doesn't get much better than a combo of avocado, salmon, and egg yolks.
Did you know that the brain is comprised of 60 percent fat? And like most things in the body, what something is comprised of is also what it requires to stay healthy. So you need healthy fats for healthy brain development. Healthy fats are also the building block of hormones, so if you're hormones are not at optimal levels, make sure you're eating enough healthy fat.
Yep, I think I've just come to the conclusion that this is quite possibly the best brain breakfast imaginable. It's also ridiculously satisfying.
Sweet Potato "Toast" with Avocado, Cucumber, Smoked Salmon, and Poached Egg
Ingredients
1 sweet potato
1-2 avocados, peeled and sliced
1 cucumber, peeled and sliced
1 4- to 6-oz. package smoked salmon
2 tbsp avocado oil
salt and pepper
dill, for garnish
Preparation
Preheat oven to 400°F. Wash and scrub the sweet potato. Slice the potato lengthwise, into even slices, using a mandoline.
Lightly oil both sides of the sweet potato slices, then place on parchment paper on a baking sheet. Bake for 30 minutes or until slightly toasted.
While the potato is baking, bring a pot of water to a simmer. Crack and poach the eggs for 3-4 minutes. Remove the eggs from the pot and place in a bowl of room temperature water (while the potato is still baking).
Once the potato has cooked, add to a plate and top with sliced avocado, cucumber, smoked salmon, and a poached egg.
Photo courtesy of the author

Lisa Bryan
Lisa Bryan is a certified health coach, wellness blogger, recipe developer and motivator for vibrant living. She's a former corporate gal (healthcare/biotech executive) turned wellness lover after taming multiple autoimmune diseases with real food and positive lifestyle changes. All of her delicious recipes are gluten-free, grain-free and refined-sugar free.
Through her website Downshiftology, ebooks and personalized coaching packages, Lisa inspires busy women to take life "down a notch" and prioritize simple nutrition, self-care and a little adventure. Her upcoming ebook, Roaming Free, is the essential guide for traveling the world healthy, happy and gluten-free.