Beauty Breakdown: Everything You Need To Know About Eye Care, From Experts

mbg Beauty & Wellness Editor
By Jamie Schneider
mbg Beauty & Wellness Editor
Jamie Schneider is the Beauty & Wellness Editor at mindbodygreen. She has a B.A. in Organizational Studies and English from the University of Michigan, and her work has appeared in Coveteur, The Chill Times, and Wyld Skincare.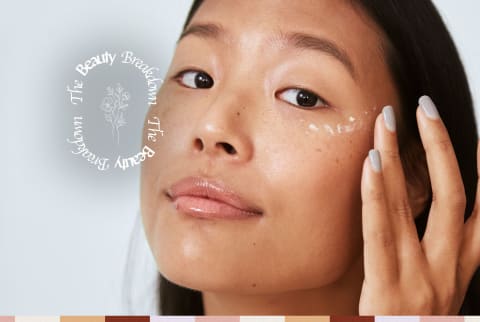 Image by ohlamour studio / Stocksy
March 20, 2023
Our editors have independently chosen the products listed on this page. If you purchase something mentioned in this article, we may
earn a small commission
.
For such a small amount of facial real estate, the eyes dominate quite the significant chunk of beauty conversation. I'd argue it's because the eye area is essentially a microcosm of just about every beauty concern out there. Discoloration? Hello, dark circles. Fine lines? Yep, and crow's feet, too. Even hair growth gripes (like shedding and brittleness) make their way into the discussion—eyelashes are tiny hairs, after all.
Given the many intricacies of the eyes, it can be difficult to compile every single eye care tip into one scannable field guide. Difficult, yes, but not impossible! Below, you'll find everything you need to know about caring for the eyes—from under-eye wrinkles to dark circles to puffiness, lash growth, and more.

The 101 on eye care. 
The skin around your eyes is the thinnest, most sensitive region of your entire face. Because the epidermis is so thin, the skin under your eyes is a lot more sensitive to sun damage, pollution, and oxidative stress. Your skin already thins with age (thanks to a loss of collagen), but the area around your eyes is usually the first to sag.
Your eyes also emote quite a bit throughout your lifetime, making the area a vulnerable spot for fine lines. That's not to say you should never squint or laugh again, but constantly contracting those muscles can create wrinkles over time; it's another reason the area tends to be first to show fine lines with age.
And because the skin is so thin and delicate, it can easily dry out, crease, or swell after a late night, bout of poor sleep, or uptick in stress. They say the eyes are windows to the soul—in skin care, their brightness (or lack thereof) can offer a peek into your overall health.

The 7 things we're getting wrong right now.
You might be surprised by a few of these mistakes:
Sleeping in your makeup: "Sleeping with eye makeup can be particularly dangerous, resulting in irritation, allergic reactions, or more severe conditions, such as infections or a scratched cornea," board-certified dermatologist Hadley King, M.D., previously told mbg about sleeping in makeup. Not to mention, heading to bed with mascara on can lead to eyelash breakage and sparse flutters. Especially if you smash your face into the pillow while you sleep, as the stiff mascara can "crunch" your lashes against the fabric, King adds.
Tugging or rubbing your eyes: Rubbing the occasional itch likely won't do much harm, but try not to be too harsh on your fragile eye area. Constantly tugging the eyes can damage the lid skin (leading to wrinkles) and may even cause lashes to fall out. "Also, rubbing the eyes increases risk of exposing this delicate skin to something on the fingers that could trigger contact dermatitis," King says regarding dry eyelids.
Forgetting SPF: You need to protect your skin from excess sun, full stop. But so many forget to show the under-eyes that same love! "UV exposure plays a huge role in under-eye wrinkle formation," board-certified dermatologist Lauren Penzi, M.D., FAAD, tells mbg about under-eye wrinkles, so make sure to protect the delicate area.
Using irritating eye makeup: Contact dermatitis is especially prevalent around the eyes, and irritating eye makeup is a very common culprit. "Sensitivity to makeup is often confused for seasonal allergies," board-certified ophthalmologist Diane Hilal-Campo, M.D., founder of twenty/twenty beauty, previously told mbg. "You might notice redness, irritation, dry eyes, blurred vision, a burning feeling, a scratchy sensation in your eye (like something is in it), or tired eyes." Some people even encounter lash loss, too.
Using harsh topicals: Potent actives—retinol, glycolic acid, and the like—are great for fending off fine lines and wrinkles, but they do have the potential to irritate sensitive eyes and result in more fine lines over time (it's a delicate dance). Make sure the products you use directly under the eyes remain gentle enough to tolerate, and make sure your heavy-duty actives stay spread out from the eye area.
Ignoring eye strain: Constantly straining your eyes may lead to crow's feet and dark circles down the road due to "subsequent engorgement of the surrounding blood vessels," board-certified dermatologist Rebecca Marcus, M.D., FAAD, once explained. More importantly, eye strain is linked to issues with brain fog, anxiety, and overall health.
Ignoring diet & lifestyle: "Diet is definitely important for our skin overall and likely plays a role in under-eye wrinkle formation," Penzi says. Your eyes are quick to betray salt retention, inflammation from sugar, an uptick in stress, and of course, a lack of sleep.

The 7 steps you need to know. 
It's all eyes on eye care.
Whether you use a proper eye cream or simply tap some moisturizer onto the area, you need to give the eye area some extra TLC. Depending on your specific skin care goal—be it puffiness, dark circles, fine lines, etc.—you may reach for a slightly different formula (don't worry; we'll offer recommendations below), but antioxidants, humectants, and peptides are generally A+ players.
No matter which targeted product you use, consider this your sign to start hydrating the fragile skin.
2.
Protect from free radicals.
When free radicals come in contact with the skin (via air pollution, smoking, UV exposure, etc.), they put it into a state of oxidative stress. Over time, this can actually speed up the skin aging process1, triggering concerns like dark spots, fine lines, and sagging. And because the skin around your eyes is the thinnest and most fragile region of your whole face, you might notice those changes sooner than others.
All that to say: Do your best to protect the skin from those free radicals. Some aggressors, like air pollution, are simply out of your control, but there are ways you can fend off that oxidative stress. Stop smoking if you currently are, use SPF (more on that in a minute), and make sure you have plenty of antioxidants in your skin care lineup.
3.
Find the right topicals.
Everyone can benefit from extra hydration, but if you're dealing with a specific under-eye concern, you'll want to consider more targeted ingredients:
4.
Take care of your lashes.
Let's not forget about those flutters. Your eyelashes do so much for your orbs—for instance, they keep dust and dirt out of your eyes and help your orbs stay hydrated—so it's important to keep them strong and healthy. Below, find some must-have tips from Hilal-Campo:
Curl with caution: "Lash curling should be done gently, so as not to damage the lashes," she says. All you need is a gentle squeeze to encourage the curl.
Limit your falsies & extensions: Constantly dolloping glue onto your sensitive lash line can lead to irritation and even lash loss (another reason you should always remove your makeup at the end of the day!). "Many avoid cleansing [extensions] to preserve them, which can lead to infection as well as infestation of Demodex, or lash mites," she adds.
Hydrate, hydrate, hydrate: To keep the lashes full and lifted, moisture is key. Hilal-Campo recommends opting for a lash growth serum with minimal, conditioning ingredients. Think castor oil, peptides, panthenol, aloe vera, etc.
For more lash growth tips, feel free to check out our full guide here.
Beauty sleep is very real. Just one night of poor sleep can result in dark, swollen under-eye circles. Not to mention, research has demonstrated a link between shut-eye and collagen production2. So a lack of sleep can actually accelerate skin aging over time—for the eyes, this means sagging lids, fine lines, and sunken shadows.
Told you we'd come back to SPF! Up to 80% of the signs of skin aging3 are due to UV damage, and since the eyes are already so susceptible to accelerated aging, that damage can show up pretty quickly.
"In addition to protecting the skin of your face with SPF, it is important not to forget the eyelid skin and other sensitive areas," double board-certified dermatologist Brendan Camp, M.D., says about eye wrinkle treatments. Either find an eye cream that includes SPF, or tap your regular sunscreen underneath and around the eyes. Just make sure to strategically apply the lotion and avoid touching the orbs themselves, lest you face any stinging or irritation.
7.
Promote collagen production.

3 extra ideas. 
Looking to go above and beyond? I applaud your determination! Here are some extra tips to supercharge all-around eye care:
Face massage: To reduce puffing, might we suggest a quick under-eye massage? Whether you use a chilled ice globe (feels heavenly) or your own two fingers, applying a bit of pressure can help drain the fluid. Just make sure to use a very light hand and always apply a cream or oil for some slip.
Use an under-eye patch: Eye patches are great for temporarily plumping the skin and dialing down inflammation (which leads to brighter, less puffy eyes). Plus, they're A+ for prepping the area pre-makeup—because no one likes flaky concealer. See here for our favorite serum-soaked swishes.
Try face yoga: Your eyes contain tiny, delicate muscles responsible for squinting, smiling, and expressing. Why not strengthen them? Plenty of folks swear by face yoga for firming the skin and keeping it plump since the isolated movements can help promote blood circulation in the skin and tighten the area. See here for some beginner-friendly exercises around the eye area.

The 8 best products to try:
Advertisement
This ad is displayed using third party content and we do not control its accessibility features.
Advertisement
This ad is displayed using third party content and we do not control its accessibility features.
Advertisement
This ad is displayed using third party content and we do not control its accessibility features.
Advertisement
This ad is displayed using third party content and we do not control its accessibility features.

The beauty breakdown. 
Eye care is so much more than addressing fine lines or dark circles. To truly treat the area with the love it deserves, you'll want to approach eye care at every angle—from enhancing the under-eyes to lifting the lid skin to promoting lash growth and, of course, caring for the orbs themselves. And we didn't even get into makeup! (That would only make this article even more of a beast.) Don't worry: You can find every single concealer tip right here.
Meet The Experts
Jamie Schneider
is the Beauty & Wellness Editor at mindbodygreen. She has a B.A. in Organizational Studies and English from the University of Michigan, and her work has appeared in Coveteur, The Chill Times, and Wyld Skincare.