The 9 Best Clean, Natural & Organic Eye Creams For Circles & Bags
mbg Beauty Director
By Alexandra Engler
mbg Beauty Director
Alexandra Engler is the Beauty Director. Previously she worked at Harper's Bazaar, Marie Claire, SELF, and Cosmopolitan; her byline has appeared in Esquire, Sports Illustrated, and Allure.com.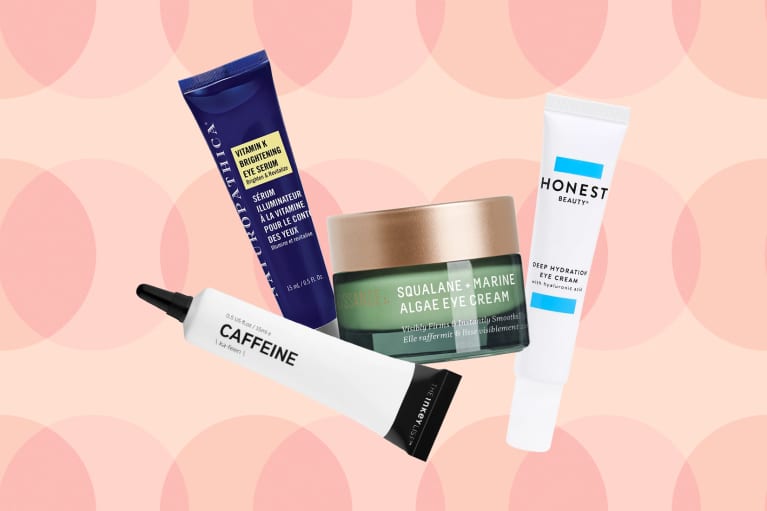 Our editors have independently chosen the products listed on this page. If you purchase something mentioned in this article, we may
earn a small commission
.
People tend to think of eye creams or serums as a monolith category. After all, they're only treating one small area, so how different can they be? Vastly! Eye concerns are just as varied as any other part of your skin: You can get dark circles, saggy bags, fine lines, redness, puffiness, or general dryness—and all of these need unique remedies.
Sure, some ingredients do double-duty, but you still need to be smart about what you're looking for. Someone who has bags will need a much different cream than someone with mauve circles than someone with fine lines.
So here, our favorites with a little intel on who they might be best suited for.
Biossance Squalane Marine Algae Eye Cream
Not only does this cream contain the ultra-hydrating plant-derived squalane (what the brand is best known for), but it contains a strain of pink marine algae. Algae is a super player in the game of healthy aging as it's been shown to reduce fine lines, lift skin, and protect against photogaing. Use it on under eye wrinkles, crow's feet, as well as the brow bone to provide a lifting affect.
Squalane Marine Algae Eye Cream, Biossance ($54)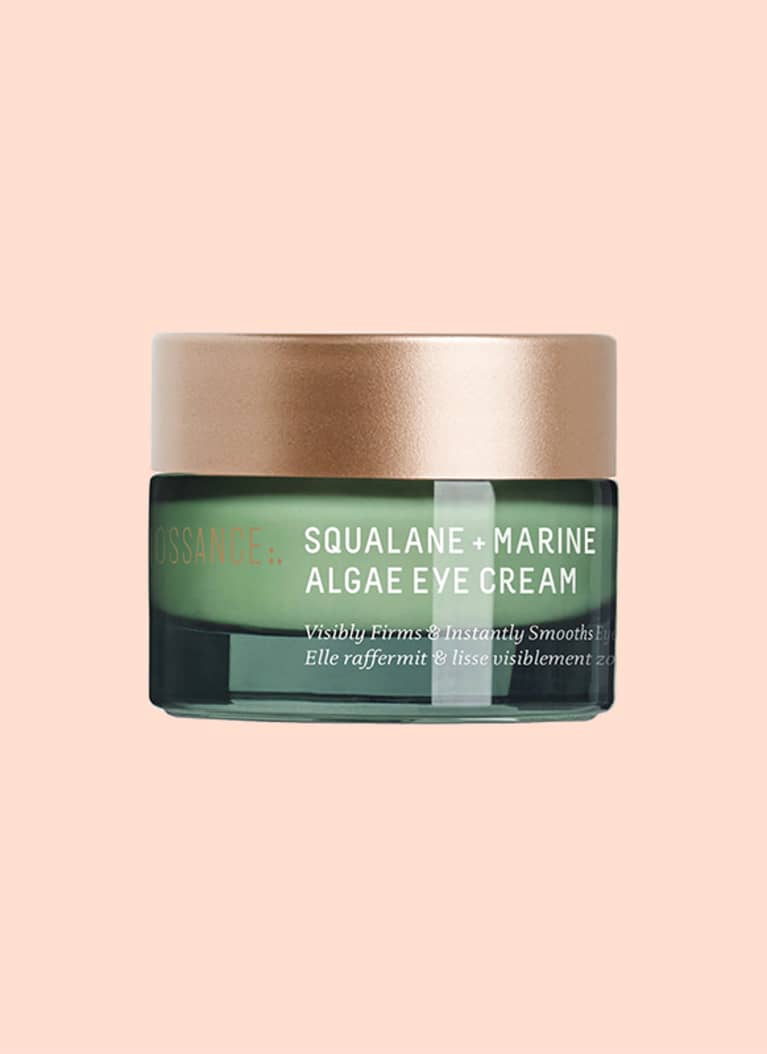 mindbodygreen
Honest Beauty Deep Hydration Eye Cream
Because the skin around the eyes is so thin, it's prone to dryness. If you find you have naturally dry skin, derms often recommend using a hyaluronic acid serum or cream to boost moisture levels, as it draws in and holds up to 1,000 times its weight in water. Drier skin also tends to be easily irritated skin (do you ever get itchy red areas around the eyes?), so this smartly folds in chamomile and calendula, two botanicals known for their anti-inflammatory and soothing properties.
Deep Hydration Eye Cream, Honest Beauty ($21)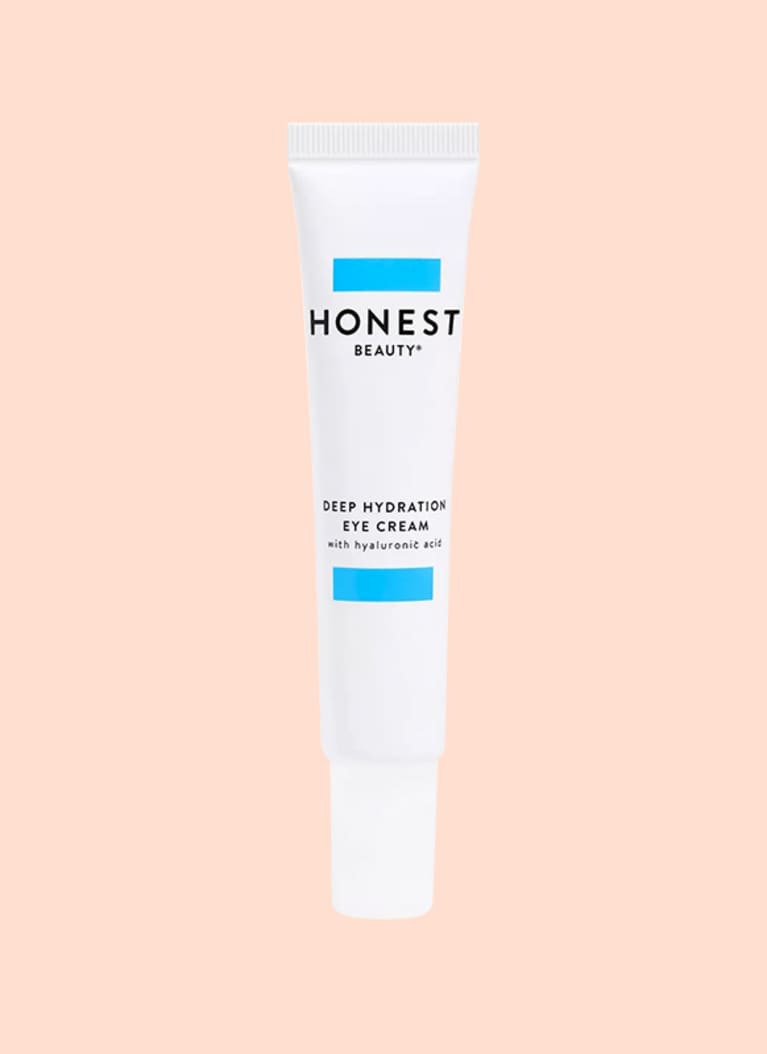 mindbodygreen
Kopari Beauty Starry Eye Balm
This fun hybrid product acts something like a glossy shadow and treatment all in one. It contains hyaluronic acid for moisture and a shot of caffeine to help reduce puffiness and dark circles. The velvety texture helps prep skin for concealer and eye makeup, if you so choose, so it's something like an eye primer. Or you can wear it alone and let the light-reflecting pigments work their magic, giving the appearance of wide-awake skin—and in which case, it's perfect for those wanting to achieve the coveted glass skin look.
Starry Eye Balm, Kopari Beauty ($16.80)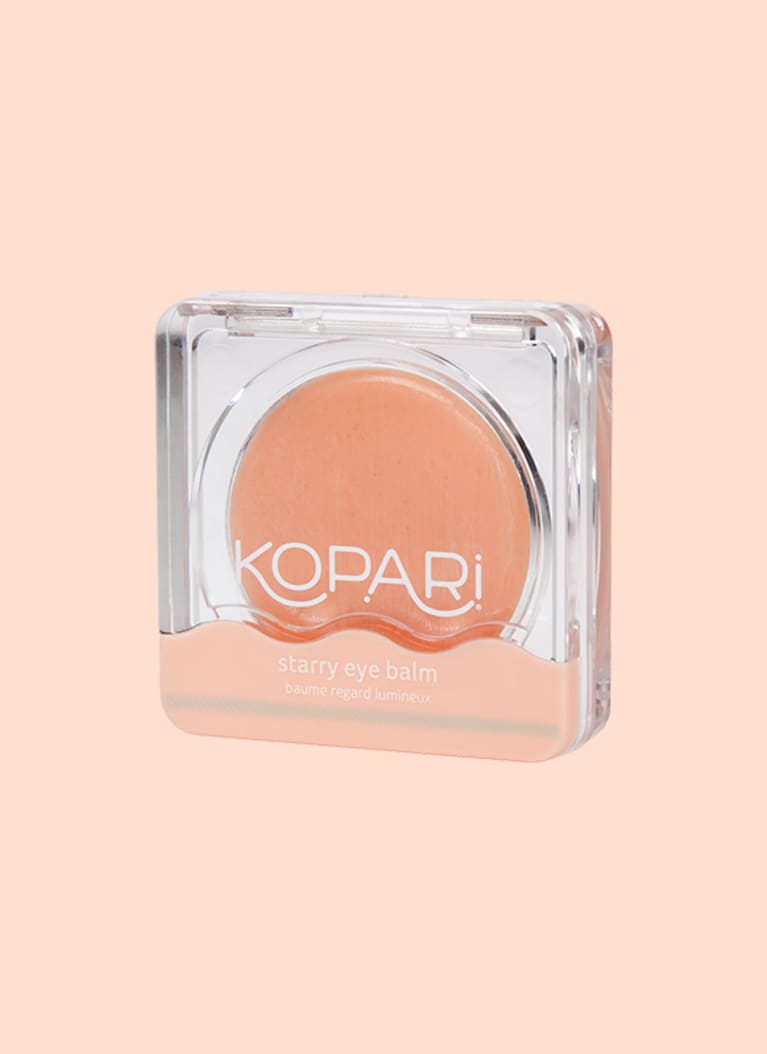 mindbodygreen
Naturopathica Vitamin K Brightening Eye Serum
This ultra-luxe eye cream is for people who have moderate to deep pigmentation around the eyes. (Of course, even mild eye circles can use it, too.) The main active is vitamin K, an ingredient known to help build your skin barrier function, reduce blue and purple discoloration caused by visible blood vessels, and minimize redness. How does this come into play with your delicate eye area? Well, the dark "shadows" people complain about are actually just blood vessels peeking through the area's thin skin. This helps reduce that at the cellular level, not just cover it up. But it does that, too: It also contains mica and silica to reflect light, bringing luminosity to the area.
Vitamin K Brightening Eye Serum, Naturopathica ($78)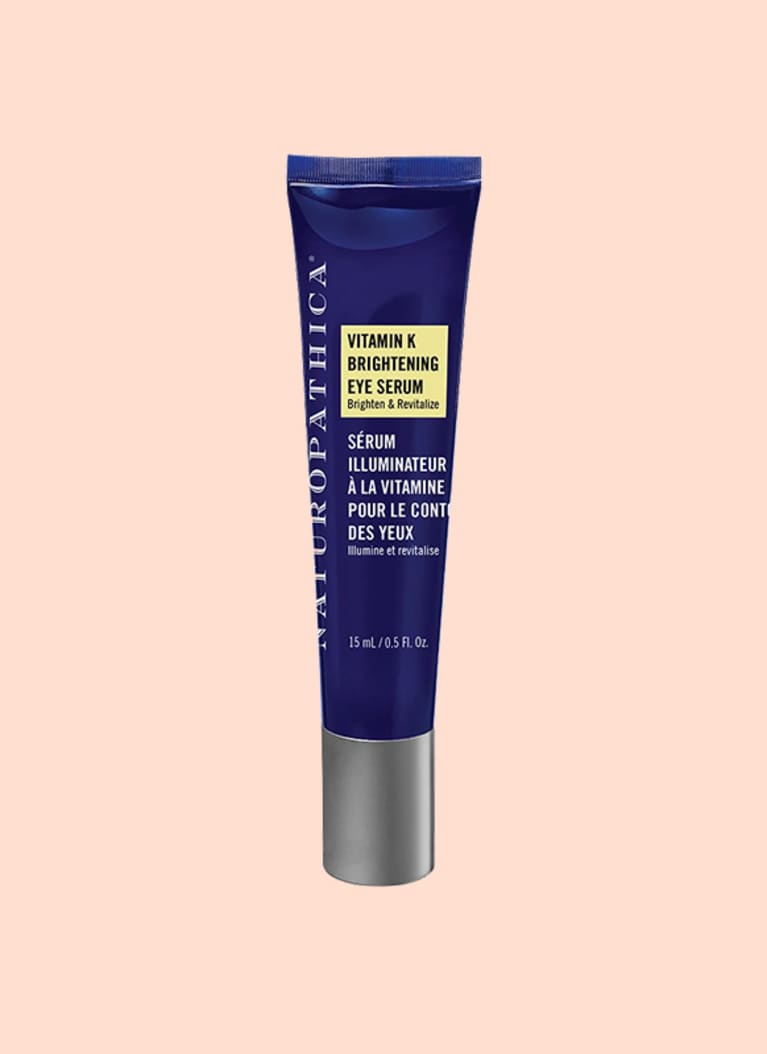 mindbodygreen
Eminence Organic Skin Care Hibiscus Ultra-Lift Eye Cream
If you experience extreme puffiness in the morning, this one's for you. This comes with a cool metal ball that rolls on the product (think of it like the daily facial rolling routine you know you should get into but just can't find the time in the mornings). But it's not just the handy applicator that makes this a favorite; it's loaded with good-for-you actives: hibiscus, ice wine extract, caffeine, botanical peptides, and green algae all work together to aid the skin's overall health.
Hibiscus Ultra-Lift Eye Cream, Eminence Organic Skin Care ($96)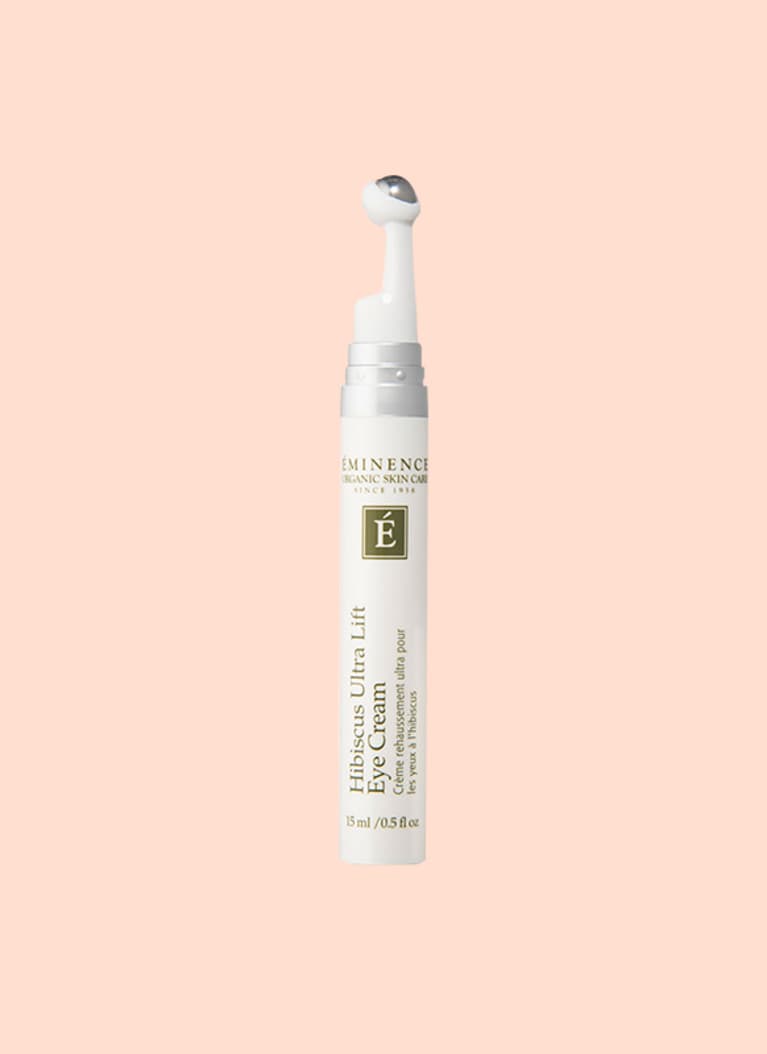 mindbodygreen
Tatcha The Pearl Tinted Eye Illuminating Treatment
Considering how popular tinted moisturizers are, it was only a matter of time before someone really nailed the tinted eye cream. The ingredient blend of pearl extract, hyaluronic acid, silk powder, and tea extracts work to fill in and smooth fine lines as well as improve overall quality. Then, of course, there are the pigments: With just a rice-grain amount, you can treat the entire eye area—it blends in very well, so even if the original hue isn't your skin tone (there are only three shades, after all), it will sheer out to match. If you want a no-makeup makeup look, wear it alone; or it makes for the perfect color-correcting base for a more pigmented concealer.
The Pearl Tinted Eye Illuminating Treatment, Tatcha ($48)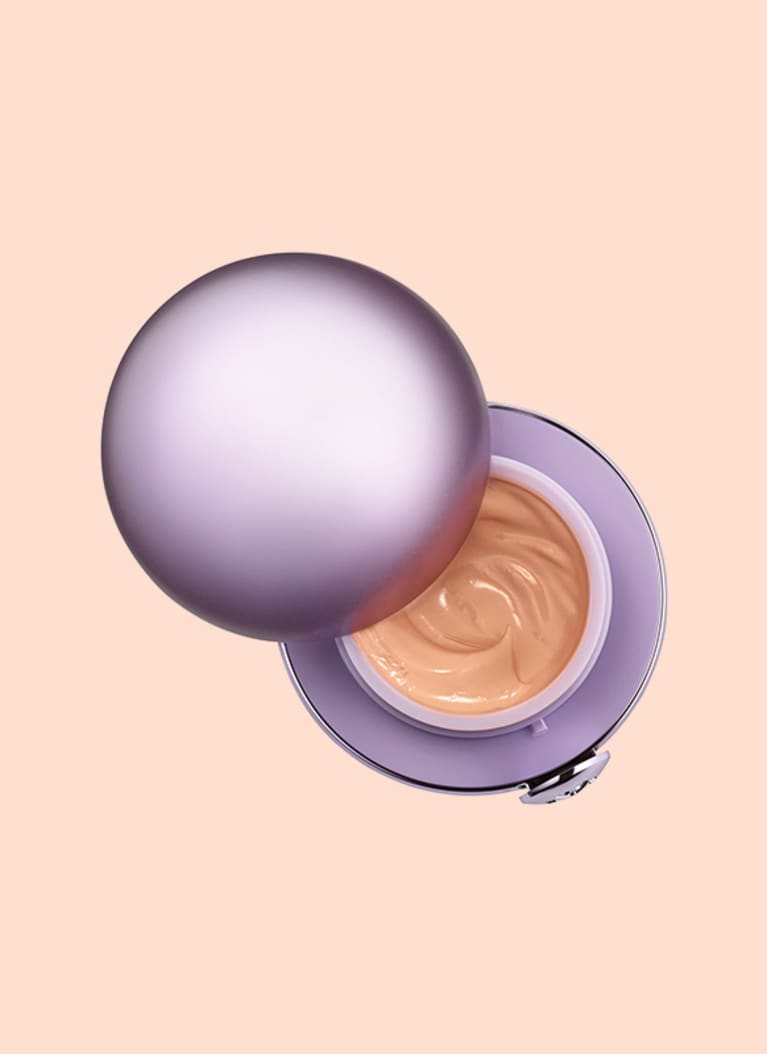 mindbdogyreen
Saturday Skin Wide Awake Brightening Eye Cream With Avocado
This is a good starter eye cream if you are just starting to dabble in the area. Why? It covers all the bases. First there's a unique peptide complex that supports skin's natural renewal process so you are able to keep your young, healthy cells that way for longer. Then, the date-seed extract acts as an antioxidant to fight free radical damage. Finally, there's avocado protein to strengthen the skin barrier protection and provide moisture.
Wide Awake Brightening Eye Cream With Avocado, Saturday Skin ($46)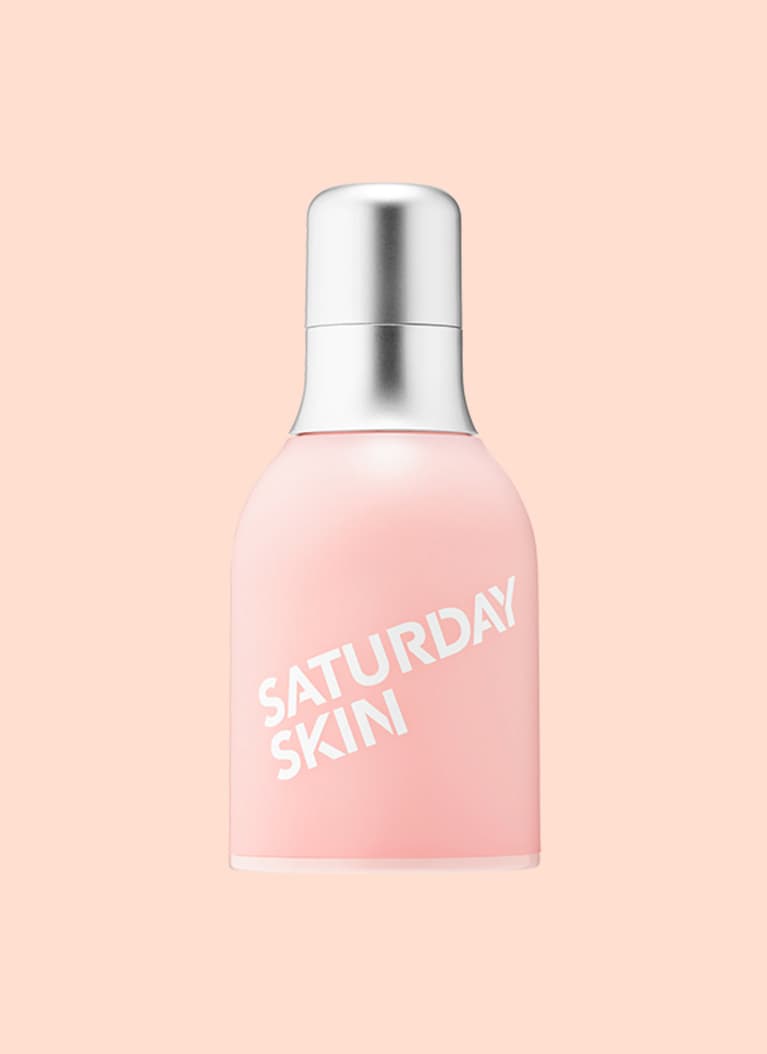 mindbodygreen
The Inky List Caffeine Eye Cream
If you are constantly complaining that your eyes look "tired," this one's for you. No, caffeine doesn't magically make your skin more awake in the same way it does your body when you drink it, but it does make it look more awake. Caffeine constricts the blood vessels just under the skin when applied topically. This helps tackle the two most prominent signs of a sleepless night: dark circle and puffiness.
List Caffeine Eye Cream, The Inky ($9.99)
mindbodygreen
Tula Skin Care Glow Get It Cooling Brightening Eye Balm
Stick formulas are increasingly popular (for good reason: They're easy, on-the-go, and often waterless). However, they're notably smart for the eye area, as they're the perfect size to swipe on with ease. This one is particularly fun: Not only does it have caffeine, but it's packed with aloe vera, watermelon, and blueberry extract to pack in the hydration and antioxidant protection.
Glow Get It Cooling Brightening Eye Balm, Tula Skin Care ($28)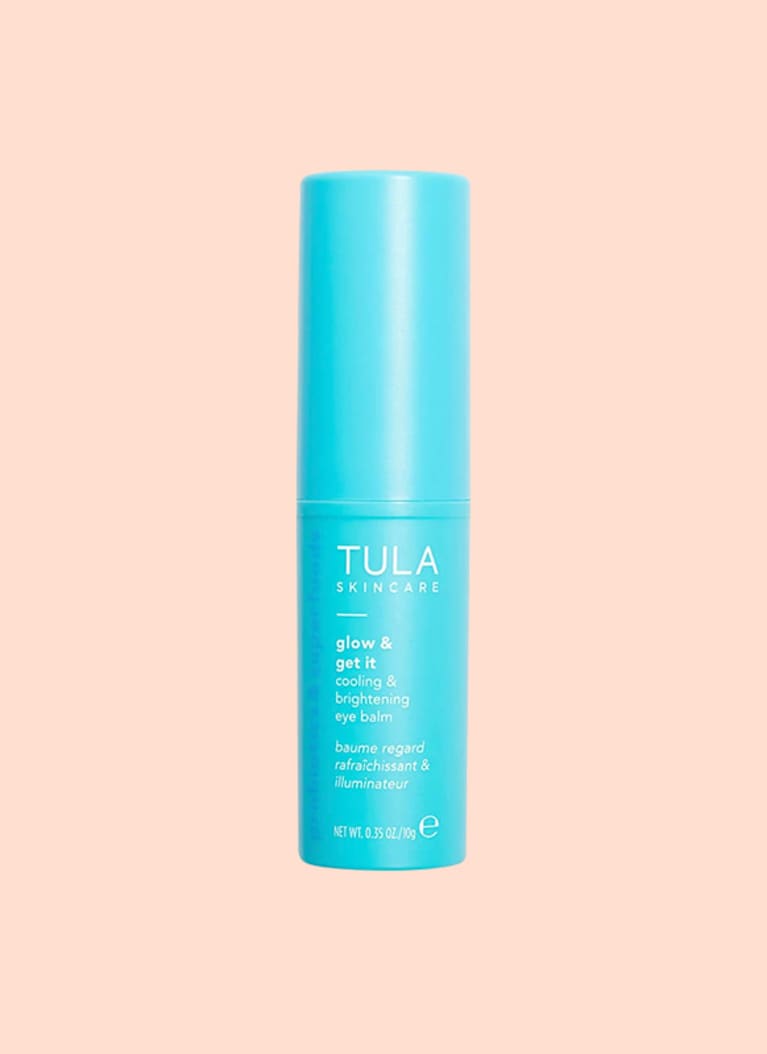 mindbodygreen