Close Banner
Advertisement
This ad is displayed using third party content and we do not control its accessibility features.
Mango Seed Butter Benefits + How To Use It In Skin Care
Assistant Beauty & Health Editor
By Hannah Frye
Assistant Beauty & Health Editor
Hannah Frye is the Assistant Beauty Editor at mindbodygreen. She has a B.S. in journalism and a minor in women's, gender, and queer studies from California Polytechnic State University, San Luis Obispo. Hannah has written across lifestyle sections including health, wellness, sustainability, personal development, and more.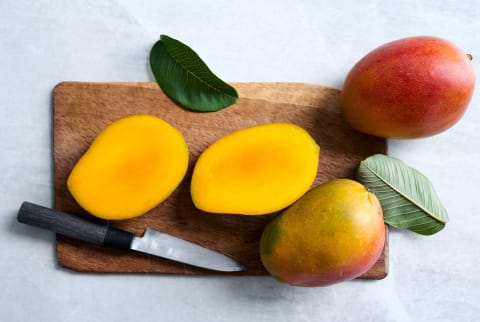 Image by Jill Chen / Stocksy
We carefully vet all products and services featured on mindbodygreen using our
commerce guidelines.
Our selections are never influenced by the commissions earned from our links.
If two body lotions contained all of the same ingredients except for the base, you'd surely get an entirely different experience. Cacao butter feels different from shea butter, which feels different from coconut butter, etc.
What's more, they each contain a unique set of nutrients and benefits. One rich butter you may not be familiar with quite yet: mango seed butter. To come, a quick 101 on this vitamin-rich ingredient and where to find it so you can add it to your list of must-haves.
What is mango seed butter? 
Mango butter comes from the seeds of the fruit, rather than the flesh. It's been used in Ayurvedic medicine for thousands of years both orally and topically but has become more popular in modern cosmetics in recent years.
"The butter has been used in skin and hair concoctions for its high lipid content," says clean cosmetic chemist and founder of KKT Consulting Krupa Koestline. She adds that this ingredient, in particular, has high oxidative stability, so it lasts longer than many other plant butters. When mango seed butter is used in a formula, you'll get a thick, whip-like texture that's ideal for body products like creams and lotions. Plus, it's packed with vitamins that do far more for the skin than just hydrate.
Benefits of mango seed butter
Now for the fun part: the many benefits of mango seed butter:
1.
Packed with antioxidants
"Mango seed butter is rich in mangiferin, vitamins E and C, all of which have antioxidant properties," board-certified dermatologist Hadley King, M.D., FAAD, tells mbg. These vitamins help protect your skin from free radicals that cause oxidative stress in the skin.
When your skin is in a state of stress for too long, inflammation, breakouts, fine lines, and dark spots may follow. Think of antioxidants like your skin's defense against the environment, and mango butter holds loads of them.
As king noted, it's naturally high in vitamin C. Vitamin C is a vital part of the collagen production process—without it, your body cannot properly make its own supply of the protein. Collagen is a structural protein that keeps the skin firm, smooth, and strong. However, it declines with age (and due to sun damage, diet, and lifestyle). This is why most derms recommend you finding products with vitamin C so you can protect and promote the collagen synthesis process.
"Mango seed butter has a very rich lipid composition (between 8.15% and 13.16%); it's especially rich in oleic acid and stearic acid," says Koestline. "This gives mango seed butter its occlusive and emollient properties that help keep the skin barrier nourished."
In short, mango seed butter hydrates the skin by filling in the cracks, encouraging a softer canvas, and locking that moisture in. Hence, why it's such an A+ pick for dry skin types.
5.
Great for all skin types
Both King and Maclellan note this butter is ideal for most skin types. It's gentle and nonirritating, so even those with highly sensitive skin can often use this ingredient topically. However, those prone to reactions should look for a formula that contains little to no fragrance as well.
"The high lipid content along with the antioxidant, polyphenols, bioactive compounds, and mineral content makes it helpful in treating very dry skin, frost bites, calming dermatitis, rashes, and itchy skin," says Koestline. She adds that it's helpful for eczema-prone skin, giving skin a smoother appearance, and even helps prevent stretch marks during pregnancy.
Cautions
"Although not common, allergic reactions are always possible," King says. Be sure to patch-test any new product you have on a small area of your arm or leg to ensure you don't have an allergy to this botanical butter.
Another important note: This particular butter is best used on the body rather than the face for most people. "Mango seed butter has a relatively low comedogenicity rating, but it still may not be the best choice for oily and acne-prone skin," King says.
How to use it
Now that you know what mango butter is and why it's so great, let's dive in to how to use it in your beauty and wellness routine:
In a body butter: Most often, you'll find mango seed butter in (you guessed it) rich body butter. These are great for deeply nourishing the skin barrier and revealing a smoother, more hydrated canvas.
Seasonally: Since mango seed butter can be rich, some may prefer to keep it on hand for the dryer months of fall and winter. Once the sun comes out, you could opt for a lighter body lotion instead—it's all dependent on personal preference.
Pre- and post-sun: Because mango seed butter is so rich in antioxidants, it's a great ingredient to use pre-sun (under your SPF of course). What's more, the hydrating and nourishing properties will help bring post-sun skin back to life and encourage healing from any sun damage that may have taken place.
The takeaway
Hannah Frye
Assistant Beauty & Health Editor
Hannah Frye is the Assistant Beauty & Health Editor at mindbodygreen. She has a B.S. in journalism and a minor in women's, gender, and queer studies from California Polytechnic State University, San Luis Obispo. Hannah has written across lifestyle sections including skin care, women's health, mental health, sustainability, social media trends, and more. She previously interned for Almost 30, a top-rated health and wellness podcast. In her current role, Hannah reports on the latest beauty trends and innovations, women's health research, brain health news, and plenty more.