The 15 Best (& We Mean Best) Natural & Organic Body Lotions
mbg Beauty Director
By Alexandra Engler
mbg Beauty Director
Alexandra Engler is the beauty director at mindbodygreen and host of the beauty podcast Clean Beauty School. Previously, she's held beauty roles at Harper's Bazaar, Marie Claire, SELF, and Cosmopolitan; her byline has appeared in Esquire, Sports Illustrated, and Allure.com.
January 14, 2022
We carefully vet all products and services featured on mindbodygreen using our
commerce guidelines.
Our selections are never influenced by the commissions earned from our links.
A good body lotion is a bathroom staple. Keeping your skin hydrated isn't just an aesthetic thing (although smooth, glowing skin all over isn't a bad trade-off).
You need a good body moisturizer to support your skin barrier, help keep in moisture, and feed your skin healthy ingredients so it can thrive. Truly, this isn't a surface-level thing either.
A 2019 study found a link between skin dysfunction and pro-inflammatory cytokines in the blood, highlighting the importance of the skin's protective role in our overall health: Namely, that poor barrier function is linked to inflammation.
Not to mention, finding a good natural moisturizer can be a dreamy sensorial experience. Slipping on a body lotion you love can feel like wrapping yourself in a cashmere blanket—except in this instance, your skin remains soft all day long.
However, finding your right choice can be a highly personal one too: Some may prefer a thin, spreadable option with an easy glide; others like a dense cream that's almost as thick as butter.
The beauty of beauty products is that we all have unique tastes and preferences, and there are scores of different products out there to meet our needs.
However, not all of those products are created equal. But we went through and found the best-of-the-best for you and your skin.
Quick list: 
Best all-around
A body lotion so thoroughly formulated and thoughtfully minded that it addresses every aspect of your skin barrier function—and as a result, has some pretty impressive aesthetic benefits, too. The hydrating base blends together aloe, shea butter, moringa seed oil, oat oil, and coconut oil to offer a robust variety of conditioning and moisturizing properties. The innovative and highly-selective pre- and postbiotic combo nurtures your skin microbiome, which improves epidermal framework and soothes inflammation. Plus, potent antioxidants (in the form of coenzyme Q10 and a fruit complex) fight free radicals. Your skin will look brighter, healthier—and feel better.
postbiotic body lotion, mindbodygreen ($30)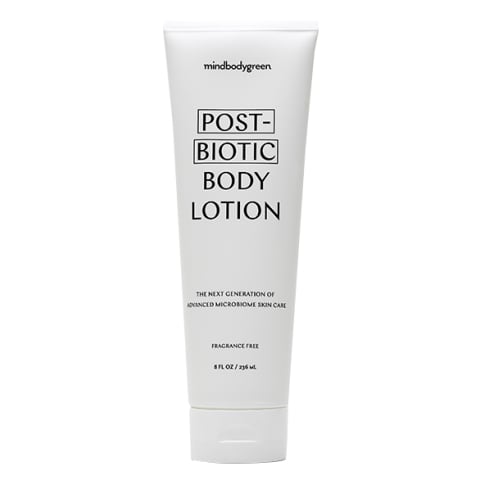 mindbodygreen
Best for mature skin
This luxury brand is known for their approach to inflammaging, or premature aging brought on by chronic inflammation in the skin. Their take is that if you address this proinflammatory cycle by using soothing herbs, antioxidants, and calming botanicals, you'll better avoid damage later in life. This blend uses Indian almond to visibly tighten, shea butter for sealing in moisture and hydration, and purslane extract to reduce inflammation and rejuvenate skin.
Anti-Aging Body Cream, Dr. Barbara Sturm ($95)
Dr. Barbara Sturm
Best for sensitive skin
Formulated for those with easily irritated skin, this formula leaves out all potential aggravators—and then loads up on soothing extracts. For example, it skips fragrances and common allergens and then loads up on shea butter, aloe, and oat extracts. And for the most sensitive skin folk among us—ahem, like those with inflammatory skin conditions like eczema—this is approved by the National Eczema Association.
Aloe & Shea Butter Body Lotion, Burt's Bees ($6.99)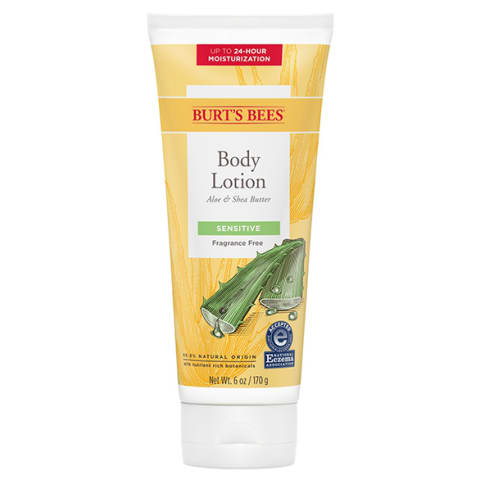 Burt's Bees
Best brightening
For those looking to add a little luminescence to the skin—and even tone and ease dark spots—this daily lotion has a cocktail of actives to help. An olive-derived squalane draws in moisture to the skin. Plum oil is rich in omega 6, 9 and vitamin E, which are excellent for conditioning and softening the skin. Aloe vera soothes redness and calms irritation. Finally phytic acid sourced from rice encourages cell turnover for that brightening boost.
Countermatch Adaptive Body Moisturizer, BeautyCounter ($39)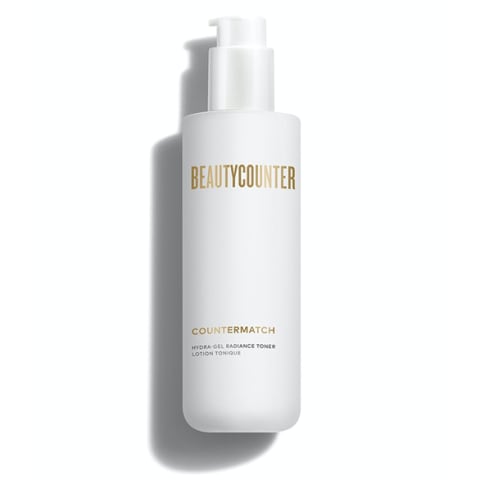 BeautyCounter
Best for dry skin
A true classic: This famous collection of body products has amassed fans far and wide for it's famously smooth texture. It's rich to the touch and gently comforts dry skin. The blend stars shea butter and a plant-derived squalane for that ample hydration, but then the botanical oils (like almond, avocado, and more) add an easy slip.
Crème de Corps, Kiehl's ($32)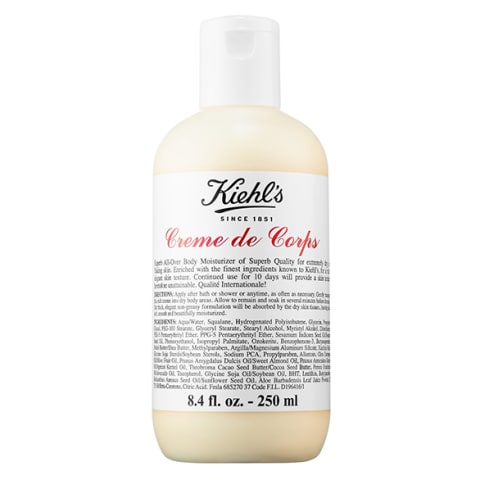 Kiehl's
Best for acne-prone skin
We always believe that acne takes a unique approach of balancing oil, soothing inflammation, encouraging gentle exfoliation, and supporting your barrier. And somehow this does all of that! This contains a 10% alpha-hydroxy-acid blend to resurface and unclog pores (that may seem like a high percentage, but your body can usually handle a more thorough exfoliation as it's thicker skin.) It's buffered with green tea seed, passionfruit, apricot, and marula oils for hydration, barrier nourishment, and antioxidant protection.
T.L.C Glycolic Body Lotion, Drunk Elephant ($25)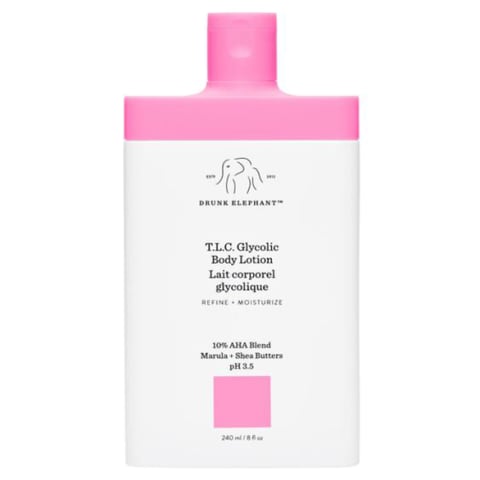 Drunk Elephant
Best for rough skin
Have some texture concerns you're looking to tend to? Well this option will keep your skin supple, soft, and flake-free. It contains watermelon seed butter (a very delightful option to use as a base, I might add) which provides a creamy texture. Then it blends in the ever-popular hyaluronic acid (a powerful humectant) and an hibiscus AHA to smooth skin.
Watermelon Glow AHA Pink Dream Body Cream, Glow Recipe ($28)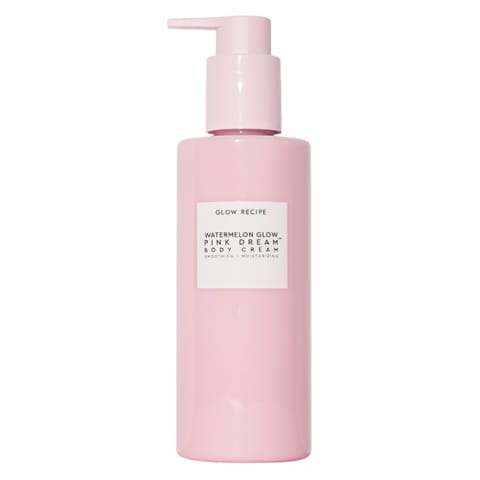 Glow Recipe
Best for irritated skin
This features a broad-spectrum hemp extract with naturally occurring CBD that can temper angry skin. (The extract has been shown to have some beneficial anti-inflammatory properties in some small human studies.) But it also combines menthol and eucalyptus for an instant ahh-inducing moment of relaxation. The calm, chilled out skin you've been waiting for.
R+R Cream 750mg CBD Recovery Rub, Prima ($55)
Prima
Best treatment lotion
For those who have aging skin in need of a lift, this tightening lotion can help address all creepiness and sagging skin concerns. The star is a special peptide complex, or a hydrolyzed wheat protein, that tones and increases elasticity in the skin. Then it folds in caffeine, which can temporarily reduce puffiness. And then it rounds out the formula with hydrating glycerin.
Sculpting Body Lotion, First Aid Beauty ($34)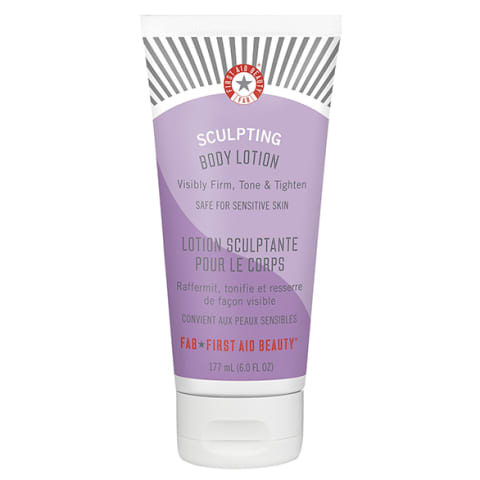 First Aid Beauty
Best face & body multitasker
Want to keep things simple? Here's a non-greasy, fragrance-free hydrator that keeps you supple all day long. It's also head-to-toe hydration: It's high-quality enough to use on your face, as well as full body. The lotion is made with natural jojoba and almond oils that are non-comedogenic enough for the delicate facial skin, but also work as fabulous hydrators (a not so small bonus: you get a few bonus antioxidants, too).
Gently Nourishing Face & Body Lotion, The Honest Co. ($10.99)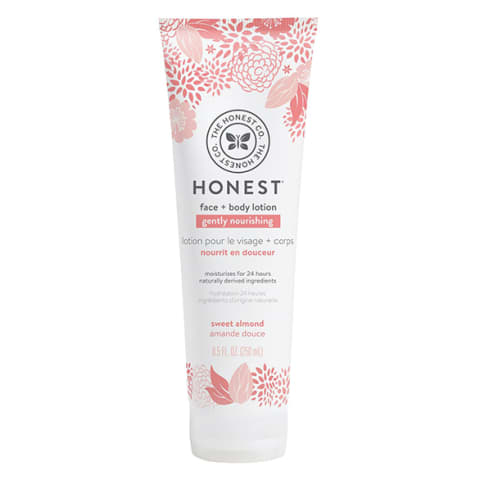 The Honest Co.
Best everyday option
This contains a quality blend of skin-supporting ingredients that work for most skin types and occasions. First up, there's niacinamide (or vitamin B3) to moisturize and nourish skin; then there's vitamins A, C, and E to add antioxidant protection; finally there are omega-6 and -9 to help support your skin barrier function.
The Body Lotion, Necessaire ($25)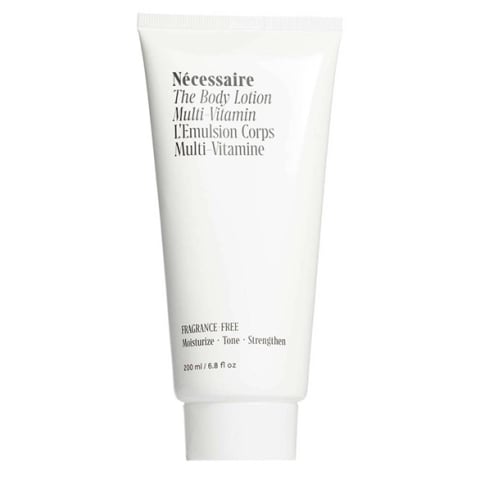 Necessaire
Best nighttime lotion
If you're a fan of shea butter—go straight to the source. This balm is made with organic shea nuts, and each tub has at least 80% pure unrefined shea butter. Read: It's filled with vitamins A, E, F, and K. Apply this lavender-spiked option and let the scent relax you (and your skin) to sleep—then wake up with buttery, soft skin come morning. Plus, it's a great multitasker: Use it on your cuticles, hands, body, and hair.
Shea Essence Of Lavender Shea Butter, Eu'Genia ($12)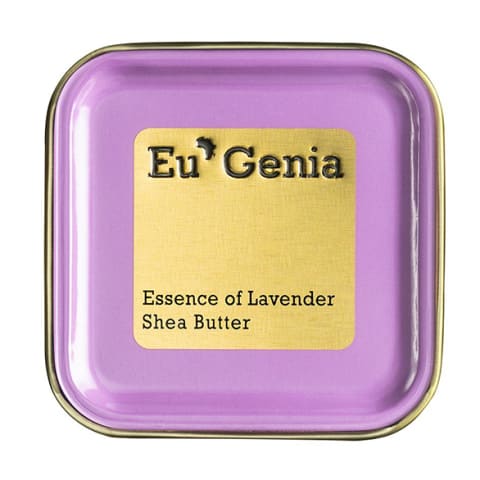 Eu'Genia
Best morning lotion
An eco-friendly and economically friendly option, this sunny, awakening number is naturally derived. This includes sustainably sourced natural fragrance oils and other botanicals. But for all those who need a boost come A.M. we know you'll love the citrusy, fresh scent. Another bonus: The bottle is 100% ocean-bound recycled plastic.
Sea Salt & Bergamot Energizing Body Lotion, Love, Beauty & Planet ($6.99)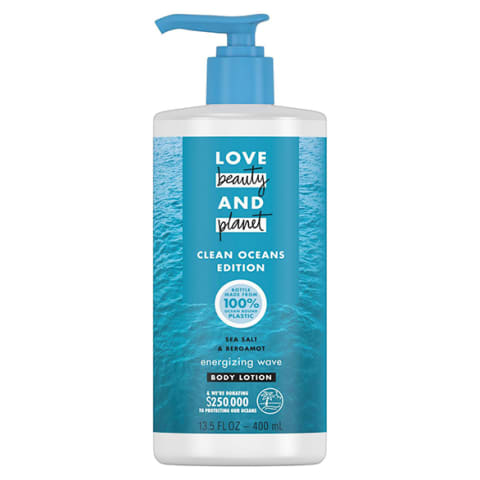 Love, Beauty & Planet
Best budget
This lightweight formula contains sweet almond oil and a dash of shea butter, so it's easy to apply and fairly fast absorbing. It also has a "garden-fresh" scent of honeysuckle and sweet floral notes. Ideal for quick pick-me-up. The bottle is made with at least 30% post-consumer plastic.
Clean Day Honeysuckle Body Lotion, Mrs. Meyers ($6.99)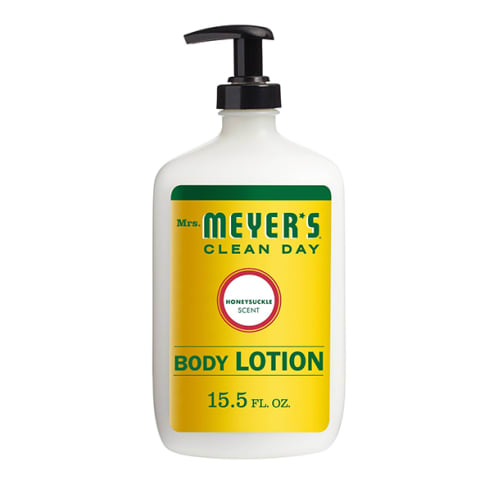 Mrs. Meyers
Best splurge:
Let this luxe cream sink into your skin: You'll be hooked instantly. The botanicals are sourced and inspired by the company's home country, Brazil—and they're nothing short of inspired. There's the hydrating tucuma seed oil, the brightening murumuru butter, and smoothing cacay oil. A delight in every tube.
Creme Para O Corpo, Costa Brazil ($98)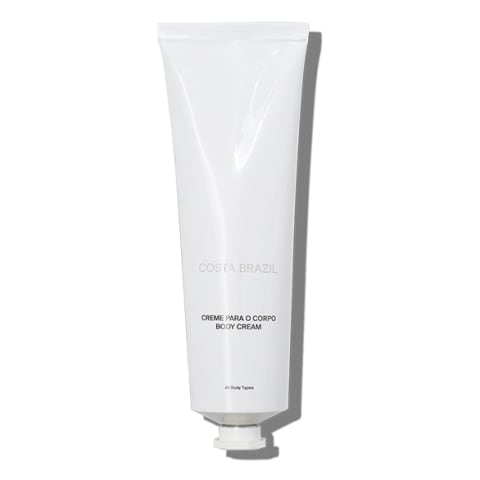 Costa Brazil
mbg's review process
At mbg, high standards are earned—and there are no shortcuts. Our beauty editors stay up to date on the latest ingredient research and innovation. It's a dynamic, continuously evolving space, and it's important we look into the science so we can make informed choices about which formulas earn our stamp of approval (figuratively speaking).
Our high standards also come from testing products—many, many products. Our editors and writers rigorously test and research the products featured in our roundups to offer you the best, most informed recommendations. When we write reviews, you can trust we spend quality time with the formulas: We don't simply rave about products we've slathered on the back of our hand. We endorse products we've tried and loved.
Learn more about our testing process and clean beauty standards here.
Alexandra Engler
mbg Beauty Director
Alexandra Engler is the beauty director at mindbodygreen and host of the beauty podcast Clean Beauty School. Previously, she's held beauty roles at Harper's Bazaar, Marie Claire, SELF, and Cosmopolitan; her byline has appeared in Esquire, Sports Illustrated, and Allure.com. In her current role, she covers all the latest trends in the clean and natural beauty space, as well as lifestyle topics, such as travel. She received her journalism degree from Marquette University, graduating first in the department. She lives in Brooklyn, New York.