What Does Noncomedogenic Mean In Skin Care + The 9 Best Products To Use

mbg Beauty Director
By Alexandra Engler
mbg Beauty Director
Alexandra Engler is the Beauty Director. Previously she worked at Harper's Bazaar, Marie Claire, SELF, and Cosmopolitan; her byline has appeared in Esquire, Sports Illustrated, and Allure.com.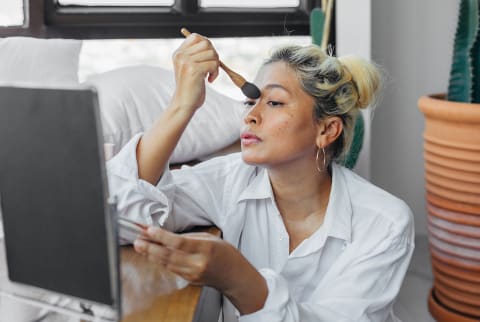 Image by Studio Firma / Stocksy
Our editors have independently chosen the products listed on this page. If you purchase something mentioned in this article, we may
earn a small commission
.
April 30, 2020
Do you always seem to be breaking out, have clogged pores, or have "congested skin"—yet are constantly slathering on all the acne-fighting ingredients you can get your hands on? The real culprit might be elsewhere: comedogenic ingredients.
If you want to turn your skin around, the key might be finding what we call "noncomedogenic" ingredients and products. But what does it mean, how can you identify these, and what are the common misconceptions? Don't worry; we're here to explain all that and more.
Advertisement
This ad is displayed using third party content and we do not control its accessibility features.
What does noncomedogenic mean?
The most straightforward answer is that the product is shown to not clog pores. When something is comedogenic—you might have guessed—it can cause pore blockage, leading to sebum plugs, blackheads, and pimples. A comedogenic formula is usually thick and occlusive—so it sits on the skin trapping in oil, bacteria, and causing inflammation, which will lead to irritation and eventually a breakout. This can take two weeks to a few months to fully present itself, meaning if you try a new moisturizer, you might not see the residual effects for some time.
How can you tell if something is noncomedogenic or comedogenic?
What makes comedogenic versus noncomedogenic conversation so complicated is that there are no set rules defining this skin care term. Instead, you have to look at the individual ingredients to see if there are any red flags listed. And how do we know what ingredients are red flags? Again, there are no hard-and-fast rules. There are "comedogenic scales" and lists found online, but each varies quite a bit, and none function as an official tool used by dermatologists or cosmetic chemists. So what we're left with is sifting through the research—or in some cases, anecdotal evidence—to figure out what ingredients are more likely to cause clogged pores. It's not an exact science, but it's the best we have at the moment.
The most common examples:
mineral oil
coconut butter
beeswax
lanolin
a few fatty acids (for example: isopropyl isostearate, isostearic acid)
isopropyl myristate
Advertisement
This ad is displayed using third party content and we do not control its accessibility features.
6 myths about noncomedogenic products—busted. 
There's a lot of confusion around noncomedogenic products, so we decided to break down the most common misconceptions.
Myth 1: If all the ingredients are noncomedogenic, then the product must be, right?
Wrong! Cosmetic chemist Ron Robinson also notes that even if a formula is created with all noncomedogenic ingredients, the end result can still clog pores. So while you can try to suss out how the product might work on your skin by looking at the ingredient label, it's not always that simple. On the flip side, notes holistic esthetician Kimberly Yap Tan, if a product is formulated with low levels of an ingredient that is comedogenic, it might not end up being problematic in practice.
Advertisement
This ad is displayed using third party content and we do not control its accessibility features.
Myth 2: To label a product "noncomedogenic," it must be regulated, right?
At this point, you might be wondering why you might see products with "Noncomedogenic" or "Nonclogging" slapped on the front. Many brands will go through the effort of having their products specifically tested for this claim, but there is no official regulatory-agency-approved test you can put a product through to determine its comedogenicity. Thus, these claims are entirely up to the integrity of third-party clinical trials or research labs, says Robinson. (If a brand has performed independent clinical trials, they will occasionally say so on the website, so you can start by looking there.)
Myth 3: If a product is comedogenic, it's comedogenic for all skin types.
Another complicating factor is that individual skin chemistry can play a part. "Even if two people are predisposed to acne, what is noncomedogenic to one person might be so for another," says board-certified dermatologist Gohara, M.D. One of the main factors is skin sensitivity. Those with easily irritable and acne-prone skin might be triggered by more products than those with just oily skin. But there's a whole breadth of other issues, including how easily your pores clog, pore size, and how quickly your skin self-exfoliates.
Advertisement
This ad is displayed using third party content and we do not control its accessibility features.
Myth 4: If I cut out comedogenic products, then my acne will clear up.
It should be noted that while acne sufferers should be wary of the comedogenicity of their products, breakouts can still occur even if you are being safe with ingredients. Acne is a complicated condition, and there are many factors that contribute to it. One change will likely not be enough to solve the issue—for quick breakout fixes, see our list of the best you can find at home.
Myth 5: If certain ingredients cause you breakouts, they always will.
Much like comedogenicity of products can be altered with mitigating factors, someone's need for noncomedogenic products might change as well. An obvious example is that if someone is going through an acneic period of their life—say, during puberty—they would benefit from nonclogging products. And if they grow out of that phase, then they can use thicker creams. However, the factors could be much more subtle, notes Gohara, like the change in seasons. Many tend to be more prone to oil production during the summer, when humidity spikes. This would likely increase their chances of comedone susceptibility, and they might benefit by updating their routine. "When I am having breakouts, I know I need to pare back my skin care and makeup routine to things I know do not irritate my skin," says Gohara. "Then when I am going through periods of time when I have clear skin, I can be a bit more experimental with my products."
Advertisement
This ad is displayed using third party content and we do not control its accessibility features.
Myth 6: If I regularly use thick makeup, shouldn't my skin just get used to it?
Those who regularly wear thick makeup might actually be increasing their need for noncomedogenic products. This is a phenomenon called acne cosmetica. It occurs when an individual clogs their pores with comedogenic ingredients, only to pile on makeup to cover up breakouts, exacerbating the issue. "A huge problem is that when an individual has a pimple or breakout, they feel the need to cover it up with thick foundations, which will then continue to clog the pores or clog additionally," says Gohara.
The best oils
You may think oils are off-limits. And while that may be true for some acne-prone individuals, it's certainly not all. You just need to look for lighter, breathable oils that contain other acne-soothing actives. (Remember, you need to look at the whole of the product to determine its comedogenic levels.) Try options with safflower or sunflower seed oils high up on the ingredient list. Most derms and skin care experts can agree that these have low-clogging potential. For a wash, the star ingredient in White & Elm's Deep Pore Oil Cleanser is sunflower seed oil. And Youth To The People's Superberry Hydrate + Glow Oil is made with (again) sunflower seed and jojoba oils, along with a ton of antioxidants. Plant-derived squalene is another great natural oil that is very light and soothing—look for it as an added ingredient, or just use it in pure form, like this one from Biossance 100% Squalane Oil.
The best moisturizers
The best foundations
Mineral powders will provide the coverage you want, without exacerbating the issue. (A hack from Tan: Blend the powder with your moisturizer for a liquid-like foundation.) Youngblood Natural Loose Mineral Foundation comes in 16 diverse shades. You can also look for water-based "serum" foundations, which will be more breathable and have fewer comedogenic ingredients: Ilia Super Serum Skin Tint SPF 40 is so lightweight and provides a wash of coverage. Oxygenetix Foundation is a cult favorite that is beloved by those who have acne-prone skin.
Want to turn your passion for wellbeing into a fulfilling career? Become a Certified Health Coach! Learn more here.

Alexandra Engler
mbg Beauty Director
Alexandra Engler is the Beauty Director at mindbodygreen. She received her journalism degree from Marquette University, graduating first in the department. She has worked at many top publications and brands including Harper's Bazaar, Marie Claire, SELF, and Cosmopolitan; her byline has appeared in Esquire, Sports Illustrated, and Allure.com. In her current role, she covers all the latest trends and updates in the clean and natural beauty space, as well as travel, financial wellness, and parenting. She has reported on the intricacies of product formulations, the diversification of the beauty industry, and and in-depth look on how to treat acne from the inside, out (after a decade-long struggle with the skin condition herself). She lives in Brooklyn, New York.