8 Vegan Breakfast Recipes For A Plant-Powered Morning
mindbodygreen Editorial Assistant
By Sarah Regan
mindbodygreen Editorial Assistant
Sarah Regan is a writer, registered yoga instructor, and Editorial Assistant at mindbodygreen. She received her bachelor's in broadcasting and mass communication from SUNY Oswego, and lives in Brooklyn, New York.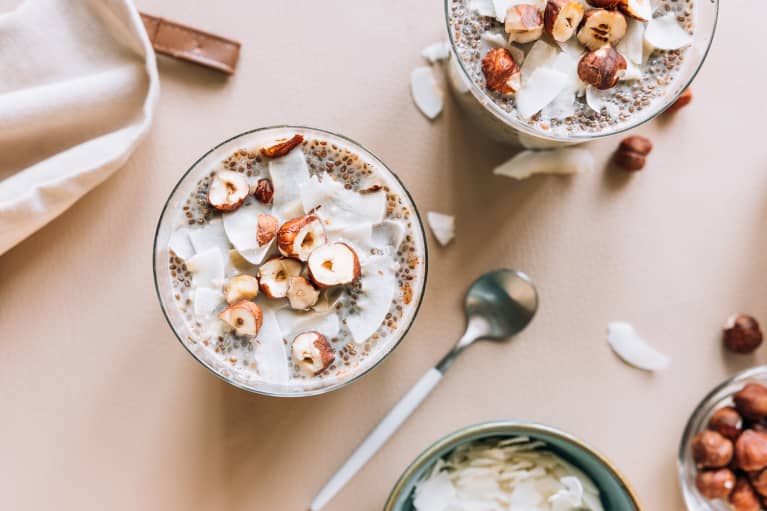 Breakfast has long been touted as "the most important meal of the day," and whether you're into intermittent fasting or fueling up as soon as you wake up, how you break your fast matters.
Healthy breakfasts high in protein, for example, have been found to prevent overeating later in the day. So, it's important to make sure you're doing breakfast right.
Which is why we rounded up eight deliciously nutrient-dense, vegan breakfasts, sure to become your new faves. They're all quick, don't skimp on the protein, and will keep you full until lunch.
Post-Workout Green Smoothie
If you like to hit the gym first thing, this post-workout green smoothie is a great option. It's packed with protein and healthy fat from the avocado, making it perfect for recovery after getting your sweat on.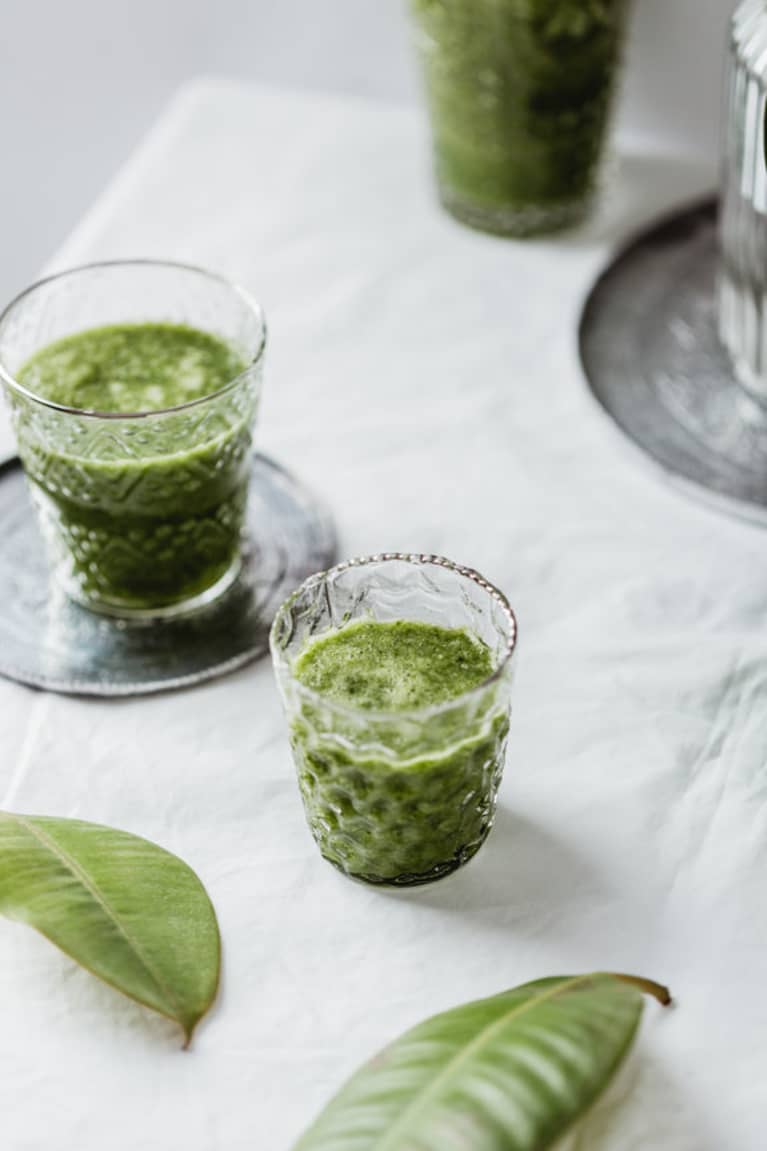 2 scoops plant-based protein powder
2 cups cold water or almond milk
½ avocado
1 banana (frozen)
2 cups baby spinach
Add all ingredients to a blender. Blend on high until smooth and creamy. Divide into glasses and enjoy.
1 cup nondairy milk
½ cup rolled oats
1 tsp. ground turmeric
½ tsp. ground ginger
Pinch of salt and pepper
Bring 1 cup of nondairy milk in a small saucepan to a boil.
Add rolled oats, turmeric, ginger, and salt and pepper.
Reduce heat to low and cook for 1 minute.
Remove from heat and stir in maple syrup to taste. Sprinkle on cinnamon if desired.
For a simple, no-frills breakfast packed with healthy ingredients, enter this superfood cereal. It's got tons of nuts, seeds, and other superfoods for a cereal that outshines anything you could buy in the store. And it even doubles as a granola come snack time!
Ingredients
1 cup almonds
1 cup cashews
1 cup oats
1 cup shredded coconut
1 cup buckwheat groats
1 cup cacao nibs
1 cup LSA (linseeds, sunflower seeds, almonds)
1 cup puffed rice
½ cup pepitas
½ cup psyllium husk
4 teaspoons ground cinnamon
Mix together until well combined. Serve with nondairy yogurt or almond milk, and fresh fruit.
Apple Cinnamon Overnight Oats
These Apple Cinnamon Overnight Oats are perfect if you could use a little extra time in the morning. Make it ahead of time so it's ready to go, and in the morning, warm up the oats for about a minute, then add an extra splash of almond milk, a drizzle of maple syrup, and a spoonful of your favorite nut butter.
Ingredients
1½ cups quick or traditional oats
1½ cups unsweetened almond milk
2 tablespoons chia seeds
1 tablespoon maple syrup
1 teaspoon cinnamon
¼ teaspoon nutmeg
½ teaspoon vanilla extract
½ cup water
1 apple (cored and diced)
1 cup walnuts (chopped)
Combine oats, almond milk, chia seeds, maple syrup, cinnamon, nutmeg, vanilla extract, and water in a large glass container. Stir well to evenly mix. Cover and store in the fridge overnight.
Remove from fridge. Use single-serving-size jars (1 to 2 cups in size) and place a few spoonfuls of the oat mixture in the bottom of each. Then add a layer of diced apple followed by a layer of chopped walnuts. Repeat until all ingredients are used up.
Store in the fridge up to 4 days or until ready to eat.
For a quick and refreshing breakfast, give this ginger peach smoothie a try. Ginger is an anti-inflammatory and high in antioxidants, flaxseeds are high in omega-3s and fiber, and the banana provides magnesium and potassium. Blend it all up and you've got one good smoothie.
Ingredients
1½ cups frozen sliced peaches
2 pitted dates, chopped
1 cup unsweetened almond milk
½ cup plain nondairy yogurt
1 teaspoon flaxseeds
½ ripe banana, sliced
½ teaspoon finely chopped fresh ginger
1 tablespoon maple syrup
Pinch of kosher salt
Combine the peaches, dates, almond milk, yogurt, flaxseeds, banana, ginger, maple syrup, and salt in a blender, and process until smooth.
Raw Berry Pomegranate Bowl
This pomegranate bowl is not only vegan but raw, too, making it another good option for a breakfast that's light but still filling. Pomegranates are a nutritional powerhouse packed with antioxidants, vitamin C, and more. And since this recipe doesn't involve any cooking, you can have it ready in just a few minutes.
Ingredients
2 bananas
4 medjool dates
1½ cup frozen mixed berries
1 pomegranate
½ cup raspberries
2 tablespoons dried mulberries
1 tablespoon chia seeds
Blend bananas, dates, berries, and half of the pomegranate. If desired, add water, a little bit at a time, for a thinner consistency.
Pour into a bowl and top with remaining pomegranate half, raspberries, and chia seeds.
This chia pudding recipe is another great option to make ahead of time to free up your morning. The chia seeds are full of omega-3s, which can aid the body in balancing hormones. Make a few batches to last you throughout the week, and switch up garnishes as you see fit to keep things interesting!
Ingredients
¼ cup organic chia seeds
1 cup organic nut or seed milk
organic alcohol-free vanilla extract
organic cinnamon
organic cardamom
organic blueberries
organic blackberries
organic goji berries
organic raw pumpkin seeds
organic hemp seeds
organic bee pollen
Whisk chia pudding ingredients in a Mason jar or fancy glass. Stir very well for about 5 minutes with a fork until all of the chia seeds are covered and coated. Cover and set in refrigerator for 20 minutes. (You can leave in the fridge for as long as you want. The pudding will just get thicker as time goes on.)
Garnish with berries and superfoods.
And last but not least, for the ambitious folks who want to try their hand, we have this sprouted spelt bagel recipe. Not quite as quick as the other recipes featured in this list but just as tasty, these bagels are a way to make this breakfast treat as healthy as possible. They take some time, but the recipe makes eight bagels, so you can either freeze them for convenience or get some friends together for a homemade bagel brunch!
Ingredients
1⅔ cups freshly filtered water
1 tablespoon + 1 teaspoon fresh yeast
1½ tablespoons unrefined cane juice sugar, jaggery, or coconut palm sugar
4 cups sprouted spelt flour, plus extra for dusting
1½ teaspoons fine sea salt
Extra-virgin olive oil
1 tablespoon maple syrup
Raw or toasted poppy or sesame seeds (optional)
Pour ½ cup of the water into a small bowl, crumble in the yeast, and sprinkle with the sugar. Leave for 5 minutes, then stir to dissolve. Mix the flour and salt together in a large bowl. Make a well in the center of the flour and pour in the yeasted water. Pour in the remaining water and then mix to form a firm, moist dough.
Turn the dough onto a well-floured work surface. Knead until smooth and elastic, which will take about 10 minutes. As you knead the dough, feel for its texture. You need this dough to be quite stiff and firm. If it's too moist, gradually knead in some more flour.
Wipe the inside of a bowl with some olive oil, then roll your dough around the inside of the bowl. Place the dough in the bowl and cover with a cloth. Let rise in a warm place until doubled in size, which will take about 1 hour. Punch down the dough, then let rest again for 10 minutes.
Scrape the dough out of the bowl and return it to a lightly floured work surface. Cut into 8 equal-size pieces and shape each piece into a ball. Poke a floured finger into and through the center of each one to form a ring.
Place the bagels on a lightly (olive-) oiled baking sheet, cover with a damp cloth, and let rest for 10 minutes. Meanwhile, preheat your oven to 425°F.
Bring a large, wide pan of water to a boil, reduce the heat to a simmer, and then add the maple syrup. Use a slotted spoon to lower the bagels carefully into the water, 2 or 3 at a time.
Boil each batch of bagels on one side until they rise to the surface and puff up, then turn each one over and remove them once they rise to the surface again. As you remove the bagels, let them drain well. If you are coating them in seeds, this is the time to do it. Put the seeds in a shallow bowl and dip the top of each bagel lightly into seeds.
Return the drained bagels to the lightly oiled baking sheet. Transfer to the oven and bake for 20 minutes, turning once, or until golden and shiny. Let cool on a wire rack.
Bagels are at their best within 2 or 3 days of baking, when fresh. They do freeze well. Slice into two half-rings before freezing is recommended.
These recipes guarantee your breakfast won't bog you down just as your day is getting started. The choices we make in the morning will affect our entire day, and with these options, we can be sure to get the most out of our breakfast.