Close Banner
Advertisement
This ad is displayed using third party content and we do not control its accessibility features.
How To Relieve Sore Muscles: The Best Foods, Tools & Pro Tips
Certified holistic nutritionist
By Melissa Boufounos, CHN
Certified holistic nutritionist
Melissa Boufounos is a certified holistic nutritionist, nutrition writer, and lifelong athlete in the greater Ottawa, Ontario, Canada area. She specializes in sports nutrition and works with teen hockey players and competitive obstacle course race athletes in her virtual private practice MB Performance Nutrition.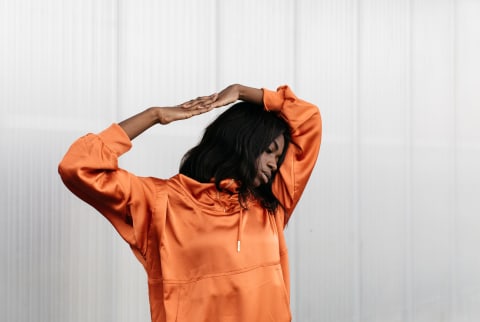 Image by Javier Díez / Stocksy
We carefully vet all products and services featured on mindbodygreen using our
commerce guidelines.
Our selections are never influenced by the commissions earned from our links.
If you want to build muscle and gain strength, muscle soreness is inevitable. Yet everywhere you look, someone is promoting the latest and greatest hack for relieving sore muscles quickly. We reached out to exercise physiologists to get the scoop on which of these tools and techniques are actually effective—and which ones are overhyped with little science to back them up.
We also got the story on why soreness happens in the first place, how to structure your workouts to ease unnecessary soreness, and how to tell when your aches and pains are a sign you should take the day off from exercising. Here's your complete guide to relieving sore muscles (to the best extent possible).
The need-to-knows:
Muscle soreness is nothing to avoid: Muscle soreness happens when your muscle fibers get micro-tears and become inflamed. This process is necessary to help you get fitter and stronger.
The science on muscle soreness tools is mixed: While there is some compelling research behind using hot-cold therapy and percussive tools after working out to ease sore muscles, Epsom baths and foam rollers have less science behind them.
To prevent unnecessary soreness, going back to basics is best: No hacks here: The most effective way to ease soreness is to continuously eat a healthy diet that limits pro-inflammatory foods, stay hydrated, and get enough sleep.
What causes muscle soreness? 
During exercise, your muscle fibers get micro-tears. To repair damaged muscles, your body responds with acute inflammation to absorb the damaged cells and get rid of them. This breakdown and repair process is how you gradually get stronger, fitter, and grow muscle.
"Acute muscle soreness is commonly experienced during a training session or in the hours following a workout," says exercise physiologist Rachelle Reed, Ph.D. "When soreness doesn't occur until 12-24 hours following exercise and persists for up to three to seven days, it is typically referred to as delayed onset muscle soreness or DOMS."
There's a common misconception that you need to be sweaty and sore after a workout for it to be effective. Reed says this is inconsistent with basic exercise science principles. You don't need to feel sore or experience DOMS to know you've had a good workout. Muscle soreness typically happens when you try a new exercise or increase your training intensity.
You don't need to feel sore or experience DOMS to know you've had a good workout.
"Some soreness after hard-for-you or new-to-you training is normal. But it should be manageable (i.e., not interfere with your ability to go about your typical day)," explains Reed. "You should be able to recover from a tough training session within a day or so and be able to jump back into your next workout thereafter, most of the time."
Over time, you can expect your body to become less sore after doing the same movements. This isn't necessarily a bad thing, either. "The first time you do something unaccustomed, it hurts; do it again, and it hurts way less. A third time, even less," says Stuart Phillips, Ph.D., FACSM, FCAHS, a professor in the Department of Kinesiology at McMaster University.
On the other hand, you shouldn't expect muscle growth just because you're sore. Phillips reiterates that soreness is due to damage repair in muscles, but more soreness doesn't mean more growth. In addition to following a strength training program, muscle growth requires taking in plenty of calories and protein post-exercise.
Summary
Muscle soreness happens when your muscle fibers get micro-tears and become inflamed. This process is necessary to help you get fitter and stronger. But you don't necessarily need to feel sore after a workout to know it was effective. Most soreness happens when you recruit new muscle groups or try a workout (or workout intensity) that's new to your body.
What exercises contribute to it the most?
Every time you exercise, you create some muscle damage, but that doesn't mean you'll be sore after every workout. Bigger muscle groups like your quadriceps, hamstrings, and glutes might be prone to more soreness. Likewise, certain types of exercise may create more damage and, by extension, more soreness.
According to Reed, you are more likely to experience soreness if you're trying something new exercise-wise and do too much too soon, if you're returning to more structured programming or exercise routines after a considerable time away, or if you're participating in a lot of eccentric-heavy activities.
"Eccentric movements may induce micro-injury1 to the muscle tissue more so than other types of muscular contractions," Reed explains. "The severity of soreness depends on the types of forces placed on the muscle during exercise. For example, running down a hill places more force on a muscle than walking down the same hill."
The ACSM lists the following types of exercise that may be more likely to cause DOMS:
Strength training
Walking down hills
Jogging
Step aerobics
Jumping
The best ways to ease soreness fast
Here are a few popular ways to relieve sore muscles that have research behind them and come expert-recommended for recovery:
1.
Use a percussive therapy device
"In a study of female adults2, vibration therapy with the Theragun and traditional massage were equally effective in the prevention of DOMS. Notably, vibration therapy showed a clinically early reduction of pain post-exercise," says Reed.
"In a 2021 survey study, physical therapists reported that mechanical percussion with the Hypervolt increased local blood flow, modulated pain, and effectively treated myofascial trigger points and joint range of motion," he adds.
2.
Refuel with anti-inflammatory foods & supplements
Because muscle soreness is caused by inflammation, a diet that is rich in anti-inflammatory foods and low in pro-inflammatory foods can help you recover and combat soreness.
"Examples of anti-inflammatory foods are vegetables, fruits, and omega-3-rich foods like salmon, tuna, and chia seeds. These foods all contain nutrients that help to alleviate inflammation in the body, including what is caused by exercise," explains Emily N. Werner, Ph.D., R.D., CSSD, a registered dietitian and exercise physiologist.
"Pro-inflammatory foods are foods high in saturated fat (e.g., anything fried, chips, pastries) and alcohol. Pro-inflammatory foods tend to exacerbate inflammation and don't really help with muscle soreness or recovery," Werner adds.
Werner adds that drinking water and tart cherry juice can also help ease muscle soreness. "Water consumption is important because it helps maintain hydration, which is beneficial for decreasing excessive inflammation. Tart cherry juice is rich in anthocyanins3, which are anti-inflammatory polyphenols."
3.
Take an ice bath (but don't overdo it)
Research on ice baths and cold-water immersion has exploded over the past decade. And experts agree that settling into a bath of ice can help reduce muscle soreness6.
"This 2021 meta-analysis of 32 randomized controlled7 trials suggests that hot and cold therapy can reduce delayed muscle soreness in adults," says Reed. The review found that taking an ice bath within one hour of exercise had pain-relieving effects for up to 24 hours, but no obvious effects were seen after 24 hours.
However, there is no clear answer on whether cold-water immersion benefits muscle function. Phillips, for one, thinks the evidence for its performance benefit is lacking. "There is a body of evidence showing that ice baths too often can impair muscle growth8," he says. "I think this is because the bath causes constriction of blood vessels that impairs a necessary amount of blood flow needed for growth to occur."
With this in mind, ice baths may be more appropriate for athletes who need short-term recovery6 when they're at the highest risk of post-workout soreness and need to recover quickly before their next heat or match.
There's a long-standing debate in the sports medicine and fitness space over whether to use ice or heat to relieve sore muscles, and the research doesn't point to one clear winner. On one hand, cold therapy10 slows circulation, which could reduce the swelling and pain associated with a new injury. On the other hand, heat therapy increases circulation, which could help relieve tight and sore muscles11.
In one 2017 study12, low-level continuous heat wraps that were left on for eight hours after heavy exercise reduced DOMS in participants. There was also a small benefit to applying heat 24 hours after exercise. However, Reed adds that another 2022 study13 concluded that "heat or cold therapy in the first 30 minutes after intense eccentric exercise does not prevent DOMS," so the research here is a bit mixed.
At the end of the day, hot and cold therapy are safe for most adults who are using them appropriately, so it may just come down to personal preference. You may even consider combining them into a hot-cold routine (here's a primer on that).
There are a few contraindications, though. "Those with uncontrolled heart and blood pressure conditions should avoid using hot and cold therapies, given the vascular implications of the temperature extremes," says Reed. "Those who are pregnant should also avoid extreme temperature fluctuations."
Techniques that are less effective for soreness than you think
There's so much hype around trendy recovery tools, but many don't have the evidence to back them up. Here are a few popular ones that are lacking in the science department:
Athletes and recreational exercisers have used magnesium sulfate (Epsom salt) baths for decades to alleviate muscle soreness. However, this technique has only been anecdotally proven.
The heat can help increase blood flow to your muscles, which may help with the recovery process11, but there are mixed results14 when it comes to the effectiveness of Epsom salts themselves.
Because this is an inexpensive and safe strategy for most people, if you notice that soaking in an Epsom salt bath works for you, go for it! At the very least, soaking in a hot bath with Epsom salts may help you relax and sleep better, which is important for muscle recovery.
Self-myofascial release (SMR) is a popular intervention that uses tools like foam rollers, lacrosse balls, or massage sticks to help release tension in muscles, improve muscular performance and flexibility, and alleviate muscle soreness.
A 2019 meta-analysis15 determined that the effect of foam rolling on recovery is minor and partly negligible. Foam rolling might be better used as a warm-up activity rather than a recovery tool.
Stretching is another topic of much debate in the fitness world. In a review of 12 studies,16 stretching before, after, or before and after exercise did not result in significant reductions in delayed-onset muscle soreness in healthy adults. While static stretching17 after a workout doesn't appear to improve DOMS, active recovery might.
"If soreness is mild and restricted to a few muscle groups, some gentle (lower-intensity, low-impact) movement like dynamic flexibility work, walking, or yoga may feel good for you," says Reed. "Listen to the feedback from your body and avoid pushing toward any increasing pain or discomfort from stretching."
When you're sore, you may be tempted to take an over-the-counter anti-inflammatory pain reliever, like ibuprofen or aspirin, but experts don't recommend this strategy. Although Nonsteroidal anti-inflammatory drugs (NSAIDs) may quickly relieve the pain associated with muscle soreness, suppressing inflammation during this recovery process can actually slow recovery long term.
Some research18 even suggests that regularly taking NSAIDs for DOMs can negatively affect muscle growth. Remember, acute inflammation is a necessary part of the recovery process. "Pain is a guide to say 'don't do this; it's not a good idea,'" Phillips points out. "Taking drugs to mask the pain and do it anyway is never a good idea."
How to prevent unnecessary soreness
Muscle soreness, while totally normal and nothing to avoid, can be a frustrating side effect of a new or more intense exercise program. Here are a few expert-backed strategies to prevent unnecessary soreness in the first place.
Before a workout:
Warming up with dynamic exercises like slow jogging, biking, jumping rope, or lifting lighter weights before a workout may reduce muscle soreness.
"It's generally accepted that a dynamic flexibility warmup19 that's specific to the movement patterns in your workout is beneficial," says Reed. "From a safety perspective, a dynamic flexibility workout can gradually increase heart rate, systolic blood pressure, and blood flow, prepping the body for the upcoming workout."
From a nutrition standpoint, Werner recommends eating anti-inflammatory foods that are also rich in carbohydrates before a workout. "Then, after you've had a carbohydrate-rich snack before exercise, the best thing to drink to avoid excess soreness is water," she says. "Maintaining hydration is crucial for recovery from exercise and mitigation of muscle soreness."
During a workout:
To prevent soreness from muscle strain or injury, it's important to do exercises the right way and use proper lifting form.
For workouts under 90 minutes, drink about five to 10 ounces of water every 15 to 20 minutes of exercise to maintain hydration. For workouts lasting longer than 90 minutes, an electrolyte beverage might be necessary. You should also eat 30-60 grams of carbohydrates per hour for workouts lasting longer than 75 minutes.
After a workout:
"My perfect post-workout snack is a smoothie with tart cherry juice, a scoop of vanilla whey protein, and a handful of frozen mixed berries. That smoothie recipe helps replenish hydration, fight inflammation and soreness, rebuild and refuel your muscles," says Werner.
Getting seven to nine hours of good-quality, restful sleep every night is important for optimal health, but it also plays a role in muscle protein synthesis, which is necessary to repair damaged muscles.
Spread out your workouts so that you are waiting about 48 hours before working the same muscle groups again. It's OK to do active recovery or light exercises with the same muscle groups, but you'll want to avoid training the same muscles at the same intensity or duration on back-to-back days.
Finally, "following a solid training program that helps you manage your training volume is one of the best ways to manage soreness," says Reed. "Said another way, thinking of your workout regimen over weeks and months as progressive—meaning you're giving your body adequate time to adapt to the stress of exercise—can help control or limit that extreme soreness."
How to decide if you should work out if you're sore
Many experts agree that total rest or immobilization is not a great idea, even if you're sore. Instead, active recovery is recommended, as it increases blood flow to the muscles and joints and improves recovery.
"If someone is experiencing DOMS that is interfering with their quality of life or ability to stay safe during an exercise session, they will want to adjust their training program and volume accordingly, maybe extending their rest period," explains Reed. "But if you have mild soreness and are able to move a bit, walking is a great option on a recovery day. You can also adjust the intensity and duration of a workout to still get some structured exercise in at a lower volume."
Other causes of muscle soreness
Sore muscles are inevitable if you work out, but not all pain is good pain. Some diseases and medications can cause muscle soreness, so it's important to check in with your medical provider if you think something is wrong.
"When you are a new exerciser, it can take a little while to get used to the feeling of post-workout soreness. Generally speaking, muscle soreness should resolve within a day or two post-workout and should not significantly interfere with your quality of life or your ability to go about your day as normal," says Reed.
Muscle soreness does not typically require medical attention. If you experience debilitating pain, notice swelling in your limbs, and/or if your urine color is dark, it's important for you to seek medical attention right away.
If you experience debilitating muscle soreness or specific pain that does not decrease in intensity for more than 72 hours after your workout, Werner says it could be a sign of something more serious, such as muscle or joint damage or injury, and is also reason to see a health care professional.
Summary
Generally, having sore muscles for 1-2 days after a workout is nothing to worry about (especially if you're newer to exercise). However, if you experience debilitating soreness or pain for more than 72 hours or notice swelling, you'll want to see a doctor to rule out muscle or joint damage or injury.
The mindbodygreen POV
Sore muscles, though uncomfortable, come with the territory of getting stronger. That said, there are some things you can do before, during, and after exercising to bring the pain down.
There's some compelling research on the benefits of percussion therapy, ice baths, and hot therapy for easing muscle soreness and assisting with recovery. So if you have access to a massage gun or sauna after exercising, by all means, take advantage of them.
However, the best way to tend to your muscles is to eat a healthy diet, stay hydrated, and ensure you're resting enough. Prioritize anti-inflammatory foods before and after working out, drink plenty of water, and get a solid night's sleep every night to help your body bounce back after the work you put it through.
—Emma Loewe, mindbodygreen Health & Sustainability Director
FAQ
Should I stretch sore muscles?

If soreness is mild and restricted to a few muscle groups, dynamic exercises might be more beneficial than static stretching. If soreness is extreme and all over the body, you should avoid stretching and should instead prioritize seeing your health care provider.
How can I get rid of sore muscles overnight?

Depending on the severity of your muscle soreness, there's not much you can do that will guarantee you won't be sore the next day. Eating enough calories and protein while prioritizing anti-inflammatory foods and getting a good night's sleep will definitely help! You can also try hot or cold therapy, getting a massage, or using percussive therapy devices.
What should I drink for sore muscles?

Staying hydrated is important for muscle recovery. Drink plenty of water and consider making a smoothie with protein powder.
The takeaway
While there are many trendy (and expensive) recovery tools and interventions, they're not necessarily the foundation on which you should build your recovery strategy.
Eating a well-balanced diet that prioritizes anti-inflammatory foods and at least 100 grams of protein per day, following a well-designed workout plan with recovery days, and getting seven to nine hours of sleep every night are more likely to help relieve muscle soreness and prevent unnecessary muscle soreness.
Want to turn your passion for wellbeing into a fulfilling career? Become a Certified Health Coach! Learn more here.
Watch Next
Enjoy some of our favorite clips from classes
Watch Next
Enjoy some of our favorite clips from classes
What Is Meditation?
Mindfulness/Spirituality | Light Watkins
Box Breathing
Mindfulness/Spirituality | Gwen Dittmar
What Breathwork Can Address
Mindfulness/Spirituality | Gwen Dittmar
The 8 Limbs of Yoga - What is Asana?
Two Standing Postures to Open Up Tight Hips
How Plants Can Optimize Athletic Performance
What to Eat Before a Workout
How Ayurveda Helps Us Navigate Modern Life
Messages About Love & Relationships
Love & Relationships | Esther Perel
Love Languages
Love & Relationships | Esther Perel
Related Videos (10)
What Is Meditation?
Box Breathing
What Breathwork Can Address
The 8 Limbs of Yoga - What is Asana?
Two Standing Postures to Open Up Tight Hips
How Plants Can Optimize Athletic Performance
What to Eat Before a Workout
How Ayurveda Helps Us Navigate Modern Life
Messages About Love & Relationships
Love Languages
Advertisement
This ad is displayed using third party content and we do not control its accessibility features.
More On This Topic
more Movement
Advertisement
This ad is displayed using third party content and we do not control its accessibility features.
Advertisement
This ad is displayed using third party content and we do not control its accessibility features.