How Long You Should Stay In An Ice Bath + Research-Backed Benefits Of Cold Therapy

Contributor
By Brittany Natale
Contributor
Brittany Natale has a degree in advertising and marketing communications from the Fashion Institute of Technology. Her work has appeared in SELF, Popsugar, i-D, Teen Vogue, Domino, Martha Stewart, and Eat This.

Medical review by
Scott Nass, M.D., MPA, FAAFP, AAHIVS
Board-certified Family Physician
Scott Nass, M.D., MPA, FAAFP, AAHIVS is a family physician and HIV specialist in California. He takes a holistic approach to healthcare, incorporating principles of functional medicine and using food as medicine when working with patients.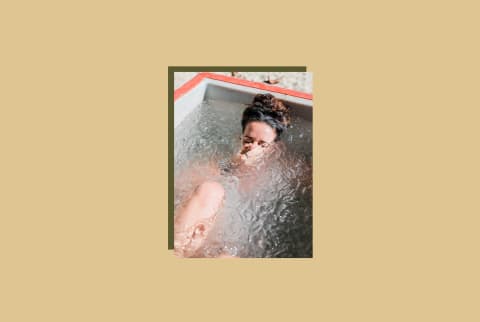 August 15, 2023
We carefully vet all products and services featured on mindbodygreen using our
commerce guidelines.
Our selections are never influenced by the commissions earned from our links.
Of course, there's more to it than simply filling a bath with ice water or plugging in your cold plunge tub and hopping in—for example: How long for an ice bath to actually be effective? Read on for everything you need to know about how to get the most out of your ice bath sessions.
What is an ice bath?
Keegan Horack, P.T., DPT, CSCS, explains that an ice bath is when you submerge your body in a tub of ice water for a set period of time. "It is thought to be a stressor that causes the body to push beyond its comfort level for positive physical and cognitive adaptations," he says.
Many people do ice baths in the comfort of their own homes, but certain physical therapy clinics and recovery studios also offer forms of the practice. Our team has tried some of the best cold plunge tubs; check out our reviews of the Ice Barrel, The Plunge, and the Polar Monkeys tub.
Benefits of an ice bath:
Whether you're committing to cold showers or ice baths, they're both examples of hormesis (i.e., the good kind of stress), causing the body to build physical and mental resilience.
Horack elaborates on the benefits of cold therapy below:
At-Home Cold Plunge Tubs
How long to ice bath
There is not enough research to confirm an exact amount of time each ice bath should be.
Per Horack, ice baths that clock in at one to five minutes should be sufficient to reap the benefits. Laura Owczarek, a sports medicine and emergency room physician at Henry Ford Health, recommends 10 minutes.
Both experts say, if you're interested in staying in longer, be sure to not exceed 15 minutes, even if you have particularly sore muscles. Staying in longer than 15 minutes can heighten your risk of hypothermia and frostbite.
"It is also recommended to have another individual present when you begin cold water immersion therapy, in case you need any assistance or experience any side effects," Owczarek adds.
Ice bath temperature and frequency
Temperature and frequency are also crucial to consider when getting started with cold water therapy. Try to keep the temperature within the 50 to 59 degrees Fahrenheit range (yes, even though it's called an "ice bath," the water isn't actually freezing).
Regarding frequency, Owczarek explains that typically two to three ice baths per week after intense workouts are the most beneficial. "Remember to slowly build up your time and frequency in ice baths as tolerated," she suggests.
How long should you wait to shower after an ice bath?
It may be tempting to jump right into a warm shower after an ice bath, but you should hold off. Owczarek recommends giving your body time to return to normal temperature on its own gradually.
"If you take a warm or hot shower immediately after, this could cause the body to go into shock," she explains. "It can also cause a rapid dilation of the blood vessels that were constricted in the ice bath, and this could cause some low blood pressure and dizziness and even passing out."
Potential side effects and risks of ice baths
Horack stresses that ice baths aren't suitable for those with circulation disorders or diseases, such as Raynaud's syndrome or peripheral vascular disease. Additionally, those who are pregnant or who have a history of frostbite, open wounds, recent surgeries, or heart problems should skip ice baths.
"Prolonged exposure can also result in heart palpitations and other cardiovascular events due to the constriction of blood vessels, rise in heart rate, and stress hormones," Horack says.
If you decide to take an ice bath, it's vital that you pay close attention to the water temperature, as you could experience hypothermia or frostbite if the water is too cold. Be sure to always consult with a doctor before deciding if ice baths are right for you.
FAQ:
How often should I ice bathe?

This will differ based on the individual, but Owczarek says typically two to three ice baths per week is the most beneficial. "However, remember to slowly build up your time and frequency in ice baths as tolerated," she says.
What should you do after an ice bath?

Allow your body to return to average body temperature before taking a warm or hot bath.
Should you take an ice bath for 10 or 15 minutes?

Horack mentions that one- to five-minute ice baths should be sufficient, whereas Owczarek says 10-minute ice baths should also work. Both experts agree you should never exceed 15 minutes.
The takeaway
Adding ice baths can have major benefits on your well-being. Not only can this form of cold therapy improve mental health, but it can also improve sleep, aid in muscle recovery, and reduce stress levels. Ready to get started at home? Check out our picks of the best cold plunge tubs.

Brittany Natale
Contributor
Brittany Natale is a freelance writer who covers topics such as wellness, fitness, lifestyle, food, beauty, and more. After graduating with a B.S. in Advertising and Marketing Communications from the Fashion Institute of Technology, she started a career in writing and research. With over 8 years of experience, her byline often appears in publications such as SELF, Popsugar, i-D, Teen Vogue, Domino, Martha Stewart, and Eat This, to name a few. Born and raised in NYC, when she is not writing you can find her exploring the city, visiting her local library, or getting her steps in at The Met.