Ice Barrel Review: What Our Tester Loved & Didn't Love About This Cold Plunge Tub

Contributor
By Caitlyn Martyn
Contributor
Caitlyn Martyn is a freelance writer whose work has appeared in Byrdie, InStyle, Popsugar and more.

Medical review by
Scott Nass, M.D., MPA, FAAFP, AAHIVS
Board-certified Family Physician
Scott Nass, M.D., MPA, FAAFP, AAHIVS is a family physician and HIV specialist in California. He takes a holistic approach to healthcare, incorporating principles of functional medicine and using food as medicine when working with patients.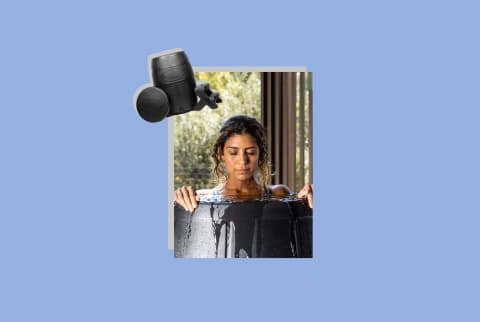 June 29, 2023
We carefully vet all products and services featured on mindbodygreen using our
commerce guidelines.
Our selections are never influenced by the commissions earned from our links.
We've researched a lot of options and named the Ice Barrel one of the best cold plunge tubs. Our tester was so wowed by the results, he's now implemented cold plunging into his daily routine. Today, we're sharing his firsthand account.
How does the Ice Barrel work?
The Ice Barrel is a barrel-shaped tub. It's made in the United States using 100% recycled plastic and is the ultimate way to elevate the ice bath experience from a regular bathtub, without any time-consuming maintenance.
All you have to do is fill the tub with ice and water, and you're set! Best of all, the Ice Barrel allows you to sit in an upright position. According to the brand, this helps the body relax and the mind focus. An accompanying step stool helps you enter as gracefully as possible—a thoughtful feature we really appreciate.
The Ice Barrel has an easy-to-use drainage system that connects to a standard garden hose. To empty the barrel, simply connect it to the hose and drain the water. There are no intricate filters or complicated cooling systems to worry about.
The Ice Barrel at a glance:
Setup:
No plug-in required
Dimensions:
42" H x 31" W (opening is 25" W)
Indoor or Outdoor:
Outdoor only
Materials:
Recycled plastic
Warranty:
Limited lifetime
Accessories:
Stand, lid, stool, protective cover
Weight:
55 lbs when empty
750 lbs when full
Water capacity:
105 gallons
How to set up the Ice Barrel
Setting up the Ice Barrel couldn't be simpler. The tub weighs about 55 pounds when empty, meaning you should be able to lift it and arrange it in your space upon arrival.
Remove the lid and fill the tub with water
Dump in some ice
Wait until the water reaches your desired temperature*
Once the tub reaches your ideal temperature, use the step stool to ease yourself in
*Since the Ice Barrel does not come with a thermometer or temperature regulator, you'll have to buy your own. Ice Barrel does sell one individually or as part of their cold plunge maintenance kit for an additional $130.
Maintenance of the Ice Barrel
The Ice Barrel does not come with a built-in filtration system. The brand says water can be left in the tub, where it typically stays cold for a few days (depending on the weather). As we mentioned, the Ice Barrel features a front-facing drain and hose hook-up that allows for easy drainage. To empty the barrel, connect it to a standard garden hose and drain the water.
What our tester says about the Ice Barrel
Mindbodygreen's head of video, Andreas Von Scheele, tried the Ice Barrel himself. Here's what he had to say:
"As someone who uses the Ice Barrel in warmer seasons, I appreciate how easy it is to set up and put away. I add ice, water, and Epsom salt and I'm ready to chill. It also has a small footprint so tucks nicely into my garage corner when not in use. It's also really portable, so I can take it over to a friend's house or easily move it around to different parts of my space. As a 50+-year-old triathlete, I'm always looking for ways to improve my recovery time and performance. And without spending a huge chunk of money, the Ice Barrel has helped me recover from workouts and maintain a virtuous cycle of sleeping better, reducing stress, and exercising with less injury.
As for cons, Andreas says the Ice Barrel requires a lot of ice to keep the water cold. "In the summer, at least three large bags of ice are required to keep the water cold," he explains.
Ice Barrel models and pricing
While the Ice Barrel is only available in one size and shape, it does come in two neutral colors: black and desert tan.
Size: The dimensions of the Ice Barrel are 42" H x 31" W (the opening is 25" W).
Style: The Ice Barrel is available as a barrel that requires you to sit upright.
What comes with the Ice Barrel?
Every Ice Barrel purchase includes:
A lid to prevent spills while not in use
A barrel stand to keep the barrel standing straight up
A protective UV cover to keep the water cold for up to 3 days
A step stool for easy entry and exit
What's not included in your purchase of the Ice Barrel?
As mentioned, getting the Ice Barrel cold requires dumping ice into the water. To ensure the water has reached your desired temperature, you'll need to purchase a thermometer, either on its own or as part of the brand's Maintenance Kit, which includes everything you'll need to keep the Ice Barrel in tip-top shape.
The Ice Barrel shipping process
Ice Barrel makes all its barrels in Ohio and ships in three to five business days. The tub ships through UPS or FedEx via the LTL freight division. If you live in a residential home or commercial area, the package will be dropped on the property. If you live in an apartment or private residence, your package will be left in the shipping room, the front desk, or with security.
The Ice Barrel warranty
When your Ice Barrel is delivered, it has already been tested and inspected according to the brand's standards. However, on the off chance something isn't right (such as a broken valve or a manufacturing defect), the brand offers a limited lifetime warranty.
Note: The warranty does not cover cosmetic issues like fading or scratches from typical wear and tear, or environmental conditions like storms, tornados, sleet, ice, and more. If the product does meet the specifications needed to qualify for a warranty, the brand will repair or replace your product with a new one free of charge (excluding shipping and handling). If your product has been discontinued, you'll receive a replacement of equal or lesser value.
The Ice Barrel pros & cons
Pros
Weighs 55 pounds for easy storage
Made from recycled materials
Keeps water cold for up to 3 days
Cons
Can't control the temperature
One size
Requires about 3 bags of ice to get cold
The Ice Barrel vs. competitors
The benefits of ice baths
Mike T. Nelson, Ph.D., founder of Extreme Human Performance previously explained to mindbodygreen that cold showers and ice baths are both examples of hormesis—positive stressors that cause the body to push beyond its comfort zone and adapt both physically and cognitively. "The concept of hormesis is simply that if you apply a tiny bit of stress to a system, it will get better," he said.
When we submerge ourselves in ice-cold water, our bodies shocked by the drastic temperature change, causing our brains to signal to our bodies that it's under stress and needs to respond ASAP. When done safely (aka in a controlled environment for a short amount of time), immersing yourself in an ice bath can have a ton of health benefits.
Seema Bonney, M.D., founder and director of the Anti-Aging & Longevity Center of Philadelphia, previously told mindbodygreen cold plunging can have impactful effects on our neurotransmitters, increasing dopamine (which improves focus and motivation) and norepinephrine levels (which reduces inflammation and chronic pain symptoms).
Athletes have been using ice baths for decades as a recovery tool post-game or workout—and with brands like Ice Barrel, cold therapy is now available to the masses. Studies show that a post-exercise ice water immersion can actually impact performance in addition to aiding in muscle recovery.
Who shouldn't use a cold plunge?
Cryotherapy is a useful tool for recovery and decreasing inflammation4, but it's not for everyone. If you have high blood pressure, you may want to avoid cold water immersion as it can create a cold shock response that causes your blood vessels to constrict. This triggers an involuntary increase in heart rate, blood pressure, and even respiratory rate.
According to the American Heart Association5, if you have a heart condition or have a cardiac history, you may want to skip out on cryotherapy, too.
If you're pregnant, you should avoid cold plunging. "A temperature drop in the body can provoke fetal growth restrictions, a preterm birth, and other complications," Bonney previously mentioned.
FAQ:
How long does the Ice Barrel stay cold?

According to the brand, the Ice Barrel should stay cold for a few days when covered with the accompanying lid and UV cover. Our tester found that the water remained cold for about three days. This also depends on the time of year and the climate in which you're using the Ice Barrel.
How long should you stay in a cold plunge?

The purpose of submerging yourself in a cold plunge is to put your body through a short period of stress…on purpose. If you're a beginner, try to stay in for as long as you can— that might be just 30 seconds or 3 minutes!—a few times a week. Once you're more comfortable, work your way up to longer sessions as your body adapts.
How cold should an Ice Barrel be?

According to the brand, your ice bath temperature should be below 60°F (15.5°C), but it's totally fine to start warmer and work your way down.
The takeaway
The Ice Barrel is an easy and affordable (compared to other cold plunge tubs) way to experience the benefits of cold therapy. The tub is well-made and durable, and the insulated design helps to keep the water cold for several days. However, it does require a lot of ice to keep the water cold (at least 3 big bags in warmer weather), and there is no filter, so the water needs to be drained and cleaned periodically. For more models we love, check out the best cold plunges, according to our testers.
Meet The Experts
Caitlyn Martyn
is a freelance writer whose work has appeared in Byrdie, InStyle, Popsugar and more.
Scott Nass, M.D., MPA, FAAFP, AAHIVS
is a family physician and HIV specialist in California. He takes a holistic approach to healthcare, incorporating principles of functional medicine and using food as medicine when working with patients.