10 Plant-Based Breakfasts That Pack A Protein Punch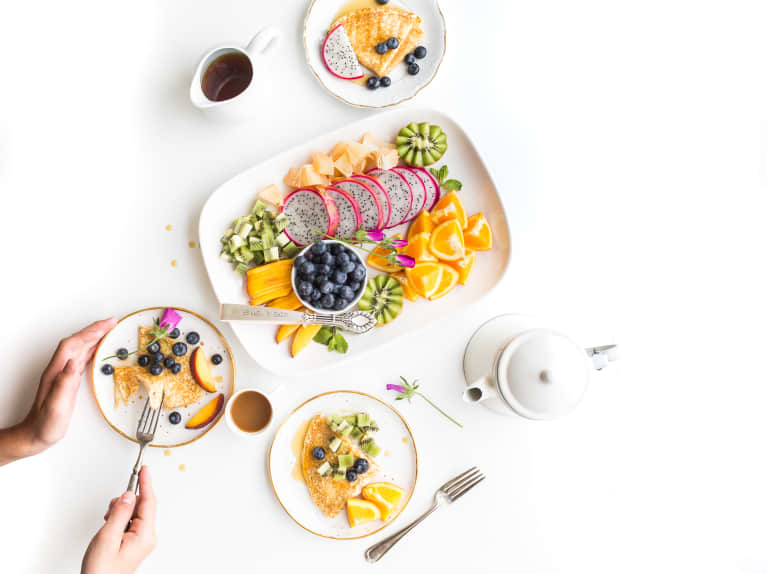 Usually what first comes to mind when we think about plant-based breakfasts are things like smoothies and overnight oats. Sound familiar? Both of these are great, but they can get old pretty quickly.
There are many other options out there if you're trying to fit more plants into your diet. As a general rule, it's good to include protein and fiber in your breakfast to give you the sustained energy you need and to avoid the hunger and energy roller coaster that comes with foods like sugary cereals, doughnuts, and other carb-based breakfasts.
For this reason, I also generally avoid eating plain fruit for breakfast, also because it can be harsh on your digestive system to eat raw fruits and veggies first thing in the morning.
The ideas below are easy, delicious plant-based breakfast ideas that also give you the protein and fiber you need.
1. Three-ingredient banana pancakes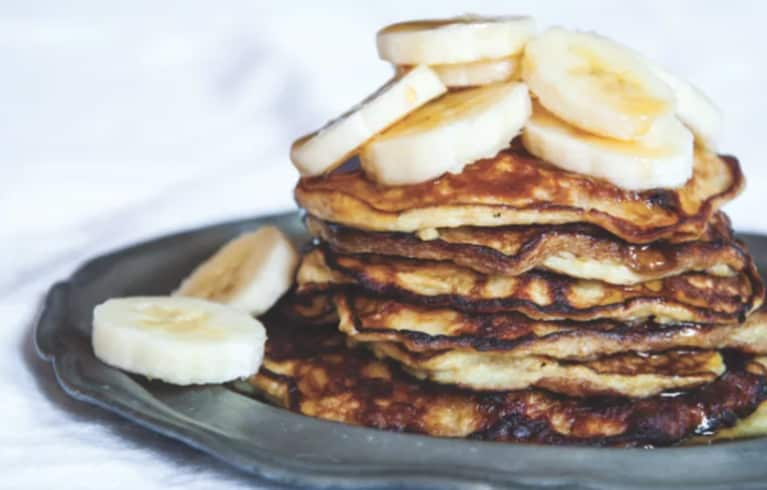 Oat bran is one of my favorite breakfast foods. Yes, I know it may sound like something your grandma eats, but did you know that one serving contains 6 grams of fiber and 7 grams of protein?
That's more than regular rolled oats and more protein than an egg! These pancakes take about 10 minutes to make, and they contain no sugar, gluten, or dairy.
Just blend together ¾ cup oat bran, ½ of a ripe banana, and ½ cup of your favorite nondairy milk. Then top with maple syrup, jam, or whatever toppings you like!
A little cumin goes a long way! This dish is super tasty—just grate up a sweet potato, mix it with sautéed onion, a green pepper, some garlic, cumin, chili flakes, salt, pepper, and sauté until soft.
Add in some scrambled tofu for another protein and you've got yourself a complete breakfast. Root veggies like sweet potatoes and squash are high in fiber and other nutrients, so they're a great way to start your day.
3. Savory quinoa porridge
In the United States, we typically imagine porridge with oats and honey. But in many other countries they start their days with a savory version.
Swap out your oats for quinoa, and your honey for some savory toppings like kale, tofu, and avocado, and you've got yourself a high-protein meal that will keep you satisfied and stave off the sugar cravings later. Just follow the instructions on the package for how to cook the quinoa, but replace half of the water with veggie broth for some extra flavor.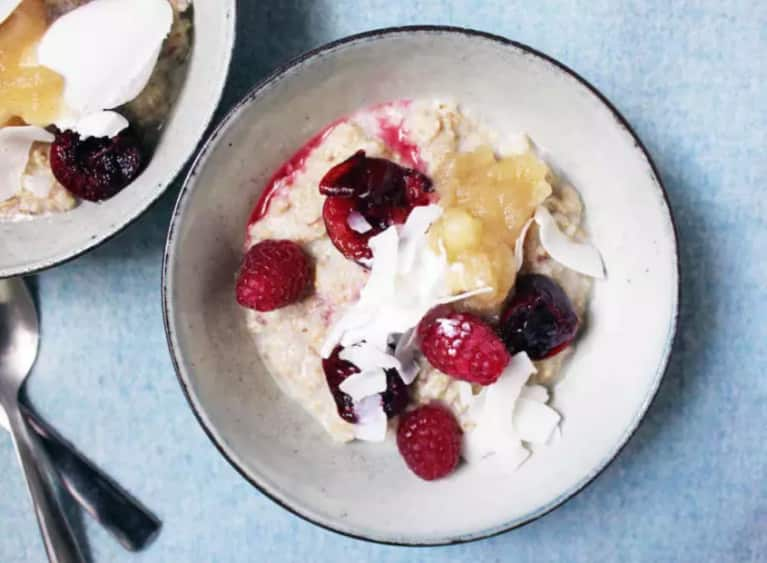 If you're still jonesing for a sweeter start to your day but still want that complete protein that comes with quinoa, prepare your quinoa, this time substituting half of the water for your favorite nondairy milk, and then top with sweet toppings like berries (I like raspberries for this dish), toasted nuts (I like pecans), and maybe a drizzle of maple syrup.
Hummus is made from chickpeas, and chickpeas (aka garbanzo beans) are full of protein and fiber. Shake up your morning toast by topping it with some hummus and sprinkle with hemp seeds for some extra protein and healthy fat.
A great way to start your day off with a little sweetness (but not too much!) while still getting in your protein is to top your toast with your favorite nut butter, a few thin slices of fruit, and sprinkle with some seeds like toasted pumpkin seeds.
The oats and flaxseeds in these bananas hold it all together without any flour or eggs, plus they provide tons of protein and fiber. Bananas are also a natural thickener and sweetener. Try this super-easy recipe.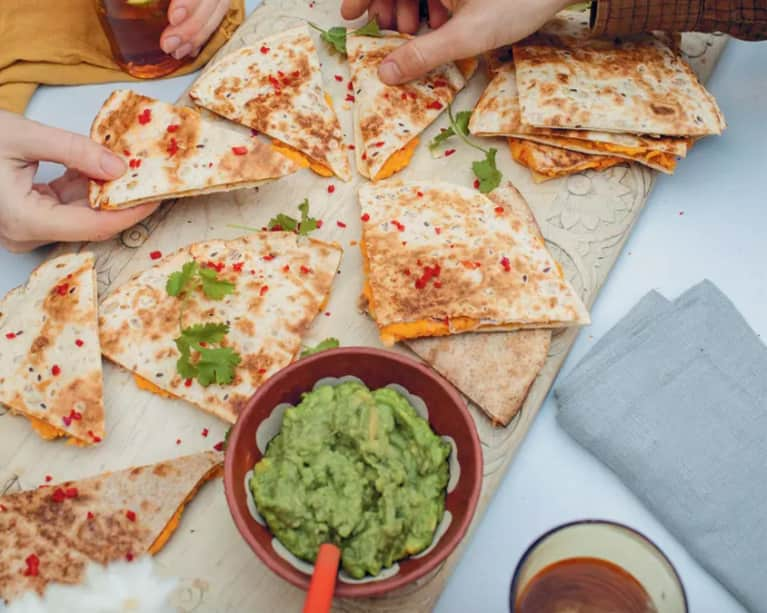 This one is super easy. Fill your tortilla with some caramelized onions, sautéed spinach, and tempeh, and you've got yourself a decadent yet healthy breakfast quesadilla!
9. Baked squash topped with beans
This is a little variation on the British breakfast classic baked beans on toast. I recommend preparing the squash and the beans the night before so that you can just put it all together quickly in the morning.
Here's a great recipe for the beans. For the squash (I like acorn and kabocha), bake for about 45 minutes, let cool, and scoop out the seeds. Then you can cut it up and put it in the fridge for the next day. The next day, heat up the squash again and top with a scoop of your beans!
This is another easy one that is slightly sweet, but not too much. The night before, combine 1½ tablespoons of chia seeds with 1 cup of your favorite nondairy milk. Add in some nut butter, vanilla, and a dash of maple syrup and mix really well. Then put in the fridge overnight.
In the morning, your chia seeds will be nice and hydrated (they'll get that gelatinous consistency) and you can then add your favorite fruit and toppings. I also like to prepare a little bit of oatmeal (sometimes I just use about ½ a pack of instant oatmeal) and add my chia seed pudding to that so I've got a nice combination of oatmeal, chia, and fruit!
BONUS: If you really don't want to do any cooking, here are some fantastic healthy plant-based cereals.