5 Raw Food Breakfasts You Might Not Have Thought Of
Whether you're interested in eating more raw foods, losing weight, increasing your energy, or just feeling better all around, a healthy raw breakfast is a great place to start.
A raw vegan breakfast will give you the energy you need to get your day going without weighing you down.
I've found that a breakfast of fruit is the best way to begin my day. It's light yet full of the fuel we need to get going in the morning. It's juicy, which helps to hydrate us after not drinking water throughout the night, and it's much lower in calories and fat than standard breakfast options.
These are a few of my favorite raw vegan breakfasts:
1. Fruit Mono-Meal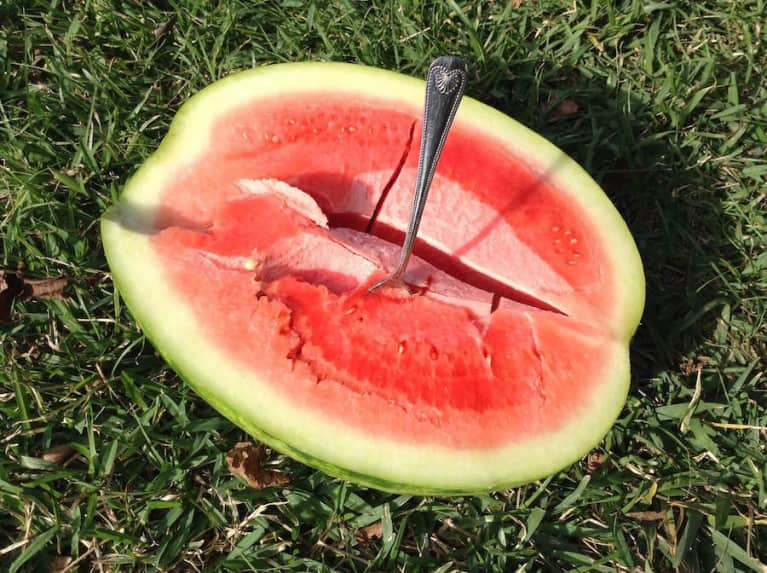 A mono-meal is a meal made up of just one type of fruit. I know, this sounds crazy, right? Well, fruit mono-meals are perfect for breakfast, in my opinion!
The simpler our meals are, the easier they are for us to digest. A meal of just one food is the easiest on digestion. This is very important in the morning because our digestion needs to "woken up" a bit before we begin to eat other heavier foods throughout the day.
Simply pick your favorite fruit and eat as much as you'd like. You'll be surprised! Mono-meals are some of the most satisfying meals I've ever had! Some of the best fruits to mono-meal on for breakfast include melons, mangoes, papaya, oranges, and grapes.
Okay, I know not everyone wants to eat just one fruit for breakfast, so I've got several more exciting options for you!
2. Fruit Cereal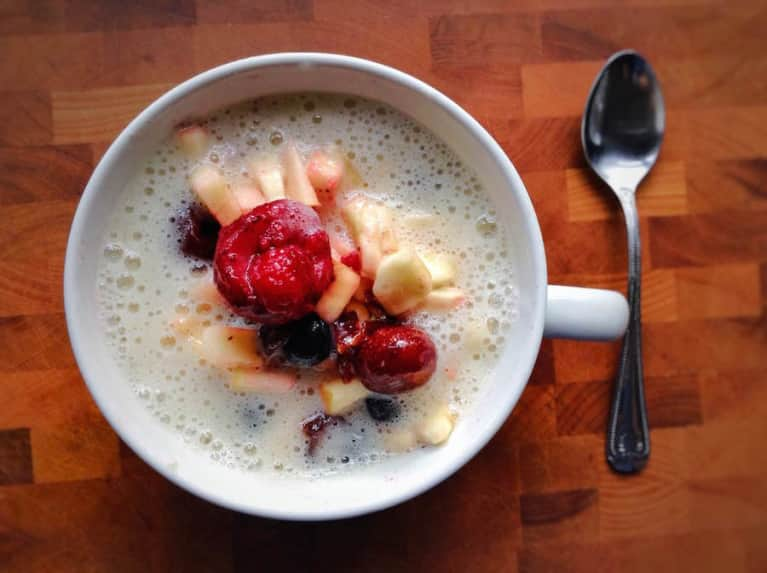 3 bananas
3 medjool dates, chopped
1 apple, diced
1 cup fresh berries of choice
¼ cup dried fruit of choice
Preparation
1. Slice 1 banana into rounds. Place the sliced banana, dates, apple, berries, and dried fruit in a bowl.
2. Blend 2 bananas with enough water to reach your desired consistency for banana "milk." Pour over fruit.
3. Apple Banana No-Oatmeal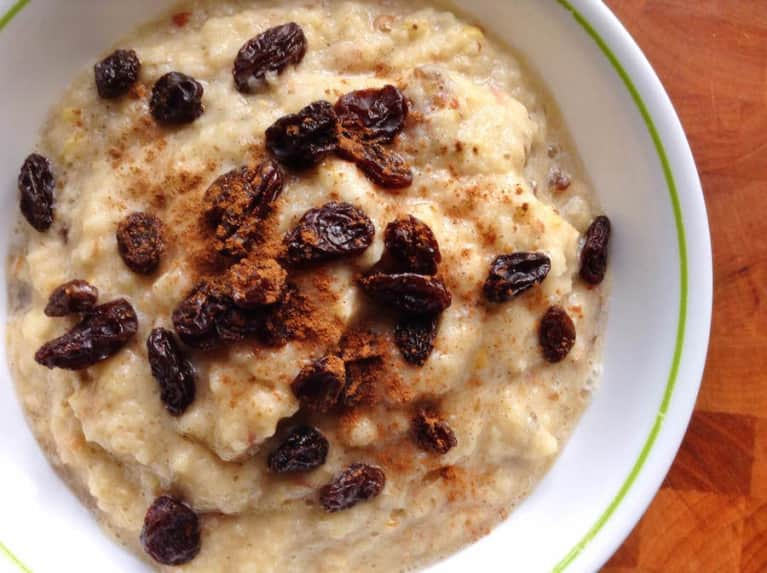 3 bananas
2 apples
5 medjool dates
cinnamon, to taste
¼ cup raisins
Preparation
Pulse-blend bananas, apples, dates, and cinnamon. Pour into a bowl and top with raisins.
4. Not Your Average Smoothie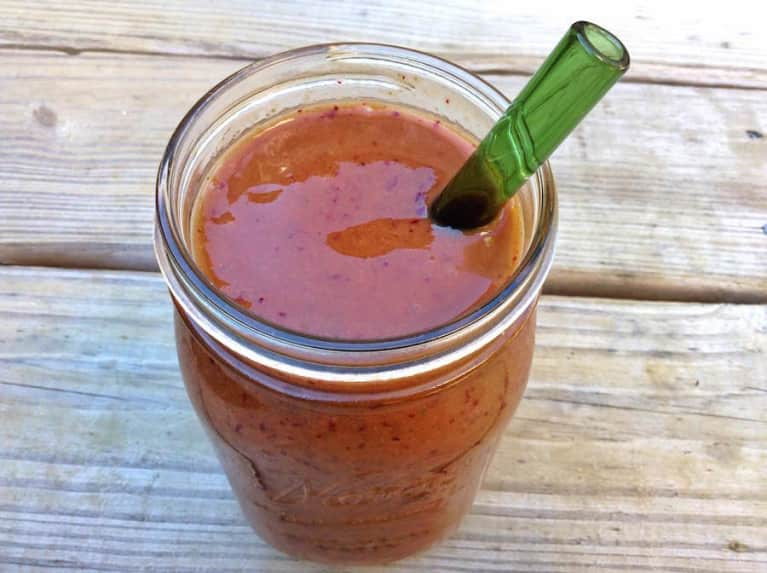 Fruit smoothies are very popular — and for good reason. They're quick and easy to make, packed with nutrition and antioxidants, and they're perfect to take on the go.
But it's easy to get stuck in a rut drinking the same smoothie every morning. Here's one of my favorites to spice up any smoothie routine!
Serves 1
Ingredients
1 banana
2 mangoes
1½ cup frozen cherries
1 large handful baby spinach
⅛ teaspoon vanilla extract
Preparation
Blend all ingredients until smooth with enough water to reach desired consistency.
5. Berry Pomegranate Bowl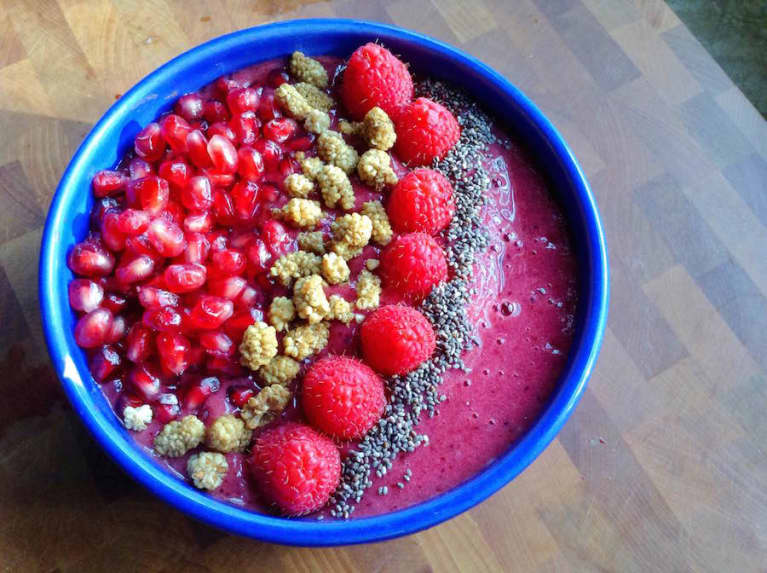 2 bananas
4 medjool dates
1½ cup frozen mixed berries
1 pomegranate
½ cup raspberries
2 tablespoons dried mulberries
1 tablespoon chia seeds
Preparation
1. Blend bananas, dates, berries, and half of the pomegranate. If desired, add water, a little bit at a time, for a thinner consistency.
2. Pour into a bowl and top with remaining pomegranate half, raspberries, and chia seeds.
Photos courtesy of the author