Take a look at Instagram and Pinterest these days and you'll see a lot of "perfect" homes, complete with crisp white walls, perfect symmetry, one interesting piece of art. But are these items really what you need to be happy and fulfilled?
When I go on feng shui consultations in homes that feel staged, I often find that the people living in them are not as vibrant they could be. Feng shui principles are all about living with what you love (and what you actually use) with little regard for prevailing decorating trends. So what does one need to feel good in their living space? Here are the staples I suggest:
1. An instrument.
Music and instrument—a gong, a music player, a guitar, a harmonica, or a sound bowl—will make your home's energy more vibrant.
2. Plenty of soft surfaces.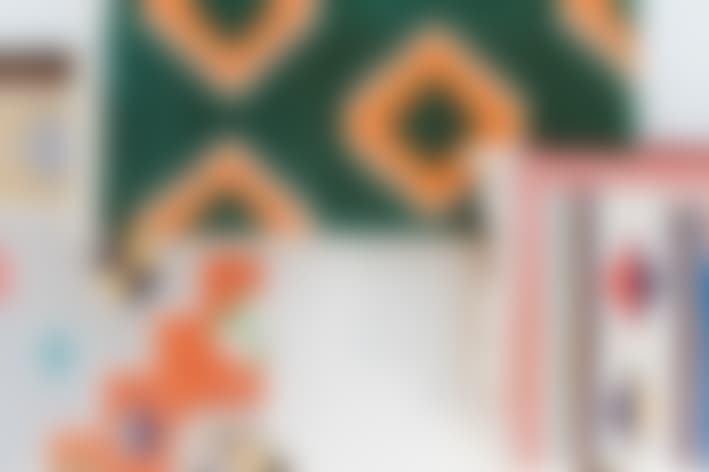 Think soft blankets that invite you to cuddle alone, with pets, or with your loved ones; a comfy couch you love lounging on; and a soft rug for bare feet.
3. Candles.
Make sure they're all natural! Essential oil diffusers are a great option here too.
4. Dim lights.
Our moods will suffer if we are exposed to harsh lighting or sudden light changes, so prioritize natural light and adjust your blinds throughout the day.
5. Magazines and books (that you actually want to read).
The books in your living room should not be a collection of untouchable antiques or the classics you will never read again. Remember that your house is meant to be lived in, not admired. Plus, always having a new book handy means you won't be tempted to hop on your phone instead.
6. A few floor cushions.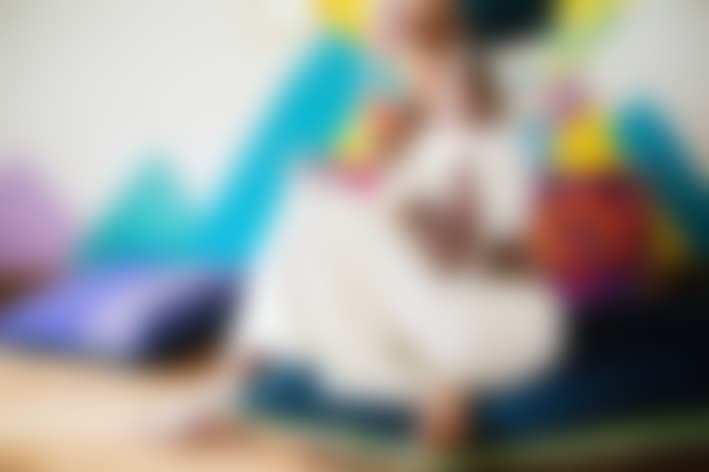 I love using them for meditating, and they can also serve as seating for guests!
7. Mindful entertainment.
Have a recording device, DVD player, or smart TV in order to watch shows and movies intentionally. Make TV watching your choice, not something you do by default. Avoid multitasking and leaving the TV on in the background, as this can actually make us less mindful.
8. A statement piece.
Make sure that it's something that makes you happy every time you look at it—something that's completely unique and defines your style. If it's an antique, don't forget to clear its energy with sage first.
9. Plants, plants, plants!
Not only are they everywhere right now, but plants have the ability to clear the air. My favorite low-maintenance houseplants are peace lily and mother-in-law's tongue. Stay away from spiky cactuses, as they create subconscious internal tension.
10. Art that is positive and speaks to your desires and goals.
Some people gravitate toward "cool" or "chic" art regardless of its message, but you should surround yourself only with positive representations in order to feel vibrant.
11. A mirror.
Go for one large mirror that creates depth in your space—too many small mirrors are thought to "cut" your energy.
12. Plenty of storage.
This will help you organize your belongings so they don't become anxiety-producing clutter. In small spaces, I like to use benches and coffee tables to store things like shoes, toys, blankets, slippers, and pillows.
13. A secret slipper stash.
Reserve a hidden spot to store socks and slippers for you and guests. Living rooms should be shoeless!
14. An energy-clearing reserve.
Keep all the ingredients of a good space clearing—a sage stick, a beautiful ceramic bowl, matches, herbs, a beautiful tray, and a bell—on hand. If these are readily available, you'll be more likely to use them often!
15. A journal.
Keep this handy in your console or in your coffee table to inspire frequent journaling, intention setting, and goal setting.
My final piece of advice? Declutter often so the energy of your home can circulate uninterrupted.
Here is your comprehensive guide to decluttering effectively so you have a blank canvas on which to craft your new feng-shui-approved space.