7 Feng Shui Tips To Help You Refresh Your Home When Things Feel Stale
Designer & Feng Shui Master
By Dana Claudat
Designer & Feng Shui Master
Dana Claudat is a modern Feng Shui Master and founder of The School Of Intention Feng Shui Certification Program. She holds a B.A. from Stanford University.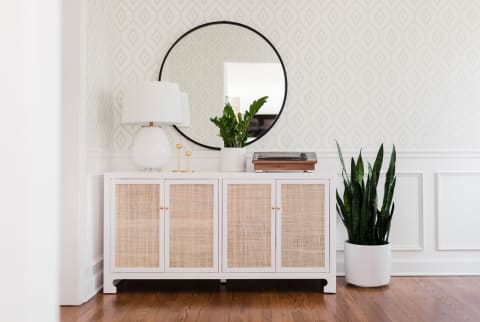 Image by Lauren Edmonds / Stocksy
June 4, 2021
When things get stale at home, feng shui can be a fantastic tool for making your space feel more dynamic, and shifting the energy around you can promote positive expansion in all aspects of life. Your home can help you feel more grounded, more inspired, and more in the flow of synchronicity. Here's a quick process for sprucing up your space for a fresh start:
Step 1: Make more physical space in your home.
Nearly every time I write feng shui tips, I start with some form of clutter clearing. I really can't overemphasize how much energy, optimism, clarity, and even prosperity can come when we release what doesn't serve us. Taking the time to empty drawers, shred papers, clear out closets, etc., can open the doors to so much fresh energy and positive momentum.
Step 2: Revamp storage spaces.
Once clutter is under control, it's time to talk organization. Consider rethinking your storage methods and committing to one DIY project that'll get your pantry, garage, etc., under control. I've found that when you do these sorts of projects yourself, you infuse more creative energy into your home—which is super powerful! I love the clever projects I've found on Pinterest on how to make a hanging spice rack, display jewelry as art, and compartmentalize a refrigerator in brilliant ways.
Step 3: Clear energy using salt.
The next step is clearing the lingering energy in your space. The best feng shui tool for doing so—provided you keep it out of reach of kids and animals—is a bowl of sea salt.
Pour some sea salt into small bowls or small cups and place them around your home in areas where you feel the energy is heavy or stuck. Leave them for a day, several days, or as long as it feels right to you. (People tell me they "know" when it's time to get rid of the salt, and I feel the same way.) Once you feel the space is fresh and clear, gather up the salt bowls and dump the salt into a trash bin. Then, take out the trash. You can do this any time you want a deep energy cleanse at home.
Step 4: Give your space a good dusting.
Dusting can clear your home of "cloudy" air and focuses the mind. Give your space a good thorough cleanse and consider adding a touch-up dusting session to your morning routine. It can be a great practice for helping you set up a crystal-clear day ahead.
Step 5: Elevate your workspace.
Next, bring fresh energy to your home's designated workspace—whether it's a room, a desk, or a dining table. Houseplants are my favorite workspace additions because they bring so much peace, wisdom, symbolism, and active growth to a space. You might want to use crystals or favorite photos. Whatever inspires you, be sure to place it front row center in your workspace!
Step 6: Re-curate your art displays.
This step goes a long way toward creating a fresh perspective. Whether you rehang your art or restyle your bookshelves, every time you change the décor of your home, you shift the information you take in every day. Don't feel like you need to go out and buy new art every time you feel stuck. Use what you have and just shake things up a bit.
Step 7: Set the stage for self-care.
One of the best ways to ensure that your space continues to inspire you is to set it up to promote self-care. If you feel better when you're meditating a lot, keep your meditation pillows in your favorite spot for a break in the day. If you love to unwind with scent, scatter aromatherapy candles, essential oils, or incense in every room. If you want to do more yoga and stretching, take your mat out of the closet and keep it handy so you can reach for it at any time. Pile the books you most want to read next on your coffee table for easy access. Having these things around you can make it infinitely easier to remember to refuel yourself and keep up with your wellness practices at home.
All these simple ways to tap into fresh energy are customizable, so do what's most exciting to you. Most of all, have fun with all of this! The more excited you are, the more you'll catalyze big energy shifts around you before you even begin.
Dana Claudat
Designer & Feng Shui Master
Dana Claudat is a modern Feng Shui Master and founder of The School Of Intention Feng Shui Certification Program. In the last 15 years Claudat has pioneered her own approach to Feng Shui that is rooted in infinite possibility, creativity and empowerment. Rather than hope for lucky results and outcomes, she helps her clients to create them every day.
She's a Stanford-educated art historian with more than a decade of experience in design yet her approach to space is simple. Claudat is a longtime mindbodygreen contributor and instructor (she may have had a hand in the hundreds of plants in mindbodygreen headquarters!), and her work has been featured in design and lifestyle publications around the world.
You can work with her from wherever you are in the world in her online Feng Shui Camps and through her Online Feng Shui Consultations.
You can sign up for her weekly Feng Shui Rituals, including rituals for every New and Full Moon, right here!