The 10 Best Houseplants For Your Space, According To Plant Pros

mbg Sustainability + Health Director
By Emma Loewe
mbg Sustainability + Health Director
Emma Loewe is the Senior Sustainability Editor at mindbodygreen and the author of "Return to Nature: The New Science of How Natural Landscapes Restore Us."
August 24, 2021
We carefully vet all products and services featured on mindbodygreen using our
commerce guidelines.
Our selections are never influenced by the commissions earned from our links.
Looking for a pal for your pothos? Does your begonia need a buddy? These 10 houseplant varieties are relatively low-maintenance and come highly recommended from pro green thumbs around the country. Some are old faithful varieties and others newer names, but they all have a special something to them. Choose the right one (or more, who are we to judge?) for your budget, style, and living setup, and watch your space become a little brighter.
Bright light:
Rhaphidophora Tetrasperma
"Also known as the mini monstera, this monstera lookalike is all the rage right now and honestly isn't too difficult to tame," plant coach and urban farmer Nick Cutsumpas tells mbg. "It likes to climb if given a trellis and can do well in bright light." Cutsumpas' personal Tetrasperma is happy sitting in a southeast-facing window and getting water once every 7 to 10 days.
Rhaphidophora Tetrasperma, Etsy ($9.99)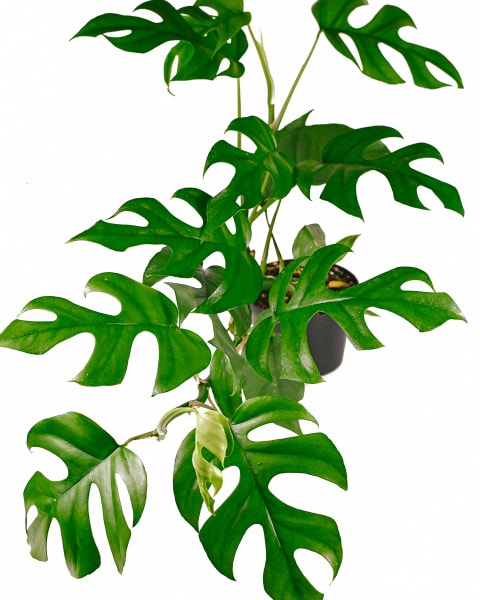 Firn / iStock
Ficus Audrey
Ficus Audrey is a unique woody plant that can grow up to 100 feet tall and several acres wide in the wild. It loves, bright indirect sunlight (which mimics the dappled sunlight it would receive in a forest) and doesn't need too much watering. "The beauty of Audrey comes with the added benefit of its hardiness and moderate to low maintenance," Puneet Sabharwal of horti, a plant subscription service, previously told mbg. "Being an epiphytic variety, this plant has learned to adapt and sustain itself in varied conditions in the wild."
Ficus Audrey, Etsy ($30)
Puneet Sabharwal / Horti
Aloe Vera
The only succulent to make the list, aloe plants get their star power from its functionality: "Not only can you eat it if harvested properly, but the soothing gel can be used to treat burns and skin irritations," says Cutsumpas. He recommends setting your aloe in a bright, sunny spot and watering it every two to three weeks or so. If yours has droopy, mushy-looking leaves, it's a sign that it's had too much to drink.
Aloe Vera Plant, Plants.com ($32.99)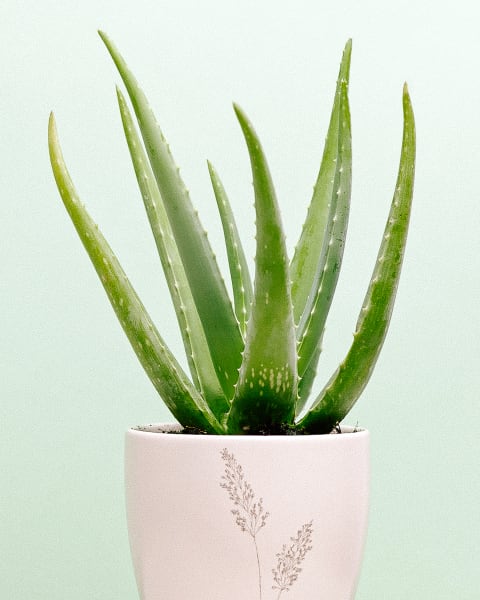 200mm // iStock
Monstera Deliciosa
"The monstera is the plant that I think makes people feel like plant parents," Maryah Greene, the founder of Greene Piece, tells mbg. The monstera's super-distinct leaf pattern makes it a consistent fan favorite and Greene's most cherished plant in her collection. "It needs enough light, but it doesn't have to be direct," she says about how to keep one happy. Like most houseplants, monsteras should only be watered when their topsoil is dry to the touch, about once a week during growing season. This one also makes a great gift for plant lovers in your life.
Monstera Deliciosa, The Sill ($56)
Mike Marquez / Unsplash
Philodendron Birkin
"This beauty is a winner," Cutsumpas says. "It loves bright light, and I've observed that the brighter the light, the more variegation (aka white streaks) will appear in the new leaves." The Birkin's uniquely veined leaves also appreciate humid conditions, so feel free to mist them occasionally.
Philodendron Birkin, Bloomscape ($65)
Firn / iStock
Low light:
Sansevieria Sayuri
For all the snake plant lovers out there, Sansevieria sayuri is a variety with lighter colored leaves that have an almost silver hue. "It has a completely different color scheme, and I'm really into it," says Greene, who's been seeing more of these relatively rare plants pop up around Brooklyn recently. They're just as hearty as your typical snake plant and can thrive in low light on relatively little water.
Sansevieria Sayuri, PlantVine ($52)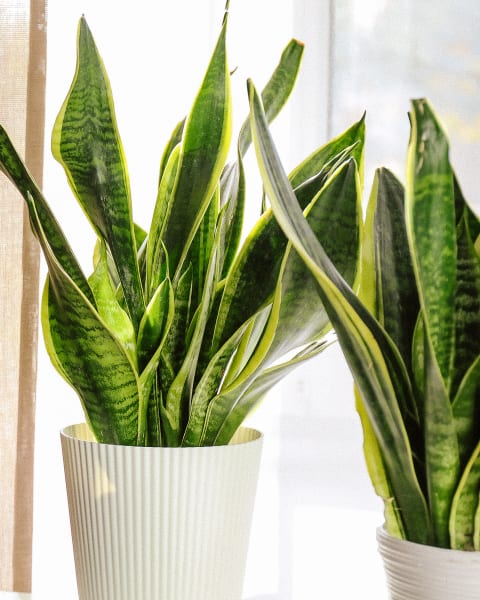 serezniy / iStock
Zamioculcas Zamiifolia
"I love how wild a Zamioculcas zamiifolia (ZZ plant) will get with its growth," says Hilton Carter, plant designer and author of Wild Interiors. "Plus, the dark green waxy foliage is durable, making it a good plant to have in high-traffic areas of your home." Another plant that does well in low light, ZZs only need to be watered every few weeks but somehow always look lush and vibrant.
Zamioculcas Zamiifolia, Home Depot ($39.97)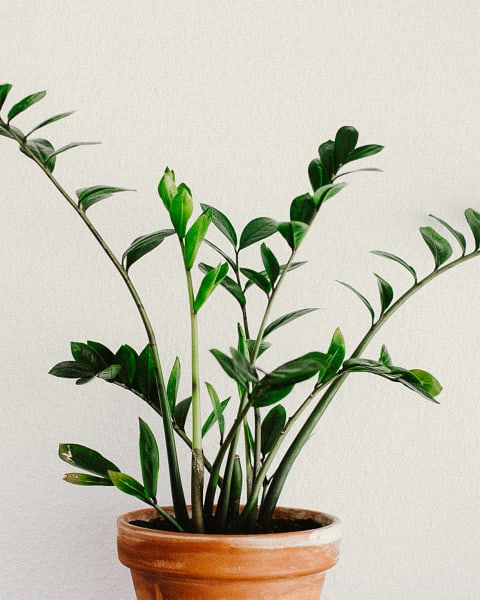 Blue Collectors / Stocksy
Epipremnum Aureum
No houseplant roundup would be complete without a pothos. Known for its ability to grow long, lush trails (even in less-than-ideal environments), it's a rewarding pick for anyone new to plant parenting. This variety, also known as the Marble Queen, has a more intricate leaf pattern than your standard golden pothos pal.
Epipremnum Aureum, The Sill ($37)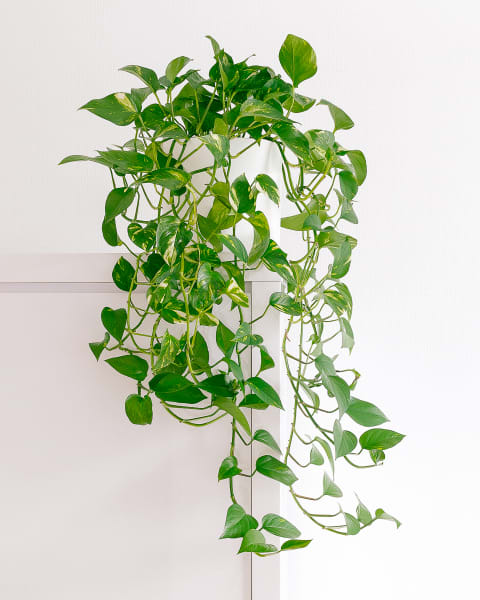 dropStock / iStock
Pet-friendly:
Rattlesnake Calathea
These deep green plants are known for their dark spots and lilac-colored underbellies. They move throughout the day to adjust to light levels, and Carter loves checking on his throughout the day to "watch as its leaves fold down and up from dusk to dawn." It's ASPCA-approved, so you don't have to worry if your cat or dog wants to peek at it up close too.
Rattlesnake Calathea, Bloomscape ($35)
Olena Shmahalo / Unsplash
Maidenhair Fern
This pet-friendly fern can be a little finicky, but it's worth the trouble. The Maidenhair's light green leaves love constant moisture so be sure to place it in a humid spot in a pot that has a hole at the bottom so the soil can be frequently watered without getting soggy. "Never let the soil dry out," Maria Failla, the host of the Bloom & Grow Radio podcast previously told mbg, "since that's when you'll start seeing those gorgeous, delicate lacy leaves start browning."
Maidenhair Fern, Etsy ($16.95)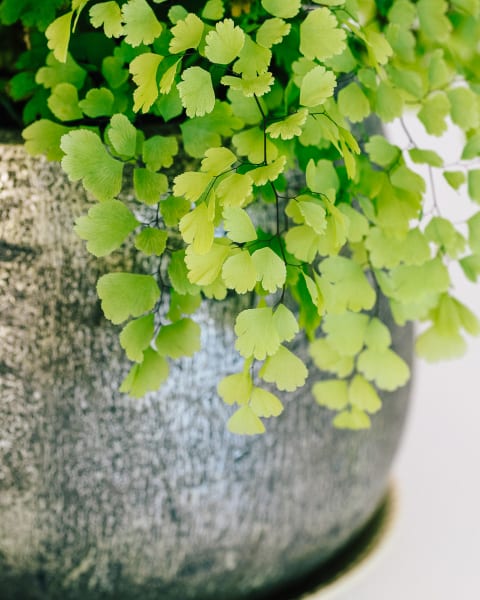 Jacqui Miller / Stocksy