Close Banner
Advertisement
This ad is displayed using third party content and we do not control its accessibility features.
The Best Nontoxic, Clean-Burning Candles For 2023

Contributing Wellness & Beauty Editor
By Lindsay Kellner
Contributing Wellness & Beauty Editor
Lindsay is a freelance writer and certified yoga instructor based in Brooklyn, NY. She holds a journalism and psychology degree from New York University. Kellner is the co-author of "The Spirit Almanac: A Modern Guide to Ancient Self Care," with mbg Sustainability Editor Emma Loewe.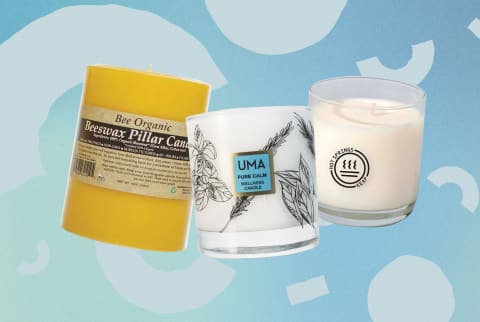 We carefully vet all products and services featured on mindbodygreen using our
commerce guidelines.
Our selections are never influenced by the commissions earned from our links.
Burning candles is a nearly effortless way to shift the mood and awaken the senses through scent and sight. Although they might help you stick to your rituals, the truth is that candles could be harming your health.
That's the bad news. The good news is that there's plenty you can do to ensure that your indoor air pollution levels stay low.
Here's a checklist of what to look for when shopping for new candles, plus a few recommendations of clean-burning candle brands.
What to look for in a nontoxic candle
There are three main indicators to keep an eye out for:
Some wicks have a metal core, which may contain lead and other metals, even though lead has been banned in candles since 2003. In some cases, you can see the metal, but in others it's woven in with other materials. Plus, it's important to consider the size of the wick.
"Too large a wick for the vessel will cause the container to get really hot and produce heavy amounts of soot and residue. Too small of a wick won't produce any fragrance, and it will create a well of leftover wax on the side of the candle container," said Hannah Hosemann, candlemaker and founder of ELEMENT candles. So if you notice your candle is producing soot or leaking wax, it may be the size of your wick.
Choose a 100% cotton wick or look for a wick made of wood, like cherrywood, which doesn't create ashy, sooty residue inside the container or surrounding walls.
Paraffin- and petroleum-derived waxes release chemicals into the air when burned, even if they are "premium grade." It's better to choose clean-burning soy wax or beeswax, but be sure to look for 100% on the labels, and, when possible, select wax that is naturally derived or sustainably sourced.
Many candles are a blend of paraffin and another wax but will call it a "beeswax" candle, for instance, so read your labels or reach out to the brand if you're not sure.
Ah, fragrance. In the United States, cosmetics companies producing skin care, perfumes, and candles are legally permitted to list "fragrance" on the list of ingredients without explaining what that means because the FDA protects it as "trade secrets."1
Unfortunately, this lack of transparency could be masking whether the product contains allergens, toxic ingredients linked to illness, and known endocrine disrupters like phthalates. Go for products that specify that they've used 100% naturally derived essential oils, are phthalate-free, or further explain the "fragrance" to be natural and nontoxic.
mbg's top picks for the best non-toxic candles
Ellis Brooklyn Pseudonym
Handmade in New York City, Ellis Brooklyn has quickly become one of the most coveted nontoxic fragrance manufacturers. They use a domestically harvested soy-wax blend in a recycled glass container and ship carbon neutral whenever possible (and will donate to The Carbon Fund when not possible, to help offset their footprint). Their fragrance philosophy leans natural as much as possible, but they will use safe synthetics when it's the more sustainable option. With fig, jasmine, and sandalwood, Pseudonym is so rich and enveloping.
Pseudonym, Ellis Brooklyn ($65)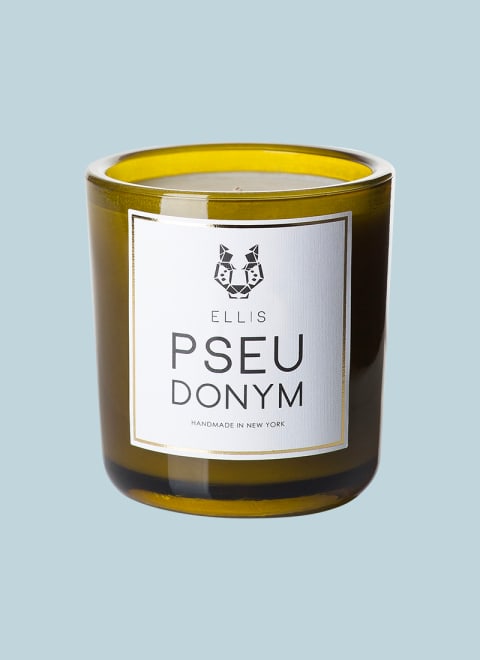 mindbodygreen
Keap Northlands
Keap candles are made in Brooklyn, New York, not far from the mbg headquarters! With cotton wicks, slow-burning coconut wax, and all-natural scents, Keap checks three out of three clean candle boxes. Bonus: Keap allows you to order a sampler of scents before indulging in a full-size candle and makes their glasses easily reusable. This wintry candle has notes of fir, pine, and white musk: Imagine being in a remote spa, deep in the woods.
Northlands, Keap ($55)
mindbodygreen
Follain Candle N°1
This coconut and soy wax blend has an all-cotton wick and is hand-poured in the United States. The unique cocktail of scents make for a stunning find: The lavender is soothing, the bergamot is bright, the sandalwood is warming, and the vanilla adds the perfect creaminess.
Candle N°1, Follain ($38)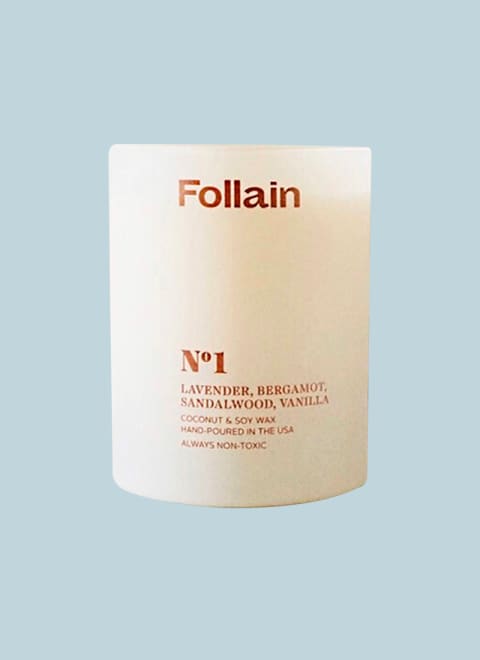 mindbodygreen
Uma Pure Calm Wellness Candle
Light this up when you're ready to meditate or fall asleep: It will inspire a sense of Zen nearly instantly. It's made with natural botanical scents of chamomile, lavender, and vetiver—laced with a base of rose and geranium essential oil, for enhanced feelings of relaxation and calm. Not to mention the glass jar is beautifully designed.
Pure Calm Wellness Candle, Uma ($68)
mindbodygreen
AMASS The Art Of Staying In
Staying in is certainly an art, no? This candle certainly makes it so. The soy base is topped with notes of bright grapefruit, refreshing eucalyptus, sweet jasmine, soothing lavender, warming palo santo, and rich cedarwood.
The Art Of Staying In, AMASS ($48)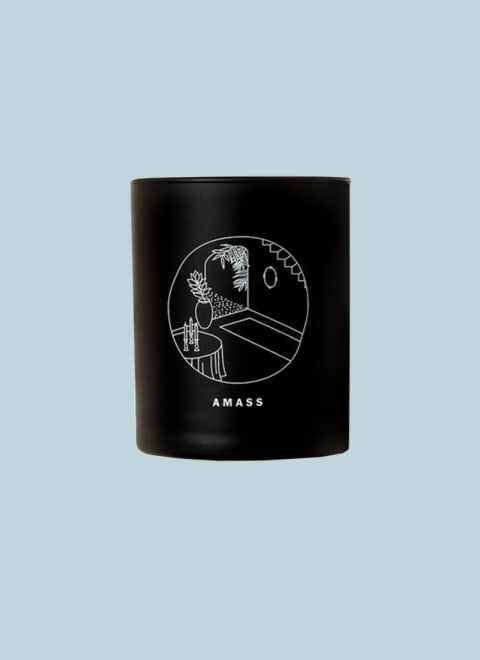 mindbodygreen
LAFCO Amber Candle
If for nothing else, LAFCO's candles are worth the investment for the artisanal, handblown glass jars: If you look very closely, you'll see a subtle swirling pattern, which is created when the artisans roll the vessel in tiny crushed glass particles before sealing it on the outside with an additional layer of glass. Once you are done burning the premium soy-based candle—it has a 90-hour runtime—pop it in the freezer, where the remaining soy will shrink for easy removal. Compost the remaining soy; keep the decorative glass. Amber's essential-oil-blended scent is crisp yet earthy—like a fresh breeze through a dense forest.
Amber Candle, LAFCO ($70)
mindbodygreen
Peacesake Candle & Co in Neroli & Musk
Delicious and decadent, this neroli and musk blend will set a luxe tone for your home. The candle is hand-poured into a heavy black-matte recycled glass vessel and finished with a natural cork top.
Neroli & Musk, Peacesake Candle & Co ($38)
mindbodgyreen
ARDOR BIN Botanic Sea
These clean burning coconut and soy candles are a stunning addition to any decor. This fragrance inspires a drive up the coastline, with notes of lemon, eucalyptus, jasmine, fresh marine lily-white florals, and driftwood. We also love the ethically sourced wood wick that comes from natural sappy fruit trees from the Forest Stewardship Council.
Botanic Sea, ARDOR BIN ($46)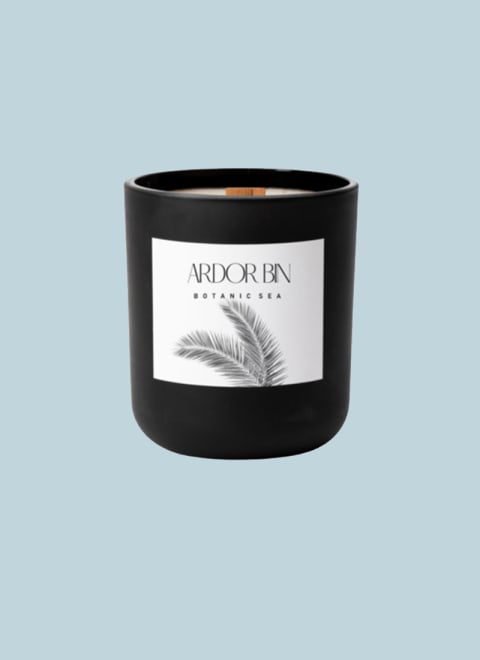 mindbodygreen
Pure Plant Home Ginger Vanilla Coconut
From start to finish, Pure Plant Home is all about conscious living. It has a sustainable coconut-based wax, fragrance made from high-quality essential oils, and is hand-poured in California. The recycled paper box (with plant dye inks) it comes in? Made in a facility powered by solar and wind power. This scent, ginger and vanilla, is rich, spicy, and sweet.
Ginger Vanilla Coconut, Pure Plant Home ($20)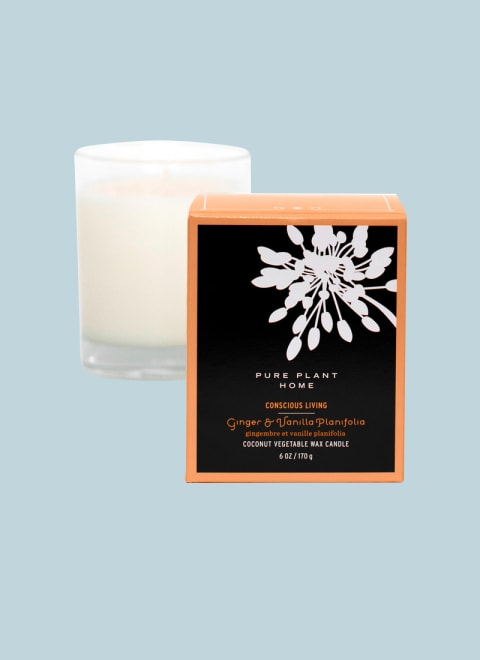 mindbodygreen
Lite + Cycle Urban Forest Essential Oil Candle
Lite + Cycle is like the Everlane of candles. They are transparent about every ingredient: 100% pure essential oils, 100% non-GMO American-grown soy wax, and an unbleached cotton wick are used to make the product; plus, the ingredients are grown and harvested sustainably. To top it off, the lid has a dual match-strike and extinguishing surface, cutting down on waste and fire hazard. Urban Forest combines woodsy aroma with an energizing zest.
Urban Forest Essential Oil Candle, Lite + Cycle ($55)
mindbodygreen
ELEMENT Musk 2
ELEMENT candles are some of the best on the market right now. They're made in small batches in Charleston, South Carolina, of soy wax and a cherrywood wick. Because the wick is wooden, the candles sound like an actual fireplace—snap, crackle, pop—and there's nothing more fall than that. This scent is perfectly balanced: a little sweet but still very warm.
Musk 2, ELEMENT ($36)
mindbodygreen
Bee Organic Beeswax Pillar Candle
If you prefer pillar candles—but of the nontoxic variety, of course—opt for organic beeswax. They are naturally nondripping, don't smoke, and actually release negative ions into the air, which has a purifying effect by attracting allergens like a magnet. (A not-so-little bonus: You're supporting sustainable beekeeping practices!) This 100% certified organic beeswax option comes in non-scented, but you can also add organic-fragranced add-ons for a few dollars extra.
Beeswax Pillar Candle, Bee Organic (From $7)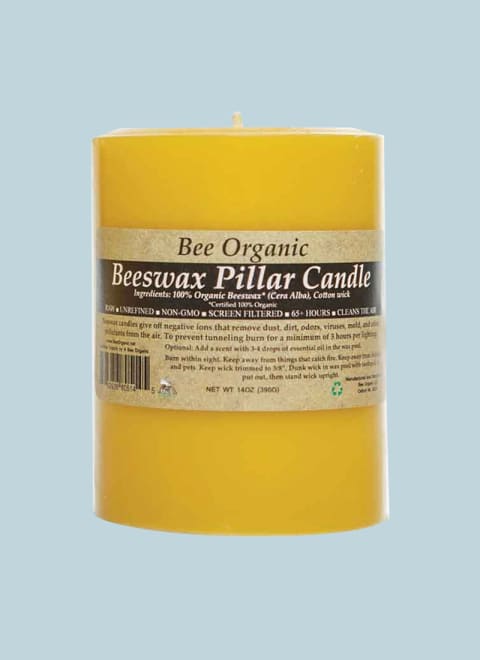 mindbodygreen