Close Banner
Advertisement
This ad is displayed using third party content and we do not control its accessibility features.
8 Reasons Your Skin Is Dull + How To Get It Glowing ASAP

Contributing writer
By Alexa Erickson
Contributing writer
Alexa Erickson is a California-based writer who specializes in travel, beauty, wellness, and lifestyle. She received a degree in journalism and creative writing from the University of Tampa, and her work has appeared in Reader's Digest, Shape, and more.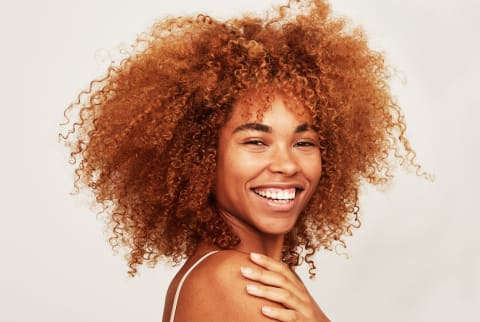 Image by ohlamour studio / Stocksy
Glowing skin is always having a moment. Makeup tries to emulate it. Skin care products like serums try to perfect it. It's that ineffable glow that oozes youth, a full night's rest, daily meditation, and a ton of expensive facials. But getting that elusive glow is really just about pinpointing the root causes of dullness and treating those sneaky issues.
Here's the annoying thing: There are plenty of contributing factors that cause dull skin. And while some may be outside your control, there are a few skin care and lifestyle steps you can take to be proactive about your skin care.
Here, our glowing recommendations:
Polluted air is harmful to the environment and your skin. Its tiny, toxic particles, like carbon monoxide or nitrogen oxide emissions from cars, not only dirty the surface of your face but block your pores and reduce oxygen1. Not only that but particulate matter2—like PM10—are so small that they can shimmy into your pores, wreaking havoc and causing inflammation. Your suffocated skin appears dull as a consequence. Polluted air also creates free radicals on the skin, which puts your skin on the fast track to aging, appearing as wrinkles and uneven skin tone. All around? Not great.
The fix.
With all that uncontrollable pollution landing on your face each day—yes, even when you don't go outside, as indoor pollution is a very real thing—it's imperative you wash your face every night before bed. Otherwise, you allow all those harmful, dirty particles to linger on your skin all night. "You still need to remove dirt, oils, residues of past skin care products, and air pollutants that may clog pores, cause irritation, and contain free radicals that lead to oxidative damage of the skin cells," says board-certified dermatologist Hadley King, M.D.
How you wash your face is totally up to you, but we generally encourage a gentle cleanser: Anything too harsh (like a scrub or brush) may disrupt your skin barrier, making it more susceptible to all that pollution you're trying to avoid. Another tip is to apply sun protection on a daily basis since UV rays amplify the effects of pollutants.
2.
Not consuming enough antioxidants.
Oxidative stress is another major skin issue—and doesn't just cause dullness. Oxidative stress can trigger dark spots, sagging, collagen loss, wrinkles, dryness, sensitivity, and basically every other skin concern out there. It occurs as a result of an imbalance of free radicals and antioxidants in the body.
Now, the body can deal with this naturally and on its own: While your cells naturally produce free radicals during metabolic processes, cells also produce antioxidants to neutralize free radicals. But if your body is devoid of a healthy level of antioxidants or you're exposed to too many external free radicals, this process gets thrown out of whack. This can lead to inflammation that is characteristic of oxidative imbalance, which, in turn, dulls the skin's complexion. The major problem is that in modern society, we are exposed to a good amount of free radicals via UV exposure, stress, diets, pollution, irritating topicals, and so on.
The fix.
In addition to consuming a baseline diet full of color (a sure sign of antioxidants), find a quality skin care supplement that can help neutralize oxidative stress: Look for powerhouse antioxidants, like astaxanthin, pomegranate whole fruit extract, and ubiquinol.* Research has shown astaxanthin's outstanding ability to help support skin health3, as one scholarly review of the antioxidant explained that numerous comparative studies of astaxanthin and other antioxidants showed it was the superior antioxidant in enhancing dermal fibroblasts3 function (or, what helps make skin cells, elastin, and collagen).*
Additionally, we love pomegranate whole fruit extract, as its total polyphenol content is impressive and it is one of the best sources of the specific antioxidant polyphenol known as ellagic acid. The superfruit has been shown to have some pretty impressive photoprotective properties4, which can help deal with UV-induced oxidative stress (one of the most common sources of it, we might add).*
Another popular antioxidant supplement that supports skin health is ubiquinol coenzyme Q10.* The antioxidant shows improved skin elasticity and smoothness5 in clinical trial research while reducing wrinkles and fine lines, which aids in the overall texture and quality of skin's appearance.*
3.
Buildup of dead skin cells.
Fun fact: The top layer of your skin is dead skin cells, and that's a good thing! Like, a really good thing! They help protect the other skin cells below and form your skin barrier. However, sometimes the buildup can get to be too much. (That's why we try to be mindful about framing exfoliation as removing excessive dead skin cells rather than bashing dead skin cells altogether.)
So, the skin constantly sheds dead cells, and a buildup on your face can result in an ashy look that contributes to a lackluster complexion. There's a very crucial step you need to take if you want to ensure those dead skin cells are sloughed away: Exfoliate!
The fix.
Gently exfoliating is necessary for unclogging your pores and removing excess dead skin cells while also preventing pollutants, dirt, and bacteria from layering up. Mindfully exfoliate your skin once or twice a week. Not only does exfoliating weekly remove particles, but it allows the lively skin cells beneath to surface, resulting in glowing skin.
But notice we said once or twice a week (maybe three if you're seriously acne-prone). You under no circumstances want to overexfoliate the skin, which is very common nowadays. This can lead to compromising your skin barrier, an issue that comes with its own problems. "The most important tip is that 'less is more.' You want to exfoliate just enough to increase cell turnover and reveal fresh new skin," says Ife Rodney, M.D., a board-certified dermatologist and founder of Eternal Dermatology. "But be sure to not scratch or damage your skin by overusing these devices or products."
And remember: Exfoliation ranges from AHA serums and peels to face brushes and scrubs. (Even a too rough face towel can exfoliate the skin!) So evaluate your routine to ensure you're not going overboard already, prior to adding a new exfoliant in.
The relationship between stress and skin health is a lengthy one6. Unhealthy levels of stress present themselves in all kinds of ways, from a brief breakout to multiple skin conditions. And the mechanisms in which stress messes with the skin are both simple and complex. We won't get into the breadth of the issue, here, but we'll give an overview on how it relates to dullness specifically.
The onset of sudden stress triggers the fight-or-flight response. As more circulation is diverted to vital organs, such as the heart, brain, and lungs, blood flow is taken away from your skin6, including your face. Less circulation means less vibrancy. And over time, chronic stress can cause your cortisol levels to spike, causing inflammation throughout the body—again leading to duller skin.
The fix.
You knew it was coming: Manage your stress! Work deadlines, family drama, relationship struggles, and trying to fulfill a busy social calendar can take their toll on your well-being. Make it a point to enjoy valuable "me time" regularly, whether that's going to meditation, enjoying downtime at home, or skipping that networking event for a solo date night. (Fun fact: Meditation has been shown to improve your skin barrier function7 and wound-healing ability!) Another option is to try immediate skin de-stressing techniques: Breathwork has become the go-to for many experts.
Dehydration is a culprit of so many health-related concerns, including skin issues. Not drinking enough water is the archnemesis of beautiful, dewy, glowing skin. Dehydration prohibits your skin from performing the most basic and essential functions, such as cell turnover. This results in a buildup of dead cells on the surface, resulting in clogged pores, congestion, and dull skin. But sometimes water isn't enough, and thankfully there are beauty products that can come to the rescue.
The fix.
In thirst we trust! There are a lot of opinions about how much water we should consume. The National Academies of Sciences, Engineering, and Medicine recommends a daily fluid intake of about 15.5 cups (3.7 liters) of fluids for men and about 11.5 cups (2.7 liters) of fluids a day for women. This isn't just anecdotal, either: Research shows that drinking enough water can increase dermal thickness. Along with water, you can reach your daily intake from other beverages and food. Skin serums, creams, and lotions are also your friend: Look for ingredients like hyaluronic acid, an ultra-absorbent sponge-like molecule found naturally in the body that helps your skin hold in water. Then seal in all that newfound moisture with a face cream or lotion, which can help prevent transepidermal water loss.
6.
Your skin microbiome is out of whack.
Like the gut, your skin has its own special ecosystem made up of millions of bacteria, fungi, and viruses. Maintaining a healthy skin microbiome is essential for glowing skin and overall skin health. A well-balanced skin microbiome protects your skin, including your face, from unfriendly organisms while ensuring your skin produces enough nutrients and maintains a balanced pH. In short, it contributes to the things needed to make your skin feel and look its best. An imbalanced microbiome can't protect the skin effectively, resulting in various issues, from dull skin to atopic dermatitis.
The fix.
It should come as no surprise that not all skin care products are created equal! Many harsh skin care products strip the skin of its natural pH, so be sure to use products that respect and support your skin's pH and its microbiome. Pre-, pro-, and postbiotic skin care products are your best bet for supporting proper skin barrier function. These are our favorite products, formulated with quality ingredients, for supporting a healthy skin microbiome. Additionally, you'll want to make sure you're protecting your lipid layer with rich botanical oils and butters (your lipid layer plays an important role in your skin microbiome health). Finally, use topical antioxidants to encourage skin immune function.
7.
Age-related collagen loss.
Youthful skin maintains its resilience and glow due to its high content of collagen, as well as elastin and water8. But as skin ages, the body produces much less of these. "Our bodies always balance collagen production and degradation," says board-certified dermatologist Gary Goldenberg, M.D. "When we are young, our bodies produce more collagen than we break down. That balance tips the wrong way with age since tissue regeneration decreases." In turn, the dermis thins and the complexion dulls, among other things.
Fix.
By now you likely know there's no cure-all for turning back the hands of time. However, there are valuable lifestyle choices you can make to slow the depletion of elastin, collagen, and hyaluronic acid. Ingesting vitamin C will support the synthesis of collagen and hyaluronic acid9.* Consume foods high in the vitamin, like oranges, red peppers, kale, Brussels sprouts, broccoli, and strawberries—as well as supplements.
You can also promote natural collagen production by ingesting hydrolyzed collagen peptide supplements.* These have been shown to support your natural collagen levels by improving your fibroblast function10, which produce collagen and elastin themselves.* Other foods like bone broth contain a bioavailable form of collagen, which your body can use upon ingestion. Other collagen-supporting foods include chicken, fish and shellfish, egg whites, berries, and leafy greens.
Meanwhile, avoid consuming too much sugar and too many refined carbs, which can cause inflammation and damage collagen. According to board-certified dermatologist Joshua Zeichner, M.D., "[These kinds of diets] may interfere with wound healing, including healing of environmentally damaged skin cells." Sugar11, in particular, can be tough on collagen. "High sugar levels can lead to hardening and fragmentation of collagen, weakening the skin foundation, and promoting premature skin aging," Zeichner says. And be sure to always wear sunscreen! UV radiation activates enzymes called matrix metalloproteinases (MMPs), which break down collagen.
Lack of sleep can do a number on your skin. It leads to an imbalance of the dermis, resulting in dehydration and a decrease in your complexion's pH levels. The result is an unhealthy look that appears dull, dry, uneven, and potentially blotchy. As you sleep, your body works to remove dead skin cells, making room for new cells. But with poor sleep, you deprive yourself of that essential cell turnover, robbing yourself of that good morning glow.
The fix.
First and foremost, try your best to get a good night's rest. Sleep requirements vary slightly from person to person, but most healthy adults require between seven and nine hours of shut-eye per night. Make good sleep hygiene a priority, such as sleeping in a comfortable bed in a room that's dark, quiet, and neither too hot nor too cold. You should also try to go to sleep at the same time every night. You can also take advantage of certain products, such as diffusing lavender essential oil, sleeping with temperature-regulating sheets, using dimmable light bulbs and blue light tablet and phone protectors, and topping it all off with an overnight hydrating face oil to boost that morning glow.
Watch Next
Enjoy some of our favorite clips from classes
Watch Next
Enjoy some of our favorite clips from classes
What Is Meditation?
Mindfulness/Spirituality | Light Watkins
Box Breathing
Mindfulness/Spirituality | Gwen Dittmar
What Breathwork Can Address
Mindfulness/Spirituality | Gwen Dittmar
The 8 Limbs of Yoga - What is Asana?
Two Standing Postures to Open Up Tight Hips
How Plants Can Optimize Athletic Performance
What to Eat Before a Workout
How Ayurveda Helps Us Navigate Modern Life
Messages About Love & Relationships
Love & Relationships | Esther Perel
Love Languages
Love & Relationships | Esther Perel
Related Videos (10)
What Is Meditation?
Box Breathing
What Breathwork Can Address
The 8 Limbs of Yoga - What is Asana?
Two Standing Postures to Open Up Tight Hips
How Plants Can Optimize Athletic Performance
What to Eat Before a Workout
How Ayurveda Helps Us Navigate Modern Life
Messages About Love & Relationships
Love Languages
Advertisement
This ad is displayed using third party content and we do not control its accessibility features.
More On This Topic
more Lifestyle
Advertisement
This ad is displayed using third party content and we do not control its accessibility features.
Advertisement
This ad is displayed using third party content and we do not control its accessibility features.