Confirmed: The 12 Best Natural Mineral Sunscreens To Slather On Right Now
mbg Associate Editor
By Jamie Schneider
mbg Associate Editor
Jamie Schneider is the Associate Editor at mindbodygreen, covering beauty and health. She has a B.A. in Organizational Studies and English from the University of Michigan, and her work has appeared in Coveteur, The Chill Times, and Wyld Skincare.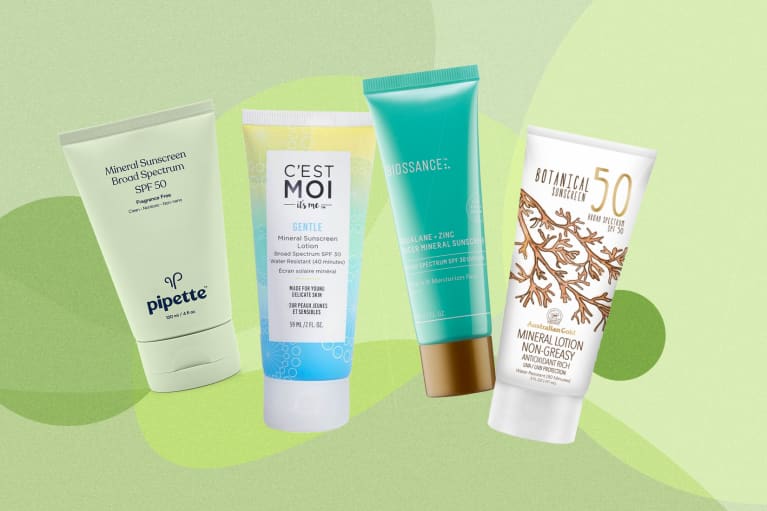 Our editors have independently chosen the products listed on this page. If you purchase something mentioned in this article, we may
earn a small commission
.
Last updated on October 27, 2020
For a product we're supposed to wear every dang day, there's quite a lot of confusion when it comes to choosing the right sunscreen. Specifically, the great "mineral versus chemical" debate can have your sun-protected head spinning. Our verdict? A non-nano mineral option is best (with zinc oxide and titanium dioxide), as these are deemed safest for skin and the environment.
Although, if you've ever squeezed out some mineral goop, you may find a thick, chalky substance on your hands—one that's difficult to layer under makeup and oftentimes comes with a dreaded white cast. A minor drawback in the name of safe sun, but it can be super aggravating, especially for those with darker skin tones. It's caused many beauty fans to go scampering back to their chemical sunscreens, for wearability alone.
But here's the thing: We've found newer, innovative iterations that tackle these very issues head-on. They're buildable! Gentle! Lightweight! And, of course, they don't skimp on sun protection. Ahead, the best mineral sunscreens that don't disappoint.
Raw Elements Daily Lifestyle 30+ Pump
This zinc oxide number is pumped with sunflower seed oil, cocoa seed butter, and argan oil for a seamless, lightweight application (no thick, white cast, here!). Plus, the rosemary seed oil has antioxidant and antibacterial properties, which make it a great option for acne-prone skin.
Daily Lifestyle 30+ Pump, Raw Elements ($19.99)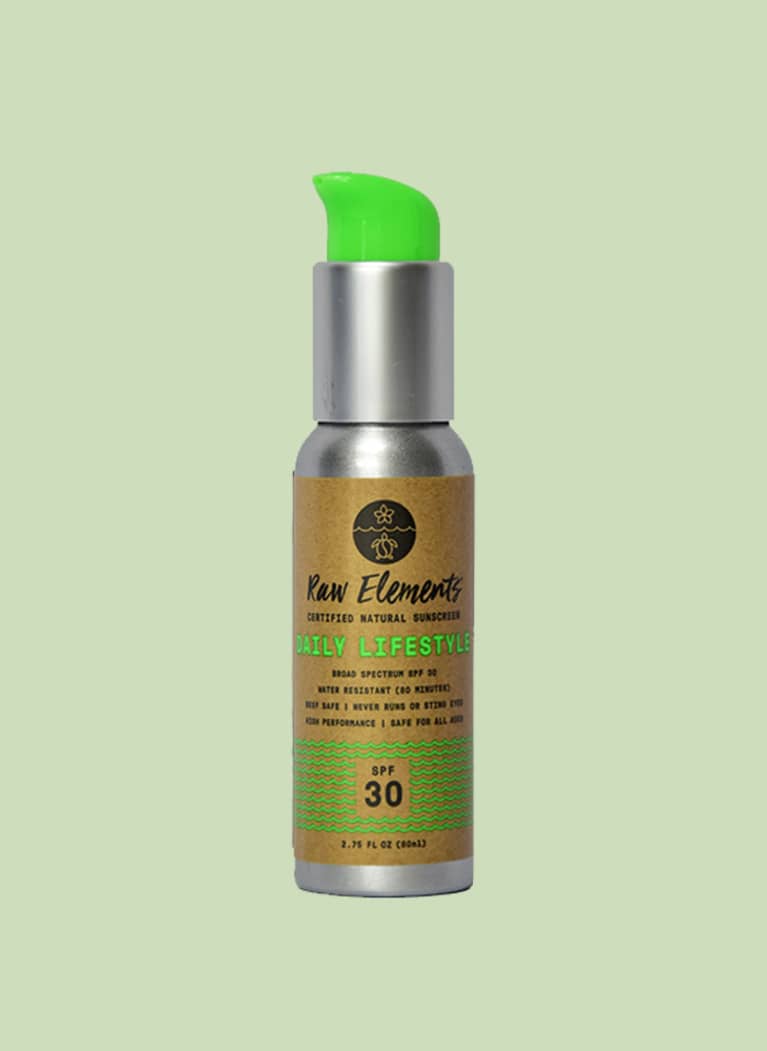 mindbodygreen
Suntegrity Natural Mineral Body Sunscreen
Sometimes you just want to slather on sun protection without smelling like the beach all day. Enter, this unscented SPF 30: It's both non-greasy and ultra hydrating, with aloe juice, glycerin, and hyaluronic acid to keep the skin feeling smooth.
Natural Mineral Body Sunscreen, Suntegrity ($24)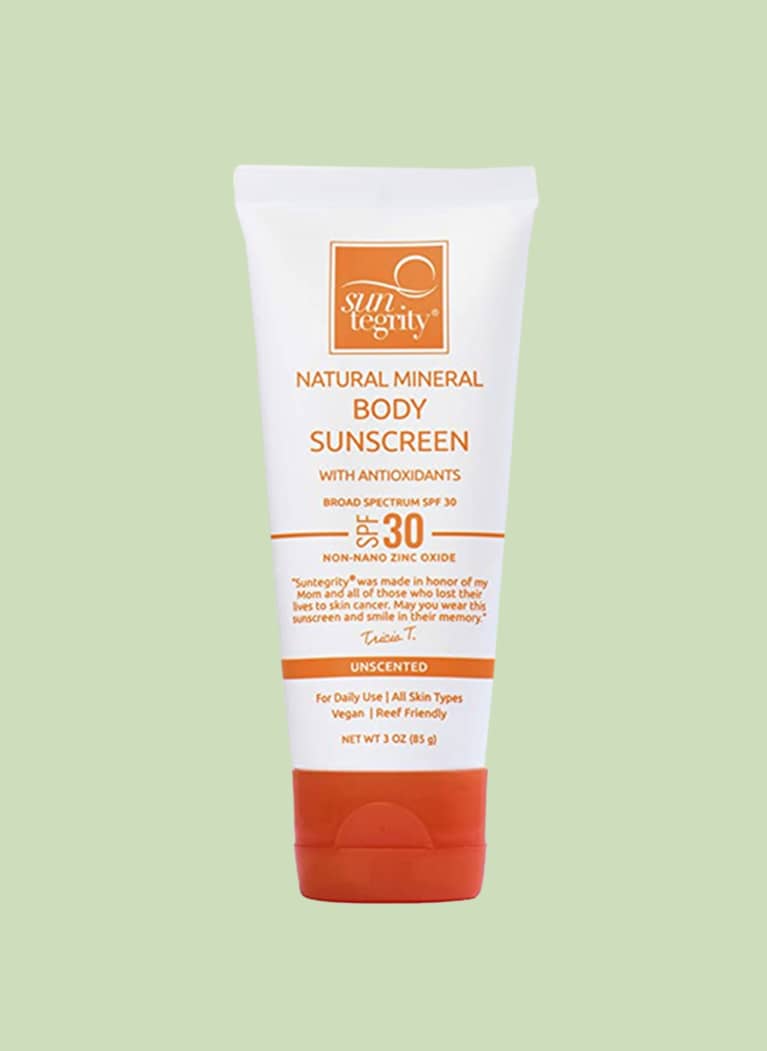 mindbodygreen
C'est Moi Gentle Mineral Sunscreen Lotion Broad Spectrum SPF 30
C'est Moi is revered for its playful-yet-gentle iterations for sensitive skin, and their broad-spectrum SPF 30 doesn't disappoint. It's got all the usual suspects—zinc oxide, plus aloe juice, castor oil, and glycerin for moisture—then some strawberry, kiwi, and apple fruit extracts for some antioxidant flair.
Gentle Mineral Sunscreen Lotion Broad Spectrum SPF 30, C'est Moi ($15)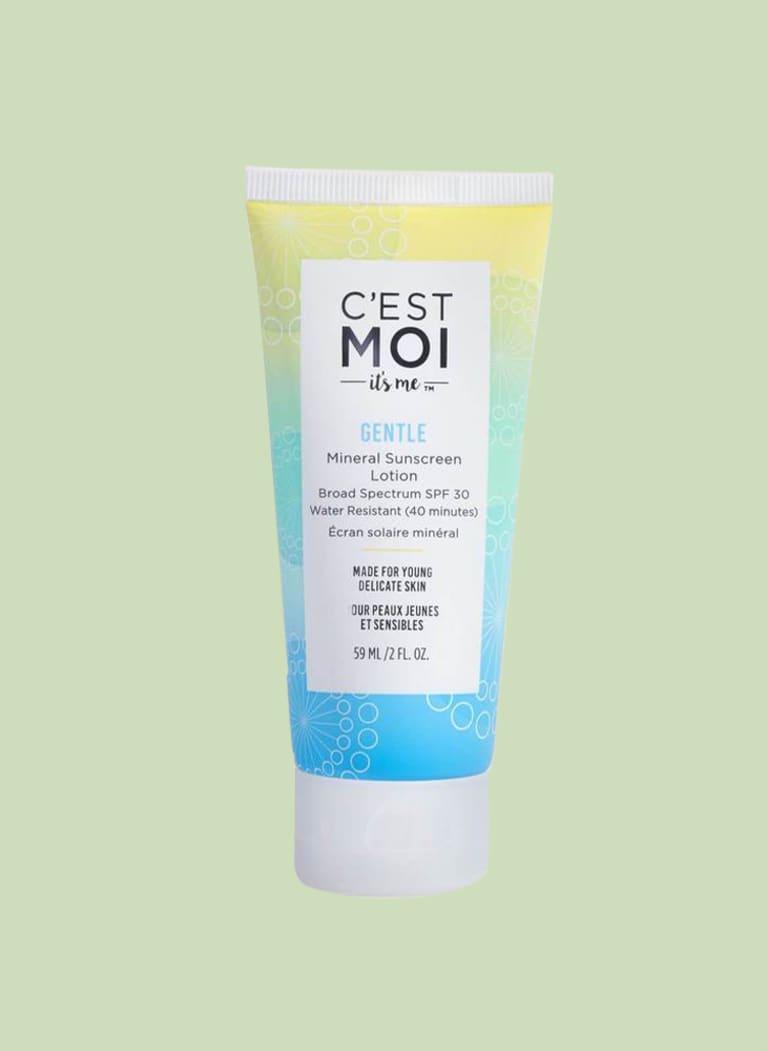 mindbodygreen
Unsun Mineral Tinted Face Sunscreen
Remember that dreaded white cast we mentioned? Unsun approaches the bemoaned issue flawlessly: Their tinted formula easily blends, no matter your skin tone, and it makes for a great primer before a wash of makeup. With a blend of nourishing oils—coconut, safflower seed, and olive, to be exact—it feels velvety smooth on skin.
Mineral Tinted Face Sunscreen, Unsun Cosmetics ($29)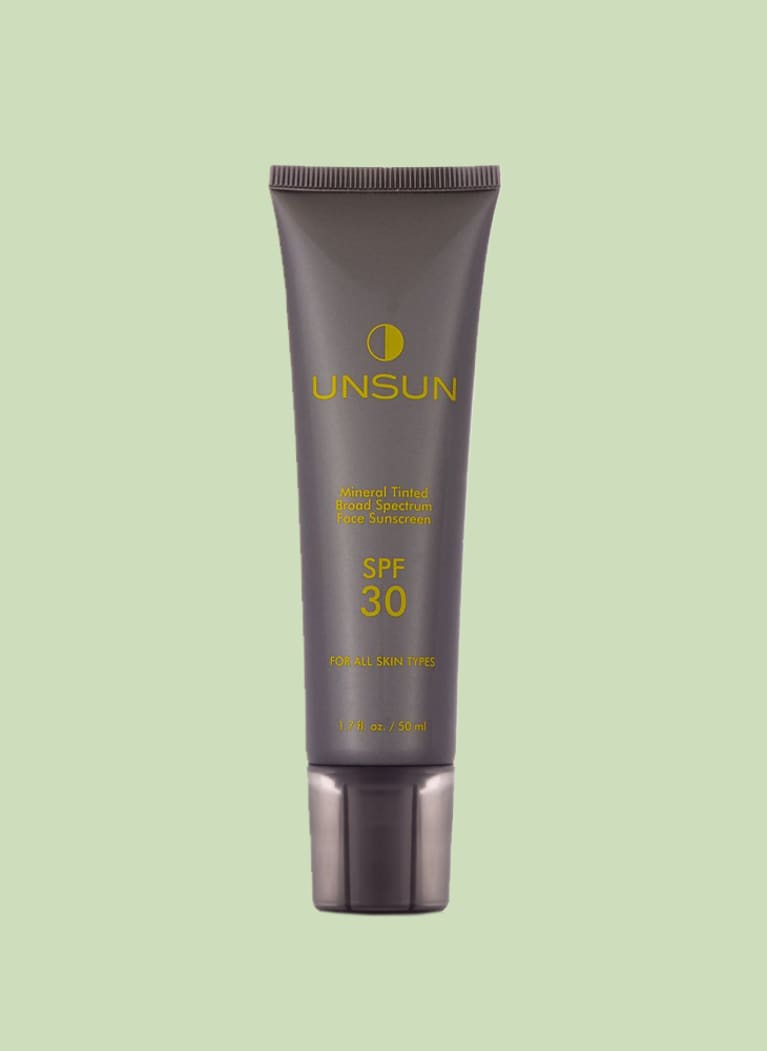 mindbodygreen
Badger SPF 30 Baby Sunscreen
Gentle on even sensitive, baby skin, This SPF 30 only has seven ingredients: non-nano zinc oxide, sunflower oil, organic beeswax, vitamin E, chamomile oil, calendula extract, and sea buckthorn fruit extract. Sensitive enough for easily irritated skin, yet fiercely protective from the sun's rays.
SPF 30 Baby Sunscreen, Badger ($13.59)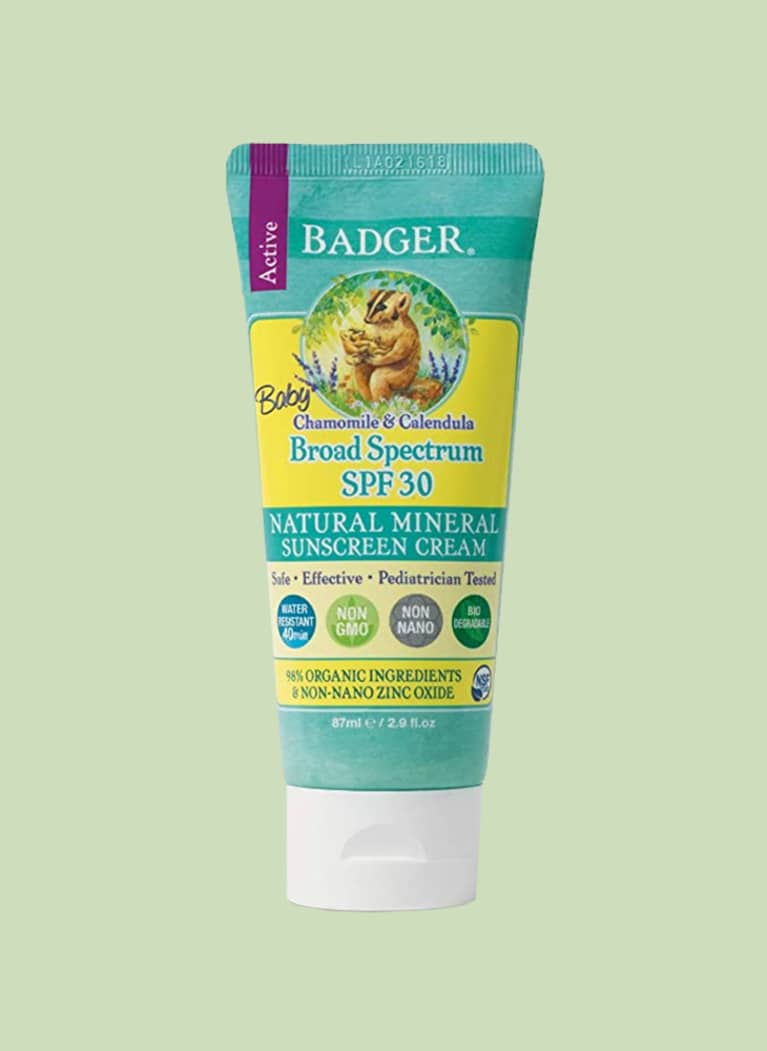 mindbodygreen
Alba Botanica Fragrance Free Sunscreen Lotion
Another no-fuss, fragrance-free number, this lotion contains aloe vera, green tea, and chamomile extracts along with zinc-oxide for a lightweight, moisturizing feel. While mineral options are largely thicker than their chemical counterparts, Alba's is creamy and relatively sheer for your beach day.
Fragrance Free Sunscreen Lotion, Alba Botanica ($8.99)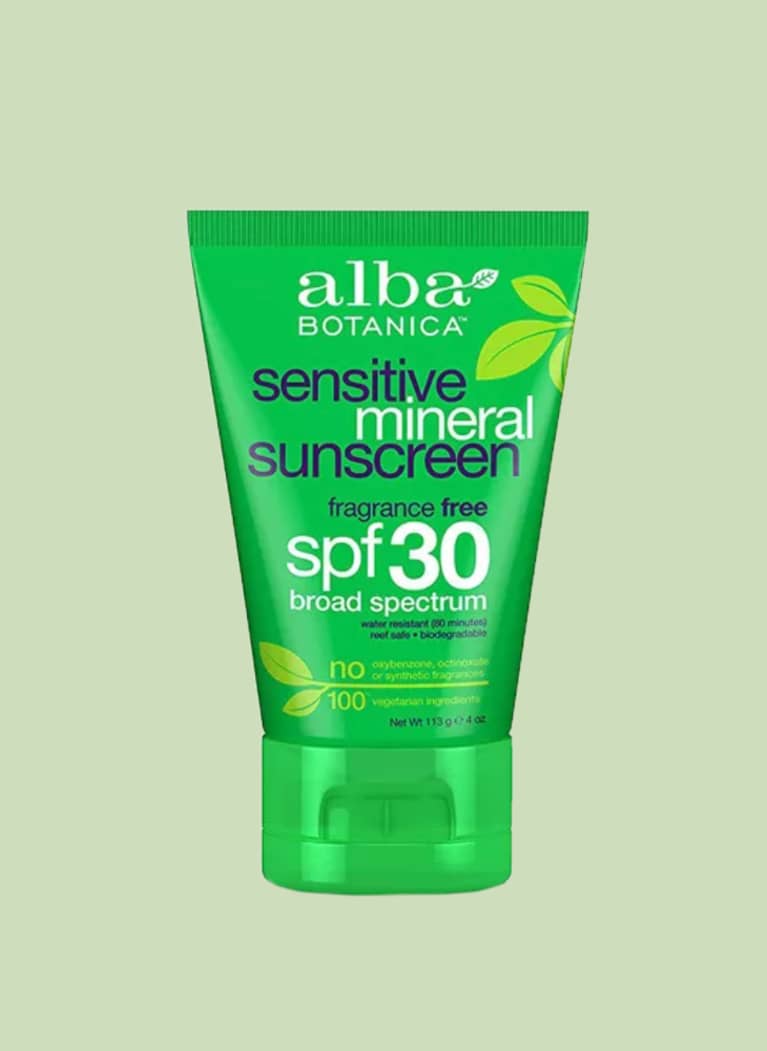 mindbodygreen
Biossance Squalane + Zinc Sheer Mineral Sunscreen
Of course, Biossance's mineral sunscreen comes formulated with their signature squalane, which makes it all the more moisturizing: Your skin's sebum is made up of 13% squalane already, so it practically melts upon application. Think of it like massaging in a facial oil with SPF benefits.
Squalane + Zinc Sheer Mineral Sunscreen, Biossance ($30)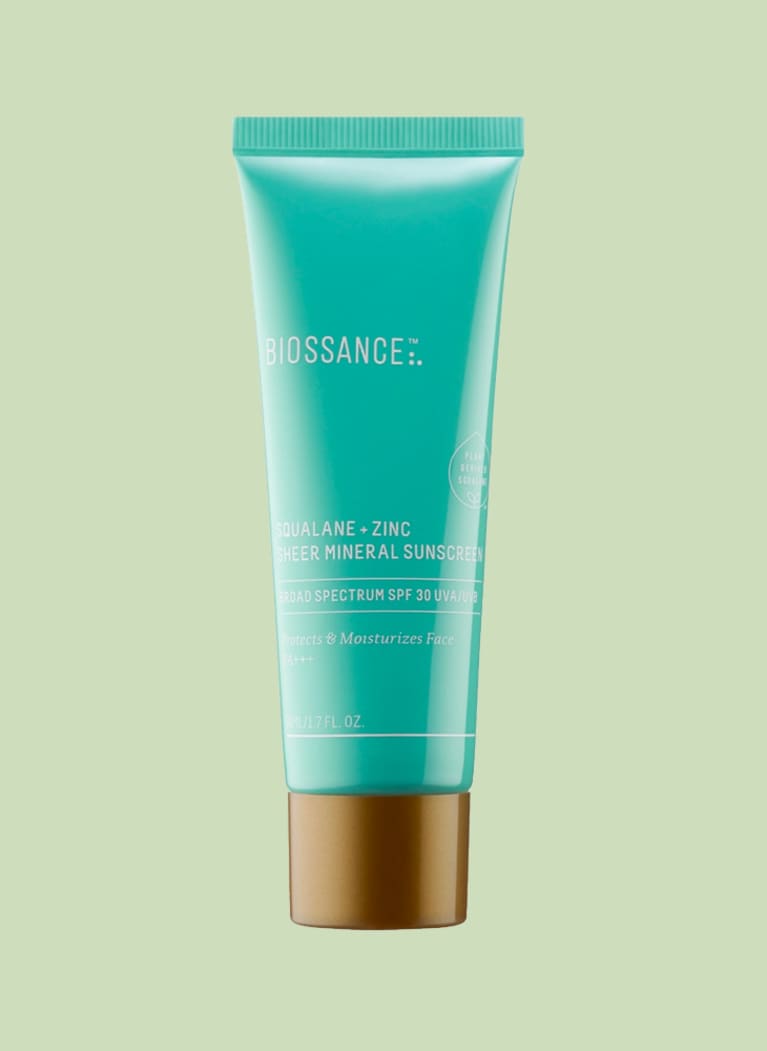 mindbodygreen
Pipette Mineral Sunscreen Broad Spectrum SPF 50
Not only is Pipette's SPF 50 gentle on baby-smooth skin, but it's also noncomedogenic—making it a worthwhile grab for adults as well. Along with zinc oxide, it's got sugarcane-derived squalane (again, a superstar oil your skin already loves), as well as antioxidants from lecithin and bisabolol (a chamomile derivative).
Mineral Sunscreen Broad Spectrum SPF 50, Pipette ($16.50)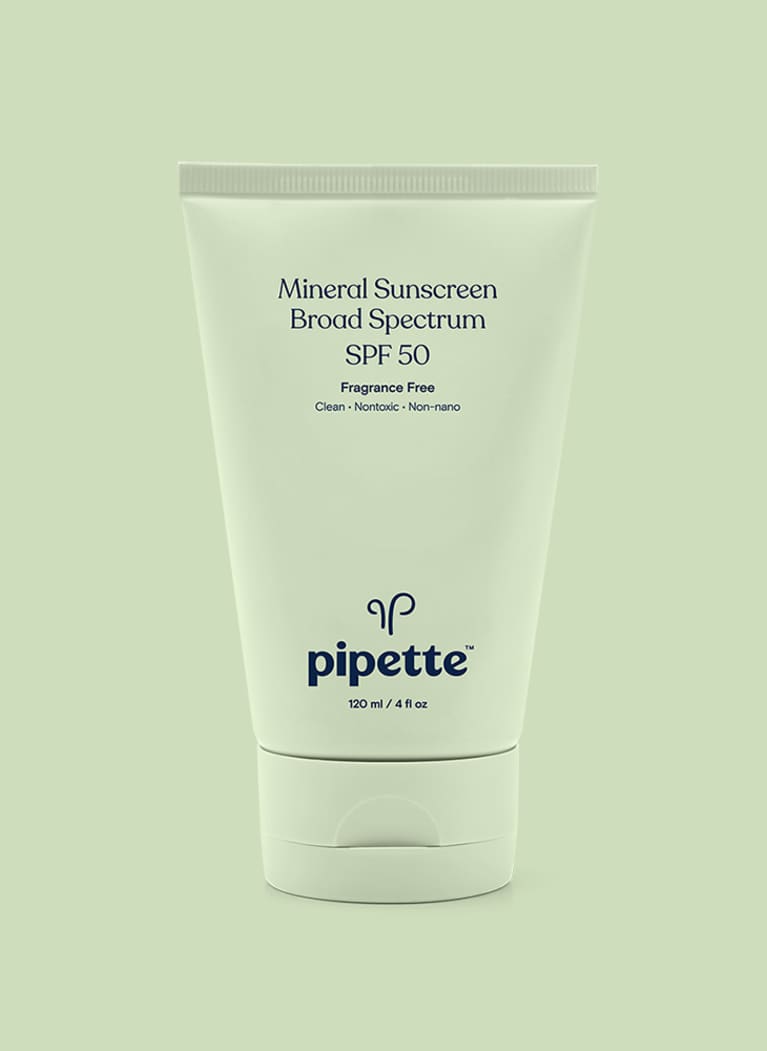 mindbodygreen
Beautycounter Countersun Daily Sheer Defense For Face
Formulated just for the delicate skin on your face, Beautycounter's mineral number is chock-full of hydrating ingredients that make reapplication a breeze (friendly reminder: You should re-apply your sunscreen every two hours). With sunflower seed oil, squalane (sensing a pattern?), glycerin, and vitamin E, the formula glides on effortlessly with no ghostly residue.
Countersun Daily Sheer Defense For Face, Beautycounter ($42)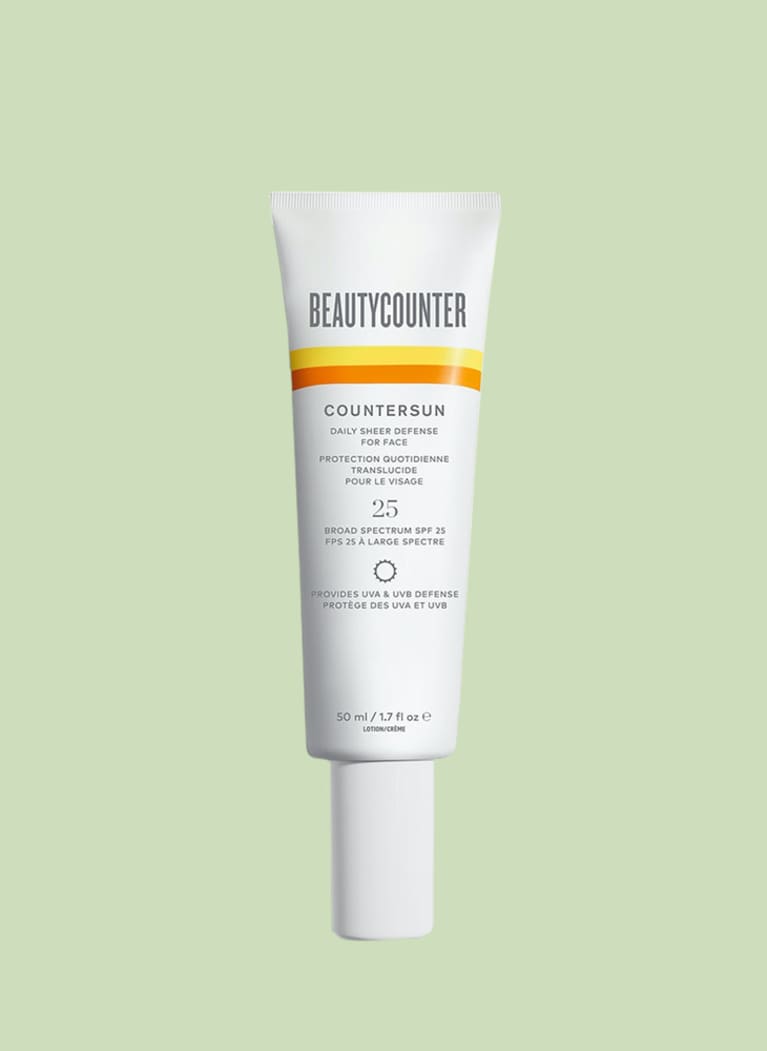 mindbodygreen
Farmacy Green Defense Daily Mineral Sunscreen
This sunscreen is stellar for daily use: Along with moisturizing oils and hydrating actives, it features marigold extract, which contains lutein—a carotenoid that's involved in protecting against blue light. Plus, the lightweight formula lays quite nicely under makeup.
Green Defense Daily Mineral Sunscreen, Farmacy ($36)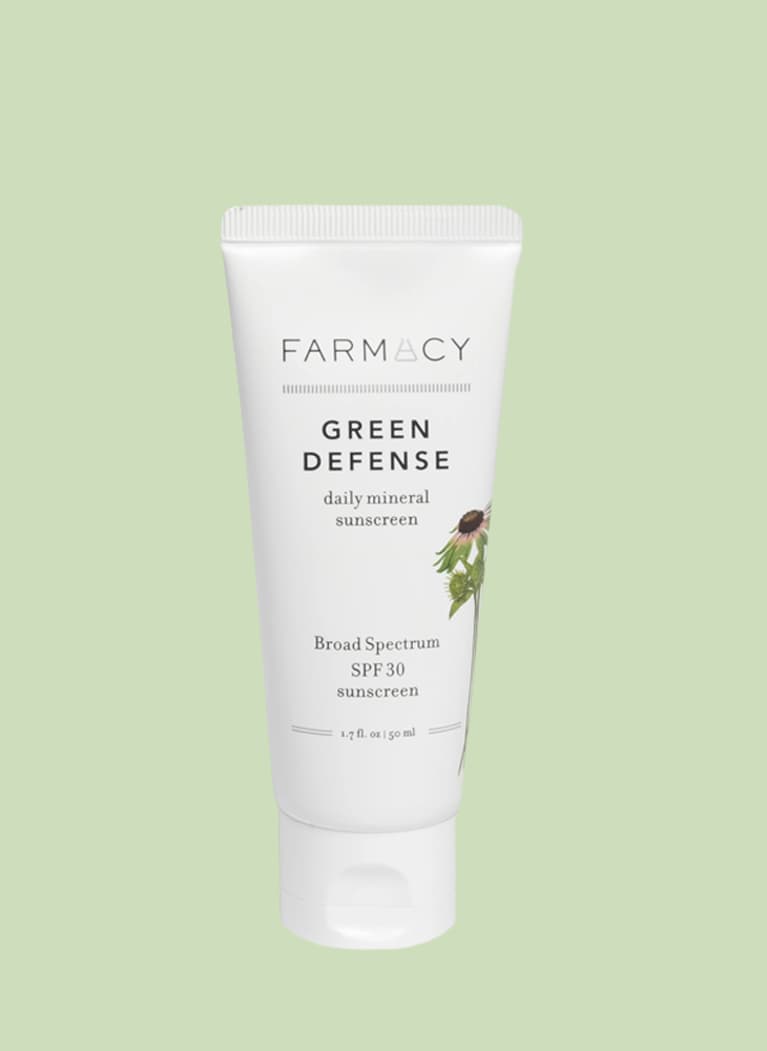 mindbodygreen
Australian Gold Botanical All Natural Max Strength SPF 50 Sunscreen Lotion
Like its name suggests, this SPF 50 is gold standard. Shea butter, glycerin, squalane, and red algae extract condition the skin; plus, it has a slight tint to it that eliminates any chalky cast. And the scent? An invigorating hint of eucalyptus.
Botanical All Natural Max Strength SPF 50 Sunscreen Lotion, Australian Gold ($9.55)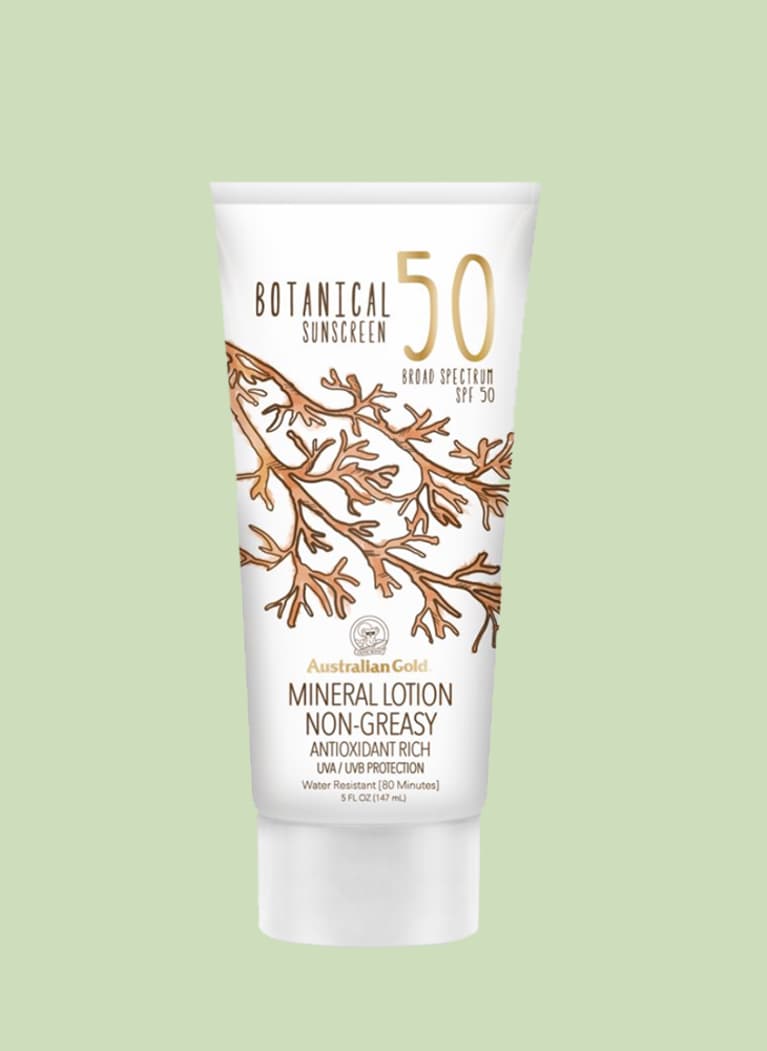 mindbodygreen
Babo Botanicals Daily Sheer Non-Nano Zinc SPF 40 Fragrance Free Mineral Sunscreen
This super gentle, fragrance-free option has quite the cocktail of skin-healthy ingredients: aloe vera, glycerin, avocado oil, and jojoba oil to lock in moisture, as well as rose hip and green tea extracts for some antioxidants. The application is sheer and non-greasy, so it won't pill throughout the day or look oily under makeup.
Daily Sheer Non-Nano Zinc SPF 40 Fragrance Free Mineral Sunscreen, Babo Botanicals ($14.95)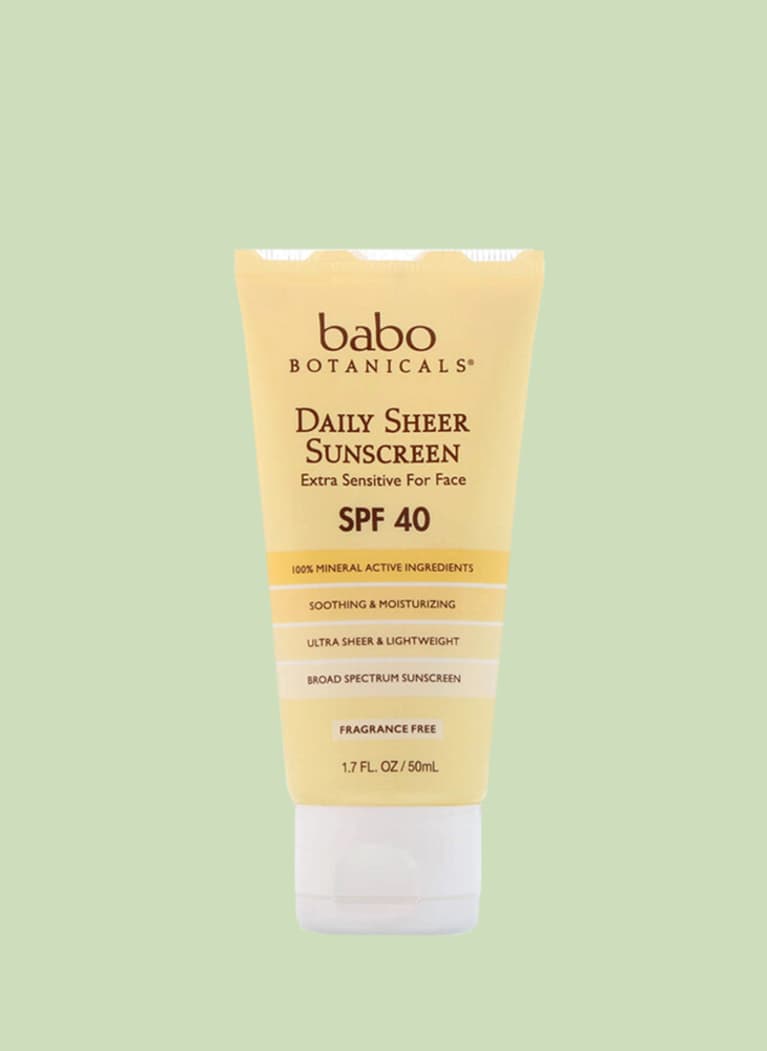 mindbodygreen