13 Keto-Friendly Sides That'll Be A Huge Hit At Your Thanksgiving Table

Beauty & Health Editor
By Jamie Schneider
Beauty & Health Editor
Jamie Schneider is the Beauty Editor at mindbodygreen. She has a B.A. in Organizational Studies and English from the University of Michigan, and her work has appeared in Coveteur, The Chill Times, and Wyld Skincare.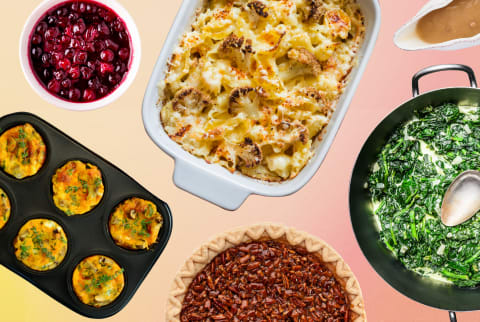 Image by mbg Creative / Various iStock
November 23, 2019
While the holiday season brings joy and gratitude, it can also foster some anxiety—especially for those with a stricter eating plan (food anxiety is a real thing, people). Rather than feeling stressed about the upcoming temptations on your Thanksgiving table, you can easily supply your own healthy Thanksgiving dishes in no time at all. The best part? Each of the recipes below is 100% keto-approved.
If you wouldn't consider yourself a seasoned keto chef, don't sweat it—once you have a few staples on hand to make the keto life easier, there's nothing you can't accomplish with this eating plan—even recreating those sweet holiday favorites can be a breeze.
But Thanksgiving can still get a little gluttonous, even with all keto pumpkin pies the holiday has to offer. Rather than eating light meals in the hopes that you'll save enough room in your stomach for a larger-than-life Thanksgiving meal (I've done this—not a good idea), it's best to start your day with a hearty, balanced breakfast like on any other day in the calendar year. You'll be sustained all day, and you won't go overboard on the turkey and stuffing. The good thing is that there are tons of keto-approved breakfast recipes available, so you can be sure to start Thanksgiving Day off on the right foot.
No matter what your preference is for a perfect Thanksgiving plate—there's a keto-approved recipe for that. Check out these 12 recipes below for the best keto-friendly side dishes. From keto cranberry sauce to creamed kale, these dishes will be a huge hit at Thanksgiving dinner. Who says keto has to be boring?
1.
Shredded Brussels Sprouts With Bacon
For the ultra-keto carnivore, these Brussels sprouts with bacon are sure to be a huge hit. The smokiness of the bacon and the saltiness of the Parmesan complement the Brussels sprouts' earthy flavor perfectly, and the pine nuts add even more of a buttery texture to this high-fat dish. There are so many complementing flavors in this recipe, your taste buds will thank you.
There's something about mac and cheese during that holidays that just seems to fit. Maybe it's the comforting vibe from this kid-favorite dish that makes you want to just curl up on the couch with family members and dig in. The good news for the keto crew is that there's a low-carb, dairy-free version of the classic bowl of Mac, one that uses cauliflower and cashews for a healthy alternative with a similar cheesy taste. You'll want to make sure this dish is on your table this Thanksgiving.
3.
Keto Loaded "Mashed Potatoes"
What's a Thanksgiving menu without cranberry sauce? This keto version is made with fresh cranberries and natural sweeteners like monkfruit to give it the same sweet flavor without the additives (no sugary cranberry juice concentrate in this dish!). Traditional cranberry sauce uses orange juice, but this recipe swaps in water with orange zest, so you'll get that citrus flavor without all of the sugar. Count us in!
A traditional stuffing's main ingredient is bread, so it can be a little difficult to make this holiday classic keto-friendly. Enter this keto stuffing with celery and olives: A healthy take on a Thanksgiving must-have that uses no bread at all. Plus, the olives in this recipe give the dish a great salty flavor and texture—one that isn't often on a Thanksgiving table.
While most gravy recipes are thickened with flour, this gravy is carb-free, keto-friendly, and just as delicious. The secret ingredient? This recipe uses unflavored gelatin powder to get that same thick consistency. You'll want to drizzle this gravy on every Thanksgiving dish on your plate—from turkey to stuffing, to mashed potatoes (or cauliflower, since we're sticking to the keto route).
7.
Maple Bacon Wrapped Carrots
Bacon-wrapped anything is always a Thanksgiving win, but these carrots might take the cake this holiday season. Each bite of these carrots is filled with flavor (sweet maple, crispy bacon, with a hint of Sriracha for a kick), and they'll look beautiful on the platter at your Thanksgiving table.
8.
Keto-Friendly Green Bean Casserole
The iconic green bean casserole is possible with just a few healthy swaps! Instead of cans of cream and loads of flour, coconut cream, coconut milk, and almond flour are the stars of this keto-friendly casserole. Prepare to have no leftovers at all with this Thanksgiving fan favorite.
9.
Savory Shiitake Muffins With Sunflower Seeds
Who says muffins are only for breakfast? Although these tasty savory muffins are a perfect keto breakfast choice to sustain your energy throughout Thanksgiving Day (so you don't go overboard on the feasting), they can also pair super well with all of your other Thanksgiving classics on the table. These muffins have such a unique taste from the mushrooms (we love our umami), and they're a great carb-alternative to complement all the fibrous veggies on your plate this holiday.
10.
Cauliflower Risotto With Mushrooms
This risotto is so rich, you'll be shocked to know that it doesn't contain any grains at all. This recipe offers tips on how to get that cauliflower rice perfectly cooked: creamy, yet not mushy. Whether you use frozen cauli-rice or grate some fresh in your kitchen, you'll have a delicious, low-carb side dish for the family to fight over who gets the leftovers.
11.
Keto Sweet Potato Casserole
Another Thanksgiving staple, this keto sweet potato casserole might just be better than the indulgent, marshmallow-topped original. The flavors are just as comforting (cinnamon and nutmeg can never go wrong), but this dish uses pumpkin and cauliflower rice—popular low-carb potato alternatives—to mimic the creamy, sweet potato texture. Top it off with a sugar-free, crunchy pecan layer, and you'll have yourself some keto-friendly magic.
Try creamed spinach's trendy, nutritious cousin this holiday season. Kale is known as "the queen of greens" (and rightfully so), and this creamed kale recipe packs in all the leafy green's nutrients with a rich, creamy texture. The almond flour and Parmesan topping give the dish a little bit of crunch while keeping it low-carb—a yummy and decadent-looking side dish you'll want to indulge in all year.
And we couldn't have a keto Thanksgiving roundup without featuring dessert. This pecan pie recipe goes to show that you can make practically anything keto-friendly—all it takes is a little planning, patience, and creativity. This pecan pie is so yummy, your family won't even believe it's keto-approved. Keto people deserve to have their pie and eat it, too!
Want to turn your passion for wellbeing into a fulfilling career? Become a Certified Health Coach! Learn more here.

Jamie Schneider
Beauty & Health Editor
Jamie Schneider is the Beauty Editor at mindbodygreen. She has a B.A. in Organizational Studies and English from the University of Michigan, and her work has appeared in Coveteur, The Chill Times, and more. In her role at mbg, she reports on everything from the top beauty industry trends, to the gut-skin connection and the microbiome, to the latest expert makeup hacks. She currently lives in Brooklyn, New York.