This Spiced Maple & Pecan Butter Will Become Your New Fall Staple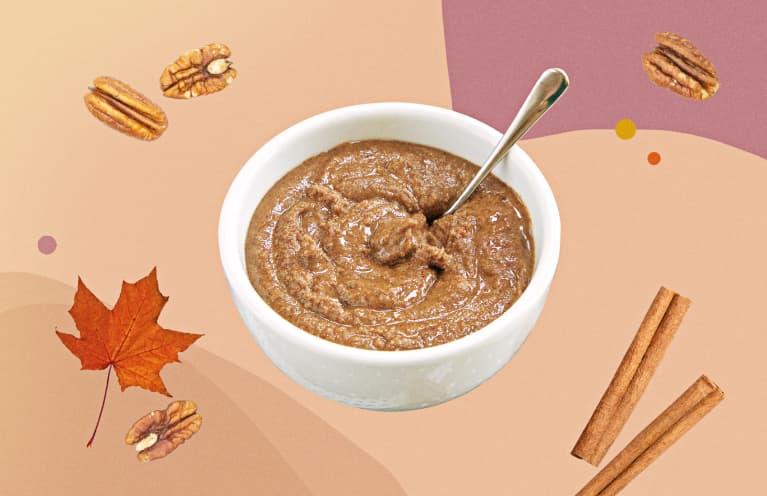 Our editors have independently chosen the products listed on this page. If you purchase something mentioned in this article, we may
earn a small commission
.
Perfect for early fall, this spiced maple and pecan butter will be sure to give you that cozy feeling as the weather turns crisp (how is it September already?). The combination of maple, pecan, and cinnamon smacks of a cool fall morning, and this sugar-free nut butter captures those rich, spicy flavors to enjoy anytime.
Pecans are a great source of monounsaturated fats to aid with cholesterol levels, and the cinnamon in this recipe gives the spread an extra burst of fall flavor while simultaneously helping lower your blood pressure. Whether you simply swipe it on a piece of toast or add it to a bowl of apple-cinnamon oatmeal, you'll want to swap this recipe for all of your nut butter staples this fall.
Spiced Maple & Pecan Butter
3 cups (300 g/10.6 oz) pecans
1 to 2 teaspoons natural maple extract
½ teaspoon ground cinnamon
1 teaspoon sugar-free vanilla extract or ½ teaspoon vanilla powder
Pinch of salt
In a food processor, combine the pecans, maple extract, cinnamon, vanilla, and salt.
Process until smooth. The exact amount of time depends on your processor.
Spoon the butter into a glass container.
Seal and store at room temperature for up to 1 week, or refrigerate for up to 3 months.
Yields about 1 cup (310 g/10.9 oz)
Per serving (2 tablespoons [1.1 ounces, or 32 g]):
Total carbs: 4.6 g
Fiber: 3.1 g
Net carbs: 1.4 g
Protein: 2.9 g
Fat: 22.3 g
Energy: 216 kcal
Calories from carbs: 3%
Protein: 5%
Fat: 92%
Recipe excerpted from Super Low-Carb Snacks. Text © 2019 by Martina Slajerova, Landria Voigt, CHHC, & Dana Carpender. First published in 2019 by Quarto Publishing Group USA Inc.
And do you want to turn your passion for wellbeing into a fulfilling career? Become a Certified Health Coach! Learn more here.