Your Sign-By-Sign Guide To August's Super Blue Moon In Pisces
mbg Spirituality & Relationships Editor
By Sarah Regan
mbg Spirituality & Relationships Editor
Sarah Regan is a Spirituality & Relationships Editor, and a registered yoga instructor. She received her bachelor's in broadcasting and mass communication from SUNY Oswego, and lives in Buffalo, New York.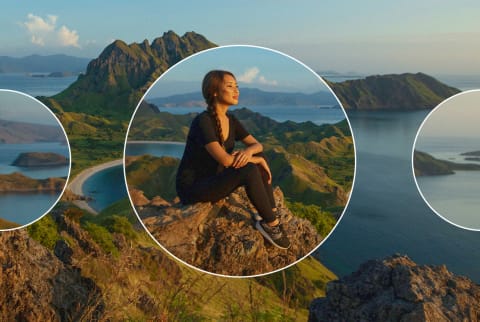 Graphic by mbg creative x Eyes on Asia / Stocksy
August 29, 2023
We carefully vet all products and services featured on mindbodygreen using our
commerce guidelines.
Our selections are never influenced by the commissions earned from our links.
As the second full moon in the month of August, this week's super blue moon in Pisces could feel like an especially dreamy one. It's set to peak on August 30 at 9:35pm EDT, but depending on your sign and where this moon falls in your birth chart, we all have something different to expect.
Note: Be sure to check your sun and rising sign.
Aries
Aries, this could feel like an intense and transformative moon for you, as it falls in your 12th house of the subconscious. As astrology expert Imani Quinn tells mindbodygreen, you're a sign that's typically on-the-go, but this moon is "asking you to slow down enough to spend some quality solo time, and to see what it is that wants to be seen within yourself."
She adds that things like hidden dreams and even inner child work could come up right now, and if they do, it's because a transformation is happening beneath the surface. So their hidden dreams their hidden inner child work like let it be seen especially to themselves. "That's most important," Quinn says.
Taurus
This could be an important moon for your larger community, Taurus, as it lights up your 11th house of collectives and networking. According to Quinn, this makes it a powerful moon to look at how you're showing up for the greater collective, "especially as it pertains to the greater good of humanity."
Additionally, since full moons are about release, Quinn suggests reflecting on how you can refine the ways you're showing up, and being mindful that you never know who's paying attention when you're out in the world.
Gemini
Success is yours for the taking under this super moon, Gemini, as it lands in your 10th house of public image and career. As Quinn notes, with the spotlight on your career zone, now is a great time to reflect on what you're proud of in your work—and what could use a bit more refining.
"Allow this time to be a space where you're really putting the time into that, and allow yourself to really dream big with what it is that you want," she adds.
Cancer
Feeling expansive, Cancer? With this super moon in your ninth house of expansion and higher learning, you could feel an emphasis to spread your wings under these moon beams. As Quinn explains, you're on a higher-minded journey of some kind, and it might feel like you're setting your sails right now.
With the moon in a fellow water sign, Pisces, the energy is encouraging you to dream big, with Quinn adding that if any inner critics pop up and try to hold you back, allow them to surface and promptly let them go—you don't have to believe anything they say.
Leo
A rebirth is underway for you, Leo, with the dreamy Pisces full moon landing in your eighth house of transformation and regeneration. And according to Quinn, this transformation could very well be a spiritual one—"so it's important for you to take time to allow your metamorphosis to occur."
She adds that this full moon for you may also highlight some endings, even internal ones. But rest assured, "Know that it is bringing new chapters and a new version of yourself," she says.
Virgo
Not only does this full moon land in your seventh house of partnership, Virgo, but it's in your opposite sign of Pisces—meanwhile Venus (the planet of love) is in the tail end of its latest retrograde period. As Quinn explains, all this adds up to a deep reflection on your closest relationships, for better or worse.
The name of the game for you under these moonbeams, she says, is to make sure you're tending to those deep, spiritual relationships that are asking for attention right now. "Be clear on your intuition and stay clear of illusion," she says, adding, "And within those relationships, really staying true to yourself."
Libra
Time to refine your health and wellness routine, Libra, as the super moon spotlights your sixth house of self care, routine, and lifestyle. Quinn notes that wellness is also well rounded, so be sure to mind your mental, emotional, and spiritual health just as much as physical factors like diet, exercise, and sleep.
Especially considering this is an ethereal Pisces moon, spiritual health may actually be the biggest priority now, Quinn says. As such, she recommends tending to that, and making sure you're leaning on healthy coping mechanisms that work for you.
Scorpio
Feeling flirty, Scorpio? With the full moon shining a light on your creative, romantic, and expressive fifth house, you very well might be. Quinn tells mindbodygreen that with the added influence of Pisces, a very artistic and creative sign, Scorpios can tap into this by allowing themselves to create—and with a big canvas, no less.
"Use your emotions and all of your ability to really dig deep as a ripe opportunity for creative expression," Quinn says, adding, "For Scorpios, I would say don't hold back on this full moon."
Sagittarius
You're typically a sign that likes to go big or go home, Sagittarius—and under this moon, which lands in your fourth house of home and family, home might be exactly where you want to go. As Quinn explains, "This full moon is drawing focus on your home life, so right now is the time to make sure you're giving attention to your home."
But beyond even the physical home space, Quinn adds that you can also think about creating an inner world that allows you space to feel that same amount of expansion you feel outwardly, "but within the confines of their home and creating balance there as well."
Capricorn
Information and communication could feel a little hampered for you under this moon, Capricorn, as it lands in your third house of communication and local neighborhoods. With Mercury in retrograde, and the moon in Pisces, which amps up illusion, Quinn explains that it's important for you to be really clear on what isn't being said.
"If communication is happening around you where there are a lot of things being said under the radar, you need to lean into your groundedness and your ability to be steadfast and speak directly to those things," she advises.
Aquarius
Money on your mind, Aquarius? With this super blue moon spotlighting your second house of possessions, money, and stability, these themes could be at the forefront of your mind. As such, and given full moons are about release, Quinn recommends asking yourself what you can give to yourself, as well as evaluating your values.
"Make sure that your values are serving you,' Quinn says, adding, "And really pour into your investments and the things that support your higher good."
Pisces
Last but never least, we have Pisces, and this time around, it's your full moon. As Quinn explains, it lights up your first house of self and identity, so this is your time to shine. "It's a really great time for Pisces to let their dreams soar and allow themselves to be seen as they truly are," she explains.
Let that be your North Star and stay on cloud nine, Quinn adds. "Don't let people push them you off that cloud—you can be easily impressionable so it's a time to allow yourself to stand firm in your authenticity."
The takeaway
This super blue moon in Pisces asks us all to tap into our wildest imaginations and inner dreams, releasing anything blocking us from our own intuition. Be sure to make time to do your favorite full moon ritual and get clear on what it is you're releasing under this moon, and the energy of Pisces can help us take one step closer to our dreams.
Sarah Regan
mbg Spirituality & Relationships Editor
Sarah Regan is a Spirituality & Relationships Editor, a registered yoga instructor, and an avid astrologer and tarot reader. She received her bachelor's in broadcasting and mass communication from State University of New York at Oswego, and lives in Buffalo, New York.