The Differences Between Vedic & Western Astrology, Explained
mbg Spirituality & Relationships Writer
By Sarah Regan
mbg Spirituality & Relationships Writer
Sarah Regan is a Spirituality & Relationships Writer, and a registered yoga instructor. She received her bachelor's in broadcasting and mass communication from SUNY Oswego, and lives in Buffalo, New York.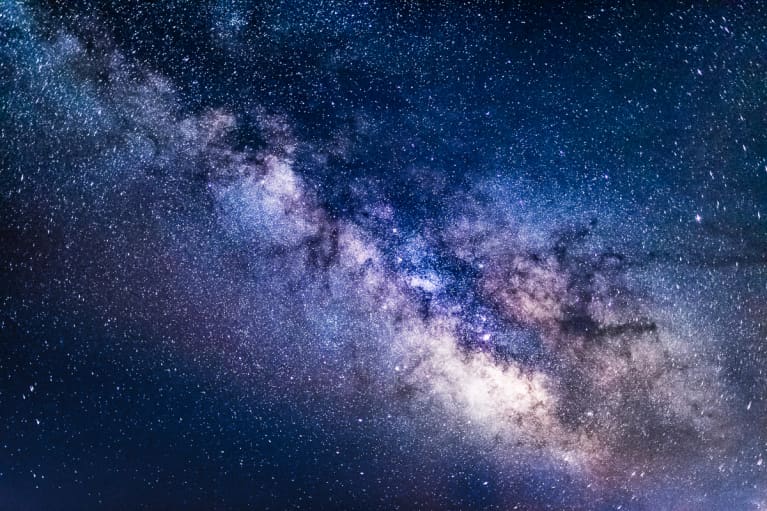 Our editors have independently chosen the products listed on this page. If you purchase something mentioned in this article, we may
earn a small commission
.
The history of Vedic astrology.
The Sanskrit word for Vedic astrology, or Hindu astrology, is jyotiṣa, loosely translating to "light/heavenly body," and the modality seems to have first appeared in the Rigveda, an ancient Indian text (though some assert it's been around since 10,000 B.C.).
"Vedic astrology contains within it the rich spiritual traditions and myths of ancient Indian culture," explains founder of Moondance Vedic Astrology and author of Vedic Astrology for Beginners, Pamela McDonough. "Even today, throughout much of India, Jyotish is an accepted science and, for many, is part of their lifestyle."
In its earliest days, Vedic astrology was used to determine important dates for sacrifices and rituals. Over time it became increasingly personalized; people started studying its planetary movements in an effort to understand their own destiny.
It's related to other ancient Indian practices including yoga and ayurveda, and similar to Western astrology, it "offers us a guide or road map to a better understanding of our physical, emotional, spiritual, and even monetary experiences," McDonough says.
Just like in Western astrology, there are 12 signs in the Vedic zodiac. And interestingly, the characteristics of the signs are pretty much the same, too. The difference lies in the dates. So, if you swear by the identity prescribed by your Western sun sign, prepare to have your boat rocked a little. The Vedic sign dates are as follows and here's how to calculate your Vedic chart:
Aries: Mesha (April 13–May 14)
Taurus: Vrishaba (May 15–June 14)
Gemini: Mithuna (June 15–July 14)
Cancer: Karkata (July 15–August 14)
Leo: Simha (August 15–September 15)
Virgo: Kanya (September 16–October 15)
Libra: Tula (October 16–November 14)
Scorpio: Vrishchika (November 15–December 14)
Sagittarius: Dhanus (December 15–January 13)
Capricorn: Makara (January 14–February 11)
Aquarius: Kumbha (February 12–March 12)
Pisces: Meena (March 13–April 12)
The difference between Vedic and Western astrology.
As McDonough explains, Western astrology bases charts on the "tropical calendar" (which most of the world uses) and the four seasons, while Vedic astrology charts are calculated using something called the sidereal system, which looks at the changing, observable constellations. (Western astrology does not change in the same way and works with the planets' fixed positions.)
Another interesting distinction is that modern Western astrology has become more psychologically oriented, where Vedic astrology is based upon one's individual Karma, according to McDonough. "Karma is a very significant element of Jyotish," she says, "and practicing Jyotish in the United States may take a more cross-cultural approach and a less deterministic viewpoint, to chart interpretation and predication than a traditional Indian astrologer might."
The two modalities also have a different take on what a retrograde planet actually means and what some of the planetary aspects represent. "All planets in Western astrology share the same type of aspect, such as a square, trine, sextile, or opposition," McDonough notes. "Vedic astrology utilizes special aspects—each planet has a specific aspect or set of aspects, along with different strengths that are applied to that specific aspect." Not to mention, Vedic astrology views your rising sign as more important than your sun sign.
"Jyotish will provide insight to one's dharma, or life path, and reveal our innate gifts and challenges," McDonough says. "It can help us better understand our relationships with our family, friends, and life partners. Having this fundamental understanding really helps to ease and relieve stress and our emotional ups and downs."
Overall, any divinatory form is a way to get better in touch with yourself and your spiritual life, in whatever way works best for you. If you're already up to speed on Western astrology (and if you're not, might we suggest the AstroTwins' Astrology Fundamentals class on mbg?), this is another modality to add to your repertoire.