What It Really Means To Be An Earth Sign + How To Find Balance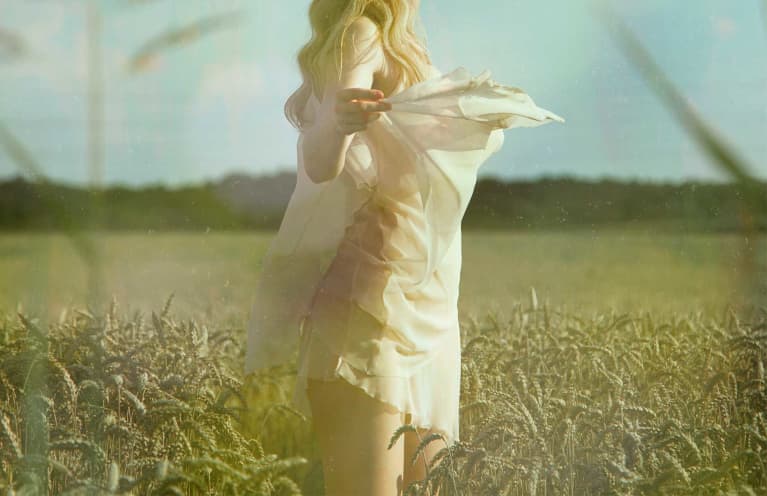 In astrology, the 12 zodiac signs are divided up into four elements: water, earth, fire, and air. The earth signs include Taurus, Virgo, and Capricorn, and here, we're diving into what earth energy is all about, plus how to find balance if you're an earth sign yourself—or have a lot of earth in your birth chart.
What it means to be an earth sign.
It can be helpful to think about the zodiac elements literally. Where fire is intense and, well, fiery, for example, earth tends to be very grounded, solid, and structured. It's a physical, tangible, and even sensual element, concerned with matters on the earthly plane of existence.
Earth also carries a more yin energy, along with water, while fire and air are yang. As astrologers the AstroTwins previously told mbg, this makes earth energy more feminine in nature. "Earth signs can get cast as uptight or slow, but that's not necessarily true," they said, adding that earth signs prefer having a solid foundation and are the steadiest and most grounded group of signs.
Because of their propensity for all things sensual, earth signs are also known to be fans of nice material things. The twins note these signs may enjoy luxury, but they're also mindful of planning, saving, and budgeting. "They think carefully about the long term and what the return on investment will be," they say.
And when it comes to love and relationships, these signs make dependable lovers. Earth signs are typically most compatible with other earth signs or water signs, though it's important to take someone's entire birth chart into account when talking about compatibility.
Grounded
Sensual
Patient
Structured
Loyal
Diligent
Practical
How earth signs can find balance:
1.
Have a consistent routine.
Earth signs love routine, and it's important for them to have structure in their day, from a consistent sleep schedule to a steady workout regimen.
2.
Avoid getting stuck in bad habits.
According to the twins, earth signs may have trouble getting stuck in bad patterns and behaviors, more so than other signs. It's important to be mindful of your own weaknesses and make adjustments as necessary. Because of the slow-moving nature of earth energy, laziness and/or stagnation is not uncommon among these signs.
3.
Leave some room for spontaneity
Lastly, while structure and routine are important, it is all about balance after all. As the twins note, trying new things, engaging in different activities, and leaving a bit of room for spontaneity can keep earth signs more balanced and help them mitigate stagnation.
A deeper dive into each earth sign:
Taurus is the second sign of the astrological year, following Aries, and is symbolized by the bull. It's known as Vrishaba in Vedic astrology and is ruled by Venus, the planet of love, beauty, and art. As such, this sign loves all things beautiful and sensual and is a particularly grounded (and stubborn) sign.
Taurus' modality is fixed, meaning it falls in the middle of the season. As a fixed earth sign, this makes Taurus the most "immovable" of the earth signs. As the twins explain, "they have a reputation for being stubborn because it's a very rooted sign."
But rest assured, when a Taurus puts their mind to something, they know how to work hard, even if they take a slow and steady approach. They do, however, have a reputation for laziness, more so than the other earth signs, so it's important for Tauruses to watch out for that.
Enjoys routine and stability
Stubborn
Sensual
Dependable
Hardworking
Virgo is a mutable sign ruled by Mercury, the planet of communication, and is the sixth sign of the astrological year. Known as Kanya in Vedic astrology, the mutable aspect of Virgo (meaning Virgo comes at the end of the season) makes them adaptable and excellent at refining things. These folks are often known to be precise, critical thinkers and strive to be of service.
Sometimes known as the editors of the zodiac, Virgos may come across as judgmental, but that's just because they have a keen eye for where things can be improved. Ultimately, they want things to be better for themselves, the people in their lives, and the collective.
As the twins previously told mbg, Earth energy comprises "the pillars of our lives," and Virgos are always happy to improve upon those pillars, whether by organizing, motivating others, or offering practical solutions to a problem.
Detail-oriented
Dedicated
Flexible
Independent
Practical
And last but not least, we have Capricorn, the 10th sign of the zodiac, aka Makara in Vedic astrology. Capricorn is represented by the sea-goat and ruled by Saturn, the planet of hard work and responsibility. As such, the twins describe them as the "business mavens and CEOs who push the team toward success—and keep the bar raised high."
These folks take themselves seriously, but you can be sure they'll do everything in their power to work hard. They're also known to be honest, wise, and authentic—all very Saturn-oriented themes. As a cardinal sign, starting off the season, they're definitely powerful self-starters. But Capricorns can also be quite spiritual, too.
As the sea-goat represents a hybrid of the goat's hard work and ambition, and the fish's connection to the watery spiritual world, Capricorns, too, have the capacity to achieve great things in the physical realm and tap into the wisdom of the spiritual realm too.
Ambitious
Authentic
Serious
Structured
Traditional
All the elements in astrology have different strengths and weaknesses, and in the case of earth signs, these grounded folks know how to create a solid routine and work hard—but they may have to watch out for stagnation. If you have lots of earth energy in your chart, remember to keep things fresh and seek new experiences as often as possible.