Close Banner
Advertisement
This ad is displayed using third party content and we do not control its accessibility features.
12 Best Olive Oils Of 2023 + How To Find A High-Quality EVOO
Health Writer & Editor
By Kristine Thomason
Health Writer & Editor
Kristine is a writer, editor, and editorial consultant who lives in Long Beach, CA.
We carefully vet all products and services featured on mindbodygreen using our
commerce guidelines.
Our selections are never influenced by the commissions earned from our links.
If there's one product you can absolutely, always, guaranteed find in my pantry, it's olive oil. This healthy oil often makes an appearance in my go-to dishes—whether I drizzle it on top of veggies or blend it into salad dressings.
It's no secret that olive oil is a healthy kitchen staple—but with so many products on the market to choose from, are they all really at the same level? Let's chat about how to find a truly high-quality oil, along with some standout options worth adding to your cart. As a health editor, these are my top 12 picks for the best olive oils of the year based on research and personal experience:
How we picked
Oil type
Extra virgin olive oil goes through less processing and retains more nutrients, making it a healthier option than standard olive oil.
Transparency
We're spotlighting brands that clearly list harvest or production dates on their oils so you know you're getting the freshest product.
Origin
We opted for oils that are single-origin (meaning, grown within a single geographic region) and certified organic when possible.
Taste
Of course, every option on our list tastes fantastic — whether it's incorporated into a stew or drizzled on a salad.
The best olive oils of 2023:
Best overall
Kosterina Original Extra Virgin Olive Oil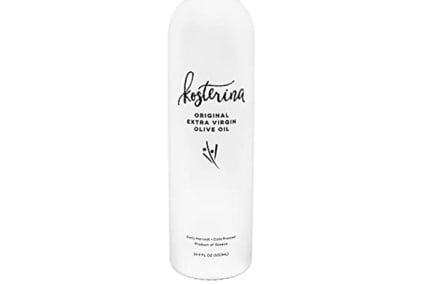 This lovely olive oil has a lot going for it: It's cold-pressed and created in small batches. Plus, it uses Greek Koroneiki olives, a varietal that renowned physician and researcher William Li, M.D., recommends since these olives are potent in the bioactive polyphenol compound hydroxytyrosol.
Pros & Cons

Pros

Cold pressed
From high-polyphenol olives

Cons

Additional shipping costs
What our tester says

"This is my go-to olive oil for sautéeing. It has a nice, subtle flavor, and I know that it's supercharging my cooking with heart-healthy polyphenols. I also appreciate that its bottle is nice and thin for easy, single-handed drizzling." — Emma Loewe, mbg Sustainability & Health Director
Best cold extracted
Corto Truly 100% Extra Virgin Olive Oil
This 100% organic EVOO has a bright slightly fruity flavor and is another fantastic staple for any kitchen. The brand is very deliberate about their method: The olives are picked at peak freshness, then cold-extracted within hours and stored in a climate-controlled cellar until there is a customer order.
Pros & Cons

Cons

Some reviewers say it's bland
Best budget
California Olive Ranch Extra Virgin Olive Oil
Image by California Olive Ranch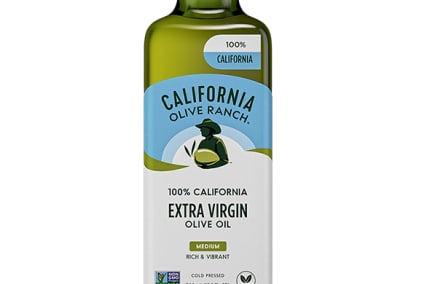 Image by California Olive Ranch
Olives from
California, Argentina, Chile, Portugal
This cold-pressed EVOO, which uses olives grown in California, Argentina, Chile, and Portugal is a go-to on my grocery list. It has a mild flavor, which makes it incredibly versatile for all kinds of cooking projects. It's also affordable, so you don't have to be too fussy about wasting larger quantities for stews or sautees; you can use it more like a egetable oil.
Best flavored
Kosterina Spicy Red Pepper Olive Oil
Image by Emma Loewe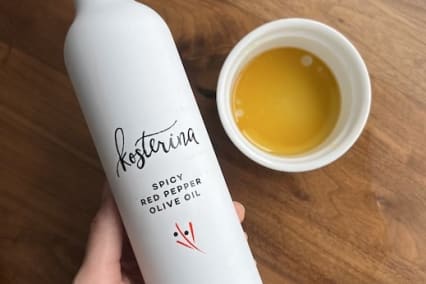 Image by Emma Loewe
Like Kosterina's original extra virgin olive oil, this punched-up version is made of cold-pressed Koroneiki olives harvested early in southern Greece. It too packs a high polyphenol count (470 mg/kg) and earthy, peppery flavor—plus the addition of red pepper.
Add a dash to soups, stews, or dressings for a subtly spicy kick that will add body and depth to meals. Reviewers call it a "secret ingredient" for everything from pizza to pasta to morning eggs. And for the spice-averse, Kosterina also now sells Greek Herb & Lemon and Garlic flavored oils as well (and a set of all three!).
Pros & Cons

Pros

Cold-pressed from high-polyphenol olives
Pleasant flavor
Harvest month listed on website

Cons

Might be too spicy for some
What our testers says

"The red pepper is subtle at first but the spice definitely lingers. What I love most about this oil is how versatile it is. I used it as a starter for a simple tomato sauce last night and it added tons of flavor in no time, and this morning I'm drizzling it on my Greek yogurt for a savory breakfast." — Emma Loewe, mbg Sustainability & Health Director
Best for everyday use
Primal Kitchen Organic Extra Virgin Olive Oil
Image by Primal Kitchen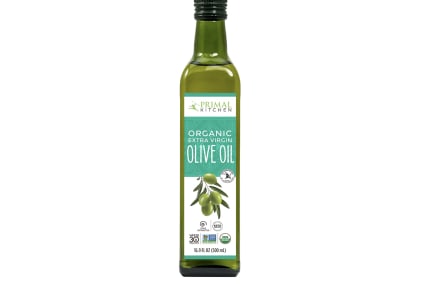 Image by Primal Kitchen
Primal Kitchen makes so many nutritious products we love at mindbodygreen, and their olive oil is no exception. The tasty blend of olives was personally selected by founder Mark Sisson—and we love that it's USDA-certified organic and Non-GMO Project Verified.
Best for salads
Brightland Alive 100% Extra Virgin Olive Oil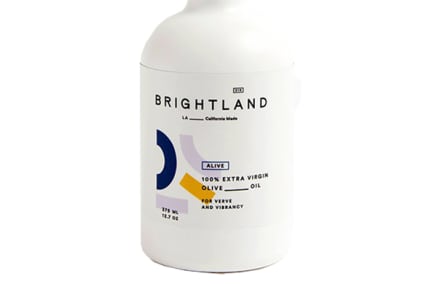 Another California-sourced olive oil, Brightland's Alive EVOO is a beautiful addition to salads, marinades, or even baked goods. I also love that they feature the harvest date right up front on their website, which helps ensure you're getting fresh, nutritious oil. (Note: Olive oil is generally good for 12 to 20 months past its harvest date, according to Moon.
Pros & Cons

Pros

Cold pressed
Olives grown in California

Cons

Distinct flavor makes it less versatile
Best for finishing
Graza "Drizzle" Oil
Image by Emma Loewe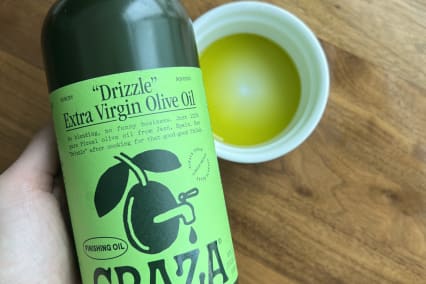 Image by Emma Loewe
Graza took the olive oil world by storm when it launched its two signature squeeze bottles in 2022: "Sizzle" (a mellow oil made for cooking) and "Drizzle" (a punchy oil designed for dressing dishes). While both are delicious, Drizzle is the real showstopper.
Made from olives grown in Spain, the high-polyphenol, single-origin oil adds a peppery, earthy freshness to any meal. You're going to want to keep a bottle around for easily finishing off salads, pastas, and pretty much anything else you can get your hands on. Sign up for the subscription package ($18 a bottle) to ensure you never run out. Trust us.
Pros & Cons

Pros

Great flavor
Squeeze bottle
Available on subscription

Cons

Not suitable for higher heat cooking
Plastic bottle
Pros & Cons

"Drizzle has single-handedly changed the way I think about olive oil. It was love at first drop. When my first bottle arrived, I was low on food and the only vehicle I had for it was a rice cake. It made the rice cake sing (words I never expected to write) with a rich, grassy flavor that tasted fresh off the farm. Since then, I've been using it to finish off nearly every dish with an addicting flavor. My favorite use for it so far? On hot popcorn!" — Emma Loewe, mbg Sustainability & Health Director
Best for cooking
Cobram Estates California Select Extra Virgin Olive Oil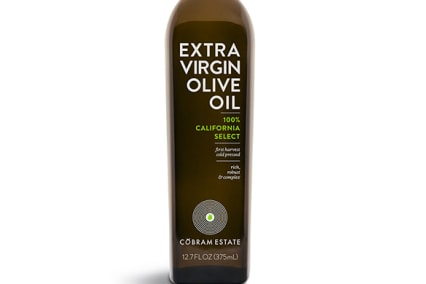 Whether you're buying this California Select bottle or one of their more standard offerings, Cobram Estates is a great go-to olive oil to snag at your local supermarket. Not only are their cold-pressed EVOOs great for cooking, but the Sacramento-sourced brand has also won multiple awards for their top-notch taste.
Pros & Cons

Pros

Cold pressed
Affordable
Flavorful

Cons

Lower smoke point than other oils
Best splurge
Manni The Oil of Life 2021: Organic Extra Virgin Olive Oil
Manni offers a wide selection of high-quality olive oils (including the Grand Cru variety we've featured inholiday food gift guides). This option from the Olive Oil of Life collection has a rich flavor, which makes it delicious to drizzle on just about anything. Plus, I love that this bottle is made with 99.99% UV-ray-resistant glass to protect the EVOO.
Pros & Cons

Pros

Sourced from high polyphenols Tuscan olives
Distinct flavor
Display worthy bottle
Best sustainably grown
Madhava Organic Extra Virgin Olive Oil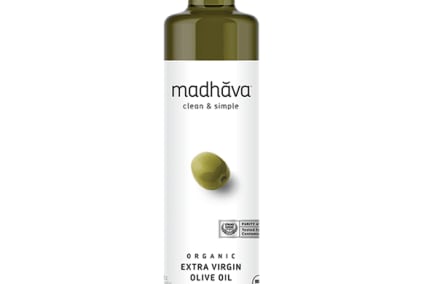 Another excellent choice, this Italian brand sources their olive oil directly from organic and non-GMO farmers that share their environment-first values. They've also received multiple awards from the clean label project, which verifies product quality and safety.
Pros & Cons

Pros

Non GMO
Tested for contaminants

Cons

Some reviewers call it bland
Best organic
Frankie's 457 Spuntino Extra Virgin Olive Oil
A mainstay in mindbodygreen's founders' kitchen, Frankies is another excellent, flavorful choice—created by the chefs and owners of Frankies Spuntino in Brooklyn, NY. This slightly spicy EVOO is USDA-certified organic and made with 100% Nocellara del Belice olives grown in Sicily, Italy.
Pros & Cons

Cons

Some reviewers have received damaged bottles
Best flavor
Kyoord High-Phenolic Olive Oil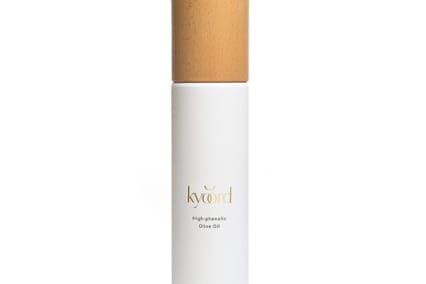 Yes, this bottle is gorgeous to look at, but it's what's inside the bottle that we really love. Made in Corfu, Greece—with Lianolia and Koroneiki olives from a small family farm—this delicious olive oil is flavorful yet subtle enough for any dish.
Pros & Cons

Pros

Flavorful
Beautiful bottle
Greek olives

Cons

Limited quantities available
Benefits of olive oil
Choosing your olive oil
When it comes to choosing an olive oil that's going to give you top-notch benefits, steer clear of the highly refined products since the healthiest oils are unrefined and minimally processed.
For that reason, it's worth taking an extra moment to check how your oil is manufactured—this should be communicated very clearly on the brand's bottle or website (for example, we love seeing "cold-pressed" on the label). Here are a few other tips for scoping out the most top-notch olive oil.
Just remember that EVOO is going to have a lower smoke point—around 325 to 375 degrees Fahrenheit—than more processed versions. For that reason, it's best as a finishing oil (think drizzling on top of dishes or using in dressings) versus baking or high-heat roasting.
The takeaway
Olive oil (particularly EVOO) is one of the best oils you can cook with thanks to its healthy fatty acids, powerful antioxidants, and abundant anti-inflammatory compounds. Swap out less nutritious options like soybean oil or vegetable oil for any of the bottles on this list and prepare for healthier, more delicious meals.
Editor's note: The article was originally published on March 16, 2022. It was updated on April 14, 2023 to include Kosterina Spicy Red Pepper Olive Oil & Graza "Drizzle" Oil.
Meet The Experts
Kristine is a writer, editor, and editorial consultant who lives in Long Beach, CA.