10 Best Olive Oils Of 2022 + How To Find A High-Quality EVOO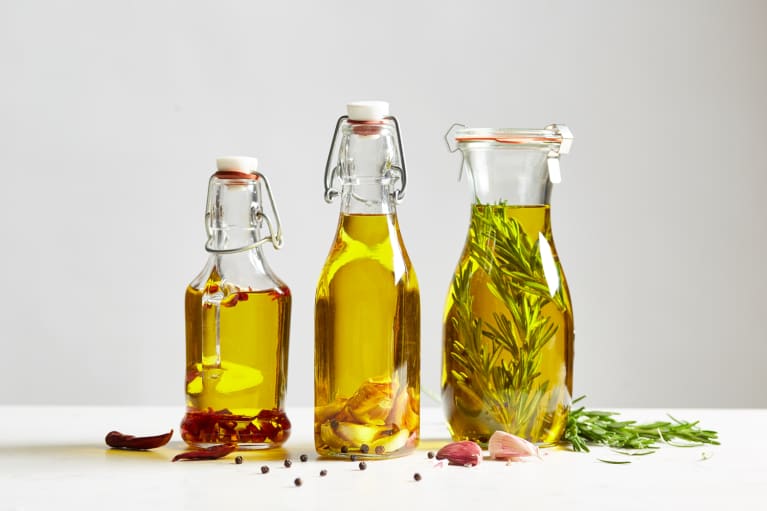 Our editors have independently chosen the products listed on this page. If you purchase something mentioned in this article, we may
earn a small commission
.
If there's one product you can absolutely, always, guaranteed find in my pantry, it's olive oil. This healthy oil often makes an appearance in my go-to dishes—whether I drizzle it on top of veggies or blend it into salad dressings.
It's no secret that olive oil is a healthy kitchen staple—but with so many products on the market to choose from, are they all really at the same level? Let's chat about how to find a truly high-quality oil, along with some standout options worth adding to your cart.
There's a reason olive oil is a cornerstone of the much-loved Mediterranean diet—this healthy fat is packed with benefits. Here are a couple of expert- and research-backed perks to consider:*
Choosing your olive oil: what to look for & what to avoid.
When it comes to choosing an olive oil that's going to give you top-notch benefits, steer clear of the highly refined products since the healthiest oils are unrefined and minimally processed. Instead, opt for extra-virgin olive oil (EVOO). "It's the least processed and therefore has the greatest nutritional benefit, compared to other types of olive oils," says Ayanwola. "Since it is derived from olive berries, it contains large amounts of antioxidants, phytosterols, and vitamins," which can be stripped away when the oil is refined. (Here's a handy trick to check if your EVOO is totally authentic.)
For that reason, it's worth taking an extra moment to check how your oil is manufactured—this should be communicated very clearly on the brand's bottle or website (for example, we love seeing "cold-pressed" on the label). Here are a few other tips for scoping out the most top-notch olive oil.
Just remember that EVOO is going to have a lower smoke point—around 325 to 375 degrees Fahrenheit—than more processed versions. For that reason, it's best as a finishing oil (think drizzling on top of dishes or using in dressings) versus baking or high-heat roasting.
When you're scoping out the bottle itself, there's one more thing to note: Olive oil should come in a darkly tinted, opaque container. Remember: "The antioxidants in olive oil degrade when exposed to heat, light, and oxygen," Maggie Moon, M.S., R.D. shared with mindbodygreen, which is why the packaging is important. (More on how to store and keep your olive oil fresh here.)
As for the best options to choose from, as a health editor, here are some of my top picks based on research and personal experience:
Corto
This 100% organic EVOO has a bright slightly fruity flavor and is another fantastic staple for any kitchen. The brand is very deliberate about their method: The olives are picked at peak freshness, then cold-extracted within hours and stored in a climate-controlled cellar until there is a customer order.
Truly 100% Extra Virgin Olive Oil, Corto ($25)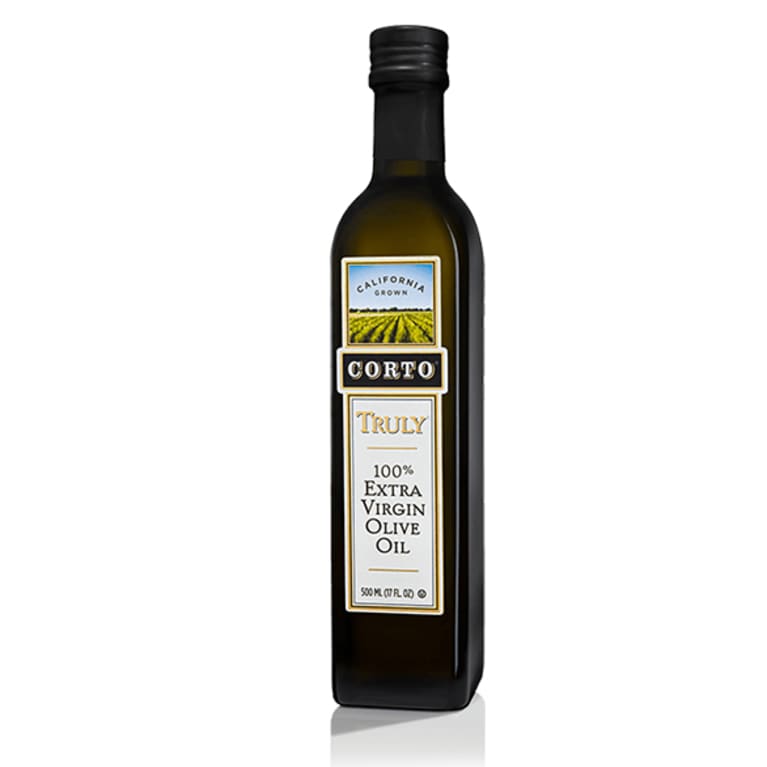 Kosterina
This lovely olive oil has a lot going for it: It's cold-pressed and created in small batches. Plus, it uses Greek Koroneiki olives, a varietal that renowned physician and researcher William Li, M.D., recommends since these olives are potent in the bioactive polyphenol compound hydroxytyrosol.
Original Extra Virgin Olive Oil, Kosterina ($24)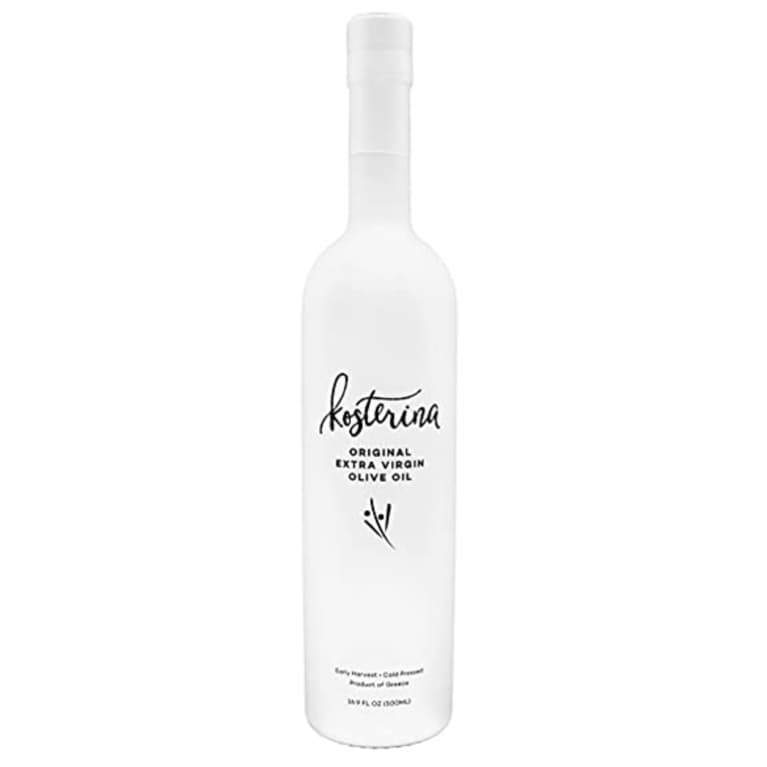 Madhava
Another excellent choice, this Italian brand sources their olive oil directly from organic and non-GMO farmers that share their environment-first values. They've also received multiple awards from the clean label project, which verifies product quality and safety.
Organic Extra Virgin Olive Oil, Madhava ($19)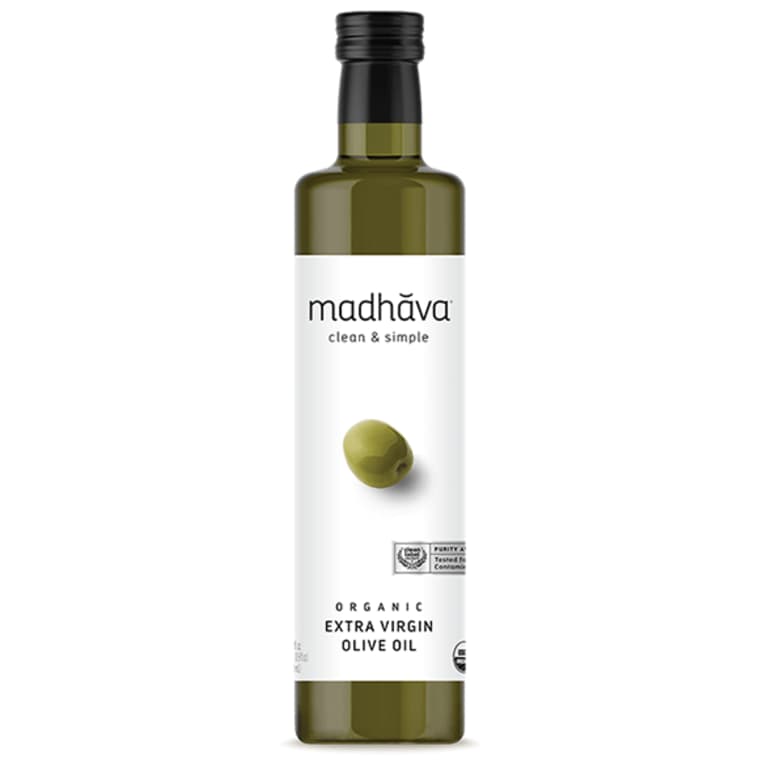 Frankies
A pantry mainstay of our mbg CEOs and founders, Frankies is another excellent, flavorful choice—created by the chefs and owners of Frankies Spuntino in Brooklyn, NY. This slightly spicy EVOO is USDA certified organic and made with 100% Nocellara del Belice olives grown in Sicily, Italy.
457 Spuntino Extra Virgin Olive Oil, Frankies ($27)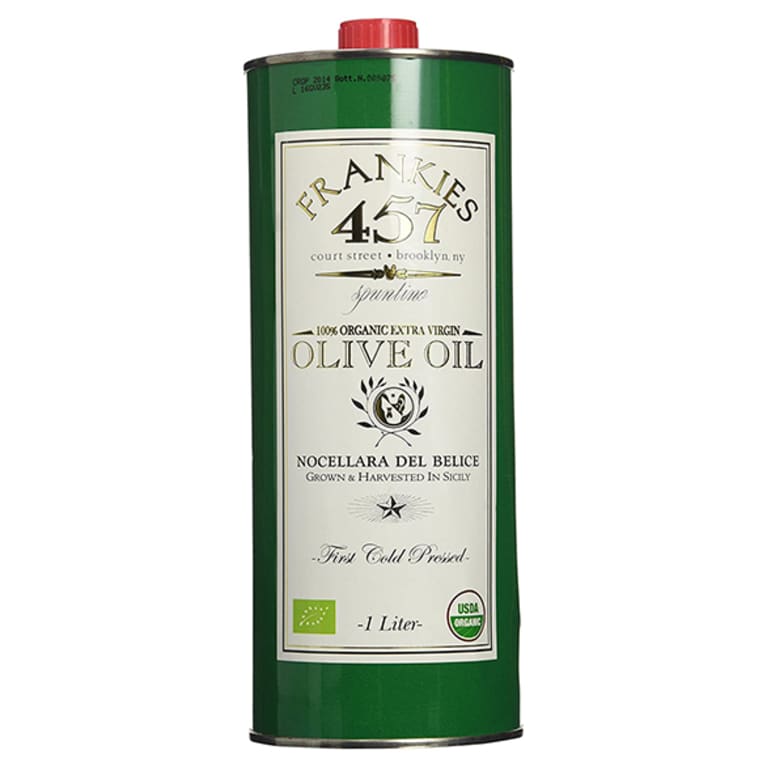 Brightland
Another California-sourced olive oil, Brightland's Alive EVOO is a beautiful addition to salads, marinades, or even baked goods. I also love that they feature the harvest date right up front on their website, which helps ensure you're getting fresh, nutritious oil. (Note: Olive oil is generally good for 12 to 20 months past its harvest date, according to Moon.)
Alive 100% Extra Virgin Olive Oil, Brightland ($37)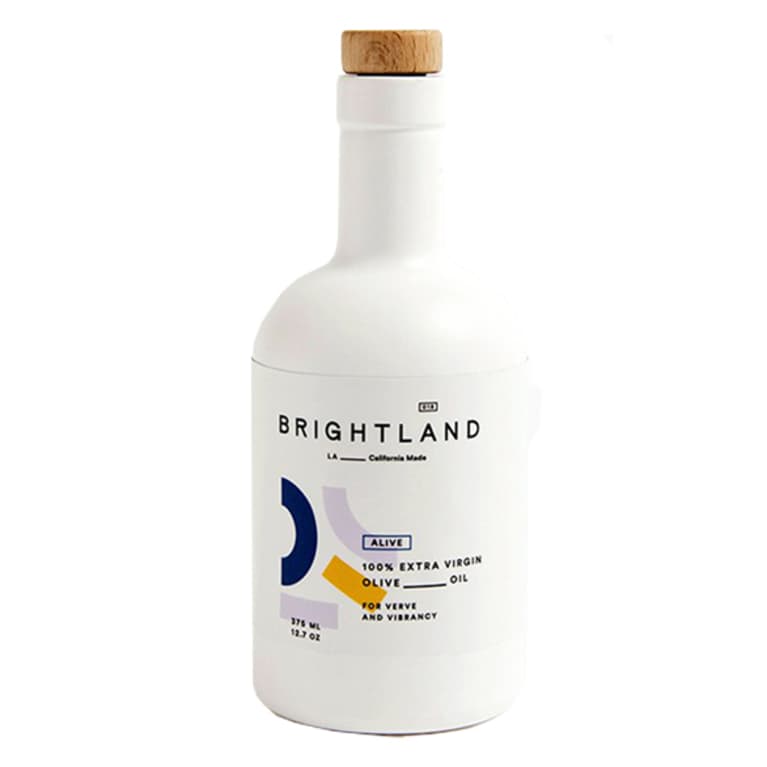 California Olive Ranch
This cold-pressed EVOO, which uses olives grown in California, is a go-to on my grocery list. It has a mild flavor, which makes it incredibly versatile for all kinds of cooking projects. I'm also a big fan of their limited release Olio Nuovo, made with Sikitita and Koroneiki olives.
Extra Virgin Olive Oil, California Olive Ranch ($11)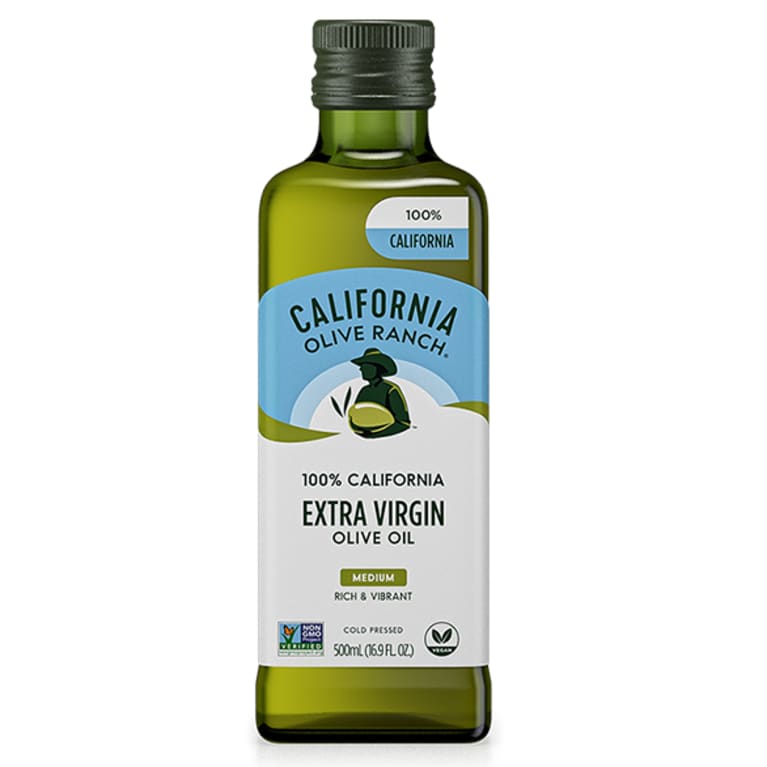 California Olive Ranch
Primal Kitchen
Primal Kitchen makes so many nutritious products we love at mbg, and their olive oil is no exception. The tasty blend of olives was personally selected by founder Mark Sisson—and we love that it's USDA-certified organic and Non-GMO Project Verified.
Organic Extra Virgin Olive Oil, Primal Kitchen ($11)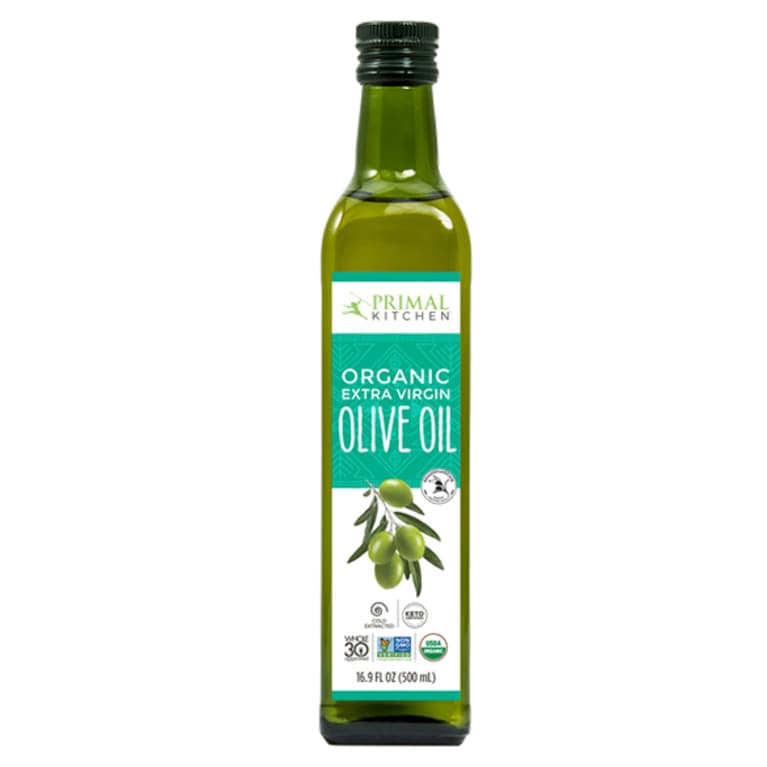 Manni
Manni offers a wide selection of high-quality olive oils (including the Grand Cru variety we featured in our mbg food gift guide this year). This option from the Olive Oil of Life collection has a rich flavor, which makes it delicious to drizzle on just about anything. Plus, I love that this bottle is made with 99.99% UV-ray-resistant glass to protect the EVOO.
The Oil of Life Organic Extra Virgin Olive Oil, Manni ($45)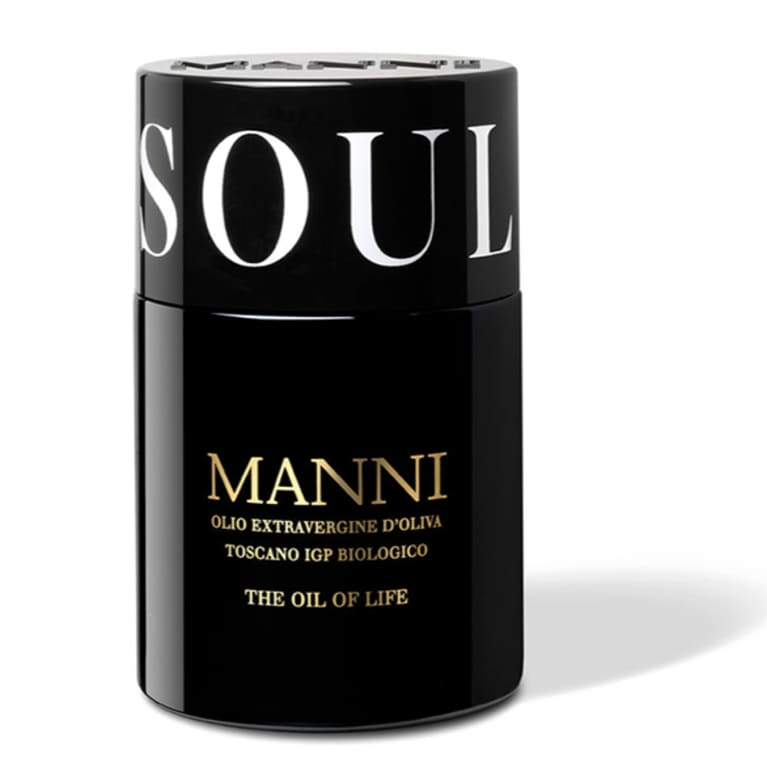 Cobram Estates
Whether you're buying this California Select bottle or one of their more standard offerings, Cobram Estates is a great go-to olive oil to snag at your local supermarket. Not only are their cold-pressed EVOOs great for cooking, but the Sacramento-sourced brand has also won multiple awards for their top-notch taste.
California Select Extra Virgin Olive Oil, Cobram Estates ($15)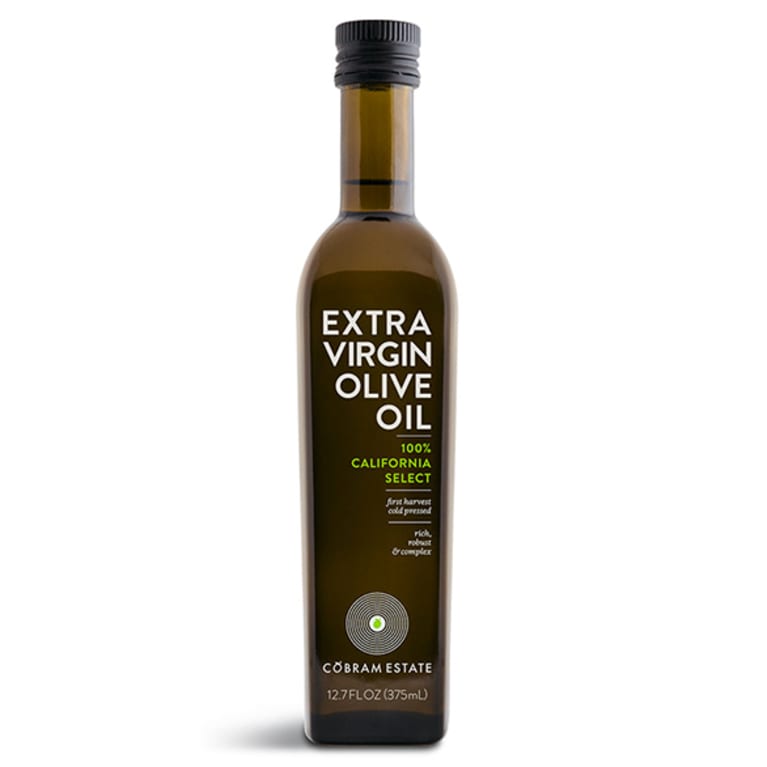 kyoord
Yes, this bottle is gorgeous to look at, but it's what's inside the bottle that we really love. Made in Corfu, Greece—with Lianolia and Koroneiki olives from a small family farm—this delicious olive oil is flavorful yet subtle enough for any dish.
High-Phenolic Olive Oil, kyoord ($49)