A Chef's Kitchen-Inspired Beauty Treatments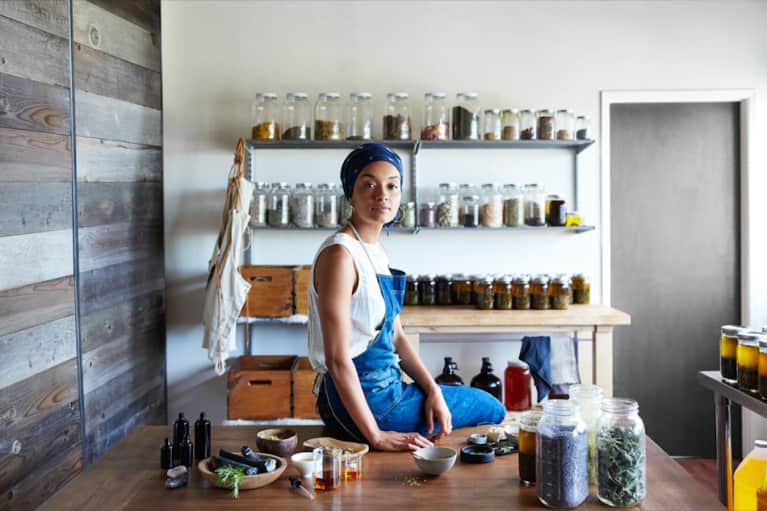 As a former full-time chef, I spent so much time in the restaurant kitchen that I did other things there besides just eat and cook food. I was able to turn my home away from home into a sort of mad scientist's food and beauty lab, where I concocted some amazing remedies that I've sworn by over the years.
Remember: You are what you eat, but if you can't eat what you put on your skin, then chances are you shouldn't be using it. Check out my favorite kitchen beauty secrets below:
1. Your go-to breakfast ingredients also make for the best hand scrub.
As you can imagine, when I'm in the kitchen cooking for others or myself, for that matter, I'm constantly washing my hands, AND now that my hands are heat resistant (not kidding), I grab things with my bare hands all the time!
By now, my skin has gotten used to it, but when the cold weather comes along, they'll need an extra layer of love.
The killer remedy of all remedies is the combination of mashed avocado, which had loads of vitamin E and potassium; oats, which is great for scrubbing and moisturizing; rock salt, which acts as an exfoliator; and thick raw honey, which is anti-inflammatory and great for rejuvenating skin.
Apply to hands, let it sit for 10 minutes, and rinse off!
2. Grab any cooking oil, and you've got yourself a massage oil.
At the end of a shift, I would always look down to see that my legs had gotten very swollen. Most nights I would grab a little olive oil or any oil from the collection we had, go into the bathroom, and massage my legs, especially my calves to get my circulation going and to help with inflammation.
It was a game-changer. Then when I'd get home, I'd either put my legs up against the wall or take a bath in Epsom salt.
3. Make your own turmeric tonic.
If you have a pretty well-stocked spice cabinet, then you should have no problem making up your own elixir, instead of spending $5 on one.
As much as I'd always want to embrace a glass of wine at the end of a Saturday night, I'd often opt for something a little bit more soothing that I knew would make me feel better (not groggy) the next day.
I'd oftentimes boil water with pieces of fresh ginger, a pinch of turmeric, cinnamon, cayenne, and a touch of maple syrup. Given the medicinal benefits of these spices, even if I felt tired, it helped me look less so on the days I needed to look my best.
4. Coffee keeps me going and glowing.
A cup of coffee (or two) was, and still is, my godsend in the morning. But at night, the leftover coffee grinds from all the Americanos, lattes, and cappuccinos basically turned into my end-of-the-night facial.
Combine the grinds with almond oil and massage directly onto your face for two minutes then rinse off. It would make me as good as new(ish).
5. Yogurt and honey are not just for eating anymore.
As much as I love my morning meal of Greek yogurt with honey, chia, toasted pumpkin seeds, and almonds, I also really like yogurt for its depuffing and moisturizing traits.
Just grab a little yogurt, put it under your eyes, and those dark circles that we love to hate are gone without a trace.