7 Shea Butter Products That Soothe & Moisturize From Head To Toe + Benefits

mbg Beauty & Wellness Editor
By Jamie Schneider
mbg Beauty & Wellness Editor
Jamie Schneider is the Beauty & Wellness Editor at mindbodygreen. She has a B.A. in Organizational Studies and English from the University of Michigan, and her work has appeared in Coveteur, The Chill Times, and Wyld Skincare.
March 18, 2022
Our editors have independently chosen the products listed on this page. If you purchase something mentioned in this article, we may
earn a small commission
.
Very few ingredients earn stalwart status in practically every beauty category—but the ones that can truly nurture the body from hair to toe? They tend to earn a mountain of praise, and rightfully so. Today, we're talking about what many consider the cashmere blanket of beauty: It coddles the skin, conditions the hair, and sinks in like an absolute dream.
In case you haven't guessed, welcome to the world of shea butter—an ingredient with a history just as rich as its creamy texture. Here, you'll find the best shea butter products you can get your hands on (and your arms, legs, scalp, strands, and elbows, while you're at it).
Advertisement
This ad is displayed using third party content and we do not control its accessibility features.
First, what is shea butter?
Shea butter is made from the fat extracted from the nuts of the Shea Tree, a plant native to West Africa (almost all of the shea butter used today still comes from this region). And while you can use it as a cooking butter—food-grade shea butter is still used for cooking today—it's currently most famous for its role in beauty, both in skin and hair care. In fact, scads of formulas rely on shea butter to offer extra-moisturizing, soothing, softening power; simply look for Butyrospermum Parkii on the label.
You can always opt for raw shea butter and use it in its natural form (we also explain how to DIY a whipped version down below), but chances are your favorite skin and hair care products include the famed ingredient, too. Our front-runners certainly do.
Advertisement
This ad is displayed using third party content and we do not control its accessibility features.
Best shea butter products
Best overall body lotion: mindbodygreen postbiotic body lotion
It's the Goldilocks of body lotions: richly hydrating, yet not too thick. Lush and spreadable, yet doesn't leave a greasy film. Filled with classic, powerful moisturizers (like aloe vera, coconut oil, and, of course, shea butter), and new-generation actives (like pre- and postbiotics) to soothe inflammation and protect the skin from environmental stressors. We could go on and on about the all-star lineup, but we'll let the glowing reviews speak for themselves.
postbiotic body lotion, mindbodygreen ($30)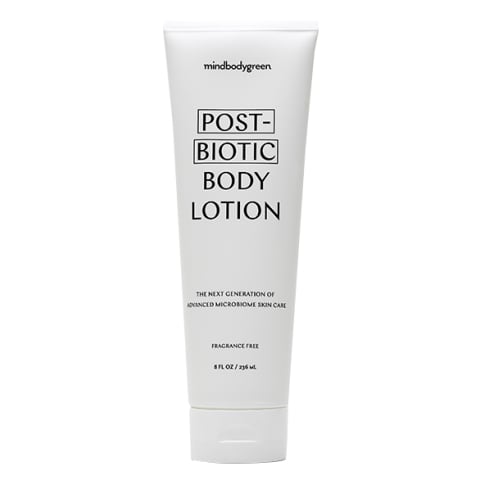 mindbodygreen
Advertisement
This ad is displayed using third party content and we do not control its accessibility features.
Best for hair: Miss Jessie's Baby Buttermilk
If you're looking for a rich hair moisturizer that won't weigh down curls, here she is. This buttermilk (infused with glycerin, castor oil, wheat germ oil, and shea butter) absorbs quickly and plumps the strands with hydration. No greasy residue here—just springy, defined, juicy curls.
Baby Buttermilk, Miss Jessie's ($14)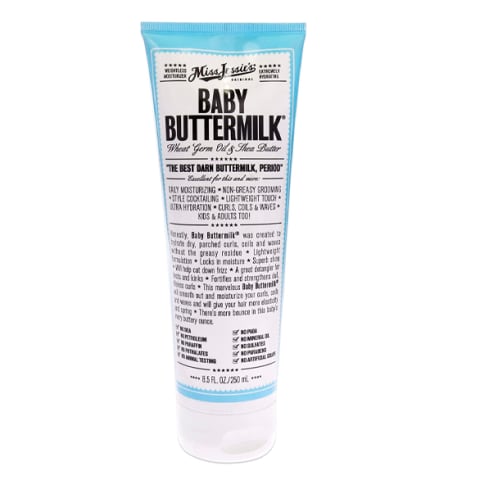 Miss Jessie's
Best organic: SheaMoisture 100% Raw Shea Butter
You can never go wrong with 100% raw shea butter. If you're looking for a single-ingredient butter to slather on, this is one of the simplest options you can find. The shea butter is certified organic and fair trade, and it's ethically sourced from women's cooperatives in northern Ghana. Take a small scoop (a little goes a long way), warm it up in your hands, and slather on from head to toe.
100% Raw Shea Butter, SheaMoisture ($15.99)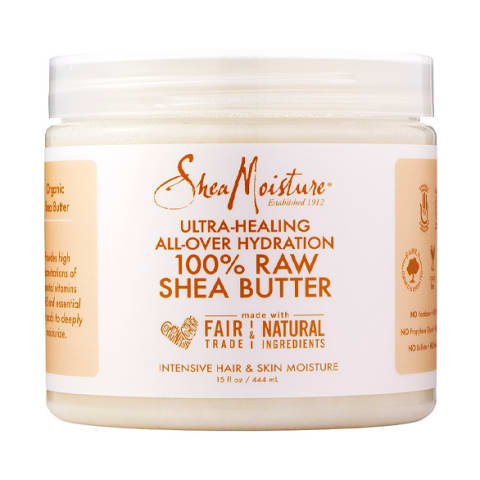 SheaMoisture
Best for crepey skin: African Botanics Intense Skin Repair Balm
To prevent that thin, fragile appearance, you'll want to keep the skin aptly moisturized, promote cell turnover, and protect against free-radical damage. This balm trumps on all three fronts: Along with shea and mango seed butters to deeply hydrate, it includes retinol to stimulate cell turnover and collagen production, CoQ10 to promote skin rejuvenation, resveratrol for photoprotection, and niacinamide to visibly even tone.
Intense Skin Repair Balm, African Botanics ($160)
African Botanics
Advertisement
This ad is displayed using third party content and we do not control its accessibility features.
Best for dry skin: 54 Thrones African Beauty Butter
This hand and body butter is capital-T Thick, perfect for cracked elbows, heels, and calluses. It includes two types of shea butter for intense hydration, as well as a cocktail of nourishing oils for an extra dose of fatty acids. Plus, each scent is inspired by the unique aromas of different African countries—like, for example, this Kenyan hibiscus and Moroccan rose—which pays homage to the cultural significance of this star ingredient.
African Beauty Butter, 54 Thrones ($24)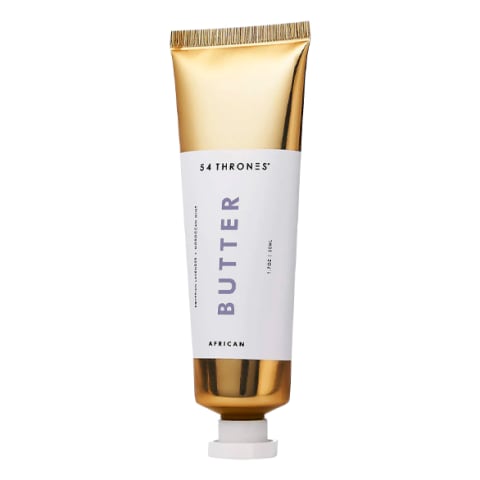 54 Thrones
Best scent: Eu'Genia Everyday Strength
With a hint of grapefruit essential oil (or lavender, depending on which option you choose), this body cream lends quite the lavish experience. It's a bit more spreadable than your standard shea butter offerings, as it includes extra shea oil, moringa oil, and baobab oil to thin out the consistency a bit. Not to mention, it also comes in the most beautiful little tin—a lovely detail that doesn't go unnoticed.
Everyday Strength, Eu'Genia ($15)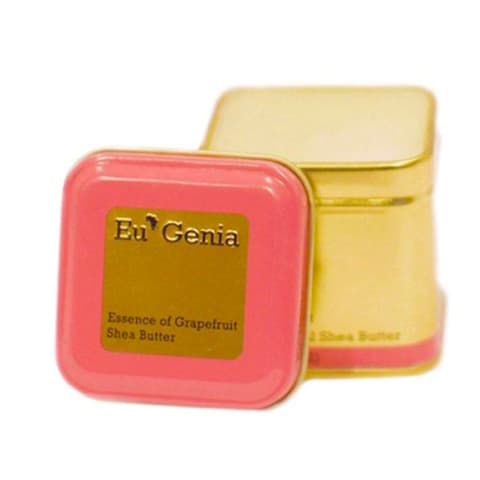 Eu'Genia
Best for evening use: cocokind skin butter
As if shea butter couldn't get more soothing: This number infuses the balm with lavender for an even dreamier experience. It makes an especially great nighttime moisturizer, if I do say so myself; if you're also partial to evening showers, this four-ingredient butter will calm your senses and help prepare you for bed. Plus, it's incredibly thick, so it will surely lock in moisture all night long.
skin butter, cocokind ($15)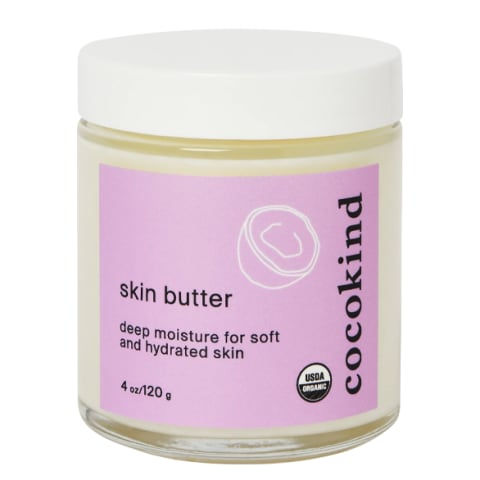 cocokind
Advertisement
This ad is displayed using third party content and we do not control its accessibility features.
Benefits of shea butter.
Hydrates & softens skin: Shea butter is rich in triglycerides, fatty acids, and vitamins—all components of a quality skin hydrator. And thanks to the types of fatty acids it contains (namely linoleic acid and oleic acid), it tends to be nongreasy and easily absorbed. Plus, it's an excellent emollient, which means it can soften the skin and fill in microcracks—that emollient status is also what gives shea butter its nourishing, oh-so-luxurious feel.
Protects the skin barrier: Shea butter has also been shown to seal moisture into the skin and protect the skin barrier1. One study even suggests it has similar topical effects as ceramides2—or the polar lipids naturally found in your epidermis that are responsible for sealing your skin barrier.
Moisturizes hair: It has long been a staple for those with curly, coily, and kinky hair, specifically as a conditioner or hair treatment. "Shea butter is great for adding moisture to the hair as it's infused with vitamins and fatty acids that keep hair strong," says hairstylist Miko Branch, founder of Miss Jessie's. That said, it makes a wonderful hair mask, split-end mender, moisture sealant, and even a natural heat protectant.
Supports healthy skin aging: Studies have shown that shea butter improves the look of aging skin. The ingredient is also high in vitamin E, a potent and oil-soluble antioxidant that can help fight free-radical damage and oxidative stress—thus keeping the skin supple and youthful over time.
DIY whipped shea butter. 
If you're not into market options, you can easily make your own vat of shea butter at home. In its natural state, it will harden to a solid—you'll need to warm it in your hands to melt it into a liquid, like you might do with coconut oil. Or you can DIY a whipped-up version: Here's a good basic recipe for beginners.
Take your raw shea butter (unrefined or refined are fine) like this option from Atharva. Place it in a medium metal bowl.
In a large pot, bring water to a boil. Place your bowl of shea butter onto the pot so the shea is heated from the steam of the boiling water.
Once melted, remove from the pot, and add a generous tablespoon scoop of coconut oil. You can play around with proportions.
Using a stand mixer—yes like you might with cooking—begin whipping the mixture together. You can take this process five minutes at a time, checking the consistency throughout. Eventually, after about 15 to 20 minutes of this, you'll get a light, fluffy consistency.
Store your butter in a cool, dark place.
mbg's review process.
At mbg, high standards are earned—and there are no shortcuts. Our beauty editors stay up to date on the latest ingredient research and innovation. It's a dynamic, continuously evolving space, and it's important we look into the science so we can make informed choices about which formulas earn our stamp of approval (figuratively speaking).
Our high standards also come from testing products—many, many products. Our editors and writers rigorously test and research the products featured in our roundups to offer you the best, most informed recommendations. When we write reviews, you can trust we spend quality time with the formulas: We don't simply rave about products we've slathered on the back of our hand. We endorse products we've tried and loved.
Learn more about our testing process and clean beauty standards here.
The takeaway.
Shea butter is a multiuse ingredient with a long, rich cultural history. Chances are most of your skin and hair care formulas already include the famed moisturizer, but if you're looking for the best shea-butter-infused products to smooth on, these recs have you covered. Of course, your application methods matter just as much as the products you choose: So after you secure your lineup, check out our guides to deeply hydrate your skin and hair.