Nurture Your Body *And* The Planet With These Sustainable Supplements

mbg Supplement Editor
By Morgan Chamberlain
mbg Supplement Editor
Morgan Chamberlain is a supplement editor at mindbodygreen. She graduated from Syracuse University with a Bachelor of Science degree in magazine journalism and a minor in nutrition.

Expert review by
Ashley Jordan Ferira, Ph.D., RDN
mbg Vice President of Scientific Affairs
Ashley Jordan Ferira, Ph.D., RDN is Vice President of Scientific Affairs at mindbodygreen. She received her bachelor's degree in Biological Basis of Behavior from the University of Pennsylvania and Ph.D. in Foods and Nutrition from the University of Georgia.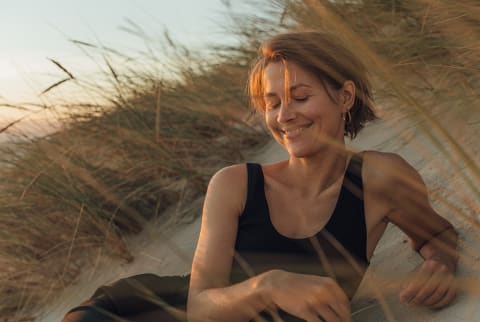 Image by Olga Moreira / Stocksy
April 29, 2022
As inhabitants of this planet, we believe we have a responsibility to live our lives in the most sustainable way possible for the health and well-being of ourselves, the Earth, and future generations. Whether you're supporting a local farm that uses regenerative farming practices, investing in higher-quality sustainable clothing pieces, or actively trying to cut down on food waste, the small choices you make have a lasting impact on the environment.
One way we're doing our part is by carefully selecting our supplement ingredients with Mama Earth in mind. At mbg, we're committed to partnering with environmentally driven vendors that invest in the health of the planet by implementing sustainable practices.
If you, too, care about how your wellness products affect the environment, read on to learn about just a few of the many superstar ingredients featured in our sustainable supplements!
Organic algal oil
In most supplements, vitamin D3 is derived from lanolin, a yellow fat that's found in sheep's wool. While no sheep are harmed in the extraction process, and lanolin is a nutritionally viable and quality source of vitamin D, it isn't vegan (if that's your nutrition pattern of choice).
We created our ultimate multivitamin+ so that adults of all genders and ages can get the micronutrients they need on a daily basis, even if they're strictly plant-based. With vitamin D sourced from sustainable, organic algae, vegans and omnivores alike can enjoy premium D3 at a useful multivitamin dose of 2,000 IU.
For those in need of more vitamin D (i.e., most of us), this high-potency multi is a power play for our nutritional needs—especially vegans! (Not to mention the other 32 vegan vitamins, minerals, and longevity botanical bioactives.)
Organic virgin olive oil
This high-potency formula (5,000 IU, to be exact) addresses the formidable vitamin D deficiency and insufficiency issues in our country (which affect 29% and 41% of U.S. adults2, respectively) while also taking the planet's health into account.*
The organic extra-virgin olive oil is cold-pressed and cultivated using sustainable methods, which adds a nice eco-friendly touch to this already environmentally savvy supplement.
Wild-caught, cold-water anchovy
When we started developing our omega-3 supplement, we were shocked to find the lack of sustainability in the fish oil market. There are many fish oil supplements out there that not only support reckless fishing practices that deplete our marine resources but also fail to preserve the purity and freshness of their fish oil, leading the way to oxidation, rancidity (ew), and a less-than-optimal impact on our physiology.
That's why we're incredibly proud of omega-3 potency+ and its environmentally friendly practices that reach from sea to softgel. Our premium fish oil is sustainably sourced and manufactured from wild-caught, cold-water anchovies from the South Pacific (Chile, specifically).
But don't just take our word for it! The fishery source, fish species, origin, and overall sustainability of our fish oil is certified by ORIVO, a third-party authentication that verifies origin, purity, and traceability (and is rarely granted to U.S. brands) via advanced fingerprinting technology developed in Norway.
Eco-farmed ashwagandha & hemp
mindbodygreen's calm+ supplement features eco-farmed ingredients that prioritize the planet. Eco-farming practices respect nature and biodiversity by growing crops without the use of pesticides, herbicides (e.g., glyphosate), or other chemicals that can negatively affect our health and the environment.
Hemp is a bioaccumulator (i.e., it absorbs material from the soil it grows in), so understanding where your hemp products are sourced from is absolutely vital. The USDA- and EU-certified organic hemp oil in calm+ is sustainably and ethically produced from premium heritage European hemp on a multigenerational family farm in Poland. The eco-sustainable cultivation practices at this legacy farm ensure the highest eco-farming standards.
The non-GMO ashwagandha in our stress (less) supplement formula is also sustainably grown and harvested on family-owned farms in India. Including roots and leaves reduces plant waste, solar power and minimal water consumption reduce the carbon footprint, and a clean and green extraction process using only water and ethanol ensures that our ashwagandha is the best for you and the environment.
For plant-powered, eco-friendly relaxation, check out the formula and why mbg's own vice president of scientific affairs leverages this supplement's mood-hacking actions to improve her stress resilience and usher in a sense of calm.*
The bottom line.
Consider the line of mindbodygreen supplements a love letter to Mama Earth, nature, and all of the incredible plants that we use to fuel and nurture our bodies on a daily basis. Whether you're doing your part for the environment in your supplement ritual or in other areas of your life, we're grateful for your efforts toward creating a healthier world.
If you are pregnant, breastfeeding, or taking medications, consult with your doctor before starting a supplement routine. It is always optimal to consult with a health care provider when considering what supplements are right for you.

Morgan Chamberlain
mbg Supplement Editor
Morgan Chamberlain is a supplement editor at mindbodygreen. She graduated from Syracuse University with a Bachelor of Science degree in magazine journalism and a minor in nutrition. Chamberlain believes in taking small steps to improve your well-being—whether that means eating more plant-based foods, checking in with a therapist weekly, or spending quality time with your closest friends. When she isn't typing away furiously at her keyboard, you can find her cooking in the kitchen, hanging outside, or doing a vinyasa flow.