The 21 Best Omega-3 Supplements For Getting Your Healthy Fat Fix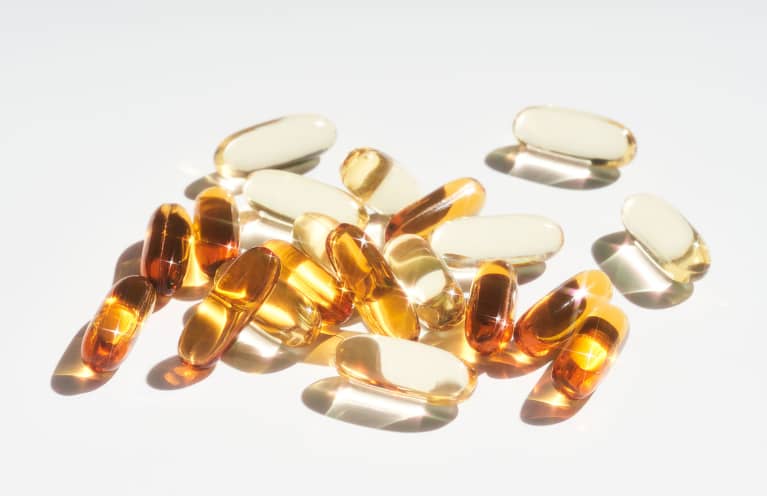 Our editors have independently chosen the products listed on this page. If you purchase something mentioned in this article, we may
earn a small commission
.
Last updated on January 11, 2022
Our Favorite Omega-3 Supplements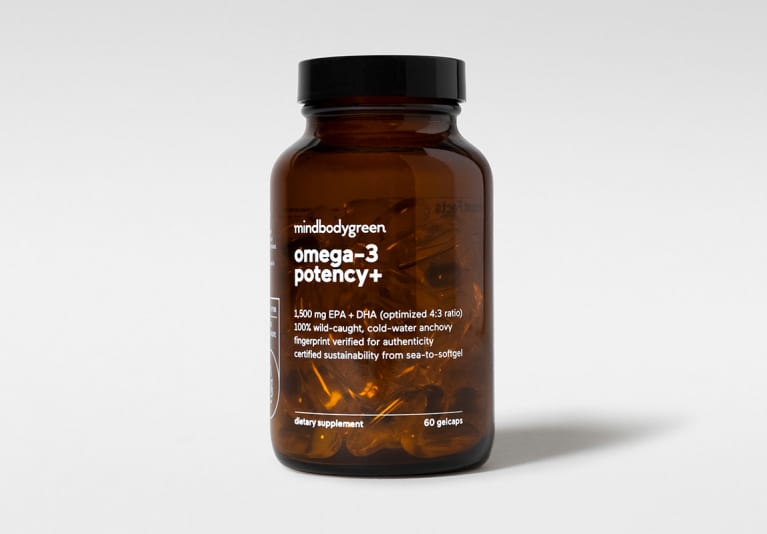 Best overall: mbg omega-3 potency+
$60
Delivering pure fish oil from 100% wild-caught, cold-water anchovies from the South Pacific, omega-3 potency+ is sustainable from sea to softgel. Set apart from the crowd by its potency (1.5 grams of EPA plus DHA) and third-party ORIVO certification that authenticates the fish species and origin, this new-school fish oil supplement prioritizes quality, purity, sustainability, and transparency at every step. In addition to the 1,500 milligrams of EPA and DHA in their most bioavailable triglyceride form, you'll enjoy an infusion of organic lemon oil and rosemary for fresh taste. When it comes to fish oil supplements, this is about as clean, innovative, and potent as it gets.*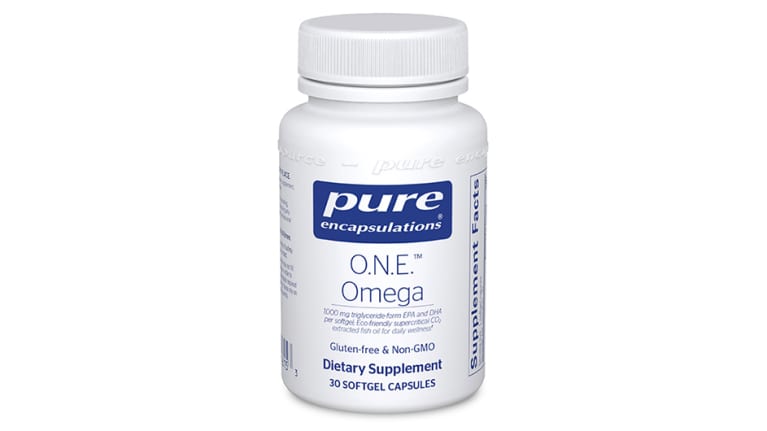 Best for newbies: Pure Encapsulations O.N.E. Omega
$35.3
If you're just dipping your toe into starting an omega-3 supplement routine, this option from Pure Encapsulations is a great place to start. Just one softgel provides 1,000 milligrams of EPA and DHA—though it's worth noting that its omegas come from a variety of sources, including anchovies, jack, herring, smelt, salmon, mackerel, and squid. The list of "other ingredients" is short and sweet—and the supplement uses tocopherols (different sources of vitamin E) to promote freshness.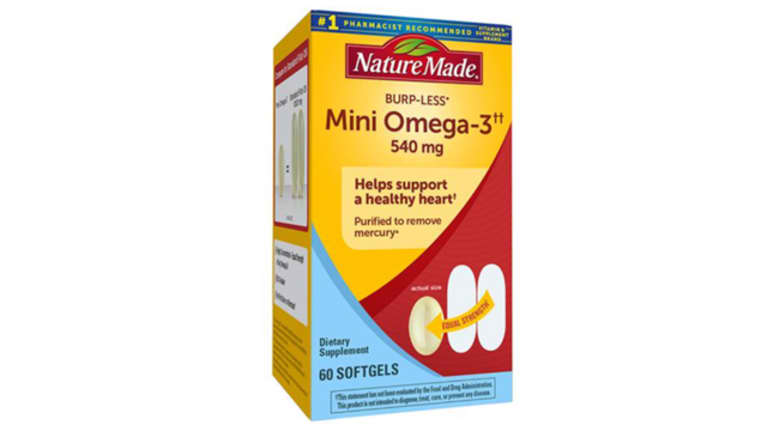 Best budget: Nature Made Burp-Less Mini Omega-3
$16.39
If you're on a budget, look no further. In addition to being a cost-effective omega-3 supplement option, Nature Made's Burp-Less Mini Omega-3 is coated (so you'll find a slightly longer ingredient list) to ensure it travels far enough into your system before breaking down to prevent those dreaded fish burps and comes in small softgels that are easy for even the most pill-averse to swallow. Each mini softgel provides 500 milligrams of EPA and DHA, so don't underestimate their small size.*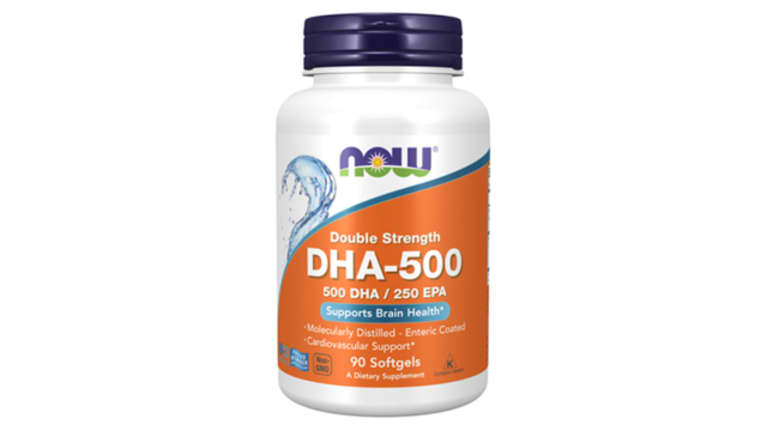 Best fish burp-free: NOW Foods Double Strength DHA-500
$47.99
Another solid supplement for anyone who tends to get fish burps after popping fish oil, these soft gels are also coated (with what's known in the industry as an enteric coating) to help them get further into your digestive system before starting to open up. With a distinct DHA slant, these double-strength softgels contain 500 milligrams of DHA and 250 milligrams of EPA a piece, sourced from anchovies, sardines, and tuna. Enteric coating comes with its perks (but fyi, a longer excipient list, too).*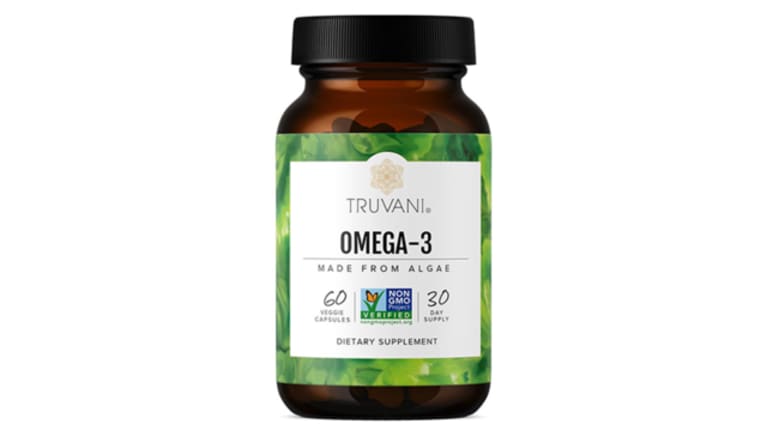 Best vegan: Truvani Omega-3 from Algae
$34.99
If you follow a strict vegan or no-fish vegetarian diet, you've probably wondered how you can get your omega-3 fix in a fish-free way. Made from marine algal oil (which, yes, is exactly how fish get their omega-3s), Truvani's plant-based supplement is heavily skewed on the DHA front, packing 500 milligrams of DHA (but no EPA, mind you) and is both certified gluten-free and non-GMO. The capsule is made out of vegetable cellulose and chlorophyll, while tocopherols keep things fresh and organic lemon oil ensures zero pond scum flavor.*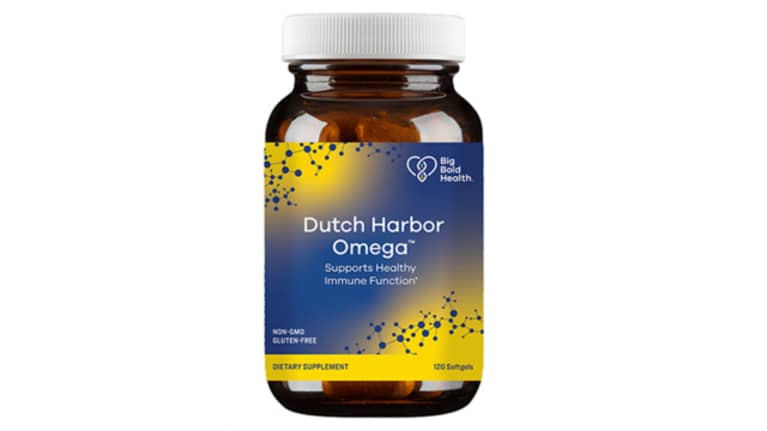 Best cod liver oil: Big Bold Health Dutch Harbor Omega
$46.75
Made from line-caught Alaskan cod that's flash frozen to maintain as much nutrition as possible, Dutch Harbor Omega features a spectrum of omega-3 fatty acids, including EPA and DHA. The formula also provides unique bioactive omega-3 derived lipid compounds known as pro-resolving mediators. It also delivers naturally-occurring vitamins A and D. The supplement is made in a fishery certified by the Marine Stewardship Council for sustainability and has a flavor just as pleasant as its production process. Every two-softgel serving offers 400 milligrams of EPA and DHA.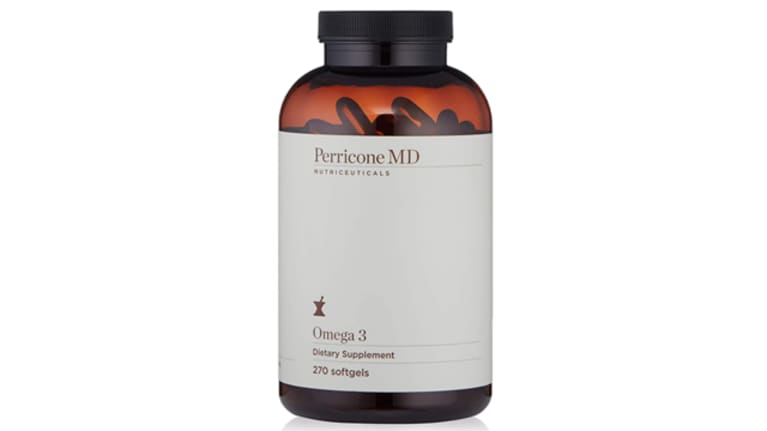 Best Alaskan salmon oil: Perricone MD Omega 3
$96
The 690 milligrams of omega-3s (i.e., 525 milligrams of the EPA and DHA duo) you get in each three-softgel serving of Perricone MD's fish oil supplement are derived from wild Alaskan salmon. Otherwise, this formula keeps things super simple, containing just fish gelatin, glycerin, purified water, and natural lemon flavor. While it offers a lower potency of omega-3s per softgel than some other options, its high-quality source and simple formulation make it a good go-to for those who don't mind swallowing an extra supplement or two.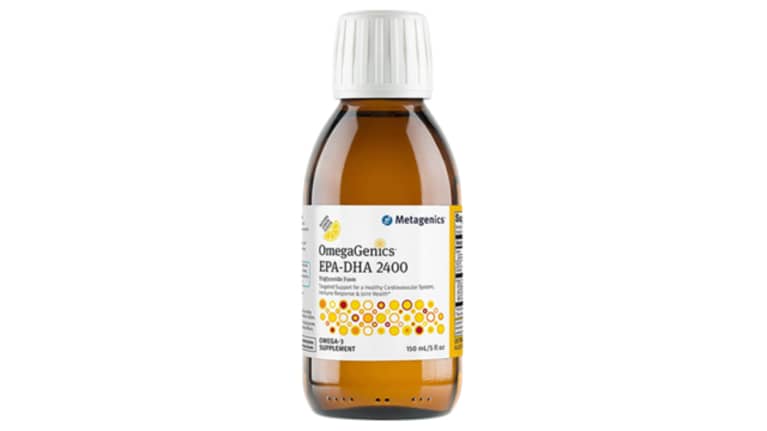 Best liquid fish oil: Metagenics OmegaGenics EPA-DHA 2400
$59.8
If swallowing softgels just isn't for you, OmegaGenics is one of the most pleasant liquid fish oils you can slurp down. (You can thank the natural lemon flavor for that.) Every teaspoon packs in the good stuff, offering 1,410 milligrams of EPA and 990 milligrams of DHA, plus 400 milligrams of other omega-3s, all in their highly absorbable triglyceride form. Metagenics sources their cold-water fish (anchovies, sardines, and mackerel) from fisheries who use sustainable practices and has the product third-party tested for purity, freshness, and potency.*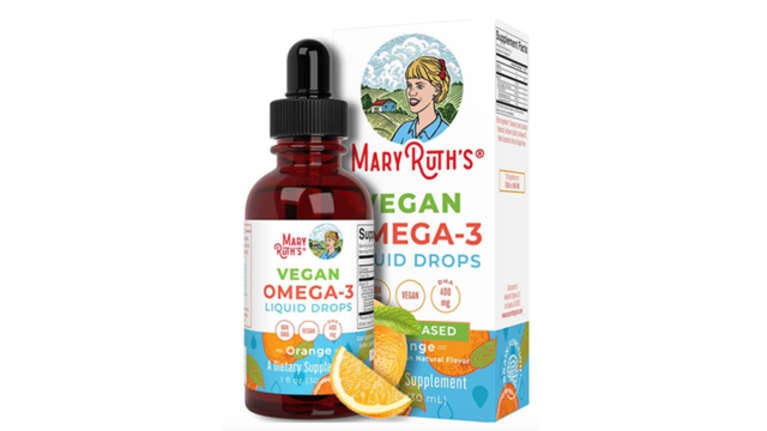 Best liquid drops: Mary Ruth's Vegan Omega-3 Liquid Drops
$24.95
If you're looking for a liquid omega-3 supplement that also happens to be fish free, your options are pretty limited. Luckily, Mary Ruth's orange-flavored liquid drops, which contain 400 milligrams of DHA (but only 4 milligrams of EPA) sourced from sustainable algal oil, make maintaining a consistent and plant-based routine possible. Yes, you will need to take 30 drops to get that one-milliliter serving, but Mary Ruth's promises you'll enjoy the flavor enough not to mind.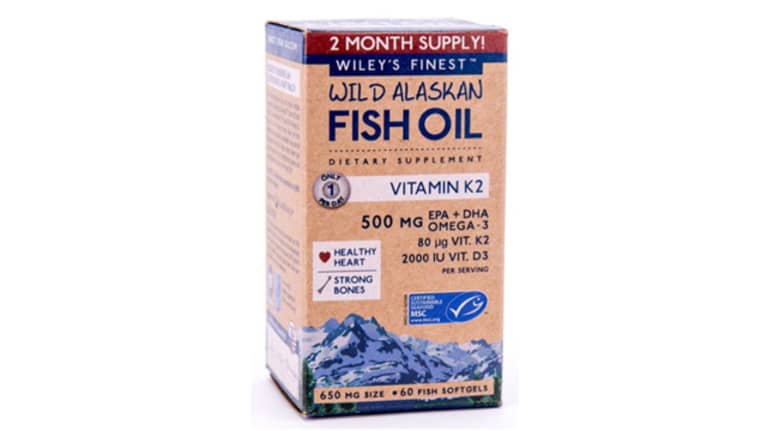 Best for heart: Wiley's Finest Wild Alaskan Fish Oil
$41.99
In addition to 375 milligrams of EPA and 125 milligrams of DHA sourced from wild Alaskan pollock, this formula provides 2,000 IU of vitamin D3 along with 80 micrograms of vitamin K2 in its bioavailable MK-7 form to support both bone and heart health. It's also certified sustainable. Just note that since the omega-3s in this product are in ethyl ester form, you'll want to take your supplement with a meal that contains some fat (or soon after one) in order to optimize absorption.*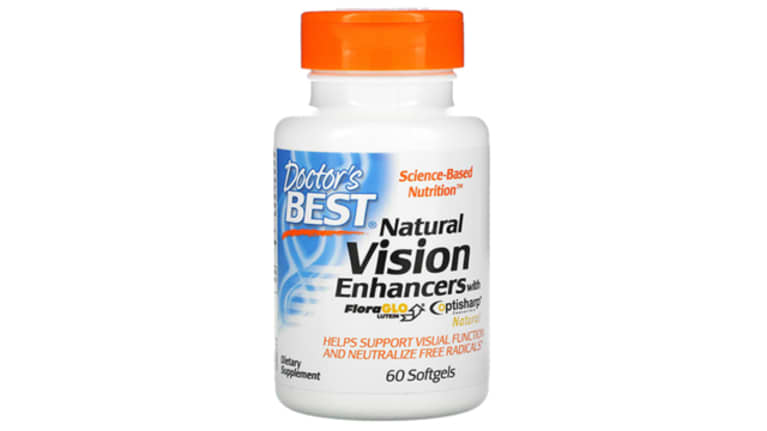 Best for vision: Doctor's Best Natural Vision Enhancers
$15.74
You've probably heard that omega-3 fatty acids play a notable role in supporting eye health and function—and Natural Vision Enhancers from Doctor's Best combines them with other nutrients known for keeping your peepers in tip-top shape. Every serving provides 245 milligrams of EPA and DHA, plus 20 milligrams lutein and 4 milligrams of zeaxanthin, two antioxidant carotenoids that support healthy vision. It's a good one to try if you want to both up your daily intake of these good-for-you fats and show your hard-working eyes some extra love.*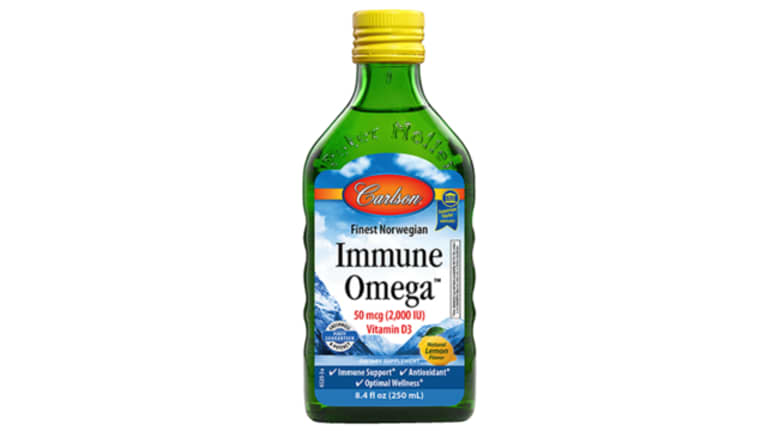 Best for immune health: Carlson Finest Norwegian Immune Omega
$26.2
If you're willing to take a liquid supplement, Carlson's lemon-flavored fish oil (which is sourced from Norwegian cod liver oil) packs a one-two punch for your immune system. First, there's the impressive 900 milligrams of EPA and DHA; then, there's the 2,000 I.U. of vitamin D3, as well as some vitamins A and E—all of which have roles to play in promoting optimal immune function. And that's all in a single teaspoon. Processed and purified in a highly regulated Norwegian facility, Carlson's fish oil doesn't mess around when it comes to quality.*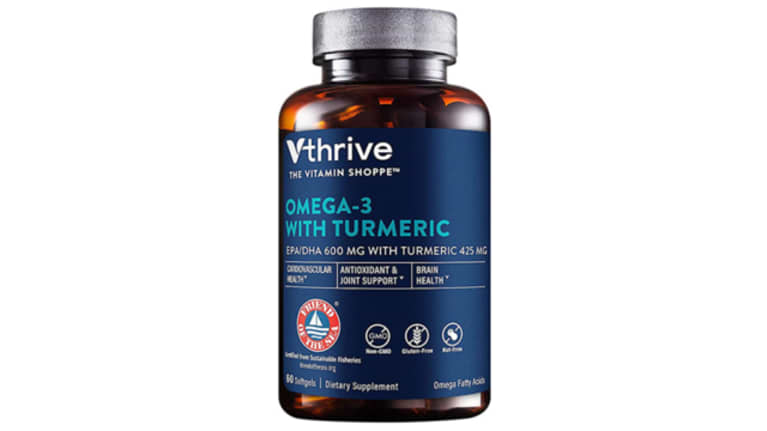 Best for joint support: Vthrive by The Vitamin Shoppe Omega-3 with Turmeric
$27.99
This Friend of the Sea-certified option focuses its efforts on supporting your joints by pairing 600 milligrams of EPA and DHA from anchovy oil with 425 milligrams of turmeric root extract (which is standardized to 95% curcuminoids, the powerhouse antioxidant phytonutrients found in the golden root). Mixed tocopherols keep things fresh—and clean supplement seekers will be pleased to see a short and easy-to-pronounce list of "other ingredients."*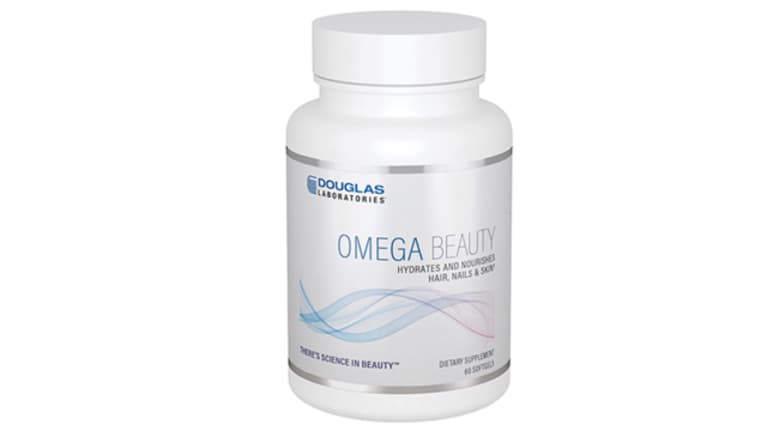 Best for hair, skin, and nails: Douglas Laboratories Omega Beauty
$32.5
Omega Beauty isn't the most potent omega-3 supplement in the game (each serving offers 300 milligrams of EPA and DHA). However, the formula does combine its omega-3s with a number of beauty-centric nutrients that make it a worthwhile addition to the routines of beauty lovers, specifically a small amount of the carotenoid lycopene, plus vitamins C and E and black currant seed and coriander seed oils. The combination of important fatty acids and antioxidants makes this formula a good one for encouraging hydrated, healthy hair, skin, and nails.*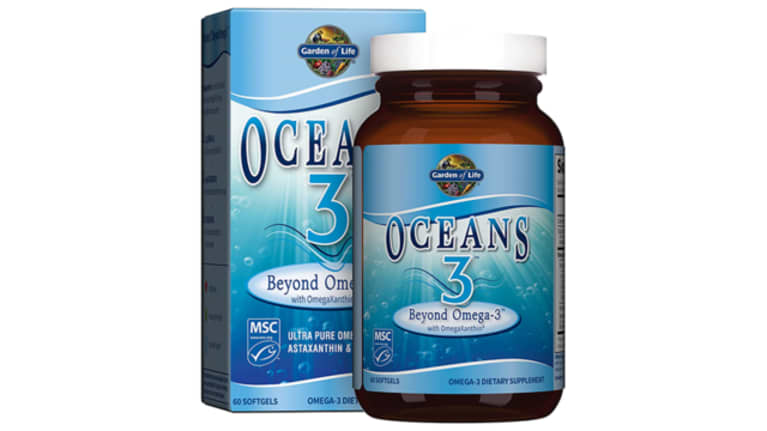 Best with astaxanthin: Garden of Life Oceans 3 Beyond Omega-3
$24.49
Wild-caught Alaskan pollock is carefully purified to give this Garden of Life supplement a concentrated punch of pure omega-3s (1,090 milligrams of EPA plus DHA per serving). And it doesn't stop there. Oceans 3 also contains the carotenoid antioxidants astaxanthin, which is derived from sea algae, and fucoxanthin, which is derived from brown seaweed. The softgels are also enhanced with a unique natural strawberry flavor so any burps will at least be sweet instead of stinky.*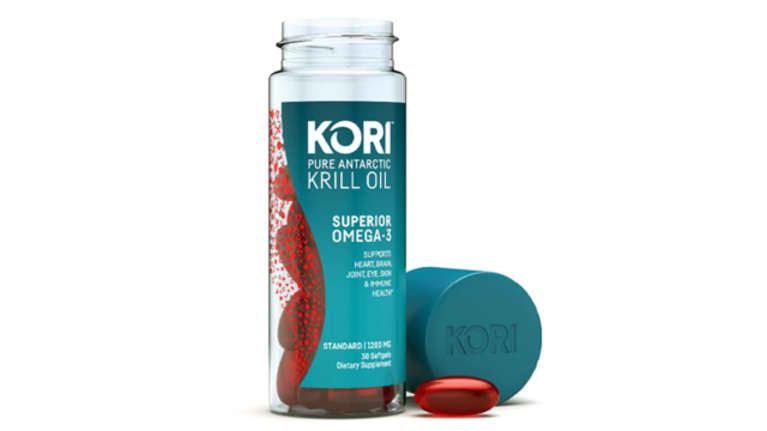 Best krill oil: Kori Krill Superior Omega-3
$22.99
Why should fish get all the fun? Krill are natural harvesters of the microalgae they eat, making them another viable marine source of omega-3 fatty acids EPA and DHA in addition to oily fish. The tiny, shrimp-like crustaceans (of note for folks with a shellfish allergy) used in Kori Krill Oil are wild-caught in Antarctic waters and processed immediately on the boat to preserve freshness. A naturally good source of choline, the krill in these capsules help support brain and nervous system health—and with no fishy aftertaste.*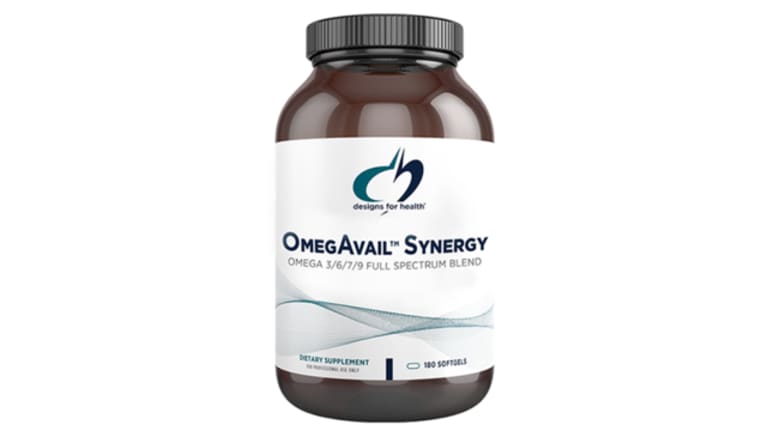 Best omega-3-6-7-9 spectrum: Designs for Health OmegAvail Synergy
$32.92
This full omega fats spectrum blend from Designs for Health contains Alaskan pollock fish oil (in triglyceride form) as well as borage oil and certified virgin organic macadamia oil (note, a tree nut) in order to offer omega-3s, 6s, 7s, and 9s. It's a truly unique formula that's molecularly distilled and filtered, as well as tested for contaminants. It also features the digestive enzyme lipase, which supports the breakdown of fat, to promote digestion (and help you avoid fish burps or aftertaste).*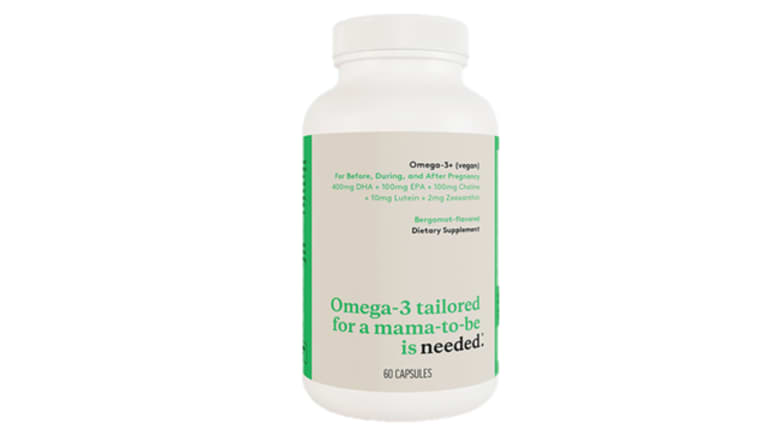 Best prenatal/postnatal omega-3: Needed Omega-3+ for Women
$49.99
Omega-3 fatty acids are crucial during and after pregnancy, in part because of their roles in baby's brain and eye development. This vegan formula by Needed packs in 500 milligrams of omega-3's (400 milligrams of DHA plus 100 milligrams of EPA) from algal oil, carotenoids lutein and zeaxanthin from marigolds, and choline, another must-have nutrient for women before, during, and after pregnancy. You'll enjoy the pleasant bergamot taste as much as you do the clean "other ingredients" list.*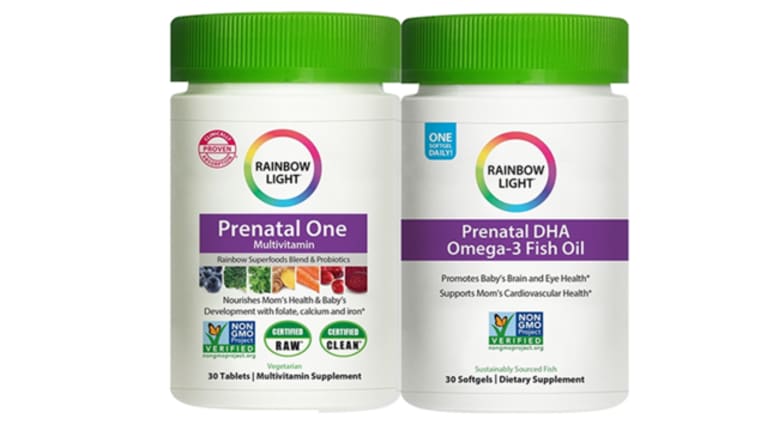 Best prenatal multi + omega-3 bundle: Rainbow Light Prenatal Daily Duo
$29.99
Fans of Rainbow Light's popular Prenatal One Multivitamin will appreciate the brand's Prenatal Daily Duo, which combines the multi with their Prenatal DHA Omega-3 Fish Oil (featuring 250 and 57 milligrams of DHA and EPA, respectively) ensure that women are well-stocked with essential nutrients and perinatal-important omega-3 fats. Formulated to be taken from pre-conception straight through the breastfeeding period, this duo makes it easy for moms-to-be and new moms to ensure they're nourishing their body with the goodness both they and baby need.*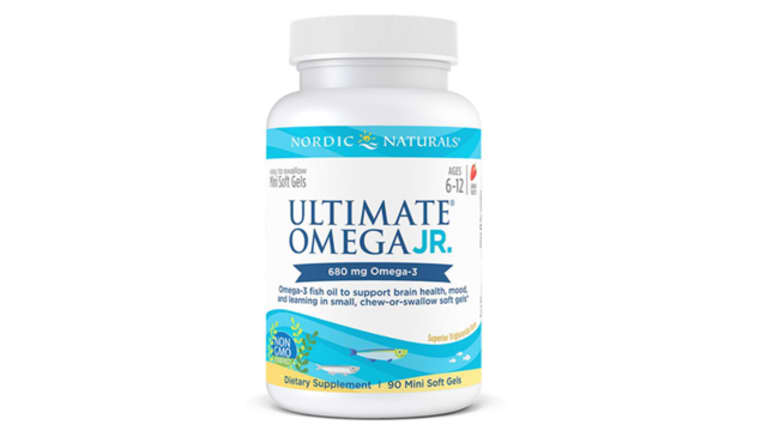 Best for kids: Nordic Naturals Ultimate Omega Junior
$29.95
Nordic Naturals is a big name in the world of fish oil—and their kids-specific Ultimate Omega Junior makes it easy (and tasty) for little tykes to get their omega-3s in. Flavored with natural strawberry and packaged into kid-friendly mini softgels, this certified sustainable supplement features predominantly triglyceride form omega-3s for easier absorption—and a substantial 585 milligrams of EPA and DHA omega-3s per serving (which is two itty-bitty softgels). Made from purified deep sea fish oil (sardines and anchovies), it's a great go-to for kids ages six through 12.*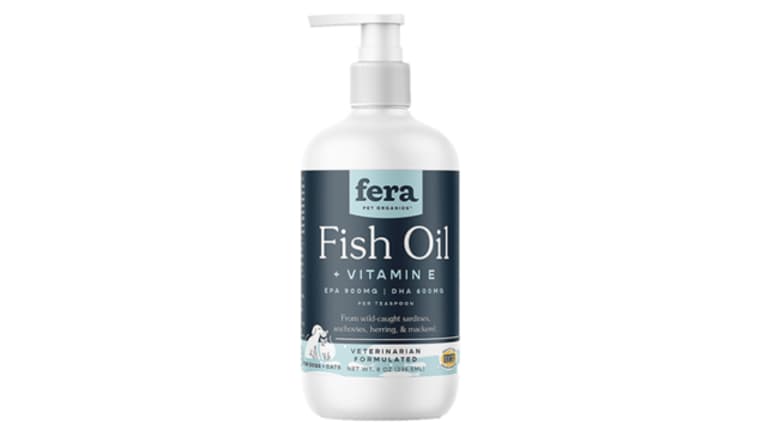 Best for pets: Fera Pet Organics Fish Oil + Vitamin E
$19.95
Yes, your furry friends need their omega-3s, too! In addition to a small amount of omega-6 and 9 fats, each teaspoon boasts 900 and 600 milligrams of omega-3 EPA and DHA, respectively, in their triglyceride form, sourced from wild-caught Icelandic mackerel, as well as herring, anchovies, and sardines. Fera Pet Organics offers your best friend nutritional support for healthy joints and a well-oiled cardiovascular system. Non-GMO vitamin E also offers an antioxidant boost. Simply squirt the oil into your pup's food and sit back and watch them gobble down the good stuff.
What to look for in a quality omega-3 supplement.
Wondering what it took to make this list of trusted supplement options? Each had to fulfill a number of important criteria addressing factors like sourcing, potency, and transparency.
Whether you want to better understand how we selected the supplements featured here or know what to consider when searching for another option on your own, mbg director of scientific affairs Ashley Jordan Ferira, Ph.D., RDN, recommends prioritizing the following:
The omega-3 fatty acids EPA and DHA, which are derived mostly from marine sources (and a few options from algae for strict vegans), are must-haves.
Whenever possible, it's important to choose a marine-based omega-3 supplement that features sustainably sourced, wild-caught, cold-water fish with a balanced amount of EPA-to-DHA fats. Algal oils are naturally skewed DHA-heavy (and are lacking on the EPA front), so that's a trade-off to consider.
When it comes to the form of those omega-3s, triglyceride is the most bioavailable per the science to date.* Ethyl ester products can also be worthwhile; just remember to take those supplements with a meal containing some fat for optimal absorption.*
We vetted and featured products with useful and clinically relevant levels (doses) of omega-3s. We're interested in the total milligram or gram amount of EPA plus DHA (again, the active ingredients) here instead of the total fish oil or omega-3 concentrate amount listed on labels, which can appear misleadingly high.
Most of the supplements spotlighted here deliver at least 500 milligrams of EPA and DHA, which is the minimum evidence-based recommendation per the Academy of Nutrition and Dietetics and other entities. It's the rough EPA plus DHA equivalent of two servings of oily fish consumed a week.
That said, many selections actually boast higher potencies, coming in at 1,000 milligrams and higher of combined EPA and DHA because the American Heart Association and collective science indicate greater cardioprotective and whole-body benefits at these 1 gram-plus levels.* (That's the omega-3 equivalent of eating a fish a day, by the way).
Reputable brands invest in the quality of their supplements, from the raw materials (the original fish or algal oil) to the finished product.
For fish oil, purity is of the utmost importance, so levels of heavy metals, dioxins, furans, and PCBs should be very low and competitive in the industry.
Low oxidation parameters are also important, since—as with any oil (including the olive oil you cook with)—rancidity can be an issue if quality-control parameters aren't top-notch. After all, fish oil isn't actually supposed to be fishy.
5.
Minimal "other Ingredients"
Omega-3 supplements with a lean list of "other ingredients" are ideal. We prefer plant-based antioxidants (such as rosemary) for natural preservation of fish oil, but tocopherols (vitamin E) are also often added for this purpose and are another good option.*
We also value products that limit or avoid unnecessary or synthetic fillers, dyes, flavors, and sweeteners.
In the case of mbg's omega-3 potency+, you'll find that organic lemon oil found its way into our ingredient list with intention. This infusion of citrus fruit allows you to enjoy all the benefits of fish oil minus the fishy aftertaste. We applaud other brands that also care about user experience since taste and fish burp are major deterrents reported by people who've unfortunately stopped taking their fish oil.
The benefits of taking an omega-3 supplement.
Despite well-known recommendations about eating fish regularly (again, the minimum is two 3.5-ounce servings of fish each week), very few people actually do so. More than 90% of Americans fail to hit this beginner's benchmark. Indeed, the average American adult only consumes about 86 milligrams of EPA plus DHA daily (and only about 1 ounce total of omega-3-rich fish per week).
A number of factors contribute to our lackluster fish consumption, from lack of access to fresh, quality seafood to concerns about sustainability to popular eating patterns such as veganism, suggesting that supplementing with those must-have omega-3s is likely a good idea for many of us.
Need more convincing? Research shows that omega-3s, particularly the EPA and DHA found in marine and algal sources, contribute to everything from cardiovascular health and cognition to healthy vision, perinatal support, joint mobility, and a well-balanced mood.* And that's not all, either; these healthy fats have also been linked to bone health as well as robust immunity—that's thanks to their widespread antioxidant and anti-inflammatory properties.* (We highlight more benefits here if you're curious.)
Unless you're consistently putting fish on your plate throughout the week every week, you're probably not getting in the amounts of EPA and DHA that have been linked with positive health perks.* Don't sweat it; you're far from the only one.
If you're not willing and able to up your intake of fatty fish, though, a high-quality omega-3 supplement is a simple addition to your daily routine that helps everything from your brain to your cardiovascular system to your bones get enough of these crucial fatty acids to function at their best.*
While this list captures our favorite options on the market, you can also use the criteria listed here to hunt for your own ideal omega-3 product. As always, don't hesitate to reach out to your health care practitioner if you're considering adding a new supplement to your regimen, especially if you take certain medications or have specific health goals in mind.