These 33 Healthy Lunch Recipes Are All The Meal-Prep Motivation You Need

Contributing Health & Nutrition Editor
By Stephanie Eckelkamp
Contributing Health & Nutrition Editor
Stephanie Eckelkamp is a writer and editor who has been working for leading health publications for the past 10 years. She received her B.S. in journalism from Syracuse University with a minor in nutrition.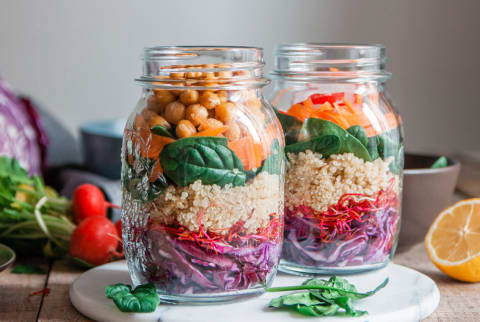 Image by Nataša Mandić / Stocksy
March 10, 2019
When it comes to packing a healthy work lunch, we all have really great intentions—promising ourselves we'll make the time to prep and portion food into cute individual glass containers for easy grab-and-go meals. But executing those intentions is another story.
Sometimes it's due to a lack of time or proper planning, and in those cases, creating a formula you can duplicate time after time can be beneficial, like this one that mbg Collective member Ellen Vora, M.D., recently shared with us: "My system for packing a lunch is the following: On Sundays, we cook in bulk. Then I distribute a combination of potatoes or plantains, some kind of meat like ground beef, and some kind of sautéed greens into five glass Pyrex containers. Then in the morning, I grab a container and put it in my bag."
Advertisement
This ad is displayed using third party content and we do not control its accessibility features.
But other times it's a general lack of inspiration. After all, if you don't have any tasty, simple lunch recipes in your arsenal, why would you be motivated to spend your time meal prepping them in the first place? A person can only take so many salads with grilled chicken!
So, to help you avoid palate burnout, think outside the box of what lunch should be, and prove that delicious healthy lunches are within your reach, we've compiled some of our absolute favorite healthy lunch recipes. There's a little something for everyone, from quick-to-assemble collard wraps to make-ahead slow-cooker stews you can eat all week.
1.
Turkey, Apple & Dijon Collard Wraps
In need of the simplest lunch ever that's still incredibly healthy? Collard wraps are your BFF. Collard greens are so gloriously large and rollable that they make the perfect bread and wrap replacement for sandwiches. For this recipe, load up leaves with turkey, apple slices, and Dijon.
2.
Sliced Veggies, Protein & a Grain
Another ultra-simple healthy lunch formula for when you're ultra-strapped for time is to simply combine veggies, some type of protein, and a grain. Pack sliced veggies like cucumbers or red bell pepper, a protein like roasted chickpeas or almond butter, whole-grain crackers, and a piece of fruit.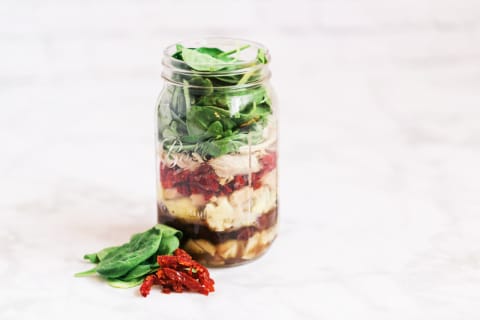 Advertisement
This ad is displayed using third party content and we do not control its accessibility features.
3.
Mason Jar Mediterranean Chicken Salad
This beauty has an abundance of veggies, significant amounts of protein from the roasted chicken and the cannellini beans, and good-for-you fiber from the artichokes and sun-dried tomatoes. Remember, add the dressing to the bottom first to eliminate a separate container for dressing.
This fresh-tasting soup is a bit exotic and will brighten up any humdrum workday. Light and refreshing yet filling and satisfying, it is great for a light lunch. Try it warm, at room temperature, or chilled. It's quick to assemble and won't be a burden to prep the night before.
Advertisement
This ad is displayed using third party content and we do not control its accessibility features.
5.
Quinoa Taco Salad & Chipotle Lime Dressing
Quinoa is one of the quickest grains to cook (it takes just 15 minutes!) and adds wonderful texture, along with protein and fiber, to salads. This quinoa taco salad features peppery arugula, roasted corn, pico de gallo, avocado, and tofu. But the best part about quinoa bowls (and salads and grain bowls in general)? You can mix and match ingredients based on what you have.
6.
Salad With Chicken, Eggs & Veggies
Chances are you're just not making your salads filling enough—use this healthy lunch idea as inspiration and ensure you are loading on plenty of quality protein and healthy fats to leave you satiated through your normal midafternoon slump.
Advertisement
This ad is displayed using third party content and we do not control its accessibility features.
7.
Loaded Greek-Style Quinoa Bowls
Quinoa bowls literally never get old—they're so incredibly customizable, whatever flavors you may be craving. Want to head to the Mediterranean coast? Try this Greek-style quinoa bowl packed with raw, easy-to-prep cucumbers, olives, tomatoes, feta, and tangy yogurt dressing.
8.
Vegan "Deviled" Avocados With Chickpea Filling
To avoid lunchtime palate fatigue, try something totally different (but still totally simple) like these chickpea-stuffed avocados featuring nutritional yeast, mustard, and paprika for a flavor and texture combo. It's loaded with healthy fats and protein to keep you full.
Advertisement
This ad is displayed using third party content and we do not control its accessibility features.
9.
Balsamic Chicken Salad Bowls
Isn't she a beauty? Think of this as your mixed greens with chicken salad—taken up about 10 flavor notches. The best part, this gorgeous quinoa bowl is packed with easy-to-prep ingredients that you probably already have at home, like cherry tomatoes, quinoa, chicken, and cheese.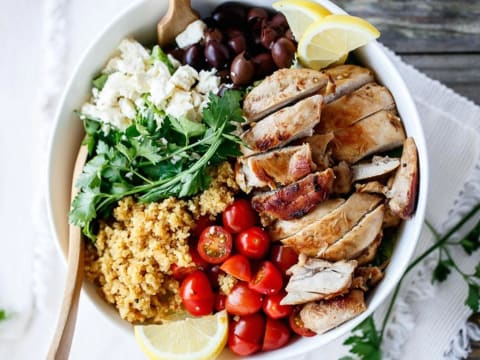 10.
Slow-Cooker Thai Beef Stew
So you're the make-ahead-meal type but need a little inspiration? We've got you. This slow-cooker beef stew can be made overnight, resulting in perfectly tender, melt-in-your-mouth beef. All you need to do in the a.m. is add it to a container with some bagged cauliflower rice.
11.
Healing Slow-Cooker Lamb & Thyme Soup
Craving comfort food? This slow-cooker soup featuring turmeric, thyme, sweet potatoes, and lamb tastes totally decadent yet is brimming with antioxidant-packed spices and veggies. Set it and forget it overnight in your slow cooker and wake up to something heavenly.
12.
Roasted Butternut Squash Harvest Quinoa Bowl
For something bright and flavorful yet filling and comforting, there's nothing like the combination of kale, butternut squash, and quinoa. For added texture and brightness, this fall-inspired quinoa bowl contains cranberries and pumpkin seeds too.
13.
Slow-Cooker Curried Chicken Stew
If your slow cooker isn't your meal-prep BFF yet, it will be soon. Sweet potatoes, peas, chickpeas, broth, and flavorful spices combine to create something incredibly delicious with minimal effort. If you're prone to splurging on Indian or Thai takeout, this recipe is for you.
If the Instant Pot is more your speed, we've got you covered. Whip up a batch of this filling lentil soup whenever you have a few minutes to spare. It's brightly flavored from the squeeze of lemon juice stirred in at the end of cooking.
15.
20-Minute Hearty Farro Salad
Farro, golden raisins, chives, green olives, and loads of herbs and spices make this one unforgettable blend of flavors and textures. Prep a batch of farro ahead of time and enjoy quick assembly for the remaining ingredients in this salad.
Big on flavor but surprisingly quick to assemble, this keto-friendly version of the trendy Hawaiian dish does not use raw fish, which may not store well in your office refrigerator. Instead, it uses cooked salmon or tuna—or any leftover seafood or protein you may have in your refrigerator.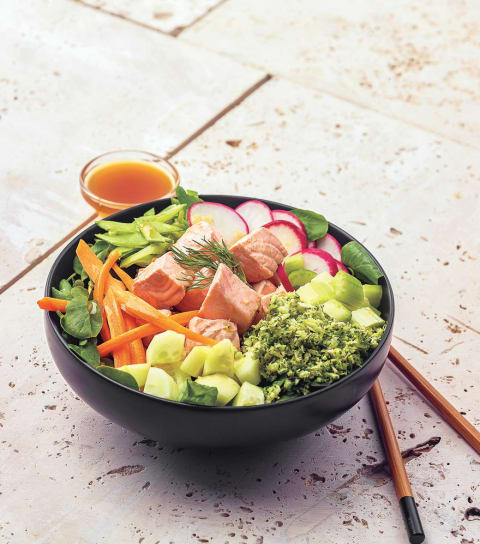 17.
Keto Vietnamese Beef "Noodle" Soup
This keto take on the classic Vietnamese beef noodle soup known as pho features zucchini noodles and a blend of cinnamon, coriander, and ginger packed with anti-inflammatory and antioxidant benefits. And it cooks up in a snap, thanks to the Instant Pot.
18.
One-Pot Cleansing Kitchadi
Kichadi (sometimes called kitchari) is the famous one-pot Indian dish that combines rice and lentils or quick-cooking pulses such as mung beans. It's best known in ayurvedic tradition as a complete protein meal; it's also very easy to digest, and this one-pot recipe is a cinch to make!
19.
Roasted Butternut Squash & Pomegranate Salad
Chrissy Teigen hooked us up with one of her favorite salad recipes, and it's pretty damn delish. Roast your squash ahead of time and the remaining ingredients (arugula, pomegranate seeds, pumpkin seeds, and goat cheese) fall into place in a breeze.
20.
Summer Vegetable Pasta Salad
This healthier take on a summer cookout classic, featuring rotini, asparagus, radishes, and peas, is super quick to prep and stores well in the fridge so you can eat it for multiple meals. It's great topped with chicken or fish, too.
21.
Fennel, Lemon & Walnut Salad
Nope, not all salads require leafy greens. If your palate needs a break from spinach or kale, try this refreshing combo of thinly sliced fennel, walnuts, olive oil, lemon, and parsley. Amp it up with a protein of your choice.
22.
Spaghetti Squash & Meat Sauce
This paleo-friendly recipe features easy-to-cook spaghetti squash, pork, and tomato sauce. Make an extra big batch for dinner and enjoy the leftovers for lunch the next day.
23.
Quick & Nutritious Buttery Sardine Wrap
Sardines don't get enough love (they're loaded with omega-3s!), but they're an incredibly simple addition to salads, or to these lettuce wraps featuring goat cheese, lemon, and herbs.
24.
Vegan Romaine Lettuce Mexican Wrap
When simple lunch prep is your goal, the humble lettuce wrap is your friend. This Mexican-inspired variety is loaded with hummus, avocado, bell pepper, tomatoes, pumpkin seeds, and broccoli sprouts for max flavor without any meat.
Tuna salad may be a speedy lunch go-to, but who says you need to be so boring? For equal effort you can make this delicious, healthy-fat-packed avocado and salmon salad. Serve it up on multigrain crackers or in a lettuce wrap for a complete meal.
26.
Arugula, Pomegranate & Salmon Salad
Looking to spring-clean your lunch routine? There's no better way than this light, refreshing salad featuring a variety of dark leafy greens, pomegranate seeds (which you can buy frozen!), cooked salmon, and sesame seeds. Use leftover salmon from dinner to make meal prep a breeze.
27.
Zucchini Pesto Caprese Salad
Fresh, bright, and filled with polyphenol-filled herbs, this combination of zucchini noodles, pesto, tomatoes, and mozzarella is a fun, more filling take on the classic summer dish.
Sandwiches don't get much love lately. Unless you're making this sandwich, in which tomatoes, bell peppers, pumpkin seed pesto, and hummus are loaded between two slices of hearty, nutritious gluten-free bread. Feel free to swap out the DIY bread recipe for a healthy store-bought option.
29.
Chicken Zoodle Bone Broth Soup
Ditch the canned soup and make this grain-free, gut-healing soup with zucchini noodles and collagen-loaded bone broth instead. We recommend whipping up this recipe for dinner and packing up the leftovers for lunch.
30.
Tomato & Hummus Collard Wraps
It doesn't get simpler than collard wraps. This delicious, Mediterranean-inspired vegan combo features sun-dried tomato pesto and sliced bell pepper and zucchini for a satisfying crunch. To up the protein, add chicken or your clean deli meat of choice.
31.
Zucchini Pasta With Kale Pesto, Tomatoes & Artichokes
We love zoodles with pesto, and topping them with tomatoes and artichoke is enough to make them a simple summer lunch we crave.
32.
Chickpea, Cucumber & Avocado Salad
We love a good lettuce-free salad! Sometimes you just need a break from leafy greens, as wonderful as they are. This recipe combines cucumber, chickpeas, avocado, feta, and scallions with a vibrant lemon and lime vinaigrette.
33.
Keto Chicken Enchilada Bowl
This is an ideal healthy lunch for when you're craving something heartier than a salad. Featuring a combo of raw ingredients like onion and avocado, quick to cook chicken breast, and pre-made cauliflower rice, prepping this drool-worthy Mexican-inspired keto bowl is a breeze.